Passwords are the only thing that keeps an intruder away from your Windows Server. Hence password should be involved and hard to guess. But if you don't recall your password in daily life, you could forget it. It could result in locked access for any of the Windows Server content, files, documents, etc. Sometimes Windows Server itself informs you about the expiry of its password, so in this case, if you don't know the password, you can't change it. In both case you might think of consulting computer tech guy that will reset password for Windows Server 2012 but it will be a waste of time and money because the solutions which he will perform we can guide you the way, so in case you again want to change Windows Server password you don't need anyone to help you.
Case 1: Reset Windows Server 2012 Password When You Can't Remember It
Don't you worry if you don't remember your Windows Server 2012 password. There are still some ways to recover your Server 2012. Go through the multiple solutions described below.
Solution 1: Reset Server 2012 Password via 4WinKey
If you are tired of performing steps to reset the password for your Windows Server 2012 and have tried every possible solution but didn't find luck, we recommend you to give it a last try with PassFab 4WinKey. We assure you this will not let you down. PassFab 4WinKey is third-party software that ensures the security of your credentials along with your data with 100% recovery result. If you think that my PC will support this kind of heavy software? Don't worry its lightness and efficiency allows it to run on 1Ghz processor along with 256mb RAM. Here is a short guide to using 4WinKey without any problem:
Step 1. Once you execute 4WinKey software, let it burn on any of your media devices. Here we will be using USB.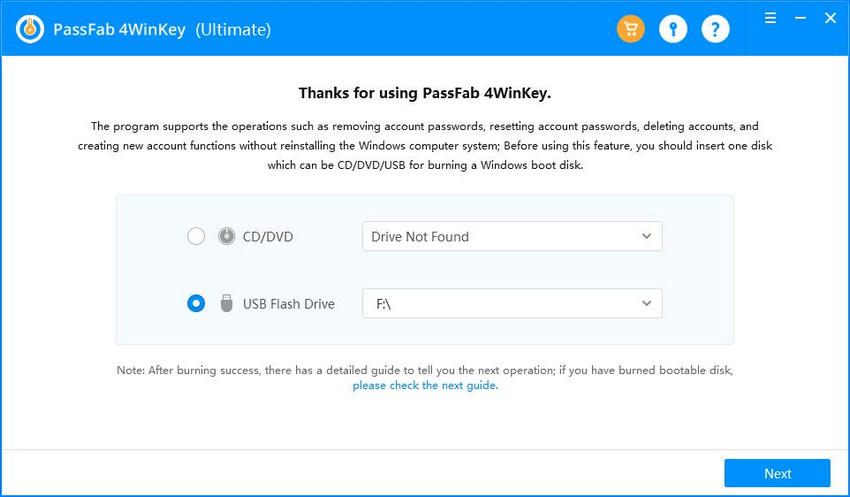 This Windows password recovery tool will format your USB so do backup your data before letting it permission. let the burning start by allowing permission.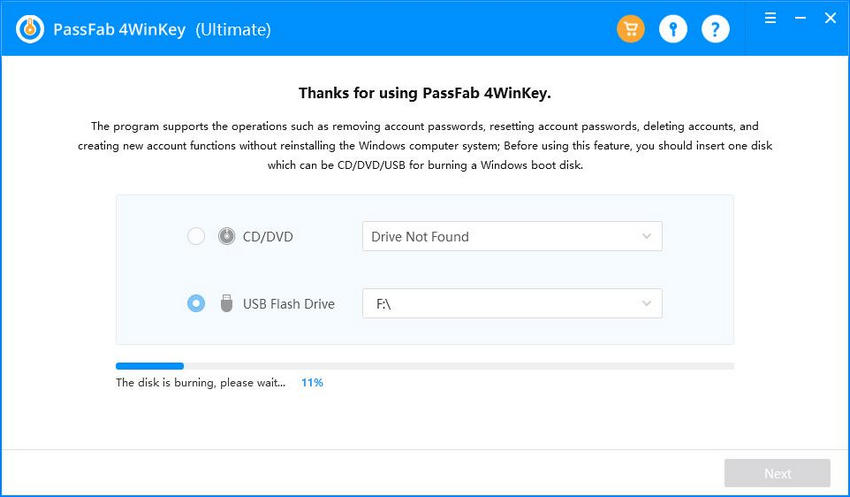 Step 2. You will be informed about successful burning with a success message.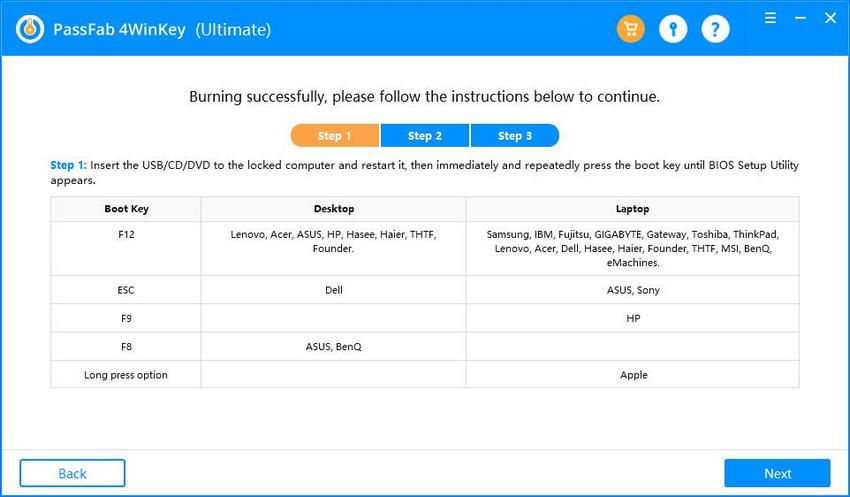 Step 3. Now reboot your system and let it boot from USB. After successful reboot from USB, find your USB name from the list and select,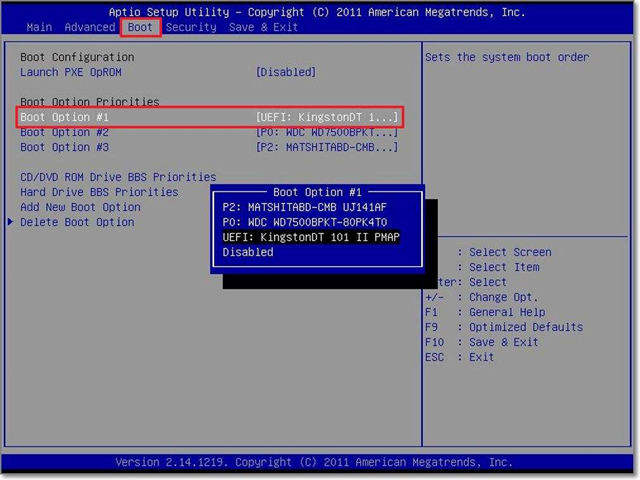 Step 4. Once you've entered the locked Windows from boot disk successfully, you can change Windows password as well. Now select which one was your operating system and click "Reset Password."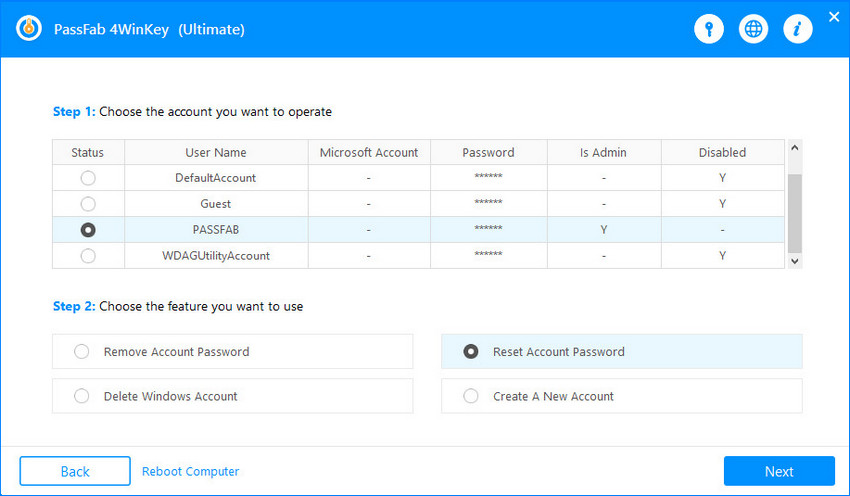 Step 5. You will be shown all usernames, select for which password has to be changed. Enter the new password in the box below and press "Next".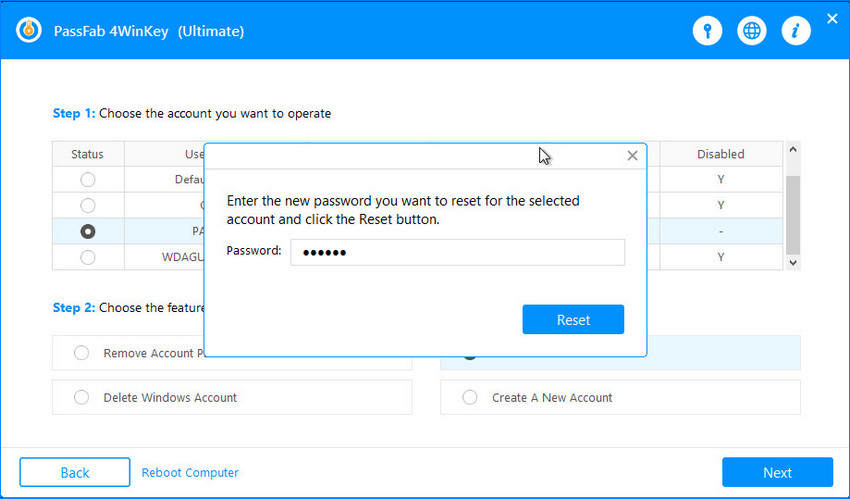 Step 6. After successful resetting password removes USB and reboot your system. On login screen type new password and regain your access.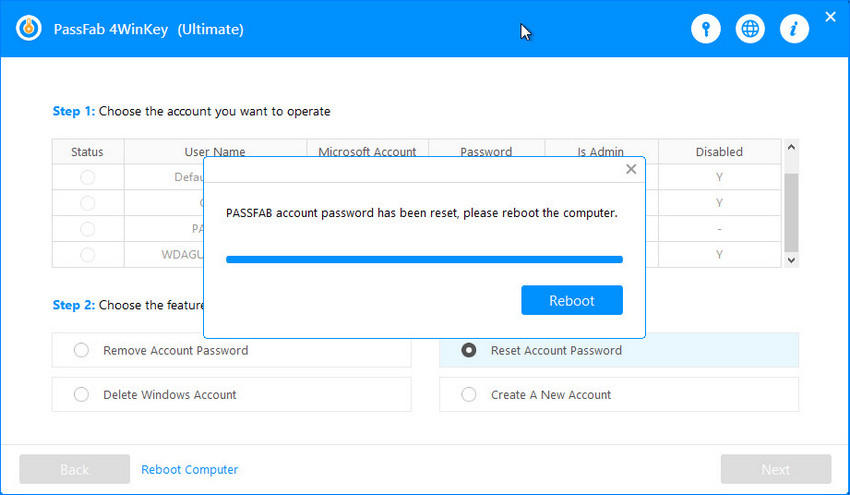 Solution 2: Reset Password with Windows Server 2012 Installation disk
1. Grab tour Windows Server 2012 Installation disk and get started with the resetting password procedure.
2. Insert the disk in your locked computer and reboot system. Now let your system boot from your disk. Click Next for step 1 in the wizard after selecting the language.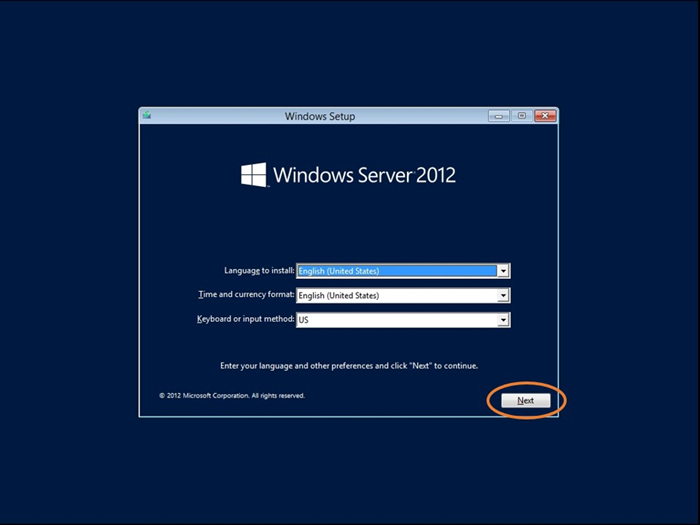 3. Then select "Repair Computer" Option.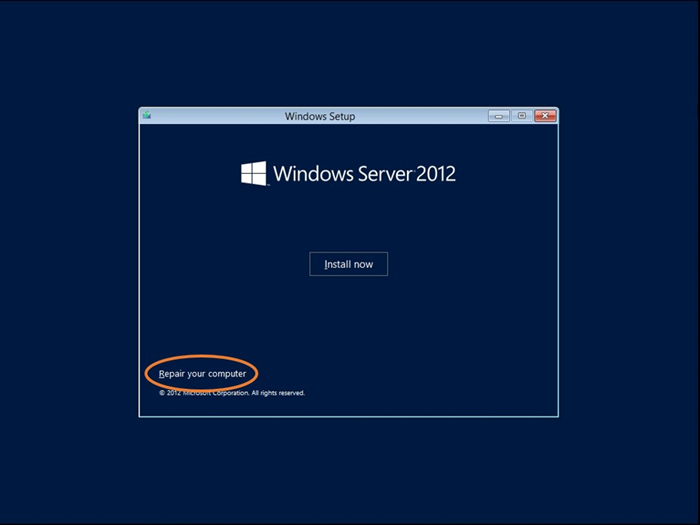 4. Now under choose options select "Troubleshoot."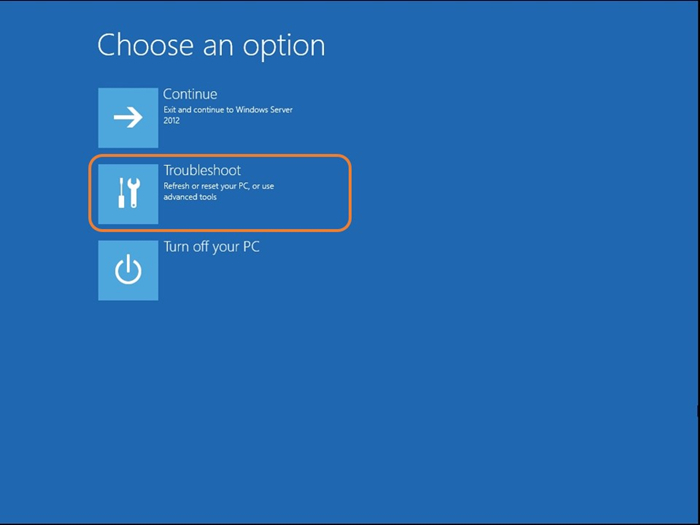 5. Now select Command Prompt as your next option.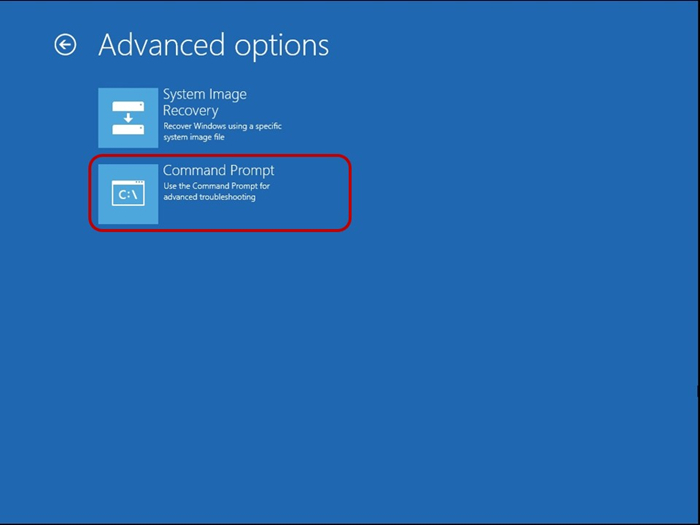 6. As command prompt appears run following command one by one in sequence:
cd windows\system32
ren Utilman.exe Utilman.exe.old
copy cmd.exe Utilman.exe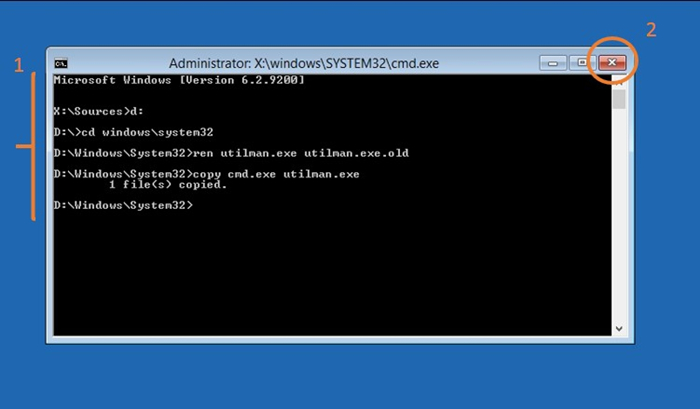 7. Now close command prompt and press continue. Once you reach logon screen after reboot press Windows+U.
8. It will again show a command prompt. Now run one last command: net user username new password, replace username and new password with your own credentials.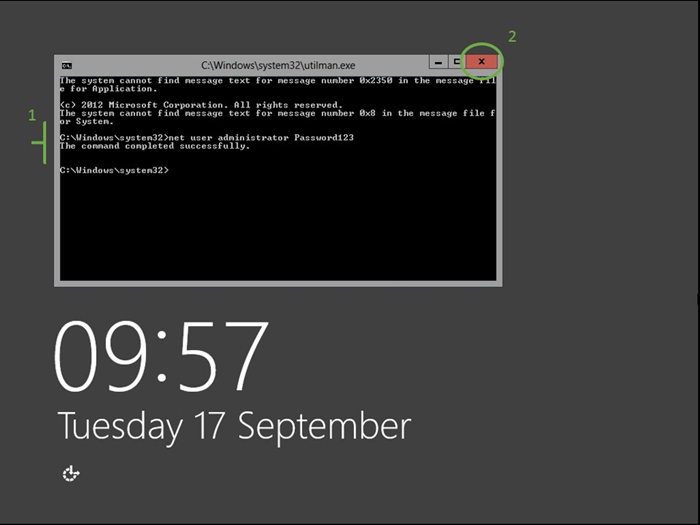 Congratulation your password has been reset successfully. Now login with new credentials.
Case 2: Change Windows Server 2012 Password When You Remember It
Solution 1: Through Control Panel
If you remember your password and want to change it, it's pretty simple. Changing a known password is an easy process. You need to log into your server and proceed with the procedure:
1. Press Windows key and X simultaneously. This will open a new bar with multiple options.
2. Now find "Control Panel" from it and select.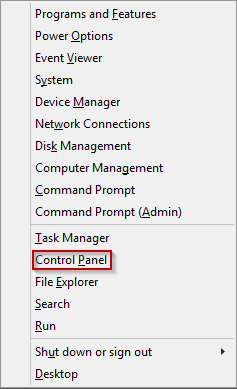 3. A new window will appear with multiple options. Find "User Accounts" and click "Change Account Type" under it.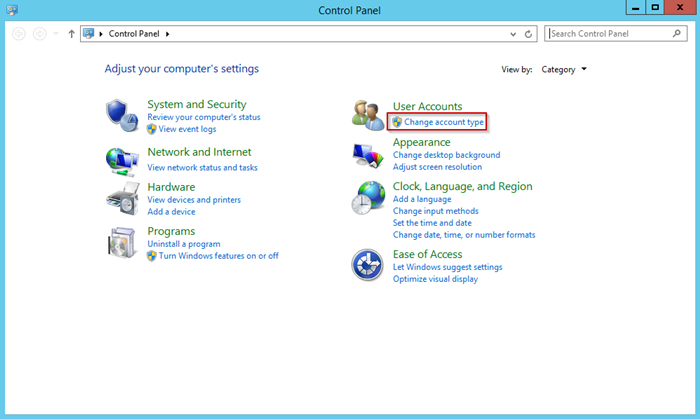 4. A new window containing all your account will appear. Now select the account for which password has to be changed.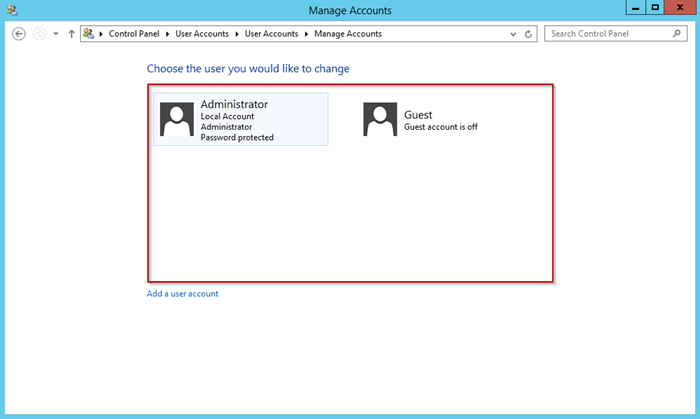 5. Now select "Change Password".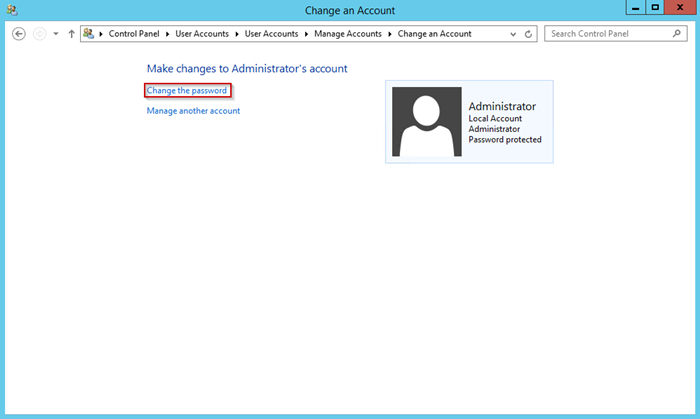 5. It will ask you about your current and new password. After completing all the fields click "Change Password."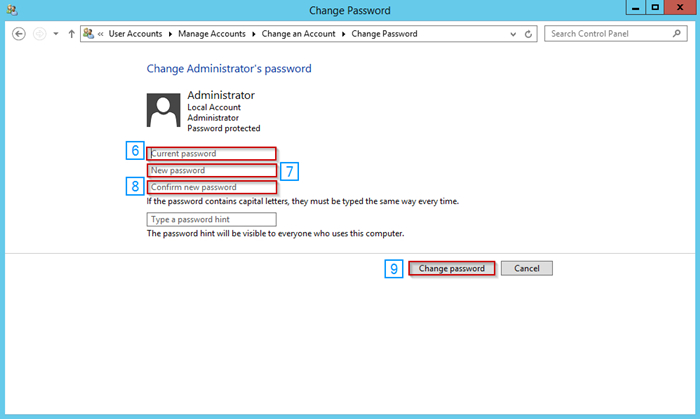 Now your password has been changed successfully. You might not be logged out of the server, but that doesn't mean that your password is not changed. You will be required a new password as you log in after this session.
Solution 2: Through PowerShell
PowerShell is another easy method to change your Windows Server 2012 password. Its preconditions are the same as for control panel, i.e., you need to login to your server. Once logged in, follow the procedure, and with one command you can set a new password to your server:
1. Open PowerShell through taskbar or press Windows+X and find PowerShell(Admin) and select that.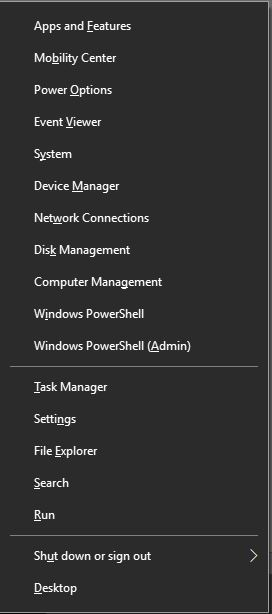 2. Commandline window will appear now type: net user [username] [password]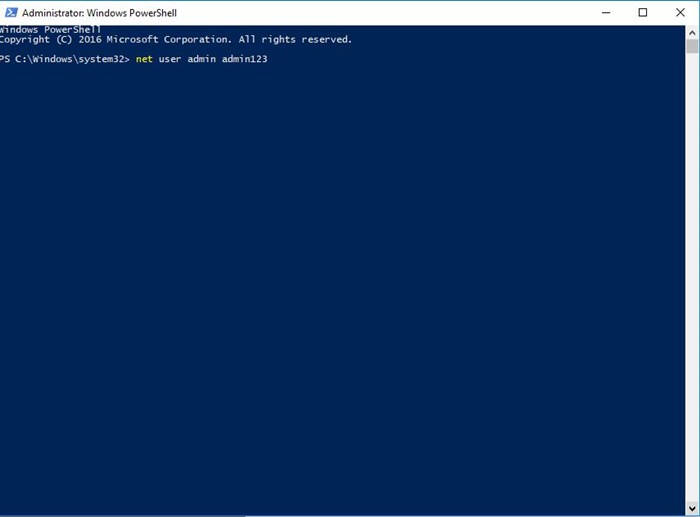 3. Use your account's user name in place of [username] and set a new password in place of [password]. Press enter, and you are done with password reset.
Yes, this is the smartest, shortest and easiest method to reset password for Windows Server 2012.
Solution 3: Changing Your Password on an RDP Session on Windows Server 2012 R2
You might find a similar method on the internet with slightly different commands, i.e., Ctrl+Alt+End. This method has some limitation that it is not applicable for nested RDP sessions. So, we came up with the global solution that will work for your nested RDP session as well. Follow the procedure that worked for me:
1. If you are already logged into your Windows Server account, click Start.
2. Now type or find OSK(On Screen Keyboard). Open that.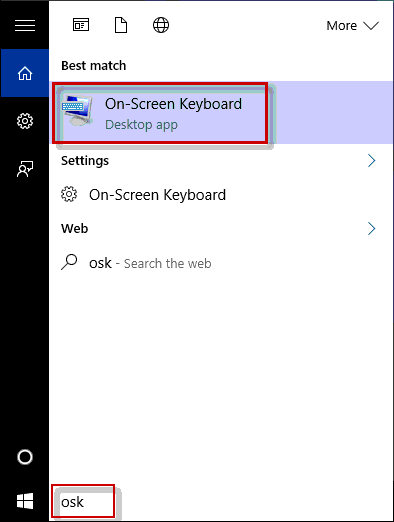 3. A keyboard will open on your screen. You can also carry out other tasks with this keyboard. But for now, hold Ctrl + Alt from your physical keyboard and press Del key from your On-screen Keyboard.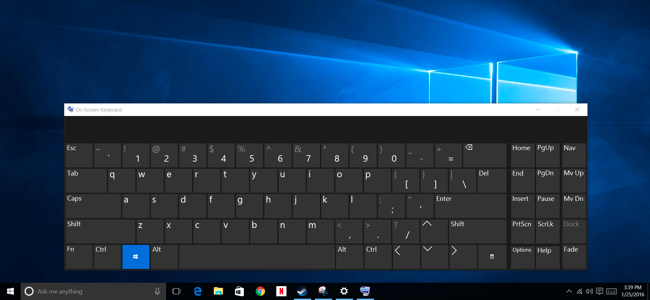 4. Now you can either close onscreen keyboard or you can minimize. Now see for "Change Password" button and select that.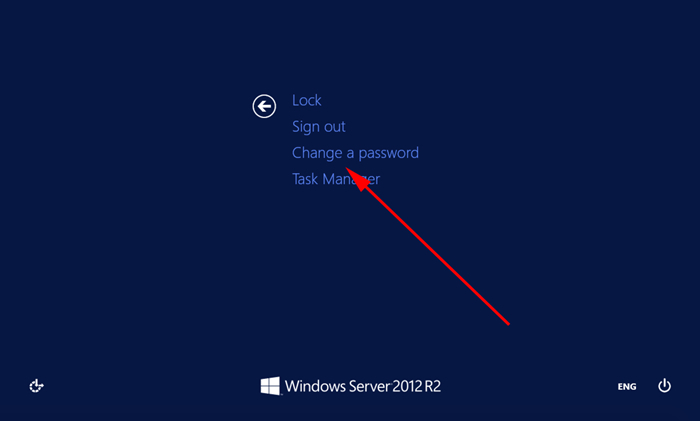 5. Set new password for your Windows Server 2012 R2.
If you feel little concerned about opening the onscreen keyboard, we assure you that it's completely saved. But if you don't want this to happen to go with Ctrl + Alt + Delete option. But do keep in mind its limitations.
Bottom Line
As we all know that admin account has all the privileges to perform any resetting process, but if you are unable to access that account, methods, as mentioned earlier, will surely help you to reset or remove Windows password in no time. Still, if you want 100% result with 100% efficiency, we recommend you to use PassFab 4WinKey. Since it does not puzzle you by changing core settings or forcing your custom actions on the system.