I would like to disable the requirement to have to enter my PIN to view saved passwords on Chrome. This is my home desktop so I do not need this security feature. Is there any way to turn the feature off?
Recently many Windows user refect that they want to disable Pin Requirements for Chrome saved passwords in Microsoft Community .Google Password Manager is a tool that helps you set strong passwords for your online accounts and save them in your Google account. This tool comes in handy when you have many passwords to remember. The Google Password Manager asks you to save password every time you set a new one and auto-fills it the next time you try to log into your account. It also lets you see all your saved passwords in your account settings. You must enter a security pin to authenticate the access whenever you try to access these passwords. This becomes frustrating, especially when you have to do it frequently.
However, there are ways to disable pin requirements for Chrome saved passwords which will be discussed in this guide.
Part 1: Disable Pin Requirements for Chrome Saved Passwords
The pin requirements to access Chrome passwords prevent your online accounts from unauthorized access, especially when you lend your computer to another person. If this feature is disabled, anyone can see your saved passwords on your computer. Anyways, you can still disable it in one of the two ways given below:
Way 1: Remove Windows Login Password
If you want Chrome not to ask for your login password to access the saved passwords, you can remove your Windows login password.
Way 2: Disable Password Manager Re-authentication Feature
The Password Manager's Re-authentication feature is responsible for asking you to enter your pin before opening the saved passwords. You can disable this feature to disable pin requirement for Chrome saved passwords as follows:
Step 1. Open Chrome, type chrome://flag in the URL, and hit Enter key.
Step 2. Look for Disable Password Manager Re-authentication flag in the feature list.
Step 3. Click the Enable link to enable the feature.
Step 4. Click Relaunch Now to relaunch Chrome to implement changes.
No, try to access the Chrome saved passwords, and you will no longer need to enter the pin.
Part 2: How to Disable Chrome Password Manager?
Millions of people worldwide use Chrome Password Manager to save their login credentials. However, some users do not store their passwords on Chrome or prefer to use the third-party manager due to their reliability and advanced features. In such a case, Chrome allows you to disable its Password Manager in different ways, which will be discussed below.
Besides, if you wish to switch to an alternate password manager, here is what you must do before disabling the Google Password Manager:
1. Export your Saved Passwords
It is recommended to export all the saved passwords from Chrome Password Manager. If you have forgotten your login credentials for one or more sites, you can recover them from the exported file. Moreover, you can directly import all those passwords into the alternative password manager, so you will not need to enter each password manually. Furthermore, this will save you from losing your online account.
2. Check the Credibility of the Alternative Password Manager
Chrome provides Password Management services for free and has no limits on saved passwords. Before you move to an alternative, we recommend you check the credibility of the alternate password manager for its limitations.
Now that you have taken the prerequisites let's move to the ways to disable Google Password Manager:
Way 1: Disable Chrome Password Manager using Group Policy
Step 1. Download the Chrome group policy templates from the Chrome Group Policy Page.
Step 2. Extract the downloaded files and open the extracted folders.
Step 3. Now, get into your domain controller and install the templates as follows:
Copy and paste the admx files (chrome.admx and google.admx) in c:\windows\PolicyDefinitions.
Go to your language folder, copy and paste the adml files (chrome.adml and google.adml) into the same folder in c:\windows\PolicyDefinitions.
Step 4. Go to the Group Policy Editor and verify that Chrome GPO templates are installed under policies -> Administrative Templates –> Google.
Step 5. Right-click on the organizational unit that contains all users and choose the ' Create a GPO in this domain and link to it' option.
Step 6. Name the new GPO.
Step 7. Disable the following user configuration policies:
Enable saving the passwords to the password manager
Enable AutoFill for addresses
Enable AutoFill for credit cards
Import saved passwords from default browser on the first run
Step 8. Now, enable the 'Disable synchronization of data with Google' policy.
Step 9. Reboot your system to apply the new GPO.
After following the above steps, the Chrome Password Manager will no longer ask you to save passwords.
Way 2: Turn Off Google Password Manager on Android
To disable the Google Password Manager on any Android device, follow the steps given below:
Step 1. Launch Google Chrome App.
Step 2. Tap on dots in the top-right corner of the screen.
Step 3. Choose Settings and then Password Manager.
Step 4. Tap on the settings icon in front of Password Manager.
Step 5. Toggle the switch to turn off the Offer to save passwords feature.
From now on, Google will not prompt you to save passwords on your Android device.
Way 3: Turn off Auto-fill on iPhone
On iPhone, you can turn off Chrome's auto-fill feature as follows:
Step 1. Launch Chrome Application on your iPhone.
Step 2. Tap on the three dots in the bottom right corner of the screen.
Step 3. Go to Password Manager and toggle the switch in front of ' Offer to save passwords' off.
The Google Password Manager has been disabled successfully.
Part 3: Extra Tip – How to Access your Windows PC if you Forget your Login Password?
Hot
The Windows login password is vital in securing your system from unauthorized access, and forgetting it can cause big data loss. Besides, there is no option to save the Windows login password so you can auto-fill and recover it. In such a situation, we recommend using one of the best Windows Password Recovery tools, PassFab 4WinKey.
PassFab 4WinKey is an outstanding Password Recovery tool to recover your forgotten Windows passwords conveniently. Using this tool, you can manage user accounts, add and remove passwords and manage your files. If you are looking for the best ways to reset your Windows password yourself, here is how you can do that with PassFab 4WinKey:
Step 1. Download PassFab 4WinKey on any accessible PC other than the locked one. Install and launch it. Insert the USB/CD/DVD and choose it as boot media. Download the ISO file by clicking the Start button.
Please note that any data stored on your chosen device will be removed during the process.
Step 2. Click the Start burning button. Let PassFab 4WinKey burn the boot instructions on the device.
Step 3. Switch to the locked PC, insert the bootable media into it, and restart. Press the boot key continuously to enter into boot menu when the computer starts up.
Step 4. Set the bootable device on boot priority, save settings, and close the boot menu.
Step 5. And you will see Passfab 4winkey interface. Choose the locked User Account, select Reset Account Password from the feature list, and click Next.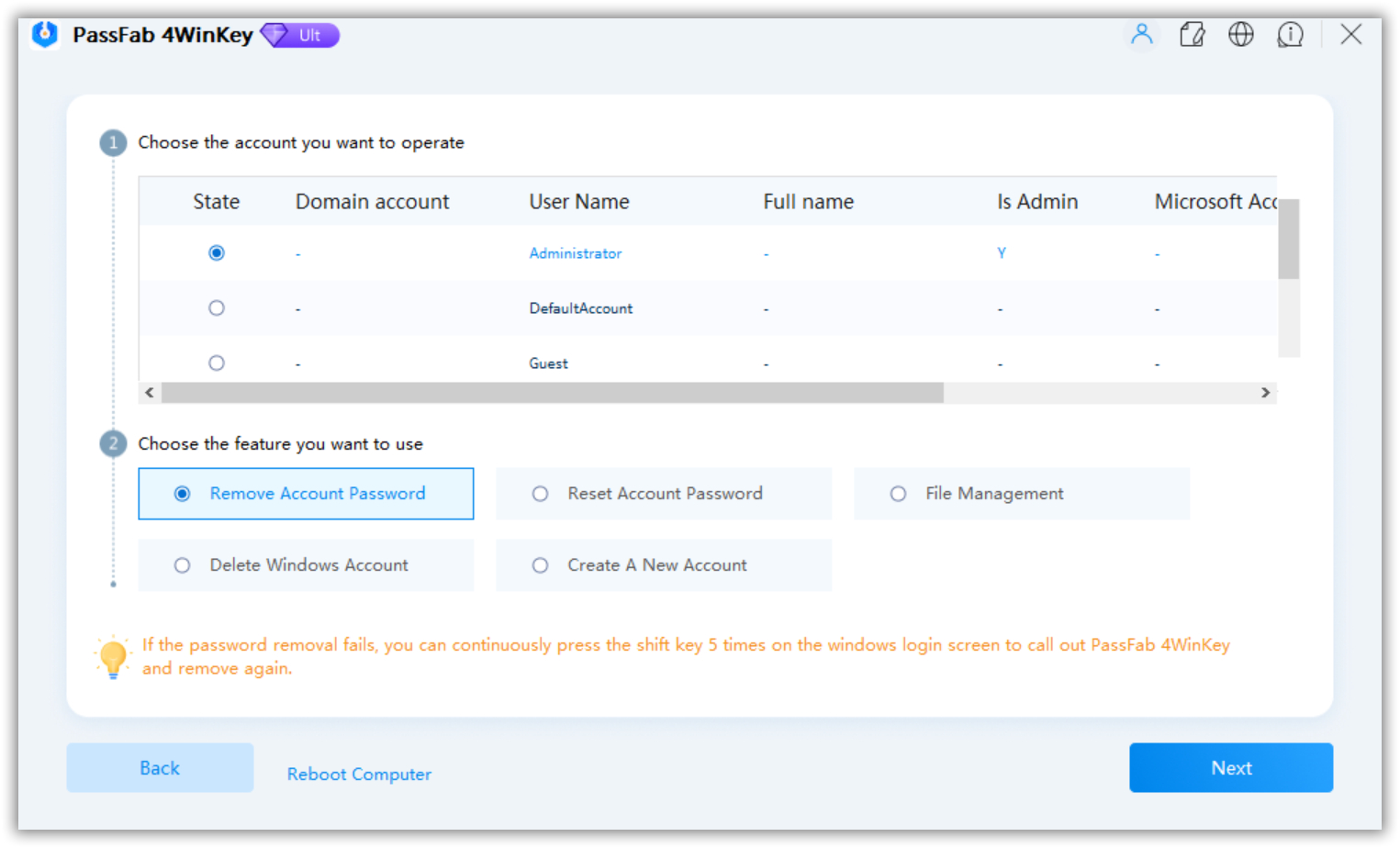 Step 6. Enter and re-enter the new password and click Reset.
Step 7. Lastly, click Reboot to restart your system.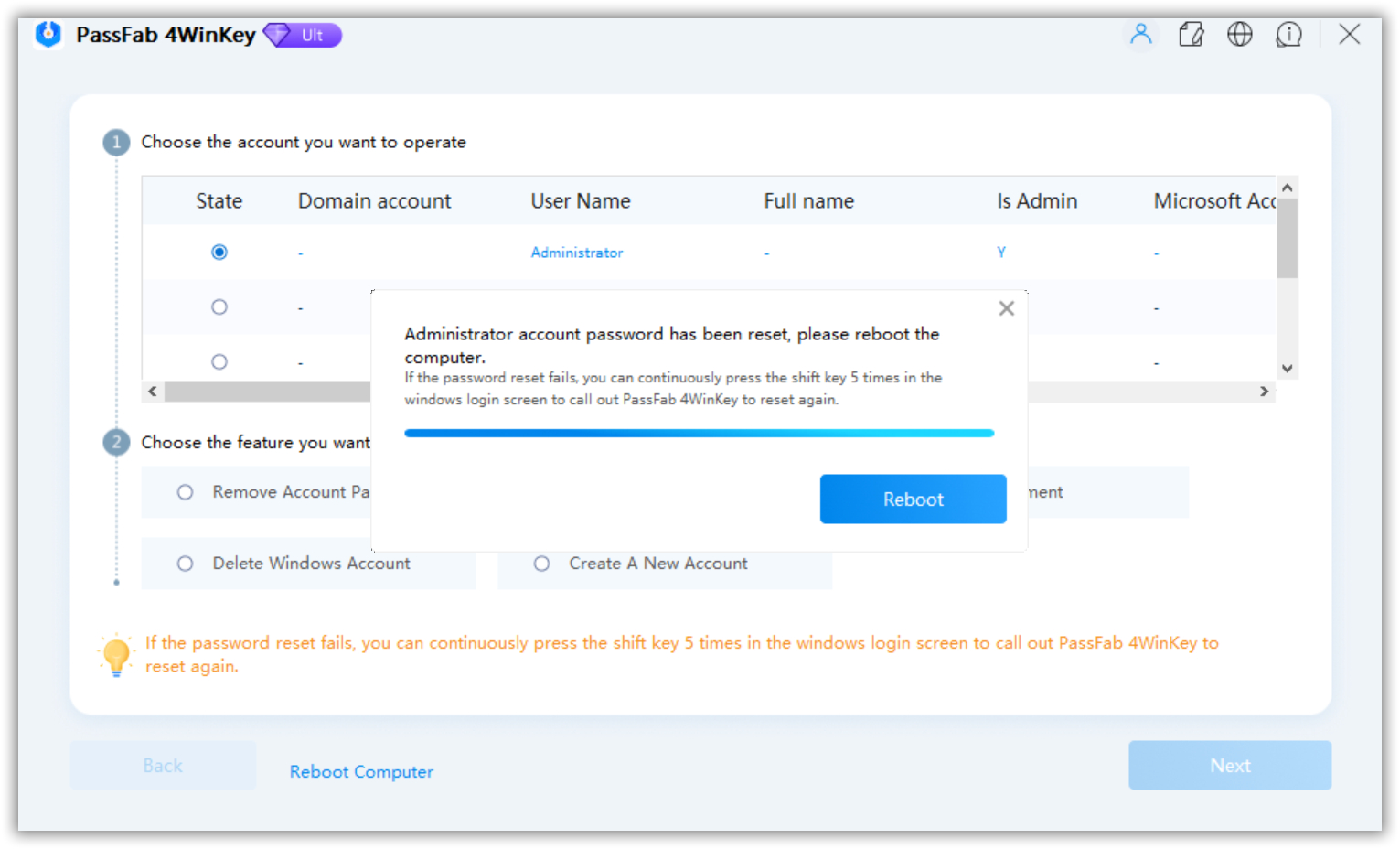 After your computer restarts, enter the new password on the login screen, and you will get into your PC.
FAQs
1. Is Google Password Manager safe?
The Google Password Manager is considered safe unless your Google account is compromised.
2. Should I let Chrome save my passwords?
If you face difficulty in remembering the passwords, you should let Chrome save your passwords as it is safe. However, it is totally up to you, and no obligations.
3. How can I disable access to Google Chrome saved passwords in a secure way?
The most secure way to prevent anyone from accessing your saved passwords on Google Chrome is creating a separate user account for another user. This way, other users will not have access to your Google account; hence, they will not see your passwords.
4. How do I get Chrome to stop asking me to save password?
Open Google Chrome and click on the three-dot menu icon at the top right corner.
Select "Settings" from the drop-down menu.
Scroll down and click on "Autofill".
Click on "Passwords".
Here, you'll see an option called "Offer to save passwords". Toggle this option off.
After completing these steps, Chrome will stop asking you to save passwords when you log into websites.
Final Words
Entering a pin repeatedly to access your saved passwords on Chrome is annoying; you may want to turn this feature off. In this article, we have proposed different ways to disable pin requirements for Chrome saved passwords. We have also covered how to disable Chrome Password Manager entirely. Furthermore, this article provides the best solution to forgotten Windows passwords, i.e., PassFab 4WinKey.