Windows 10 is the latest addition to Microsoft's Windows Operating system family that has been well appreciated by the users. Though, Windows 10 is much better than its predecessors in terms of features and user experience, still it prone to various errors that plagued its predecessors. One such error that you will commonly encounter on Windows 10 is Windows Stop Code: MEMORY_MANAGEMENT error.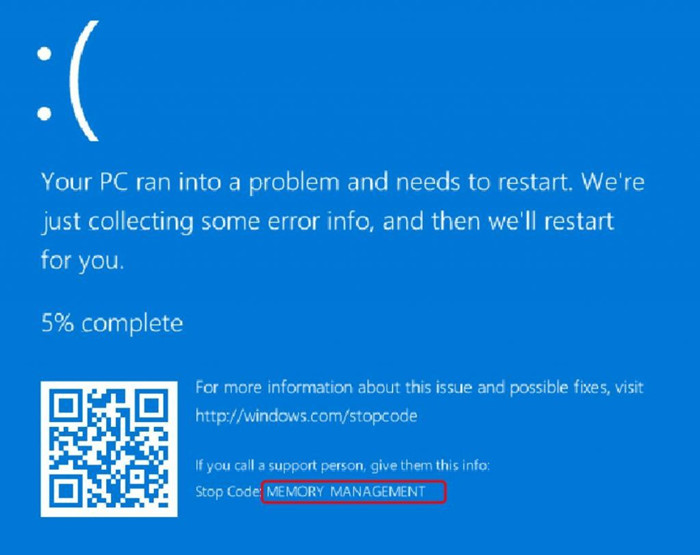 Many users have posted questions like "My HP laptop has encountered MEMORY_MANAGEMENT error, what should I do?". If you are one of these people, in this article, we will tell you how to fix Windows stop code MEMORY_MANAGEMENT error on Windows 10 laptop and PC. But first, let's learn more about this error.
Part 1. What is Windows Stop Code- MEMORY_MANAGEMENT?
The MEMORY_MANAGEMENT error is one of the many dreadful Blue screens of death error that a/pupt normal functioning of the system and forcibly reboots it. Both Desktop PC and Laptop users alike can face this error. This Windows 10 stop code error is caused when there is a severe a/puption in the normal working of the Memory management functions of the operating system. This can be caused by driver issues, software conflicts or memory failure.
You can use the Windows' Memory Diagnostic tool to check memory or RAM related errors on your Windows 10 laptop or PC. It is an inbuilt tool that scan's memory for possible errors and shows you the same. Use this tool to make sure whether the problem is related to RAM or some other cause.
Step 1: Click Start and search "mdsched.exe"
Step 2: Then, click on "Restart now and check for problems" option.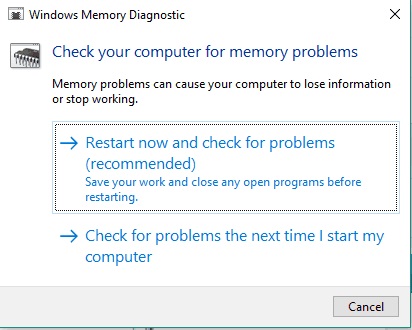 Step 3: Your system will restart and the Memory diagnostic tool will scan the memory for errors.
If the problem turns out to be RAM related, you need to take your laptop or PC to manufacturer service canter and get the RAM replaced. If the problem isn't related to memory, below we have given you some ways to fix stop code memory management error on Windows 10 laptop and PC.
Part 2. Fix Memory Management Error on Laptop
1. Change Power Settings
Usually, people keep their laptop on Power saver or balanced power plan to keep the power usage to a minimum. But this can also be the reason behind this error as a power saver or balanced plan can decrease the performance of the system. So, you can change the power settings to fix the memory management Windows 10 stop code error. To do this,
Step 1: First, go to Control Panel > Hardware and Sound > Power Options.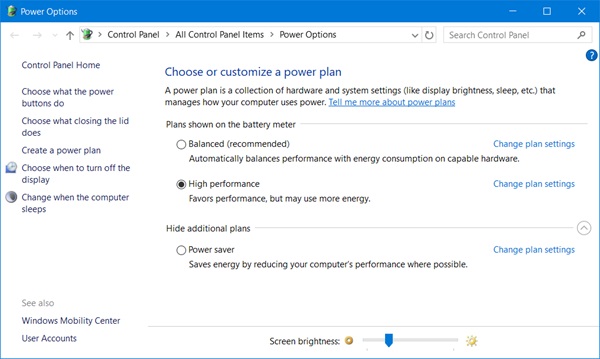 Step 2: Now, change the power plan to "High Performance".
2. Update Video Card Driver
Outdated or corrupted video drivers have also been found as the cause of stop code Memory management Windows 10. So, to fix the error, you should update the Video card driver. You can use a software update program to update the video card drivers automatically or update them manually. To update Video card driver, follow the below steps:
Step 1: Click Start, search and open Device Manager.
Step 2: Now, click on Display adapters and right click on the video card.
Step 3: Select Update Driver and then "Search automatically for updated driver software" option.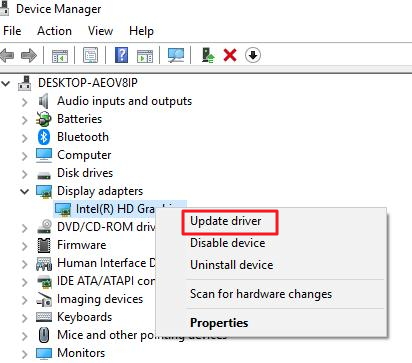 Step 4: Follow the instructions to download and update the video card drivers.
Part 3. Fix Memory Management Error on Desktop PC
1. Run check disk
Corruption in NTFS volume or file system can also causes the Windows stop code error - memory management. You can repair the file system using the "chkdsk" command/utility in command prompt. To resolve this issue using this command, follow the below steps:
Step 1: Search for "cmd" in the start and wait for the results.
Step 2: Now, right click on Command prompt.
Step 3: Click "Run as administrator".
Step 4: Then, type "chkdsk /f /r" in the command prompt and press Enter.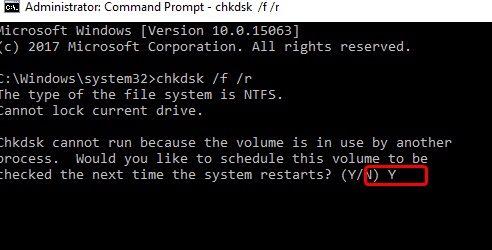 Step 5: Press Y when asked to schedule the volume check when the system restarts and then restart the computer.
The "chkdsk" will start checking the volume and will find and repair any errors. You should not encounter the error anymore.
2. Check recently installed hardware/software
If you have recently installed new hardware or software on your computer and the BSOD memory management Windows 10 stop code may be caused by them. The hardware/software may not be compatible with your version of Windows, so you should try removing/uninstalling them to solve the issue.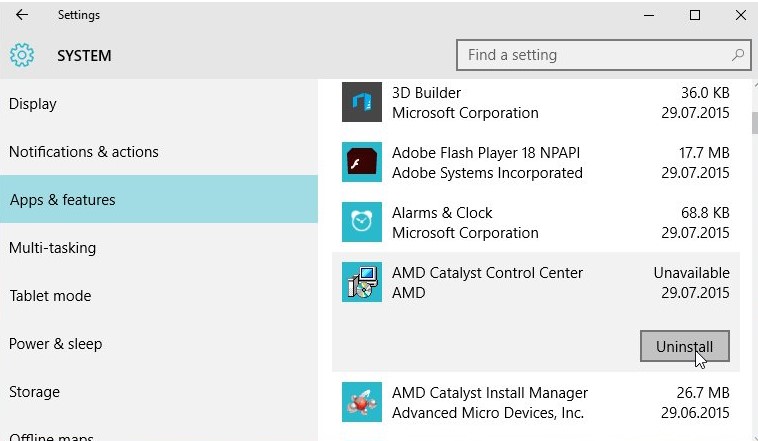 Part 4. Fixing Memory Management Error for All Computers
Are you able to resolve the Memory management stop code Windows 10 with the solutions given above? Well, that's good. But if none of them work, the final option is using PassFab for ISO to reinstall Windows system. It is 100% secure tool and will help you reinstall system with several steps.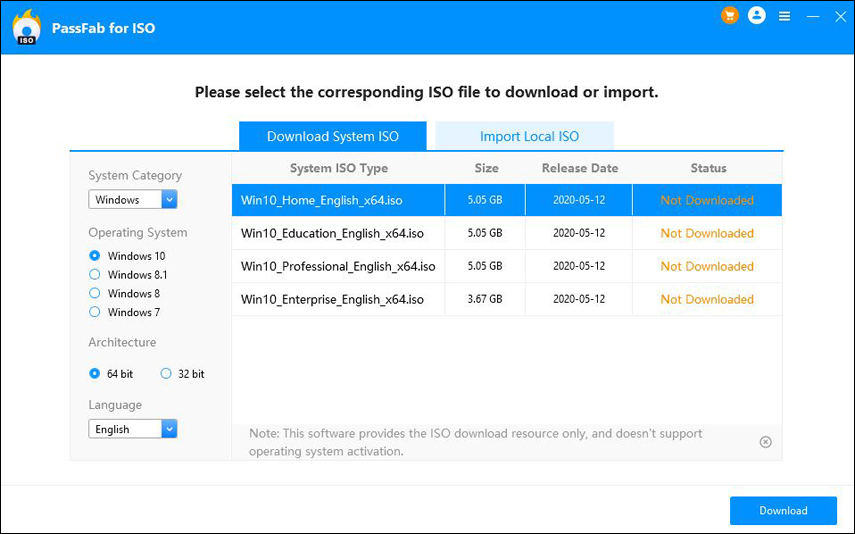 The Bottom Line
There is no comparison between Windows 10 and its predecessor in terms of features and functionality, but it still isn't made to be fully fail-proof. BSOD stop code Memory management is one of the most common BSOD errors that users are facing on the latest OS. This article features various solutions that you can use to fix memory management windows stop code on your Windows 10 laptop or PC. Moreover, you can also find a wonderful ISO burner, PassFab for ISO, to help reinstall Windows system.