Being an experienced IT professional, I have tested lots of software and written a review for them. Recently, I came across Easy Recovery Essentials and got to use it. I examined it thoroughly, and in this review, I will evaluate its value to help you decide whether it is worth buying.
Easy Recovery Essentials is a Windows repair tool capable of resolving various issues except for data recovery. According to other users, it is not easy to set up and use. However, in this review, I will share my experience about what this software is, how it works, whether it is safe, and much more!
Part 1: Easy Recovery Essentials Free Full Review
This part will discuss everything you need to know about Easy Recovery Essentials. Let's get started with what this software is all about.
Easy Recovery Essentials is the product of NeoSmart Technologies. It is a Windows repair and recovery tool that you can use to repair unbootable devices (PCs or laptops). Compatible with all Windows versions and PC brands, this tool tests every part of your computer for issues and resolves them.
Key Features
The NeoSmart Easy Recovery Essentials comes with amazing features to help you eliminate errors:
Automatically repairs your computer without needing to format it or reinstall the OS.
It lets you boot into Windows without OS
Easy and simple virus recovery
Gives you access to your computer without affecting your data.
Additional Features
Besides the repair and recovery feature, Easy Recovey Essentials has the following additional features for your convenience:
Hardware Testing and Diagnostic tools
File backup and Recovery
Powerful Antivirus (Pro version only)
Partition Editor (Pro version only)
System rollback and restore
Web browser
Single-click Windows repair
License Plans
The pricing of Easy Recovery Essentials ranges from $19.99 to $999.99 based on the version of the software you purchase. The tool comes in four editions, i.e., Home, Professional, Server, and Technician, each targeting a different group of users. Every edition has multiple packages and pricing based on the operating system to be repaired.
You should choose the right edition according to your problem and system specifications. However, Easy Recovery Essentials free is available only for Windows 11 Home Edition.
Compatibility
The Easy Recovery Essentials is compatible with the following Windows versions:
Windows 11/10/8.1/8/7/VISTA/XP
Windows Server 2022/2019/2016/2012/2008/2003
Windows 2000
How to Use Easy Recovery Essentials?
To use Easy Recovery Essentials to repair your Windows PC, you need an empty USB/CD/DVD and a healthy PC. Once you get access to it, you have to perform the following steps:
Step 1: Download the appropriate version of EasyRE from its official website and store the downloaded file in a blank USB/CD/DVD
Step 2: Now, switch to the crashed system and plug the bootable device into it.
Step 3: Reboot the system and wait for Easy Recovery Essentials to scan your PC and display a list of options.
Step 4: Choose the corresponding recovery option and click Continue.
Step 5: The repair tool will start fixing the issues. Once done, click the Restart button to restart your PC.
User Experience
Does Easy Recovery Essentials work? Let's find out with customer reviews!
First off, this software does not have many reviews and ratings. Only a few ratings were found on Sitejabber.com. Its average rating is 1.41 out of 5 based on 32 reviews, which is alarming for standard software. So, it seems that this tool is not so good.
Although the product worked for some users and solved their issues, other users failed. Due to technical complexity, they found it difficult to set up the system and prepare a bootable device.
Another user mentioned downloading the software again after purchasing it initially, but the download link didn't work.
Similarly, some users called the company a fraud or scam and forbade others from purchasing the tool as it does not do what it claims to do.
However, it cannot resolve every Windows problem automatically. Plus, most of what it offers could be done through Windows recovery options without any tool.
Here are some Easy Recovery Essentials reviews from Sitejabber.com:
Part 2: The Best Free Alternative of Easy Recovery Essentials: PassFab FixUWin
Hot
Easy Recovery Essential is a workaround for crashed PCs. It is useful to repair Windows system and recovers lost data but requires way more technical skills beyond a normal user's technical capability. Therefore, we recommend using PassFab FixUWin to fix Windows errors and manage your computer better.
FixUWin offers a range of features and functionalities to address issues such as system crashes, blue screen errors, startup problems, DLL errors, registry issues, and more. It provides a user-friendly interface and guides users through the troubleshooting process step by step, making it accessible even for users with limited technical knowledge.
How PassFab FixUWin Works?
PassFab FixUWin scans your system for faulty files and other issues. Then, it attempts to resolve them automatically. It can solve 200+ Windows errors effortlessly in no time. Using this tool, you only need to create a bootable disk and boot the faulty PC. PassFab FixUWin will do the rest.
Key Features
Smart Repair: Resolves 200+ Windows errors automatically.
Free Windows Repair Disk Creation
Easy-to-use, highly attractive, and user-friendly interface
No Windows reinstallation needed
No privacy breach
Password and Key Recovery
Data Recovery
Backup and Restore
Data Wipe
Partition Manager
How to Use PassFab FixUWin?
Step 1. To repair the Windows system using PassFab FixUWin, follow the following steps:
Step 2. Download and install PassFab FixUWin from the official site on a working PC.
Step 3. Plug in USB and click Create boot disk now.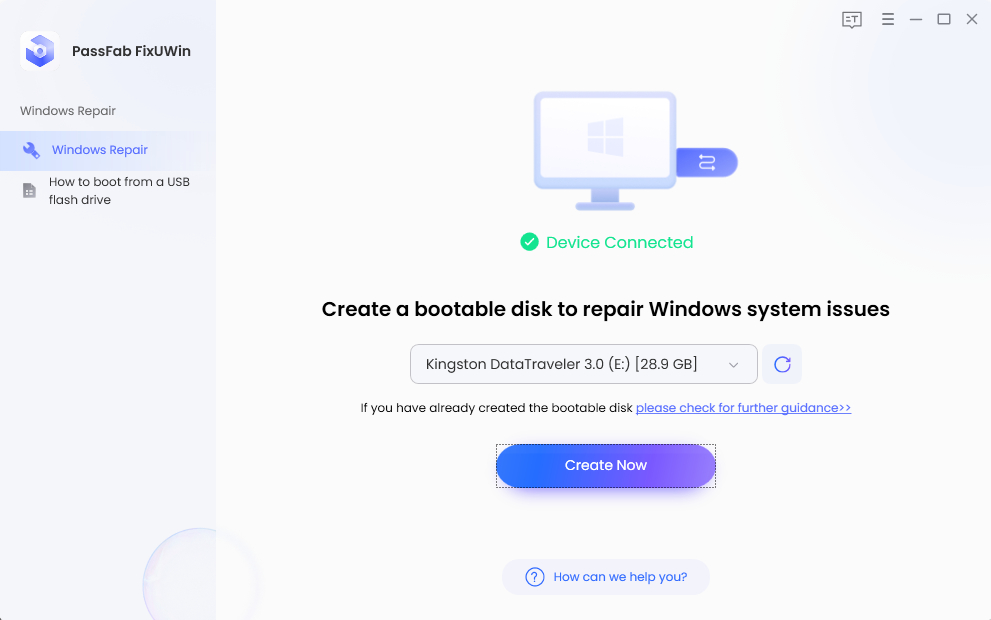 Step 4. Choose your USB drive, click Next, and wait for the bootable media to be created.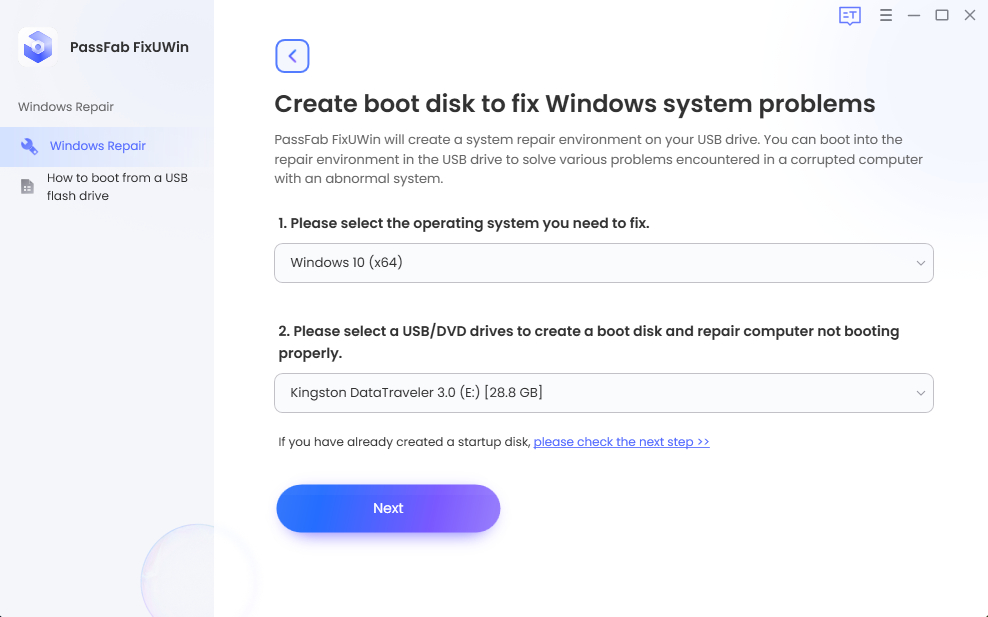 Step 5. Once done, switch to the problematic PC.
Step 6. Set the bootable USB on boot priority through the boot menu.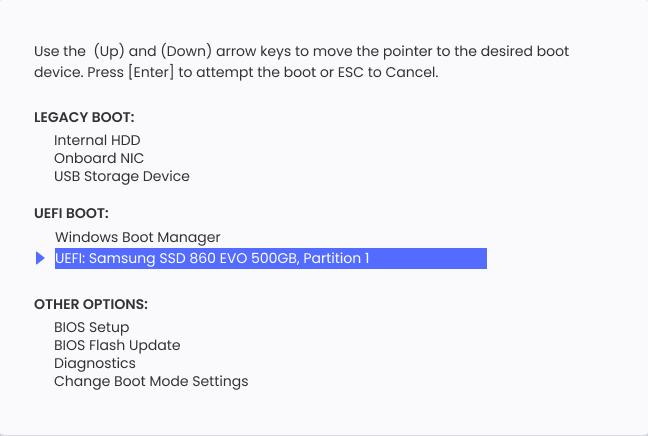 Step 7. Click the Automated repair button.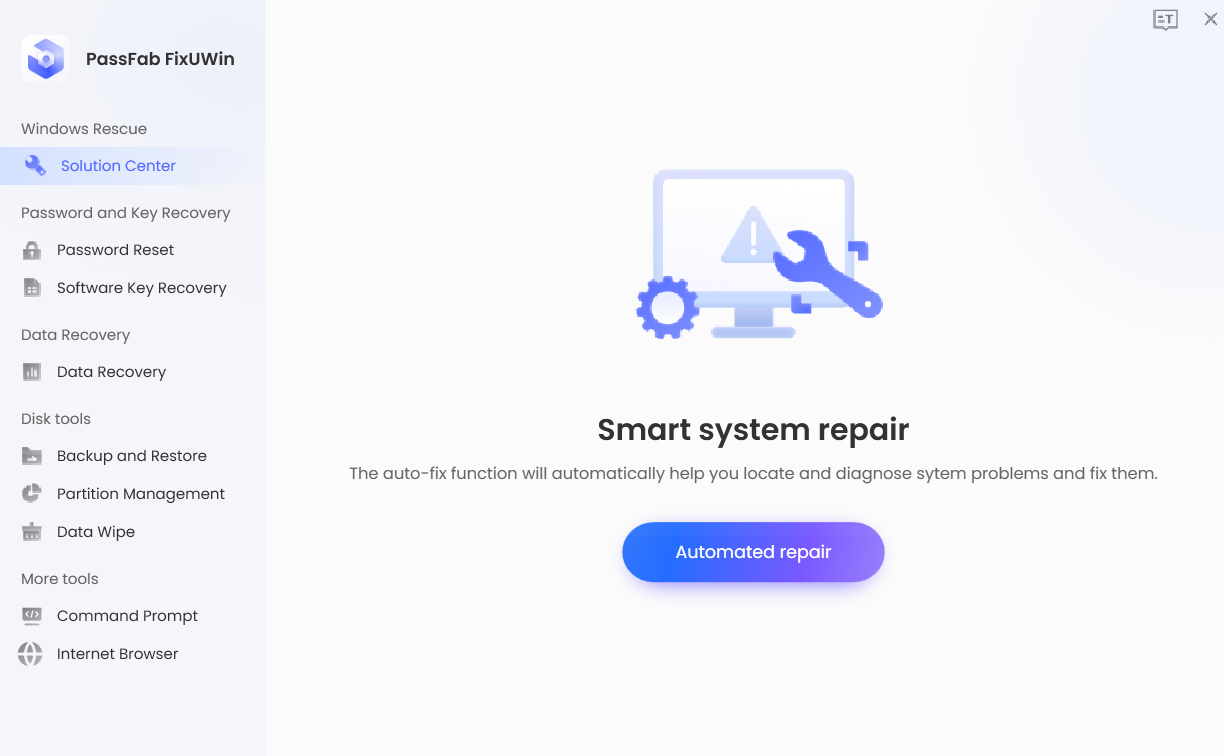 Step 8. Choose the disk partition to be repaired and click Start repair.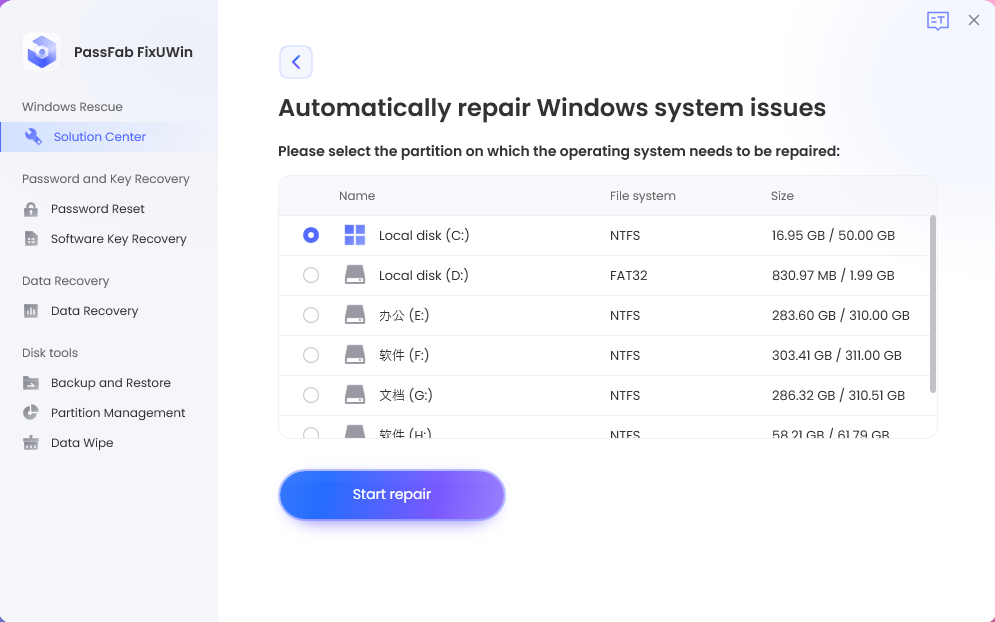 Step 9. Wait for the program to scan your system and repair it.
Step 10. Click the Restart button when automatic repair completes.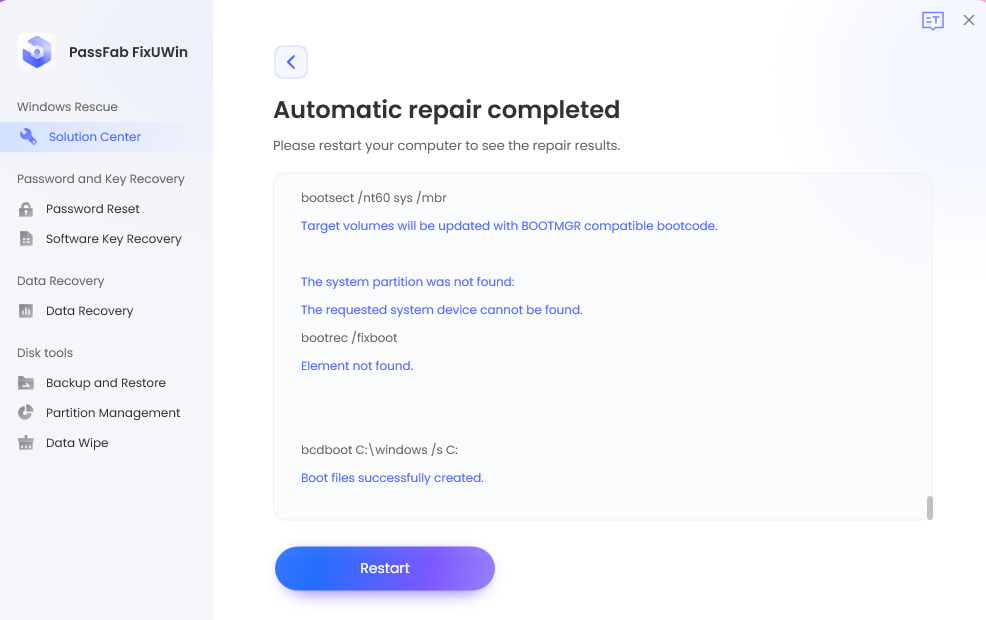 Easy Recovery Essentials FAQs
1. Is Easy Recovery Essentials Free?
No, Easy Recovery Essential is not free. Although, its free version is available for Windows 11 Home Edition.
2. Is Easy Recovery Essentials Safe?
Yes, it is safe to use. Ensure that you download Easy Recovery Essentials from the official website or a trusted source to minimize the risk of downloading a compromised or unsafe version.
Summary
Based on my experience, consumer reviews, and ratings, I do not recommend Easy Recovery Essentials as a data recovery or Windows repair tool. Although it can back up data, it does not help recover your lost files, proving useless in this regard. I recommend using PassFab FixUWin as it is the best alternative with amazing features, success rate, and reviews.