You are activating your iPhone and performing the steps by the prompts on the screen, and suddenly, you are presented with the activation lock error. This is quite frustrating, of course. However, this problem is a common one and you can actually fix it via iCloudin - an iCloud bypass tool. So this article is all about iCloudin review, answering questions about iCloudin and introducing an alternative to iCloudin. Now let's cut to the chase and show you a comprehensive review of this tool.
Part 1. What is iCloudin?
Imagine that you have bought an old iPhone and would like to activate the second-hand iPhone using your Apple ID, but only to find the iCloud activation lock that asks you to enter the iCloud account that was used by the previous owner. So you will have to figure out what iCloud activation lock is and how to fix it. This is where iCloudin comes in.
iCloudin is one of the most effective activation unlocking tools. iCloud activation lock is used by Apple to keep the device from being stolen, and that's why users have to enter the iCloud account that is originally signed in. iCloudin helps bypass the activation lock in your iPhone or iPad, so that you won't be stuck in the activation lock screen and will be able to continue using your iPhone or iPad.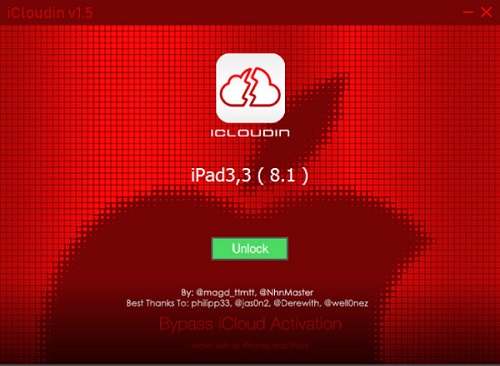 Part 2. Is iCloudin Safe?
iCloudin is safe when it is working. Why would we say that? Note that iCloudin is only compatible with iOS 9 and lower, which means that most iOS versions will not be able to use this program to bypass activation lock. In this case, it would be better to use iCloudin in the devices that are supported by iCloudin. As for the devices that are incompatible, it may cause issue or it may not, so don't beat a dead horse.
Part 3. Is iCloudin Real or Fake?
Some people have complained that iCloudin may not real because it is not working in their devices, and it is hard to download. As a matter of face, iCloudin is real, but most the installation files are outdated and unavailable to download. Just because the app is not working as expected doesn't mean it is fake. It is real but it doesn't help in your problem. Don't be upset. We will introduce a great alternative that 99% works in Part 6. so if this tool didn't work, head to Part 6.
Part 4. Pros and Cons of iCloudin
Advantages:
Completely bypass or unlock iCloud activation lock iPhone and iPad.
It is quite easy to learn and use the software, even for whoever without any technical skills.
iCloudin is free to download and use, so you don't have to pay or subscribe, which is way more attractive compared with other software.
Disadvantages:
iCloudin only works for devices with iOS 9 and lower versions. Based on the fact that most iPhone and iPad have already been upgraded to new versions, iCloudin won't be on the list when people think if bypassing activation lock.
iCloudin works on Windows computers, and Mac is not supported.
iCloudin is kind of difficult to download, especially for people who are eager to solve the current issue and without too much time and patience.
The UI design is outdated.
Part 5. How to Download iCloudin and Use It?
To download iCloudin into your computer and use it, you can follow the instructions below:
Step 1: Visit http://icloudintools.info/ in your computer, and click iCloudin to open the info page.
Step 2: Click the iCloudin Server button to download iCloudin.
Step 3: Extract the downloaded file, and run iCloudin installation file to install it in your Windows computer.
Step 4: Be sure to install the latest version of iTunes in your Windows computer.
Step 5: Connect your iPhone or iPad that runs into the activation lock issue, and make sure it is connected.
Step 6: Launch iCloudin program, and click Host's file IMEI on the interface.
Step 7: locate iCloudin folder in your computer after you see a new pop-up. And then run Hosts_Activation_IMEI.java. Then iCloudin will start working on removing activation lock for your device. Simply wait until it completes.
Part 6. Best Reliable Alternative to iCloudin
Although iCloudin does a great job in bypassing iCloud activation lock, it has its drawbacks. If your iPhone or iPad runs newer version of iOS, then take PassFab Activation Unlocker into consideration, because PassFab Activation Unlocker supports iOS 12-14.2 from iPhone 5S to iPhone X. More importantly, this software comes with a high success rate and works both on Windows and Mac.
How to bypass activation lock via PassFab Activation Unlocker:
1. Download and install PassFab Activation Unlocker on your computer (available for Win & Mac). Launch the program, and click Start.
2. Read the agreement carefully and click Next. Then connect your iPhone that that needs to be fixed to your computer, and the program will automatically detect your iPhone and download the jailbreak tool. You should follow the prompts by the program to download the jailbreak tool.
5. After downloading the jailbreak tool, click Start Jailbreak. Follow the on-screen instructions to jailbreak your iPhone/iPad.
7. After that, click Start Remove and go ahead to the next step.
8. Click Done and you are good to go. Finally you will bypass iCloud lock successfully.
Part 7. Comparison Table Between iCloudin and PassFab Activation Unlocker
To have a comprehensive understanding of iCloudin and PassFab Activation Unlocker, read the table below:
| Software | iCloudin | PassFab Activation Unlocker |
| --- | --- | --- |
| Developer | iCloudin | PassFab |
| Official Website | http://icloudintools.info/ | https://www.passfab.com/products/remove-activation-lock.html |
| Price | Free | $29.95 |
| Security Level | The website doesn't have SSL security certificate | The website has SSL security certificate, and it looks official, updated, and informative |
| Ease of Download and Install | Medium | Easy |
| Ease of Using Software | Medium | Easy |
| Platforms | Windows | Windows & Mac |
| Supported iOS Versions | iOS 9 and lower versions | iOS 12 to iOS 14.2 |
| UI Friendliness | UI design is obsolete | UI design is great and easy to use |
Bottom Line
So this is it. Hopefully this article comes to your assistance while you are looking for an iCloud activation lock bypass tool. This iCloudin review serves its purpose to share with you the detailed information about iCloudin, and introduce an extraordinarily excellent alternative to iCloudin - PassFab Activation Unlocker.