Computers have gained significant importance in our lives. When a computer is new, it runs smoothly, but over time, it starts slowing down and lags sometimes. It is due to the junk files and unnecessary data on our system filling out the available memory space. Removing these files manually is so time-consuming and difficult. Therefore, you look for a tool to automate the process.
In this article, we will do a detailed review of CCleaner, the most popular system optimizer and cleaner, and find out the answer to "Is CCleaner safe?".
What is CCleaner?
CCleaner is one of the most popular system optimizers and system cleanup tools. It was initially released in 2004 by Piriform and is now installed on 5 million devices weekly. The program cleans your system and protects your privacy, making your system work faster by removing junk files. Due to its user-friendly interface, comprehensive features, and competitive pricing, users find it easy, convenient, and affordable compared to other such programs.
Is CCleaner Safe?
The main thing to consider while opting for software is its safety. So, is CCleaner safe?
Before 2017, CCleaner was considered safe. But now, this answer is doubtful as in mid-2017, it was hacked 2 times since Avast acquired CCleaner, and after those disreputable occasions, it lost the fame it had gained in the last 13 years.
The first cyberattack infected 2.27 million users stealing information like PC names, IP addresses, list of installed and active programs, etc.
A second wave of attacks occurred from mid-May to early October 2019. The hackers used an employee's VPN credentials to invade the network of Avast. According to the company, the hacker planned to add malicious code to the CCleaner but failed due to Avast's quick actions.
Currently, no security issue related to the CCleaner app has been reported. CCleaner acquires many advanced security features to secure and enhance your system's performance.
Now, CCleaner is one of the world's most popular performance optimization tools. To add more improvements, it releases regular updates to confirm the system's security.
Is CCleaner Free?
CCleaner comes in free as well as paid versions. Its free version allows users to enjoy full functionality free of cost without any email or credit card information in the Windows system. So, to some extent, CCleaner is free.
However, you need to upgrade to a paid version of CCleaner to enjoy its more advanced features. Here are some details related to its pricing plans and features:
Version
Pricing
Features
CCleaner Free
Free

Basic Health Check
Custom Clean
Registry Cleaner
Startup and Browser Plugins Manager
Disk Analyzer
Duplicate Finder
System Restore Manager
Drive Wiper
Uninstaller
Smart Cleaning
Inclusions and Exclusions

CCleaner Professional
$29.95/year

Everything in CCleaner Free + Advanced Health Check
Deep Clean
Scheduled Cleaning
Adjustable Smart Cleaning settings
Automatic Browser Cleaning
Software Updater
Driver Updater
Priority Support

CCleaner professional plus
$49.95/year

Performance Optimizer
Driver Updater
PC Health Check
Software Updater
Faster Computer
Privacy Protection
Real-time Monitoring
Scheduled Cleaning
Priority Support
File Recovery
Hardware Inventory
CCleaner for Android Pro
CCleaner for Mac Pro
From the above versions, you can choose whichever suits you the most.
Is CCleaner Worth Buying?
Yes, CCleaner is worth buying if your system is too tangled. In case you want to clean your system's mess without much effort, then $30 is not a high price for a safer, cleaner, and faster system.
However, you can also use the 14-day free trial of CCleaner Pro, which does not require you to enter credit card details for a clean and optimized PC.
Besides, if you have not been using your computer for a long time, you do not necessarily need to spare $30. Instead, you can use the Windows built-in tools such as Disk Cleanup, DISM, and Registry Editors to get a cleaner and faster system free of cost.
Is CCleaner Safe for Android?
Yes, it is safe for Android. Even the pc version of CCleaner has suffered a lot from malware in the past, but still, it is considered good and secure for Android phones. CCleaner has a low spam rate and complete functionality, due to which it is considered to be one of the most secure and efficient apps.
In Android, the power cleaning technology of CCleaner is the same as in Windows. It consists of a lot of useful features. This app can manifest your mobile's cache and storage space. It also stops and removes processes, apps, and other unwanted data.
CCleaner mobile apps have both free and premium versions. In the free version, you only get the cleanup tools to remove photos, music, videos, apps, and other unnecessary files.
Besides, in the premium version, you get advanced features, such as
Deep clean
Long-term boost
Automatic Cleaning
Due to its most polished and updated system, we can surely say that CCleaner is safe for Android.
Extra Tips: How to Fix your Computer's Blue/Black Screen or Other Windows Issues?
You can use ccleaner to protect your pc in daily. But things may not work so smooth every time. If you pc suffer from some errors and shows blue screen or black screen or stuck on certain screen, ccleaner isn't the expert in Windows repair field.
Therefore, we present the best, safest, fastest, and most reliable Windows repair tool: PassFab FixUWin.
PassFab FixUWin is a Windows repair tool that can fix a variety of problems, including boot problems, system errors, virus infections, corrupted files, and other system problems. It works by scanning your system and identifying the problems. It can then fix the problems automatically or provide you with instructions on how to fix them manually.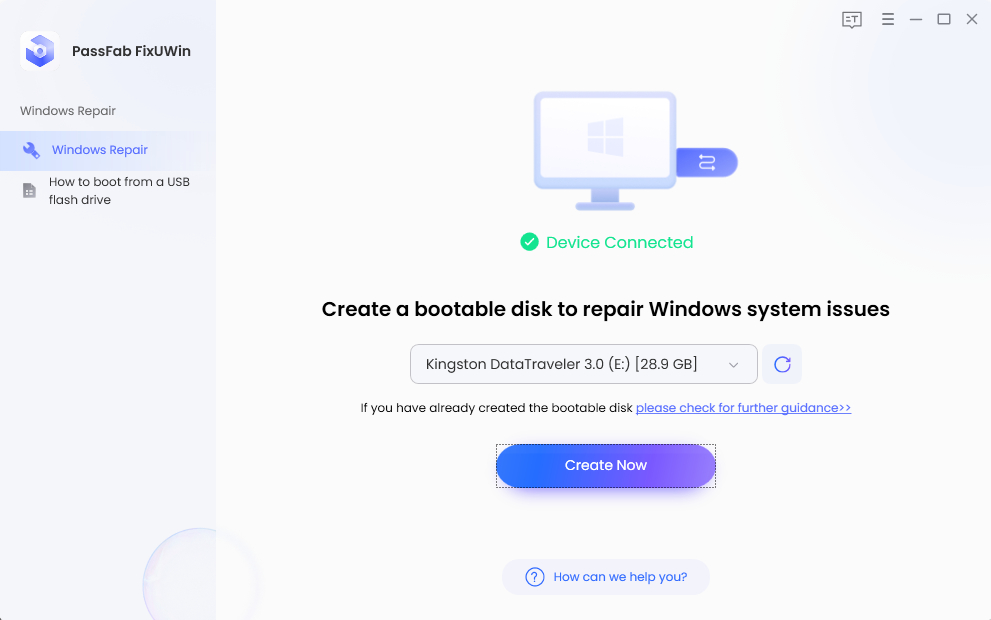 PassFab FixUWin works on the following principles:
Scanning: PassFab FixUWin scans your system for problems. It looks for things like missing or corrupt files, registry errors, and other issues that can prevent your computer from booting up or running properly.
Repair: Once PassFab FixUWin has identified the problems, it can attempt to repair them automatically. If it cannot repair the problems automatically, it will provide you with instructions on how to fix them manually.
Bootable media: PassFab FixUWin can create a bootable USB drive or DVD that you can use to start your computer in Safe Mode. This allows you to access PassFab FixUWin and repair your computer even if it is not booting up properly.
Here are some of the benefits of using PassFab FixUWin:
Easy to use: PassFab FixUWin is easy to use, even for non-technical users. The interface is simple and straightforward, and the instructions are clear and easy to understand.
Safe and reliable: PassFab FixUWin is a safe and reliable tool. It has been tested by a team of experts and has been found to be effective in fixing a variety of Windows problems.
Wide range of problems: PassFab FixUWin can fix a wide range of Windows problems, including boot problems, system errors, virus infections, corrupted files, and other system problems.
FAQs:
1. Is CCleaner good?
Yes, CCleaner is a good choice as it is an efficient performance optimizer that can boost your system speed up to 34 percent. It can safely remove unwanted files or junk data in real-time.
2. Is CCleaner a virus?
No, CCleaner is not a virus but a legitimate app for macOS, Android, and Windows to help boost its performance and maintenance.
Final words
CCleaner faced much criticism because of cyberattacks on it in the past. Due to these cyberattacks, people started to consider it unsafe for their systems. But the question is, "Is CCleaner safe? ".
From the discussion above, we can conclude that CCleaner is getting better day by day, and new features are being added to it. It has free as well as paid versions. The free trial does a decent job if your computer is not tangled, but if you find it worth it, you can go for the premium version.
Besides, in this article, we have also proposed the best tool to resolve Windows errors, i.e., PassFAb FixUWin, which is an incredible tool to fix 200+ Windows issues, including blue/black screen errors. This tool can also optimize your system performance.