I recently updated my pc to windows 10 a week ago. And 2 days ago, I turned my PC on and noticed I couldn't put in my pin. I've been stuck on welcome screen for over 24 overs. Please help, because I have been watching YouTube tutorials and nothing has worked.
Have you noticed that after entering the password, the cursor keeps rotating on the welcome screen, and you do not get into the PC? If yes, you are facing the same issue many Windows 10 users face. After the recent update of Windows 10, lots of people have mentioned the issue in their queries. Read this article, and learn to fix stuck on Windows welcome screen . If you search the Internet, you will find many solutions, but in this article, we have gathered the best of all for your convenience.
Part 1: The Reasons that may cause your Windows 10 Stuck on Welcome Screen
Several reasons can cause a particular issue in Windows 10, and it becomes difficult to identify the issue if Windows does not show any error code. However, some of the potential causes of Windows 10 stuck on welcome screen problem are:
Startup failure
Incompatible software
Issues with installed device drivers
Incomplete or failed Windows update installation
Corrupt registry files
Pending software updates
Virus or malware
Despite all the aforementioned reasons, the stuck on Windows welcome screen issue is resolvable.
Part 2: Some Basic Things you can Check First
1.Disconnect External Peripherals
First, try removing all the peripheral devices connected to the computer, such as the mouse, keyboard, printer, etc., as they can mess up with the startup routines. After removing the peripherals, restart your computer and check if the issue persists.
2.Disconnect PC from the Internet
Try disconnecting the Internet from your PC, if it is connected automatically on Startup, by clicking on the WiFi or Ethernet icon and the Disconnect button. Now, restart your computer and try to login again.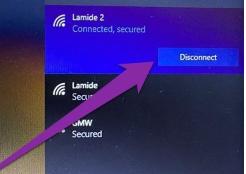 Part 3: How to Fix Windows 10 Stuck on Welcome Screen?
1.Run the system file checker
The System File Checker (SFC) is a tool that helps you troubleshoot the system if there is something wrong with the system files. If corrupted or damaged system files cause problems such as boot loops or being stuck on Windows welcome screen. However, you should run the SFC if you suspect that your system files may be got bugs.
Restart your computer while pressing the boot key.

After entering the Windows Recovery Environment (WinRE), go to Troubleshoot, choose Advanced Options, and open the Command Prompt.

Type sfc /scannow. Press Enter.
The system will check system files and fix any discrepancies found during the process. Once done, reboot your computer; hopefully, you will get into your PC easily.
2.Run the DISM Command
Just like SFC, DISM checks for the corrupted and damaged files in your PC and tries to resolve the startup problems. The only difference between both is that SFC checks in the disk's boot sector only, whereas the DISM checks the entire disk for issues and damaged files and repairs them. You can run the DISM as follows:
Restart your computer while pressing the boot key.

Navigate to Command Prompt by choosing Troubleshoot -> Advanced Options.

Type DISM.exe /Online /Cleanup-image /Restorehealth. Press Enter.
After DISM has done the checking, it will solve any issues found. Now, restart your PC to make sure that the problem is gone.
3. Disable Fast Startup
Fast Startup is a feature that helps your computer open up quickly. Although it sounds to be a very useful feature, it damages your disk and other parts of the computer as it keeps the PC resources up while the PC is off. It can also cause Windows 10 stuck on welcome screen issue.
Enable Safe Mode on your computer.

Open the Control Panel.

Go to Power options and click on choose what power button does link.

Click on Change settings that are currently unavailable link.

Uncheck the Turn on Fast Startup box.

Click Save Settings and reboot your PC in standard mode.
4.Change Startup Type of Service
According to some users, struck on Windows 10 welcome screen problem can be caused by the Windows update services and can easily be resolved by changing the startup type of service as follows:
Go to the Services window.

Look for the Windows Update service and double-click on it.

In the Properties Window, set Startup Type to Automatic (Delayed Start) and click OK.

Restart the computer.
If the Windows updates were causing the stuck on Windows welcome screen, the above steps would resolve the problem.
5.Boot System in Clean Boot Mode
You can enable the clean boot mode to disable any third-party services when your computer boots up. The clean boot mode resolves all the conflicts with third-party services that may cause the Windows 10 stuck on welcome screen problem.
Boot your computer in Safe mode, open the Run dialog, type msconfig, and press Enter.

Go to the Services tab and check the box in front of Hide all Microsoft services to view only third-party services.

Click on Disable all and Apply buttons, respectively.

Reboot your system.
Tips:
This time, the PC will boot with all the essential Microsoft services. Check whether the Windows Driver Foundation still shows high CPU usage. If not, there is some third-party service that is causing the problem. You must identify and disable the service or update the driver or application.
6.Use PassFab FixUWin
new
If none of the above solutions work for you, here is how to fix stuck on welcome screen in Windows 10 issue with the best yet recommended third-party tool, i.e., PassFab FixUWin. It is an amazing tool designed to resolve windows black/blue screen and other cashing issues and efficiently manage computer resources. Certainly It helps you get rid of stuck on welcome screen in simple simple steps!
Install PassFab FixUWin on any other PC.
Plug in a USB drive and click Create boot disk now button.
Choose your USB device from the list and click Next.
Insert the bootable media into the problematic computer and restart it.
Press the boot key and set your bootable device on priority.

| Boot Key | Desktop | Laptop | Motherboard |
| --- | --- | --- | --- |
| F12 | ASUS, Acer, Founder, HP, Hasee, Haier, Lenovo, THTF | Acer, BenQ, Dell, Emachines, eMachines, Fujitsu, Founder, GIGABYTE, Gateway, IBM, Lenovo, SAMSUNG, ThinkPad, Hasee, TOSHIBA, THTF, MSI | Great Wall, Dell, TOSHIBA, Foxconn, GIGABYTE, Fujitsu, Gamen, Haier, IBM, Lenovo, Topstar, SONY, THTF, SAMSUNG, ThinkPad, Acer, HP, Hasee, Founder |
| Esc | Dell | ASUS, Sony | Great Wall, Foxconn, ESC, SOYO, MAXSUN, Colorful, SONY, SAMSUNG, Spark, UNIKA |
| F9 | | BenQ, HP | BISOTAR, HP |

Save changes and restart the system and you will see the interface.
Click on the Automated Repair button.
Choose the disk partition you need to repair and click Start repair.
Click Restart.
When your PC restarts this time, you will no longer get stuck on the welcome screen.
Conclusion
Not being able to get into your PC is frustrating when you do not know the problem or your computer does not provide any information regarding the error. Windows 10 stuck on welcome screen is one such issue. In this article, we have proposed the best possible ways to resolve this issue. Out of all the methods mentioned in the article, we recommend using the PassFab FixUWin as it resolves all the problems automatically without interfering with any system files.