At times people tend to forget their Microsoft Office password and are unable to get access to their data. For this purpose, we are here with the review of a tool name "PassFab for Office," which can recover your lost or forgotten passwords in a short time. In this review, we will discuss everything you need to know about PassFab for Office Password Recovery tool. Furthermore, we will also share a comprehensive guide on how to use it to recover the password for your Microsoft Office. So, without further ado, let's get going!
Part 1. What is PassFab for Office?
PassFab for Office is a tool that recovers your forgotten passwords for all your Microsoft Office applications, including Excel, Word, and PowerPoint. It is a professional tool, and its primary focus is on the complete satisfaction of its users. Therefore, it recovers your password in a matter of minutes without altering or damaging your crucial data in your files.
It comes with 3 different and powerful password recovery modes and recovers your password in 3 simple steps. More than 6,462,000 have used this tool, and all of them are satisfied with the results. You can check the reviews of these yours to get a better idea of how good PassFab for Office is.
Part 2. Is PassFab for Office Safe?
Let's be honest, every user is concerned about his/her security. Therefore, it's only natural to question the safety of a tool before using it. Well, we have got good news for you. PassFab for Office is 100% safe and secure. It is completely free of Malware, Spyware, or viruses that can damage your computer system or your personal data.
We have personally used it, and we can confidently vouch for its security. Unlike most password recovery tools, PassFab doesn't even save user's information on their servers, which gives you an extra layer of security. Most importantly, the official website of PassFab is protected by McAfee.
Part 3. Is PassFab for Office Free?
PassFab for Office offers both free and paid versions. The free trial of this software has quite a few limitations. The free version primarily gives you an option to get hands-on experience before buying the full version. Once you upgrade to the premium version, you get access to all the advanced features and options necessary for your password recovery needs.
PassFab offers 3 basic types of licenses for the paid version, including monthly, yearly, and lifetime subscription. You can acquire any subscription, depending on your needs. PassFab accepts all common payment modes and guarantees 100% secure transactions. To be honest, it is quite rare to find a tool with various key features at such a reasonable price.
Part 4. Key Features of PassFab for Office
PassFab for Office is an ultimate package that provides users an all-in-one password recovery solution for Microsoft Office. Due to this factor, users tend to come back to it again and again. Now, let's review some of the key features of PassFab for Office Password Recovery Tool:
It smoothly and effectively recovers lost or forgotten passwords of Microsoft Excel, Word, and PowerPoint.
PassFab for Office recovers your password in 3 simple steps.
An easy and simple to use software for any level of user; whether beginner or advanced.
It provides three kinds of password attacking solutions that help the user recover their password without any hassle.
100% safe, secured, and accurate.
Unlike other online tools, PassFab doesn't save your information on its servers.
This software supports Windows 10, 8.1, 8, 7, Vista, XP. Along with that, it also caters to Windows Server 2019, 2016, 2012, 2011, and 2008.
It is a very fast tool with a highly trusted industry-led technology and an advanced algorithm.
This tool can successfully recover passwords from most of the Office file types.
Supports multi-core CPU acceleration to give you up to 40 times faster recovery.
Comes with free customer support and lifetime updates.
Part 5. Where to Download PassFab for Office
There may be various websites offering you to download PassFab for Office. However, most of these websites aren't secure and comes with viruses, malware, and spyware. The safety of your personal information always comes first. So, it is extremely important to ditch such websites.
If you wish to avail of this tool, you can download and install it from the official website of PassFab. This way, you can be sure that you downloaded the original and latest version of the tool while keeping yourself safe.
Part 6. How to Use PassFab for Office
Now comes the most important part of the article: How to use PassFab for Office? As we mentioned earlier, it's an easy to use tool and recovers your password in 3 simple steps. Having said that, it is time to review how to use the PassFab for Office password recovery tool. So, let's learn how you can unlock your encrypted Microsoft Office files with the help of this software!
Step 1. First of all, download the tool from the official website of PassFab. Then, open the file and install it using the installation wizard. Once you have installed the program on your PC, launch it with administrative rights.
Step 2. Now, click on the 'Add' button to import your password-protected Office file to the program. This will open a new window where you will be able to browse and select your file. Once you have selected your file, the program will automatically determine the type and complexity of the password.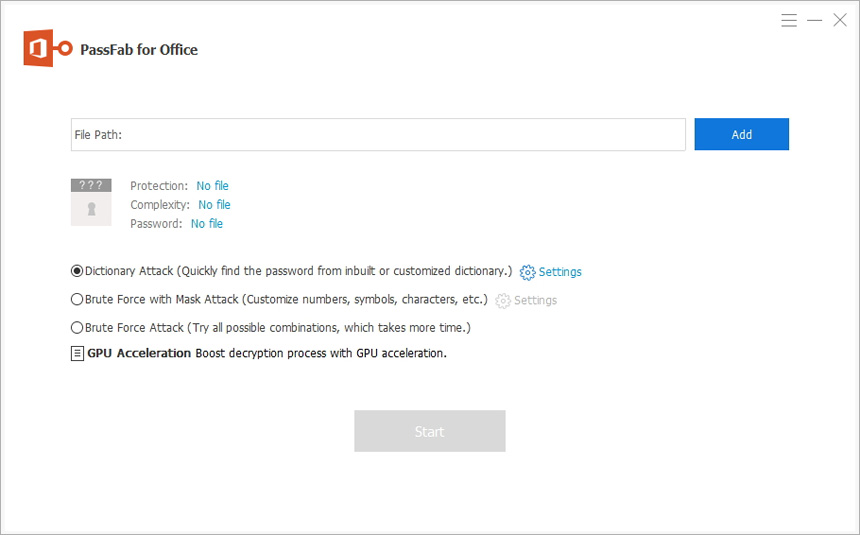 Step 3. Then, you need to choose a suitable attack type. PassFab gives you 3 password attacking mode: Dictionary Attack, Brute force with Mask Attack, and Brute Force Attack. The choice of selecting a particular attacking mode is totally up to you. However, choosing the optimal type depends entirely on what you remember about your password. Let's see when to use these attacks:
a) DICTIONARY ATTACK: Basically, the dictionary attack recovers your lost/forgotten password using a dictionary of passwords. You can use your own dictionary and import it to the program by entering all the previously used passwords in a text file. Alternatively, you can download the full password dictionary from PassFab to recover your password.
b) BRUTE FORCE WITH MASK ATTACK: You can make use of this option if you have some clues about your password. For example, it's best to use this attacking option if you remember the length of your password, prefix, or suffix. These details can dramatically increase the speed of recovery as well.
c) BRUTE FORCE ATTACK: In case you don't remember any details about the password or don't have any clue, you can use this attack mode as your last resort. This method will try all the possible combinations of the characters until it finds your password.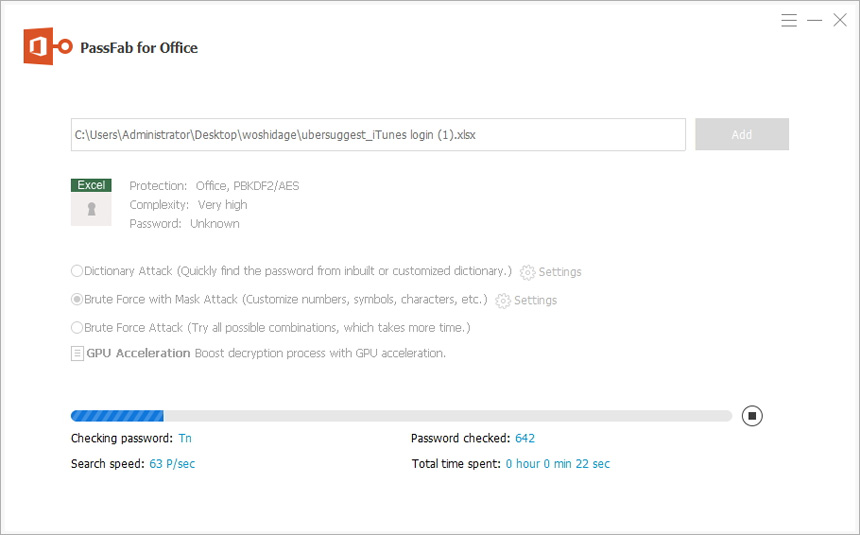 Step 4. After you have selected a password attack depending on your needs, click on 'Start' to initiate the recovery process. Now, wait for the recovery process to be completed. After a while, you will see your password on the screen. You can now use this password to unlock your Office files.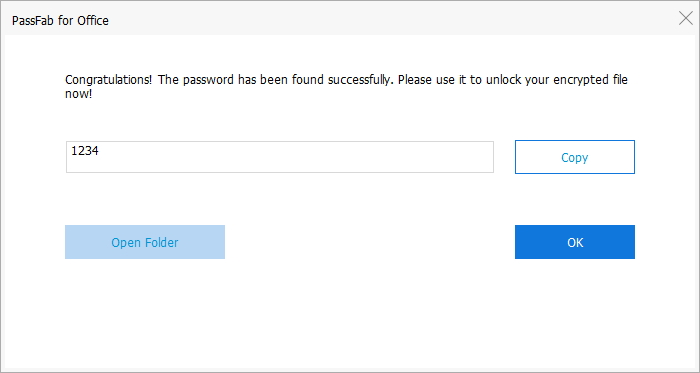 Bottom Line
Now that you have finished the article, we hope all your queries regarding PassFab for Office are cleared. We have provided you with a detailed review of PassFab for Office Password Recovery tool along with a step-by-step guide on how to use it. It is an amazing tool that will recover your password in the easiest and quickest way possible. However, if you are still not convinced, then you can read other reviews of PassFab for Office as well. Let us know if you have any further questions.