Forgetting Windows password can be a big bummer. Without the password, Windows will not let you access your precious files. Believe me, getting locked out of your PC is never a fun experience. It can hinder your productivity, especially if most of your work involves using your PC or laptop. Now, you must be wondering how to resolve this issue for good. Don't worry, we are here to help. In this article, we are going to review a tool, Passper WinSenior, that will get rid of this nuisance in a matter of minutes. So, without further ado, let's dive into it!
Part 1. What is Passper WinSenior?
Passper WinSenior is a tool that recovers your Windows password effectively in case you forget/lose it. It's an efficient utility that not only recovers your Windows password but can also reset and even remove it. Furthermore, it can help you create new user accounts and also remove the old accounts that you don't want to use anymore.
The best thing is that you can do all of this without having to log into your PC. It's fast, accurate, easy to use, and doesn't tamper with your data in any way. Most importantly, you can create a password recovery disk using Passper WinSenior, which can be used on any PC to unlock it.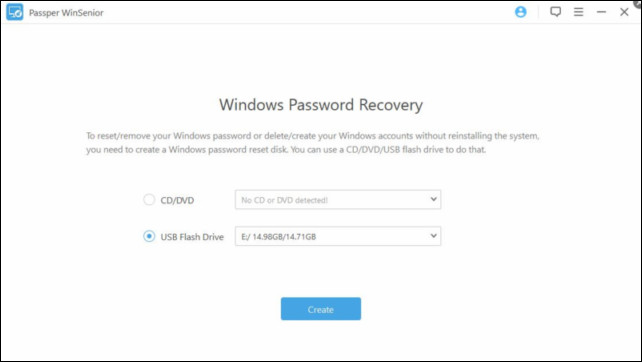 Part 2. Who Will Need Passper WinSenior?
As I have mentioned earlier, the primary purpose of Passper WinSenior is to recover, reset, or remove the Windows user password. Having said that, if you are someone who is locked out of the computer because you've lost/forgot your password, you would definitely need Passper WinSenior. Other than this, you might also need this tool for its additional services, like adding a new user or removing an already existing user.
Other than this, you may also need a tool like Passper WinSenior in your arsenal to avoid getting caught unprepared. It's because most of us use passwords on our PCs, and it's normal to forget your password, especially if you use different passwords for different services. Facing a "password incorrect" error out of the blue can be quite daunting. So, it's always better to be prepared for such scenarios in advance.
Part 3. Is Passper WinSenior Safe?
We are all concerned about our security in this cyber world. Therefore, whenever we download any software or tool, we want to make sure whether it's safe or not. This leads us to our question: Is Passper WinSenior safe? Yes, it is completely safe and also doesn't delete or modify your data in any way. Furthermore, it neither collects your data nor sell it to any third party.
Part 4. Is Passper WinSenior Free?
Sadly, Passper WinSenior isn't completely free. However, it comes with a free trial version that you can use to get a better idea of its functionalities, interface, and working. The only drawback is that the trial version has very limited features. Still, it would allow you to get a hands-on experience before actually purchasing the full version. Passper WinSenior offers three subscription plans for its paid version. You can choose from a 1-Month Plan, 1-Year Plan, or Life Time Plan depending on your needs.
Part 5. Key Features of Passper WinSenior
Passper WinSenior is a versatile tool that offers several vital and essential features. So, let's review some of the most prominent and key features of Passper WinSenior.
It can effectively recovery, reset, and remove your Windows password.
Allows you to create or delete user accounts, including admin accounts.
It comes with a friendly and self-explanatory user interface.
It recovers your password in three major steps.
Even novice users can use it without any problem.
It's extremely fast and accurate. It can recover your password in a matter of minutes.
Allow you to create a password recovery disk that can be used with any Windows PC.
It's safe and doesn't modify your data in any way.
Runs of all Windows platforms, including Windows 10, 8.1, 8, 7, Vista, and XP.
Part 6. Does Passper WinSenior Work?
Passper WinSenior isn't like other software that claims to solve all your problems but doesn't work in reality. We personally used Passper WinSenior before writing this review to test its capabilities. It not only works, but it's also one of the most accurate Windows password recovery tools. So, yes, you can trust it in terms of its working. However, there are still a few better tools than Passper WinSenior, such as PassFab 4WinKey.
Part 7. Alternative to Passper WinSenior – PassFab 4WinKey
In case you don't like Passper WinSenior for some reason or simply want to get your hands on an even better Windows Password Recovery Tool, then you should definitely consider PassFab 4WinKey. PassFab 4WinKey is a similar tool but offers more functionalities, better performance, more security, and an even more friendly user-interface. The best part is that PassFab 4WinKey costs less than the Passper WinSenior on top of being better in almost all other aspects. Another great thing about PassFab 4WinKey is that it also works on Mac. It also recovers, resets, or removes your Windows password in 3 simple steps which are as following:
Step # 1: Download and install PassFab 4WinKey on a working computer.
Step # 2: Create a Password Recovery Disk using the tool.
Step # 3: Use the Password Recovery Disk to recover, reset, or remove the Windows password on your Locked PC.
Conclusion
This article covers a comprehensive review of Passper WinSenior tool for Windows password Recovery, including its key features and reliability. This tool can come to your rescue if you ever forget or lose your Windows password. However, there is an even better and cheaper alternative with more functionalities. Yes, we are talking about 4WinKey. You can check it out as well. Finally, that's it, you can also click here to read more about PassFab 4WinKey review. Let us know if you have any questions. We try our best to answer your queries as soon as possible. Cheers!