Have you forgot the password of your Nokia smartphone? Worry not and read this article carefully to learn how to unlock Nokia phone without any hassles.We have complied a few proven solutions to help you unlock Nokia phone.
Part 1: How to Unlock Nokia Phone Free?
Method 1: Unlock Nokia Phone Free with a Unlock Code
The first method of how to unlock Nokia phone for free is via unlock code. Most of the smartphones nowadays are typically locked by the company so that users don't use them on other networks.
If you want to unlock a phone from its original network, all you need is to request for the Network Unlock PIN (NUP). With this code, unlocking a Nokia locked phone is on your fingertips.
To keep the ball rolling, follow the below tips to get the job done:
First of all, you need to contact the service provider of your Nokia phone.
hen, follow the instructions carefully to get your PIN.
After that, remove your SIM card and put the new WIM you want to use. When prompted, enter your PIN number and voila, you will see "SIM restriction off" on your screen.
For someone using an older Nokia model, enter the code in the below command:

# PW + unlock code + 7#

Tips:

If this code doesn't work, try using "1" in the code in place of "7"
Method 2: Unlock Nokia Phone Free with Find My Device
If you have nokia unlocked phones and want to remove screen lock for free, then this is the right solution for you. It requires you to remove the screen passcode using the Google's Find My Device service.
As good and efficient Find My Device appears, it doesn't work in all cases. For this service to work, make sure the below conditions are met:
You must have signed in to your Google account before forgetting the password.
It is connected to an internet connection – be it Wi-Fi or mobile data.
The phone's GPS is also turned on.
The Device is appearing on Google Play.
And lastly, you have already enabled Find My Device on the locked phone.
If all these requirements are fulfilled, here's how to unlock a Nokia phone.
Head to Find My Device from your computer's web browser.
Login with your Google account synced with the locked phone.
The program will show a list of all the phones connected to your Google account. Select the device you want to unlock.
Now, choose the "ERASE DEVICE" option and hit Erase on the pop-up confirmation tab.
And that's how you complete the task of Nokia unlocked phones. Note that this method has low success ratio as not all conditions are always fulfilled.
Method 3: Unlock Nokia Phone for free with Google Account
Another proven workaround for unlocking a locked Nokia phone without password or PIN. This solution entails resetting your phone using the Google account synced with it.
Since it doesn't need any third-party tools, anyone can use this method without any trouble. But the biggest downside is it works for older Nokia phones running on Android 4.4 or earlier. If you're using a latest model, jump to the next solution.
Check out the below steps for how to reset a Nokia phone that is locked:
Turn on the locked phone and enter the wrong password a few times, like maybe 5 or 6 times
It will bring up the Forgot Password tab. Tap it.
Enter the login credentials of your backup email and tap Sign in.
Google will verify your email, and if it's correct, it will automatically unlock your phone.
Part 2: Most Effective Way to Unlock Nokia Phone without any Passwords
Looking for the easiest and most effective method to unlock Nokia phone without password or Google account? That's where a professional unlock tool like PassFab Android Unlocker comes into play.
Having millions of active users, this program has been a one-stop solution to unlock any Nokia phone effortlessly.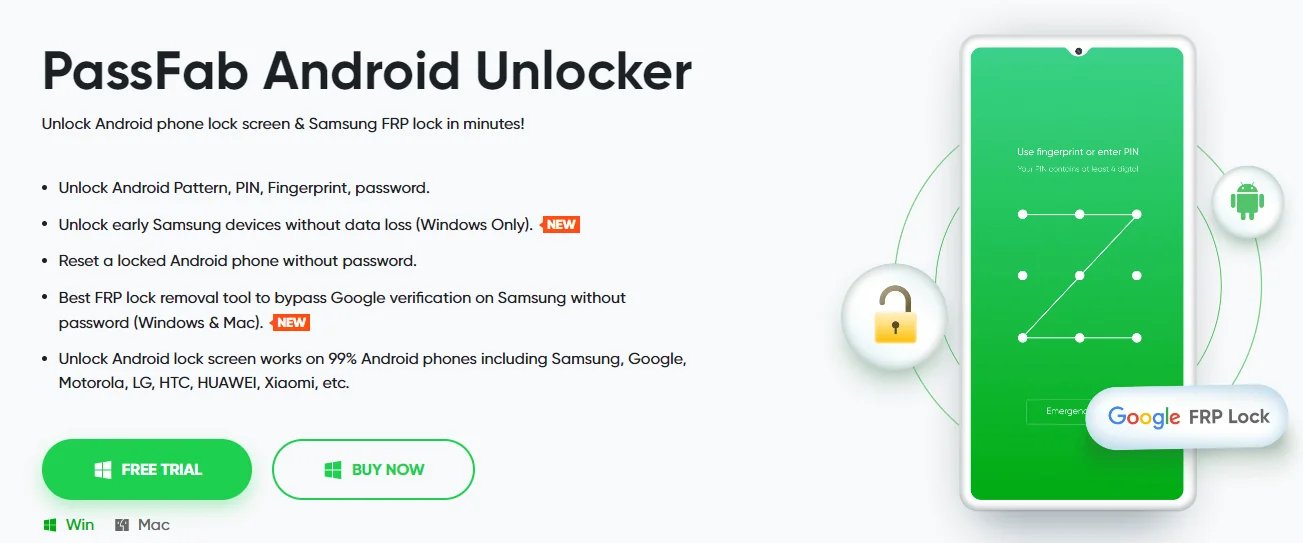 1.Key Features of PassFab Android Unlocker
Instantly unlock Nokia phone pin code
Bypass a Nokia phone keypad and screen in seconds
Removes all kinds of screen locks like Pattern, PIN, Fingerprint, etc.
Easily get rid of FRP lock or Google verification lock on Samsung phones
Cost-friendly premium plans compared to other similar tools ion the market
2.How to Effectively Unlock a Nokia Phone with PassFab Android Unlocker
We have divided the whole procedure of Nokia phone how to unlock in 4 simple steps. Give it a read:
Install and launch PassFab Android Unlocker on your PC, and hit the "Remove Screen Lock" to get started.
Now, connect the locked phone to your computer. When the program detects it, click on "Remove Screen Lock."
In this step, hit Erase > Yes to confirm that the process is going to erase all the data on your phone.
Wait patiently until the program removes the screen lock successfully. Hit Done and start using your phone.
That's how easy and simple it is to unlock Nokia phones using PassFab Android Unlocker. After getting its premium version, you can unlock almost any Nokia or Android phone anytime, anywhere.
Conclusion
This article shows that unlocking a Nokia smartphone is no longer a meticulous task. With the aforementioned tips and solutions, anyone can unlock Nokia phone without any hassles.
Depending on the situation, you can either ask for your phone's NUP or use Google's Find My Device to get rid of the screen lock. But we strongly recommend you to get the premium version of PassFab Android Unlocker to get the best possible results.