I can't update the apps; it says that my apple id is disabled? I was able to login using the username and password. I was having an issue while updating the apps. I even contacted Apple a few months back and they stated that I would need to resent my password. After this Apple sent me an email which I could use to reset the password. Though, even after following the instructions I couldn't update the applications or buy icloud storage space. I would really appreciate if any kind of help is provided. Thanks.
Part 1. What Does It Mean When Your Apple ID is Disabled?
One common question that most of the Apple users ask: What does it mean when your apple id is disabled?
Are you facing an issue of disabled Apple ID as well? Well, this is an issue most of the Apple users face. The sentence "your apple id has been disabled" means that you are unable to sign in to your Apple account. Also, with this issue you are unable to use any of the Apple services including the Apple Music, icloud storage or App store. This mainly happens if your someone has tried to access your account and entered incorrect password and security question multiple times.
Part 2. How to Know If Apple ID is Disabled?
To know if your Apple ID is disabled or not, there are a few messages that you need to check. The most common messages that you usually see are:
Your Apple ID has been disabled.

Apple ID Disabled. Your Apple ID has been disabled for security reasons. To enable your account, reset your password at iforgot.apple.com

You can't sign in because your account was disabled for security reasons.
Part 3. Why is My Apple ID Disabled?
The reason why an Apple ID is inaccessible is mainly because someone else tries to login to your Apple ID using the wrong password several times. If someone tries to enter your account with a different password, or tries to guess the security questions incorrectly, your ID is disabled by the Apple Company for security purposes.
To keep your account safe from hackers, Apple disables your account temporarily. You can recover your account by visiting Apple's official website. There are various distinctive ways to recover your account. Here we have provided some solutions to make it easier for you.
Part 4. What to Do When Your Apple ID is Disabled?
There are a number of solutions that can help you recover your Apple ID and reset your password. The first thing you need to do is visit iForgot.apple.com.
Below we have stated a few of them that have been quite helpful for many apple users.
Solution 1. Login Apple ID with Correct Password and Change It (Common Way)
The first and the easiest way to reset your Apple ID password is by logging in with the correct password and changing the password. Here is how you can do it.
01Press Settings and then look for the "Password and Security" Option.

02Tap on "Change Password".

03

Enter the current password, if that isn't working enter your device passcode. Now enter the new password and confirm the password by re-typing it.

04After you're done, Press "Change" or "Change Password".

05

Now you can sign in with the new Apple ID passcode and access the different Apple features and services easily.
Solution 2. Reset Apple ID Password (Official Way)
If you have tried other ways and are still unable to reset your password, then you are not signed into iCloud on a device or have not enabled the of two-factor authentication then you need to try the following steps instead for account with or without security questions.
01

Go to your Apple ID account page and press the option "Forgot Apple ID or Password".

02

Now enter your Apple ID email or username. If you have signed in to your account already, proceed to the next step.

03Choose the option "reset your passcode", and then choose continue.

04

You can choose how you want to reset your password.

05If you have set up your account with security questions, then you can choose the option of "Answer Security Questions" and follow the instructions.

06You can also go for the "Get an Email" option to reset your password. In order to reset your password, use the email sent to your account.

07If you are asked for a Recovery Key, use the steps for "two-step verification" or "two-step authentication".
Solution 3. Remove Apple ID without Email or Password (Pro Way)
Any Apple device requires a passcode whenever you restart the device, erase your phone, update the software or change or view the password settings. If you have lost the password, unfortunately, you can use the PassFab iPhone Unlocker to unlock the device without a password. It is a program that used to unlock an Apple device without needing a password.
Here are the easy steps that you need to follow.
01Firstly, launch the PassFab iPhone Unlocker. Here you'll see three main features. In order to get started, select and press the "Unlock Apple ID" and then hop on to the next step.

02Now, connect your device to your desktop or laptop and press the Start Remove button.

03Wait for a few minutes. The software is now removing your Appld ID.

04 After this, you can easily unlock Apple ID without password in your device.
Solution 4. Contact Apple for Technical Support (Final Way)
If you've tried everything else and still haven't figured out the issue, then the final method is to contact Apple for Technical Support. They can help you with the apple account disabled problem. You can visit the iForgot.apple.com and leave a query to which the Apple Technical Support team responds rapidly. They'll also help you out with any other issue you're facing.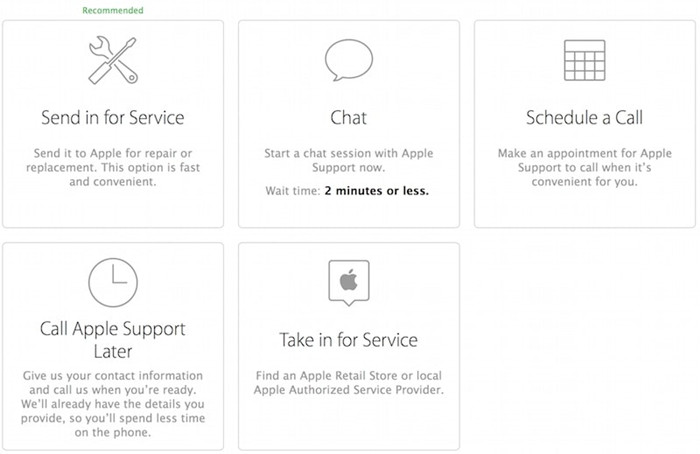 Part 5. How to Prevent This Problem from Happening Again?
In order to prevent further issues and this from happening again, it is important to make sure that you note down your password elsewhere. Moreover, you should always back-up your Apple ID with an email. Also, turn on the "two-step verification" or "two-factor authentication". These things will help you keep your account safe and at the same time, it will also prevent the issue from happening again.
Part 6. People Also Ask About This Issue
There are many questions that one thinks of. Here are some frequently asked questions that most of the people often ask;
Q1. How do I get my Apple ID enabled?
In order to enable your Apple ID, you need to enter your Email or Username along with the passcode. You can do this by visiting iForgot.apple.com and enter the information the page is asking for. This way you can easily enable your Apple ID.
Q2. How do you unlock a disabled iPhone without iTunes?
If you want to unlock a disabled iPhone without iTunes, then the first thing you need to is to install the software like PassFab iPhone Unlocker. After you have downloaded the software, connect your device and press "Start Unlock". This is one of the easiest ways to unlock your iPhone without iTunes.
Q3. How do I find out who is using my Apple ID?
First Tap Settings, then you name and finally scroll down. Now tap the device name to view its detailed information (like series, OS version, model, serial number and if the device is trusted and can receive Apple ID verification codes). For further enquiry, you need to answer your questions properly and get the information regarding the device where your Apple ID might be signed in.
To Sum Things Up
Apple ID can be disabled due to several factors, as we have already discussed above. There are number of solutions to the problem, however, it is always a good option to keep your passcode and ID information saved somewhere else to avoid such errors. Also, the iPhone Passcode Unlocker from PassFab, is highly recommended to fix disabled Apple ID. To know more about Apple devices, stay connected.