Face ID has been a prominent feature of the iPhone for some years. Users utilize these features to unlock the phone more securely. Sometimes happens that there are errors like" Face ID not working." The reason doesn't mean a broken phone or some disaster. There can be many other reasons, like unlimited tries to unlock the screen with a face id. The system starts asking for the password required for face id in such a scenario.  
Your Passcode required to enable face id still works even in this scenario. Eventually, everyone wants to return to normal and use the feature again. You can easily fix the problem without any worry. 
Many users complain about the error of the Passcode required to enable face id. It occurs when you don't use your phone for a few hours or days. The feature is for security reasons. There are many ways to avoid this passcode or unlock the screen without a passcode in case you forget. The guide provides complete information, unlocking the screen with or without a passcode or even face id. Let's start the discussion on it:
Part 1: When Do You Need to Enter Your Passcode to Enable Face ID
On iPhone, you have a password required for your Face ID that you need to enable onwards in some cases. There are times in which you have to enter the password required for your face id to enable it. 
Some of the reasons that cause the system to ask for a passcode to enable Face ID are as follow:
Firstly, you don't turn on your iPhone for a few days and then try to unlock your iPhone screen. 
You use the Find my iPhone option to unlock the screen then the system asks for a password to enable Face ID.
Someone tried five consecutive unsuccessful face id attempts to unlock the screen.
An activated SOS emergency from the iPhone can cause this.
After setting it up, you restarted your iPhone for the first time.
You didn't use the passcode for more than six days, so systems ask for it.
You or someone else used the Find my iPhone feature to bypass the screen lock from another device.
Use of Find my iPhone feature from other devices to change the code of your current device.
iPhone can't recognize your face due to some dirt on the device or camera. 
There is some malicious code on the device.
Tips: Below are the iPhone Devices with Face ID
iPhone X;iPhone XR;iPhone XS;iPhone XS Max
iPhone 11;iPhone 11 Pro;iPhone 11 Pro Max
iPhone 12 Mini;iPhone 12;iPhone 12 Pro;iPhone 12 Pro Max
iPad Pro (3rd generation);iPad Pro (4th generation);iPad Pro (5th generation)
Part 2: How Do I Turn off the Passcode For Face ID?
There are many appropriate ways to easily turn off the password for the face id on your iPhone. The situation seems serious in that your device doesn't respond. Try the following ways to fix the problem easily.
Way 1: Clear Face ID every time you unlock the iPhone
Whenever you try to unlock the face id, you must clear the front camera of the iPhone. Keep the camera some feet away from your face for easy recognition. Make sure your hand is not obstructing the TrueDepth or front camera.
Way 2: Add an Alternate Appearance
Sometimes, the device doesn't recognize your face, even with the clean front camera. We might not notice, but our face characteristics change almost daily. The change might not be noticeable, but the camera recognizes it and doesn't unlock the phone. The iPhone denies recognizing the face and thus doesn't unlock the screen. 
Sometimes you try unlocking the face id with too much makeup on your face or with a beard. The camera doesn't recognize you as it catches every little difference. There can be a better idea to avoid situations where the camera doesn't recognize you. You can set up an alternate appearance for Face ID.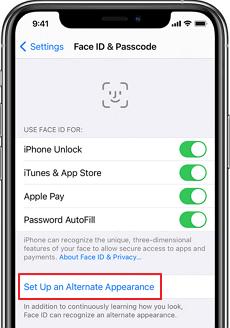 Go to settings> Face ID > Passcode
At this point, the system might ask for a valid passcode as Your passcode is required to enable face id. 
Enter the passcode and then click on Set up An Alternate Appearance
Now take care that your face is in front of the camera in the screen center. Complete the face scan to set the face id.
Click on the Continue button. Now your system will ask to scan your face once more.
Do this to complete the process. Click done to save the new appearance.
Way 3: Clean the True Depth Camera
As mentioned above, one reason behind iPhone asking for a passcode is the dirty camera. Your passcode is required to enable face id when the system doesn't scan your face well many times. You must ensure that the front camera is not covered with layers of dust or is blurry. Clean the camera with some clean cover, and then try to scan your face again to unlock the phone without a passcode. Ensure to keep your face in the center of the iPhone and not cover the front camera.
Way 4: Update iPhone software
Apple launches new versions of iOS every few months to fix issues in previous versions. It introduces new features with new versions. If you run old versions of iOS software on your phone, it can cause security risks or some unexpected problems. Try updating your iPhone software if you deal with the passcode required to enable the face id problem. The older version might be the issue behind it.
You just need to follow these steps to ensure you have a new iOS version or to download one:
Go to Settings> General and then in Software Update.
You will see a new version of iOS is available.
If there's any, download and install the software by following onscreen instructions.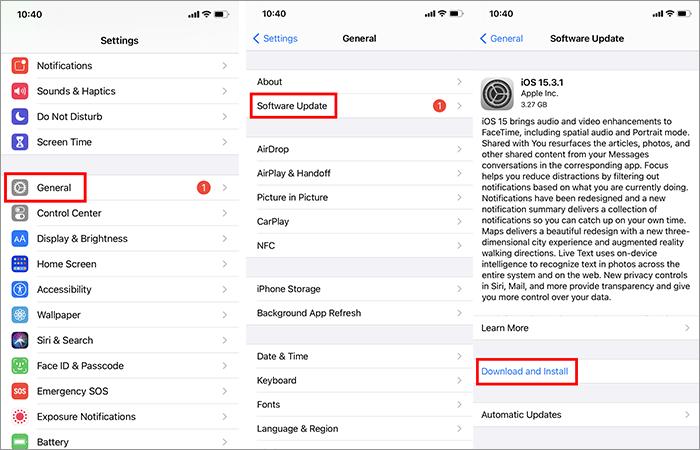 Way 5: Use Siri
An approach that can be useful without using hands is by using Siri. It can help you with your phone locked and not responding. Say, "Hey Siri, whose phone is this?" Siri replies, "iPhone belongs to you." It displays your contact card as well and disables your Face ID. Password required for face id is the only way to gain access to the phone. Your passcode is required to enable face id back on.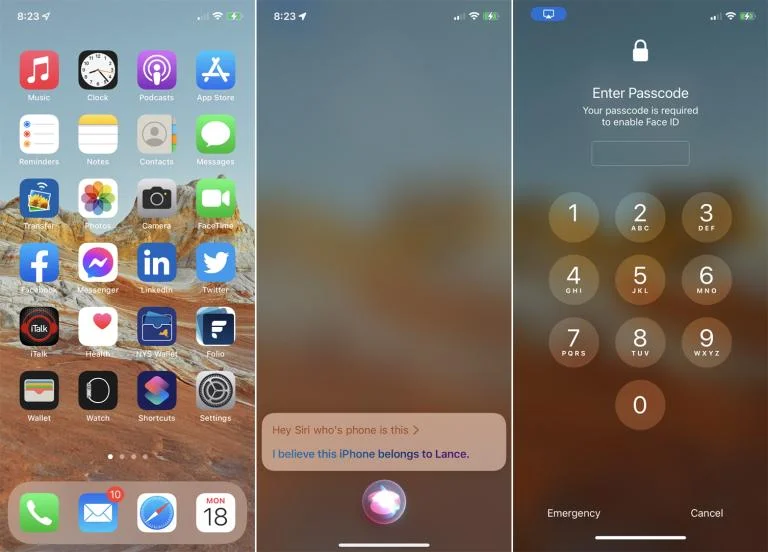 Part 3: What If You Forgot the Passcode Required to Enable Face ID?
Your iPhone might ask for the password required for face id to turn on, restart the device, or other things. It can include updating software, erasing data, changing password settings, etc. If you lost the Passcode required to enable face id, here's the way that can help you do it. 
PassFab iPhone Unlocker is the best way to go in this scenario. You need to follow the given steps to use it.
Step1: Launch PassFab iPhone Unlocker
Firstly launch the PassFab software that will provide you with four key features. 

Click start on the software to start the process.

After this, click on the continue button on the next step.
Step2: Connect Your iDevice to the Computer
Now software asks for your device, so connect your iPhone with your Computer via USB. Click the Next button on the PassFab. 

If you aren't able to connect your iPhone to the computer, put it into Recovery Mode or DFU Mode. Follow the pictures to go in either mode.
Step3: Download and Save Firmware Package
You need to select a path where you want to download the package on your Computer. Wait for some time for the downloading and saving process.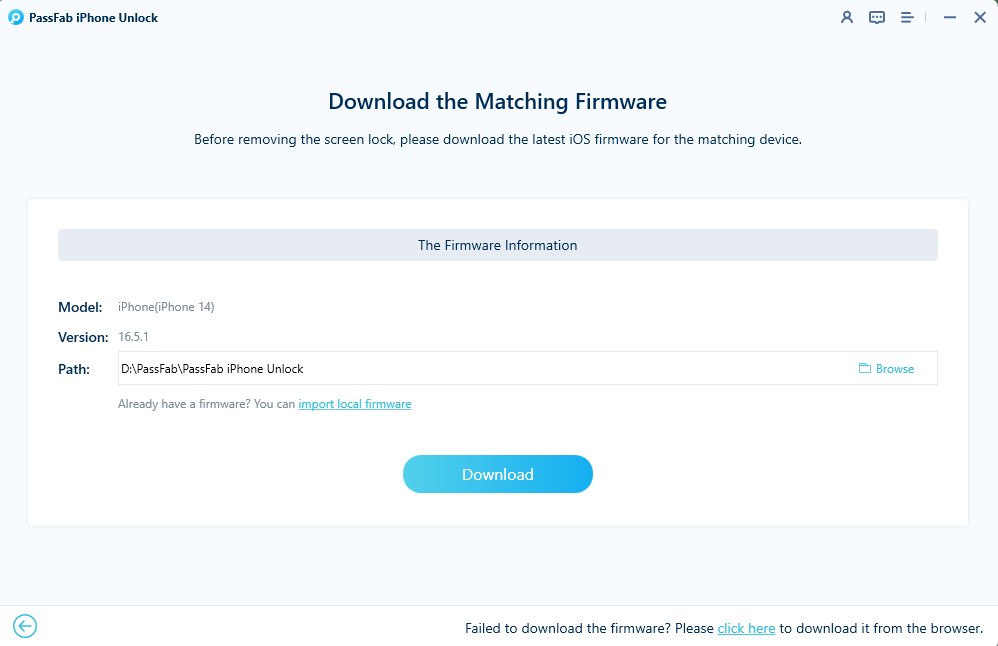 Step4: Remove Lock Screen Passcode Successfully
Click on the "Start Remove" button to remove the password required for the face id on the package download.

Open your device without a passcode and set up a new passcode for your device's face id.
Part 4: How to Use Face ID With A Mask
In Covid times no one wants to take their masks off in public. You can try other ways to make it easier to access your pho in such a situation. Some investigation at Tencent's Xuanwu Lab showed that face ID could learn and adjust to natural changes in the face. You can train the face ID to recognize you even with the mask on.
The question is, how can you do this? The way can be to set up the iPhone's biometric while wearing half of a mask. You can try redoing only the initial Face ID setup and then set up an Alternate Appearance similarly. An alternate appearance way can give more consistent results. Here's how the way with which you can set it up:
Go to settings> Face D and then in a passcode.

There you need to select reset face id, and then after completion, click setup face id.

Now cover the one side of the face with a fold mask in half.

You might need to readjust it if the system shows obstructed message. Slowly move the mask toward the side of your face and complete the request.

Complete two full scans with the mask on the same side of your face.

After completing the process, try unlocking your iPhone with a mask covering the face.
Follow the below steps in case face id still doesn't work.
Go to settings> Face ID & Passcode.

Tap on setup alternate appearance.

Fold the mask in half again and cover the other side, and complete two scans as done in the above scenario.

After completing the process, try unlocking the iPhone again.
Hopefully, you can now unlock your iPhone with or without your face mask with this. If you still face any problems, drag your mask a bit down from the nose. If nothing works, a Face id with a full face or passcode always works. 
Part 5: Will Face ID Work with Sunglasses?
Apple's Craig Federighi answers many questions regarding Face ID by designer Keith Kimber via email. He also asked the question, will face id work with sunglasses? In reply to this question, Federighi replied to it. Most sunglasses allow infrared light to pass through. Many iPhone X owners can unlock their iPhones even with sunglasses on. He also adds that not all can unlock the face id with sunglasses on. It can depend on the glasses.
Summary
Your passcode is required to enable face id that can be problematic sometimes. Sometimes you forget the password and tries to unlock it with your Face id, but it doesn't work. As mentioned above, there can be reasons behind face id not recognizing you. If you forget the password of the device's face id, you don't need to worry about it. You can bypass or unlock the device without the Passcode required to enable face id. The best and most effective way can be the PassFab iPhone unlocker.Try the process mentioned above to access your device or change the passcode of your face id in case you forget it.