Forgetting your iPhone 5 screen lock passcode can be an easy mistake in our digital age, where we juggle multiple credentials. iPhone allow user to try for few times, you have limited attempts to enter the correct passcode. Once those attempts are exhausted, your device can become permanently locked.
We'll provide crucial fixes for how to unlock iphone 5/5c/5s withuot passcode or computer, ensuring you avoid the dire consequences of permanent lockout.
So how to unlock iPhone 5 without Passcode? For you better understand and choose the most suitable ways, we list the following comparison table.
| | Ease of Use | Success Rate | Time Taken |
| --- | --- | --- | --- |
| PassFab iPhone Unlock | Easy | Very High | Few Minutes Only |
| Find my iPhone | Difficult | Very Low | Several Minutes to Hours |
| iTunes | Very Difficult | Low | Hours and Days |
| Siri | Difficult | Low | Few Minutes |
Method 1: Unlock iPhone 5/5C/5S without Passcode/Apple ID/iTunes with
One of the best ways to unlock your iPhone 5/5C/5S is to use iPhone 5 Passcode Unlock Tool, PassFab iPhone Unlock. This powerful software tool can quickly and easily remove the passcode from your iPhone, even if it's disabled. If you are looking for how to unlock iphone 5 without passcode or computer, PassFab iPhone Unlock will be the best choice.
It has many advantages including
Unlocks a locked, disabled, or broken screen iPhone, iPad, iPod Touch.
Allows resetting iDevices to factory settings without any password or Apple ID.
Enables removal of Apple ID without passcode
Turns off-screen time lock without passcode
Offers compatibility with all iOSs and Apple Devices
Enables you to bypass the need for technical assistance
The process to Unlock iPhone 5 without a Passcode
The PassFab iPhone Unlock is easy and has the following steps.
Launch the PassFab iPhone Unlock and click start.

Connect your iPhone to a computer with PassFab running on it and click the next button.

Download and save the firmware package by choosing the file save path and clicking download. Wait for a few minutes.

After the download is complete click on Start Remove button and erase the passcode.
Method 2: Unlock iPhone 5 /5C/5S with iCloud-Find my iPhone
If you have enabled the Find My iPhone feature on your device, the iPhone can be reset to the factory setting from the iCloud using the following steps.
How to unlock iPhone without a Passcode
Using a computer log on to iCloud.com with your existing Apple ID and account password.

Click the Find My iPhone tab and enter your account password to sign in.

Enable "All Devices" located at the top of the page and select your device.

Choose the Erase iPhone tab and continue to erase all data on your device including the passcode. This will take a few minutes.

Upon completion of the process, follow the instruction on the device screen and restore a backup from the iCloud.
Points to Keep in Mind
This method is applicable if you have enabled Find My iPhone feature on your device.
You have an existing iCloud and Apple ID with a password.
Your device must have your iCloud account signed in.
All the data and content on the device will be erased.
If you have not backed up your device data on iCloud before, you cannot restore your device data.
The process will work only if your device is connected to Wi-Fi or any other internet service.
Method 3: Unlock iphone 5 /5C/5S with iTunes
Method 1: Unlock iPhone 5/5C/5S with iTunes
The first method will tell you how to unlock an iphone 5c with itunes. However, this method requires you to remove all data and then use iTunes Backup to restore the lost data. If you have not backed up in iTunes, then all the data will be lost.
This method further allows you to unlock iphone 5 with 2 options.
1.Direct Restoration of the iPhone Through Synced iTunes
Make sure iTunes is updated to the latest version. Using a USB cable get your iPhone connected to a computer. In a few seconds, iTunes will detect your iPhone.

On the iTunes screen, click the iPhone device icon. This will enable iTunes to access your locked phone.

Go to your iPhone settings and enable the "Restore iPhone" option.

Once you have clicked the Restore iPhone tab, iTunes will get connected with the iPhone Software update server automatically. The option to back up your iPhone setting before restoration will be prompted. You can click Back Up to save your data.

You can now click on the Restore tab after which your iPhone data will be completely removed.

Click on the Restore button to make sure that you know all data will be erased.

By clicking the Next and Agree tabs your restoration process will start. This activity may take some time. The iTunes system will erase all the data on your phone and install a brand new iOS.

On completion of the process a new prompt will show up.

In the end, you can choose the restore from iTunes backup feature on your device, and restore your iPhone data.
2.Restoration of Locked iPhone Using Recovery Mode
Simply activate recovery mode in your iPhone and get it connected to a computer. As soon as iTunes discovers your device, it will prompt you about restoring or updating your device.
Click on restore to start the process.

iTunes will notify you about losing all the data. Continue to restore and update. Once the process is complete your lock screen will be deactivated to the factory setting and the device will be accessible again.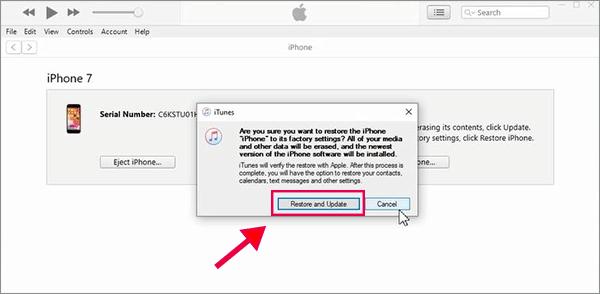 Points to Keep in Mind
The locked iPhone must have an existing Apple ID and password of the Apple account.
You must have an iTunes account on the device.
The process will erase all existing data including passcode from your iPhone.
iTunes will back up your data and iPhone content on your computer which can later be restored on a device.
The process is only applicable on locked iPhone that is powered on and enabled.
iTunes Back Password Forgotten?
You can recover it by using PassFab iPhone Backup Unlock
Method 4: Unlock iPhone 5 /5C/5S with Siri
Siri is smart assistance on your iPhone. It can help resolve many issues on your device including unlocking it without using a passcode. Want to know how? Let's find out.
Steps to Unlock iPhone 5 Without Passcode
Press the home button and hold it to activate Siri.

Ask Siri the time and wait for it to display the right time on the screen.

Immediately click the clock widget. The widget enables you to open a time zone list. On top of this is a "+" icon. Click on this icon.

A search bar will open. Type random letters in the search box and then select those characters and copy all.

Click the "Share" button. A pop-up window will appear. Choose the message option.

In the message window, in the "To" section paste the random text you copied in step 4. Wait for a few seconds

Press the home button on the device and you will be routed to the home screen of the device without entering the passcode.
Points to Remember
The method will only work if the iPhone is enabled, powered on and the passcode has been entered at least once for activation of Siri.
If the iPhone is still in an encrypted state, Siri won't work.
There must be an existing Apple ID and account password for the device.
Your data and content will remain intact on the Device.
iPhone restoration needs are eliminated using this method.
Conclusion
Now that you have know some of the best ways to unlock iphone 5 without a passcode, which are tried, tested and effective. But when it comes to getting fast, reliable, and efficient results, PassFab iPhone Unlock is the best choice for the job.This multi-purpose tool works with almost all versions of iOS, and Apple devices and their different models.
So, if you forgot iPhone 5 passcode and want to know how to unlock an iphone 5/5c/5s without passcode or computer, then PassFab iPhone Unlock is the best option for you.
You Might Also Like
What to Do If You Forgot iTunes Password
How to Solve Wrong Passcode When Attempting to Recover Data