Have you attempted to utilize your iPhone but been welcomed by a screen that says iPhone unavailable? Or, on the other hand, you've kept yourself out of the reach of your iPhone by entering the wrong password too often?
One way or the other, it tends to be a puzzling situation, particularly if you don't know Why does my iPhone say iPhone unavailable try again in 15 minutes and how to fix iPhone unavailable screen.
So, relax - we have you covered. Numerous other iPhone clients have had this issue for some time. Fortunately, various strategies are there to assist you with tackling the issue. This article will tell you the best ways to manage an iPhone unavailable screen. 
Part 1:Why Does My iPhone Say Unavailable
This section of our guide will prove helpful if you are wondering what does iPhone unavailable mean. After entering six wrong passwords to open your iPhone, you will see iPhone unavailable attempt in a brief message. Furthermore, you'll be locked out for around 5 minutes after trying multiple times. The more times you enter wrong passwords, the less you're secured like you will be locked for 15 to 60 minutes.
Momentarily, the password is security included on iPhone. If you don't enter the correct passwords, your iPhone will get locked to safeguard your security. You will see that iPhone is unavailable, or there will be a Security Lockout.
Part 2: How to Fix iPhone Unavailable Screen
Way 1: Fix iPhone Unavailable Screen with 'Erase iPhone' (iOS 15.2 or Later)
If you forgot your password and entered different wrong ones, your iPhone gets locked, and an "iphone unavailable try again in 1 minute" message shows on the screen. A security lockout message will show up if you continue. Fortunately, Apple gives a choice to eradicate iPhone without utilizing the password. For iPhones running on iOS 15.2 or later, you can get the advantage of the new security feature for deleting the iPhone without a password. Here are steps to follow when iPhone says iPhone unavailable.
Here are some steps to bypass iPhone unavailable screen.
First of all, keep entering the passcode until you see the 'Erase iPhone' option in the bottom right corner.

If you don't see it or the option disappears after restarting your iPhone, insert a SIM card with cellular data. It will display Erase iPhone option.
Tap on it, and it will display a security lockout message. You can try the passcode again in 5 minutes or erase iPhone.
Then press 'Erase Now'. It will ask you to enter the Apple ID password, and the erasure process will automatically start on inputting the password.
Once it is done, you can set it up as a new device.
Way 2: Fix iPhone Unavailable Screen with PassFab iPhone Unlocker
If you are looking for the best way to fix iPhone unavailable, you don't need to approach a network; you can get help from the PassFab iPhone Unlocker tool. PassFab iPhone Unlocker gives a protected and fast iCloud lock removal experience. You can't open anything on your iPhone when it is iCloud secured. This tool eliminates the lock so you can access documents on the device. PassFab is compatible with the most recent iOS 17 Beta and iPhone 14 Pro Max and can open iPad and iPod.
The following are the steps to fix iphone unavailable screen:
Launch PassFab iPhone Unlocker

Four key features will be shown on the main interface. Click 'Start' from it to get started and continue to the next step.

Connect your iPhone to Computer

Connect your device with the system that is running PassFab iPhone Unlocker and click on 'Next'.

Note:If you can not connect the device to the system, put it on the recovery mode.

Download and Save the Firmware Package

Select the file, save path, and click the 'Download' button for downloading the firmware package. Wait for a few minutes and confirm that your network connection is fully prepared.

Successfully remove the lock screen passcode

Click on the 'Start Remove' button after downloading and remove the passcode. Now, you can open your iPhone without a passcode. Set up a new passcode or touch ID.
Way 3: Fix iPhone Unavailable Screen with Finder or iTunes
After connecting your phone to your PC, go to Finder or iTunes. You'll not see anything occurring right now for an unavailable iPhone. Since your iPhone is locked, Finder or iTunes can't recognize it.
Most importantly, go to recovery mode on your iPhone after connecting it to your PC. Then, at that point, the Finder or iTunes will show you a spring-up screen with the Restore choice. Click the "Restore iPhone" option and set up your iPhone after the restoring is done.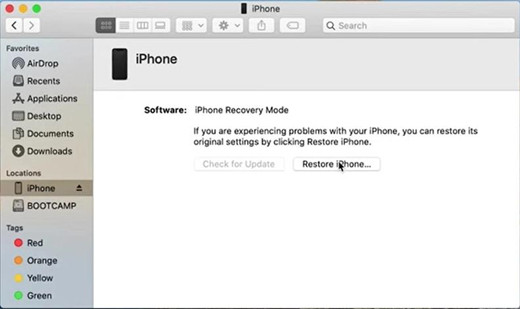 Likewise, you can recover your information by restoring it from iTunes or iCloud backup.
Way 4: Fix iPhone Unavailable Screen with iCloud
Settling the "iPhone Unavailable" issue through iCloud is simple, yet different requirements make it inapplicable. In any case, if you have accomplished the underlying requirements, it would be the simplest
It expects you to have credentials to the iCloud ID associated with your iPhone with the "Find My" feature enabled. In addition, your iPhone should have an Internet connection.
Go to iCloud.com and log in with your iCloud credentials.
Select the 'Find iPhone' option from the main interface.
Select your device under the 'All Devices' option from the top bar.

Then Select 'Erase iPhone'. A pop-up window will appear. Click on 'Erase iPhone' again.
FAQ about iPhone Unavailable
How long does "iPhone Unavailable" stay?
The "iPhone Unavailable Try Again" message will continue for X minutes before giving another try for the password. However, the iPhone Unavailable message will endure forever. If it shows "Attempt once more in 1, 5, 15, 60 minutes", the messages will endure the specified time separately before your other password attempt.
If you don't fix the issue while it's showing iPhone Unavailable, it will continuously remain on this dark lockout screen with these messages assuming it has sufficient charge. 
Conclusion
We have finally concluded on "why does my iPhone say unavailable" and how to fix the phone unavailable issue. We believe this guide assisted you with tracking down the answer for fixing the issue. If you are uncertain, we propose that you use PassFab iPhone Unlocker. It's an exceptional tool, and its broad scope of phone/device support makes it valuable.