"I forgot my iPhone passcode after iOS 13 update. It asks me to enter passcode and shows iPhone requires your passcode after restarting. But I can't remember iPhone passcode, who can help?"
In case you've ever had an experience of forgetting your iPhone passcode, you might know the inconvenience it can cause. The iPhone passcode is an amazing feature to keep prying eyes out of your data, but what happens when you forgot iPhone passcode?
All of your important data - contacts, social media accounts, photos, and virtually everything else are safely stashed away on the other end of that lock screen, but you can't get any of it. If you haphazardly attempt six wrong entries, your iPhone will be disabled. Besides, if your settings are modified it can even lead to your iPhone deleting all your data. You don't want that to happen, do you?
Part 1: What To Do If You Forgot Your iPhone Password
Section 1. How to Do If Forgot iPhone Passcode without Restore
Before you rush to get your iPhone unlocked by restoring and find yourself losing all of your important data in the process. Why not try some other secure and more effective ways of getting your iPhone back. There are not many ways to get past your lock screen because Apple has been rigid on enforcing its diverse ecosystem, though you can avoid a restore while still being able to get past your iPhone passcode lock, by utilizing special tools made for this specific purpose.
If you forgot iPhone passcode no iTunes, and want to secure your valued data from losing, ysou can use the best software program from PassFab, which enables you to remove your passcode without losing your data and with much ease and comfort. We'll discuss the process in detail down below. So, keep tight!
PassFab is a remarkable troubleshooting software maker for both Mac and PC, the PassFab iPhone Unlocker will alleviate your tensions of losing all your data. It will help you unlock the forgotten iOS device's passcode, even if the device is disabled. This lock screen unlocker offers the following features for you to unlock iPhone Apple ID and locked screen in just minutes:
Remove Apple ID on iPhone/iPad without Password
Bypass iPhone/iPad screen passwords instantly
Fix disabled iPhone/iPad without iTunes or iCloud
Remove 4-digit/6-digit passcode, Touch ID & Face ID from iPhone/iPad
Fully compatible with the latest iOS 13/12.4/12.3 and iPhone 11 Pro Max/11 Pro/11/XS/XS Max/XR
Now we'll dive deeper into the software as to how it will work for you to get your iPhone back on track. When you download and install PassFab iPhone Unlocker either on Mac or PC, you'll be taken straight to the path for unlocking your iPhone.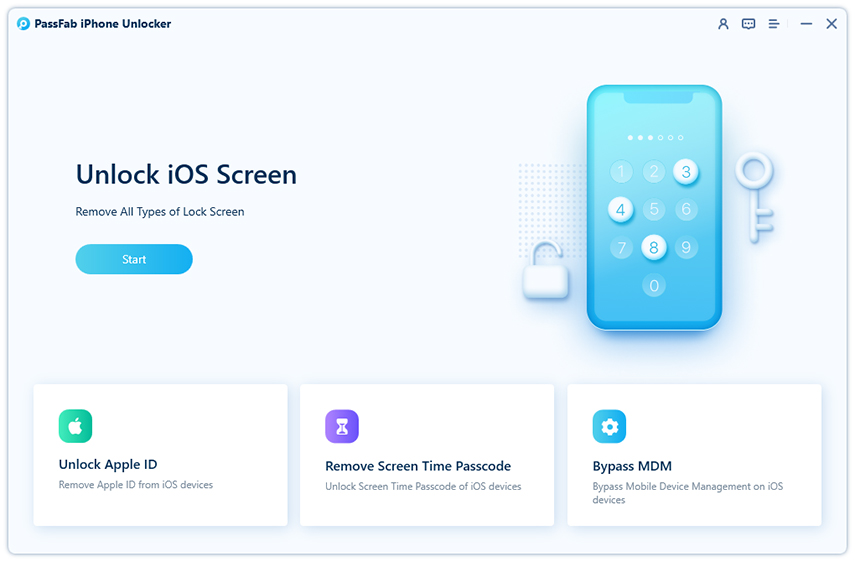 Step 1: Once you start the software, you'll be given two option – "Unlock Lock Screen Passcode" and "Unlock Apple ID". Chose the first one, "Unlock Lock Screen Passcode" to get cracking your passcode.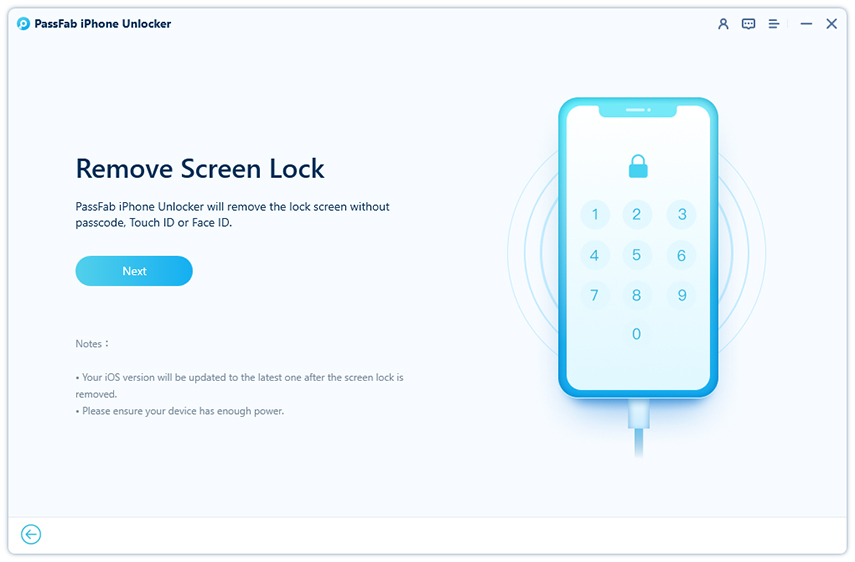 Step 2: At the next screen you'll be prompted to connect your iPhone via USB cable, the software will automatically detect your iPhone. Distinctly showing if you forgot passcode on iPhone or even if the iPhone is disabled, you'll be able to resolve the issue. Click Start.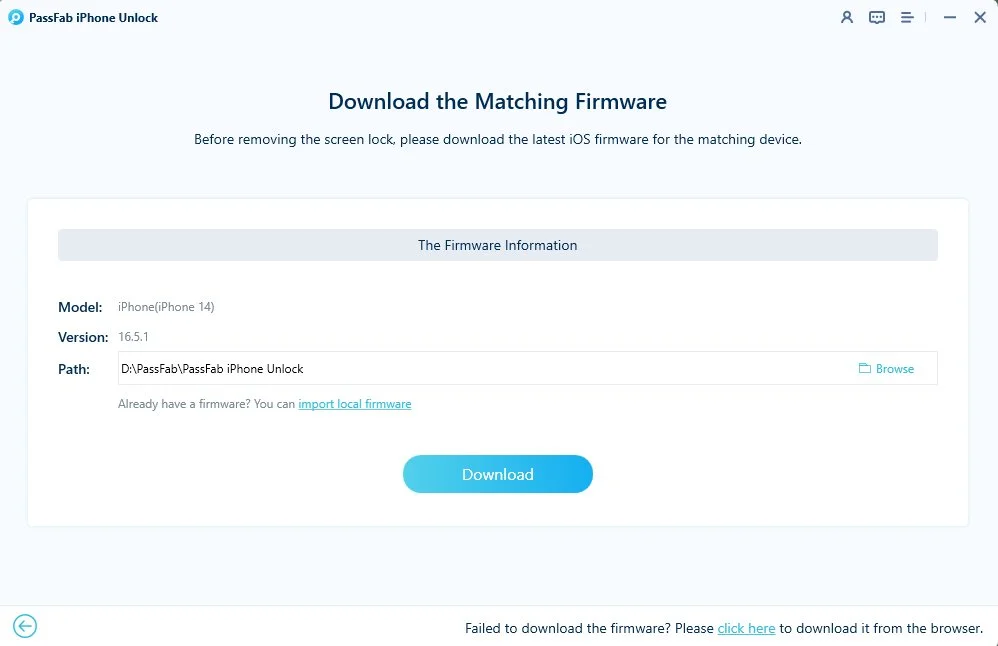 Step 3: Once the process is completed, the passcode is removed effectively, and you'll be able to set your new iPhone passcode as well as Touch ID and Face ID.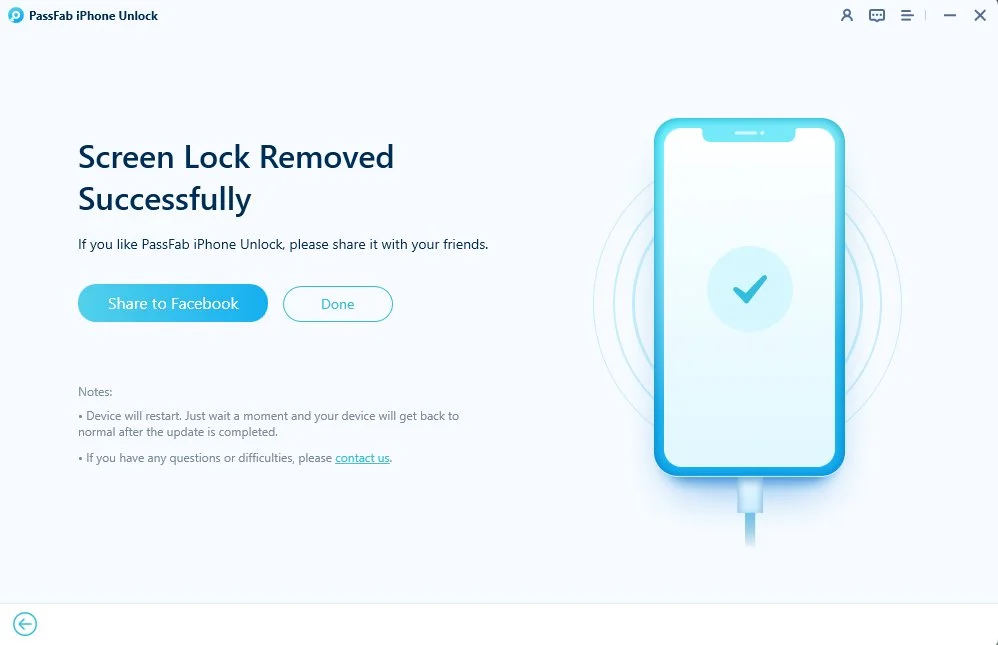 Section 2. How to Do If Forgot Passcode and Locked Out of iPhone
In case you'd like to follow Apple's official method to pass your lock screen. The first thing you would like to see is a backup of your device in iTunes. There's a way you can back up your device even after losing access to your device. We'll see how is that possible and if not what can be the potential loss for you in that case.
Forgot iPhone Passcode No Backup? Restore iPhone using iTunes
Either case if your device was backed up earlier or you just backed it up using our guide. After successful backup now it's time to erase everything including your existing passcode. Unfortunately, if both the cases couldn't be followed and you weren't able to have a backup before commencing the restoration with iTunes – losing all your data is inevitable including your work documents, family vacation pictures, application data, and every other thing that made your life easy everyday of your life.
Step 1: Connect your iPhone to your system and open iTunes. Select your device when it pops up in the top left corner.
Step 2: Click on the "Summary" tab on the left menu. Under your iPhone model, there will be a text box with iOS version your device has and storage capacity. And a "Restore iPhone" button at the bottom.
Step 3: Click the Restore iPhone button and you'll be prompted with the "Set Up" screen, where you can select to restore from iTunes backup or if there is no backup available, you'll have to go factory settings.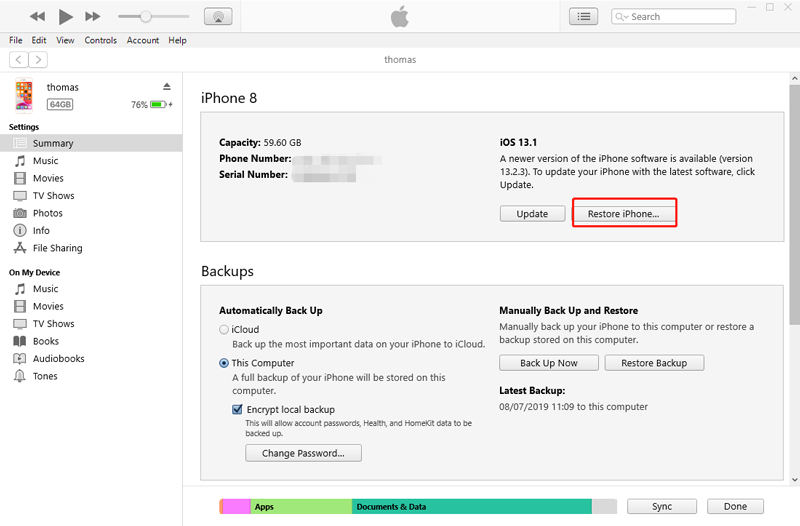 Step 4: If you opt to restore from iTunes you can select the latest backup you want to use. While choosing to restore to factory settings is a bit technical and for that, you need to follow the steps to put iPhone into recovery mode :
Reboot your device. To get into recovery mode, the technique varies for various iPhone models. For your comfort and ease, I've presented a pictorial depiction of the process. Follow along as per your iPhone model.
For iPhone 6 and older models, you need to press and hold the POWER button along with the HOME button.
For iPhone 6 Plus, 7, and 7 Plus and iPod touch (7th generation) models, press and hold the POWER button and VOLUME DOWN button.
For the latest iPhone models like 8, 8 Plus, X-series, press the VOLUME UP & VOLUME DOWN button and hold the POWER button for a while.

You need to press and hold the buttons consequently (as per device direction) until an iPhone power off slider appears on the screen. Turn off your iPhone then connect the device to your computer. Do not release the buttons until you see the recovery mode on your screen.
Step 5: You will be prompted with a Restore or Update options. Click on Restore and iTunes will download the required software for your device. After the process, you'll get an iPhone like just a new one.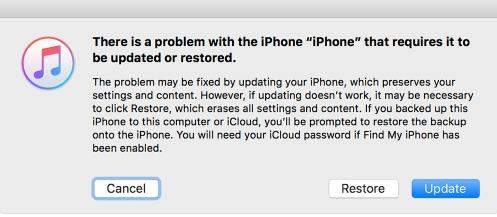 Forgot iPhone Passcode without Losing Data? Unlock with Previous Backup
The foremost thing required for this method to work is, you should have synced the device with iTunes at least once with the iTunes – that be without restarting your iPhone after syncing. This is required because your iPhone has to be a trusted device with that specific PC/Mac and vice versa with your iPhone. Though if you have never connected your iPhone with iTunes and synched. Now if you fail to recall your passcode, there's no way around for you to restore your device without losing all your valuable data.
Assuming you had synced the iPhone before, follow the steps below to back up your device even after forgetting your passcode:
Step 1: Connect your iPhone to the computer using a USB data cable, then launch iTunes.
Step 2: Your device will shortly appear on the left top corner, select the device.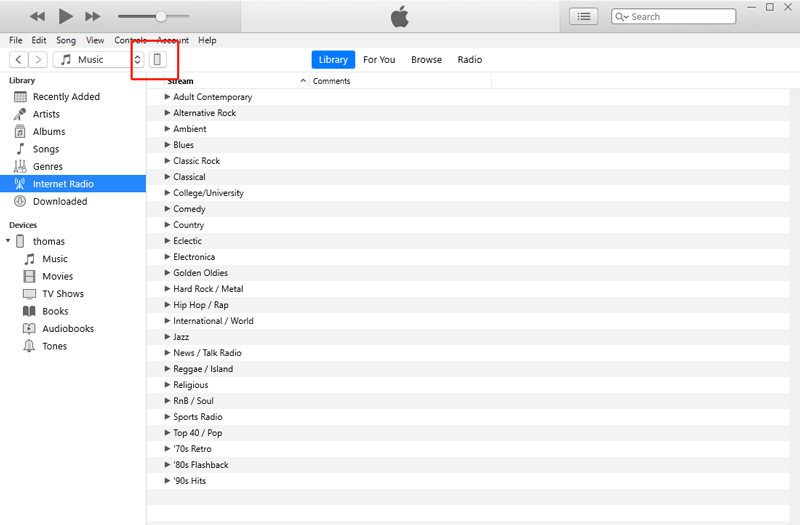 Step 3: Now allow your device to automatically sync the iPhone and make a backup. If it doesn't automatically backup you can opt to click the backup button on the iTunes screen when you select your device.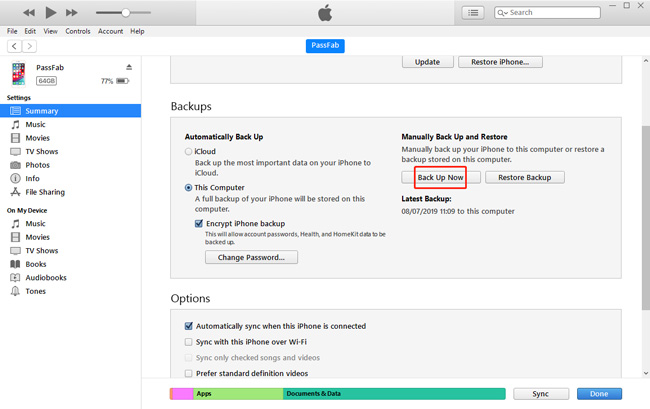 As your device is now backed up, you can see the date and time it was backed up under the "Latest Backup" tag on the summary page of iTunes. Then you can click the "Restore Backup" button to unlock iPhone passcode and restore iPhone data.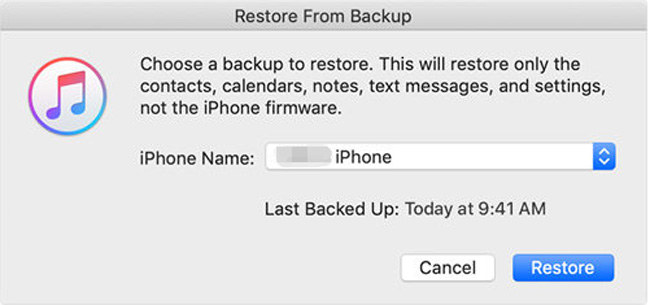 Forgot iPhone Passcode No Computer? Unlock with Touch ID or Face ID
Last but not least, if you can't get a computer in hand to rescue your iPhone passcode and you still can't remind the passcode, but you have ever set up fingerprint or face recogniction in the iPhone bafore, you might as well trying to unlock iPhone with Touch ID or Face ID. Be note that Touch ID is available with iPhone 6s and above. Face ID is compatiable with iPhone X and above.
Bottom Line
The iPhone passcode provides a strong security feature but can cause distress if forgotten. Now as we have successfully removed the passcode, you should remember few things learnt from this experience, such as create a memorable yet strong passcode, keep iOS updated or keep your device backed up, etc. It is best to keep iOS updated to fix any vulnerability, a strong passcode will protect your data and backup can serve you in all the odd situations like this.
Part 2: FAQs about iPhone Password
Q1: How many times can I try to unlock my iPhone?
If you enter incorrect password for 6 times, your iPhone will be disabled; if you enter the wrong passcode after ten attempts, your iPhone will lock you out completely or erase your data (if you have set up this setting before locked).
Q2: What happens if you forgot your iPhone passcode?
If you forgot your iPhone passcode, you will have to erase your iPhone to delete the passcode; if you have a backup of your iPhone, you can restore your iPhone to previous state after erasing your iPhone.
Q3: What do I do if I forgot my iPhone password?
You can unlock your iPhone with Touch ID or FaceID (if any), restore your iPhone using iTunes, or unlock iPhone via a powerful third-party software like PassFab iPhone Unlocker.