I have just bought a second hand iPhone, should I contact to the previous owner and ask for the passcode to have the Apple ID back again? Is there any software that will grant me an access to my Apple ID account without using Apple ID and password, as I have forgotten them?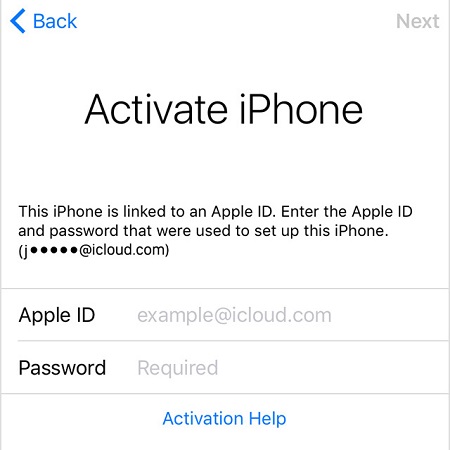 It's of no surprise that people forgot Apple ID and password to activate iPhone, or may not have an access to their accounts. Instead of being worried, we find 5 fixes how to activate iPhone without Apple ID for you.
How to Activate iPhone/iPad without Apple ID and Password
Don't worry when you stuck on Apple ID lock. Here are 5 methods how to activate iPad without Apple ID and password.
1. Reset Apple ID Password to Reactivate Old iPhone
When you got an old iPhone with Find My iPhone is enabled, there will come the question: how to activate old iPhone if I forgot Apple ID password. For those who have forgotten their Apple ID password can recover their accounts in just very easy steps.
In case of a lost or forgotten Apple ID, you can recover it with recovery emmail, security questions, trusted devices or recovery key. Here is how to reset Apple ID with recovery email:
First of all go to the Apple ID account page, and here click "Forgot Apple ID or password".

Now enter the Apple ID and click Continue. If you forgot your Apple ID, click "look it up".

There will be two options, click "I need to reset my password". Press Continue.

Here you can choose how to reset your Apple ID password, get a password reset email or answer security questions. Here we click "Get an email".

Then you will receive the password reset email. Follow the directions to reset your Apple ID password.
Then you can use your Apple ID and new password to activate your old iPhone or ipad.
2. Activate Used iPhone Remotely
It's quite common, that instead of buying a new phone, a number of people like to purchase phone from other people. Or in other words, buying the second hand phone is also as common as purchasing a new one. Although it looks absolutely simple, but it is troubling when the seller forgot to turn off Find My. Then you need to ask the seller to remove your iPhone or iPad from his iCloud account remotely.
Ask the seller to sign into his iCloud accout.

Select Find iPhone feature.

Click All Devices and choose your iPhone or iPad. Tap Erase iPhone/iPad.

Then click Remove from Account below.
Now you can setup iPad without Apple ID and sign in with your own Apple ID
3. Activate iPhone without Apple ID Jailbreak
When you fail to reset Apple ID password or contact the seller, how to activate iPhone without Apple ID? You can just use PassFab Activation Unlocker to remove activation lock without any password or Apple ID on iDevice. The main feature of this software that makes it unique and favorable for a number of devices is its versatility. It is an all-rounder that it can help activate iPhone without Apple ID jailbreak from iPhone 5s to iPhone X.
Connect your iDevice to the computer and launch PassFab Activation Unlocker. Select Remove iCloud Activation lock.

Click Start and agree the terms to use the program.

The software will download a jailbreak tool and require you to insert a USB to install the jailbreak tool. Click Start to burn the USB.

Once the jailbreak rnvironment has been burned into the USB, there will be a detailed guide of jailbreaking your iDevice. Follow it to jailbreak your device.

After jailbreaing your iPhone or iPad successfully, click Start to remove the iCloud activation lock.
Now, you can set up your iPhone or iPad without Apple ID and password.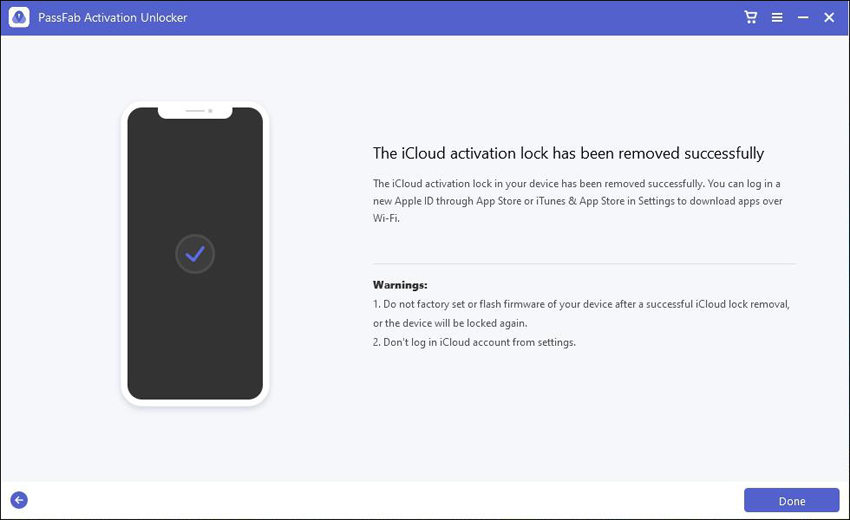 4. Activating an Old iPhone with iCloud DNS Server
Here is another method how to reactivate an old iPhone without Apple ID, that is to bypass iCloud lock with DNS server. But this method would not work every time.
Here is how to activate iPad without original Apple ID with DNS server.
First, restart your iPhone or iPad.
Choose your language and counter, connect to WiFi.
When you see the activation lock page, tap Back to return to the WiFi page.
Press Home button. Select WiFi settings.
Tap "i" beside your WiFi.

Set DNS according to your location.

USA: 104.154.51.7
Europe: 104.155.28.90
Asia: 104.155.220.58
South America: 35.199.88.219
Australia and Oceania: 35.189.47.23

Return to the WiFi page.
Click Next. Tap back if it goes to the Activation lock page until you see iclouddnsbypass page.
5. Ask Apple to Set up iPhone without Apple ID
Plus, there is an easy method to set up your iPhone or iPad without Apple ID. That is to go for Apple Support. Then how to activate your iPhone with the help of Apple? The most important thing is to provide the proof that the iPhone is yours.
You can offer your original receipt of purchase with name, date, time, and serial number to ask Apple to unlock your iDevice.
Frequently Asked Questions
Q1: Why does my iPhone say activation required?
Once you signed in your Apple ID on your iPhone, Find My iPhone is enabled. When you force to reset or restore your iPhone, iPhone will ask for Apple ID and password you previous signed in to activate your iPhone.
Q2: Can you bypass Apple activation lock?
You can reset Apple ID password form appleid.com to unlock Apple activation lock. If you got a seconed-hand iDevice, then ask the previous ownner to remove the device from his iCloud account. And yo can bypass Apple activation lock.
Q3: What does it mean when iPhone is not activated?
When your iPhone cannot be activated, it may cause by poor network connect; incompatible SIM card; Apple server is down; or wrong Apple ID or password. And you can't use your iPhone normally.
Final Words
This post tdiscuss the solutions to questions as "how to activate iPhone without Apple ID". But with the very versatile and the finest software PassFab Activation Unlocker, users can easily get access again to their iDevices. So, instead of being worried it's highly recommended and suggested that users need to use PassFab Activation Unlocker.