Talking about security measures, the one that is the most sophisticated is Apple's activation lock. Apple iCloud activation lock helps secure your data remotely in case your device is stolen or is lost. But, unfortunately Apple's widely known activation lock has its cons alongside its pros. The very common problem with Apple ID and password is that people just don't remember them because they are required just once while setting up the phone for the first time after that, they are gone! This cause problem when you restore your phone and hence you the device prompts the message, the Apple ID cannot be used to unlock this iPhone.

Part 1: Why "The Apple ID Cannot Be Used to Unlock This iPhone"?
Incorrect ID or Password
The main reason for the message, "the Apple ID cannot be used to unlock this iPhone" or "the Apple ID cannot be used to unlock this iPad" to occur is that your Apple ID or password are just simply not correct. You think that the entered credentials are correct but they are not, this is quite common mistake as these credentials are not important, well, they are not considered important to remembered by the owner.
Apple ID or Password Were Changed
This is also a possibility, maybe someone else had access to your mobile at some point and they have changed the credentials without your knowledge or maybe you yourself at some point have replaced your ID with a new one and now you cannot remember it.
No matter what the reason maybe, we got your back as there are ways possible through which you can restore your Apple ID and password and start using your device again.
Part 2: How to Fix Apple ID Cannot Be Used to Unlock This iPhone
"When a door closes a window opens", this kind of positivity is necessary to solve your Apple problems, especially when the problem says, "Apple ID cannot be used to unlock this iPad or iPhone". Apart from the positivity actually nothing else is needed to solve this problem of "incorrect Apple ID or password" because this is, how easy the following three mentioned solutions are.
Solution 1. Recover Your Apple ID and Password
Sometimes solution lies in simplicity, because problem is just not as bad as you might think. Same is with this first solution its simple yet most effective and fast way to solve the issue of incorrect Apple ID cannot be used to unlock this iPhone.
Go to appleid.apple.com and on the home screen at the very bottom you will see, "Forgot Apple ID or password?". Click on this link.

Clicking this will take you to a new tab, now you can start recovering your Apple ID. On this tab you can see there is a link present that says, "look it up." Click on this link.

This will take you to a next page here you need to provide the required information, after entering the information click continue and this will find your Apple ID. Once you acquire your ID you can use it to remove activation lock on your device.

Note: The email required is the email associated with your Apple ID, this can be a Gmail, yahoo mail or any other messenger email.
Solution 2. Bypass Apple ID Lock on iCloud
Sometimes, the Apple ID just won't recover and you cannot remove activation lock, but if you have that positivity, we talked above left then this should not bring your hopes down. Because, we have another solution for you that simply says, "if you cannot unlock it just bypass it". There are many methods available on the internet that can be used to get past the activation lock and once and for all get rid of the problem of, "incorrect Apple ID cannot be used to unlock this iPhone". One of the most effective method is explained as follows:
Ask the owner to go to iCloud.com and log in using the Apple ID and password.
Once logged in click on FIND IPHONE icon and a map will prompt on which the location of the iPhone or iPad you are trying to access will be shown.

On the map click the device you want access to and then select ERASE DEVICE.

Now select REMOVE FROM ACCOUNT. This will remove the activation lock from your device remotely and now the device can be used with all of its features fully restored.
Solution 3. Remove Apple ID from Locked iPhone
Still asking yourself the question that why my Apple ID cannot be used to unlock this iPhone, it means that you still are unable to sign in to your iPhone. Now, if recovering of Apple ID has not worked for you and bypassing did not help either then I would say it's time to move on! Nah, I am just joking, remember "positivity" well, if you still have that left then there is one other solution you can try that will for sure solve your problem of incorrect Apple ID. You can use a tool like PassFab Activation Unlocker to bypass the iCloud activation lock. You simply have to download the application from their website and follow the instructions to bypass the activation lock. A comprehensive guide to use PassFab Activation Unlocker is given below.
Go to passfab.com and download the PassFab Activation Unlocker tool for either Mac or Windows.
Install the tool and launch the application.

Once launched select Remove iCloud Activation Lock.

Now click on START button and on the next screen agree to the license agreement.

Connect your device to the computer and let application automatically detect it.
Now, PassFab will automatically start to download jailbreak tool for your device after detecting it.

After the tool is downloaded, burn it into a USB and follow the jailbreak instructions step by step to jailbreak your iPhone or iPad.

After jailbreaking your device, the application will ask you to start unlocking process, just click START and wait.
Congratulations! Your device is now fully unlocked and ready to use.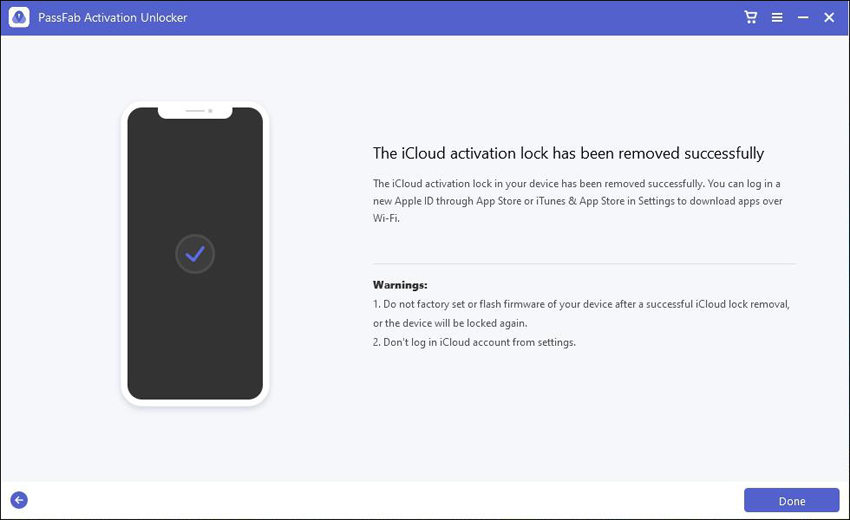 This tool is guarantee to solve your problem. Of course, this will cost a few dollars but it will be worth it to keep such a tool in your arsenal.
Extra Tip: How to Avoid "This Apple ID Cannot Be Used to Unlock This iPhone"
Actually, you are asked to provide Apple ID credentials after restore is because you enabled Find My before. So the key solution to avoid "This Apple ID Cannot Be Used to Unlock This iPhone" is to turn off Find My iPhone before restoring or resetting you iPhone.
Here is how to turn off Find My iPhone in settings.
Go to Seetings, click your account.
Tab iCloud in the list.
You will see Find My iPhone here, select it and turn off it with your Apple ID password.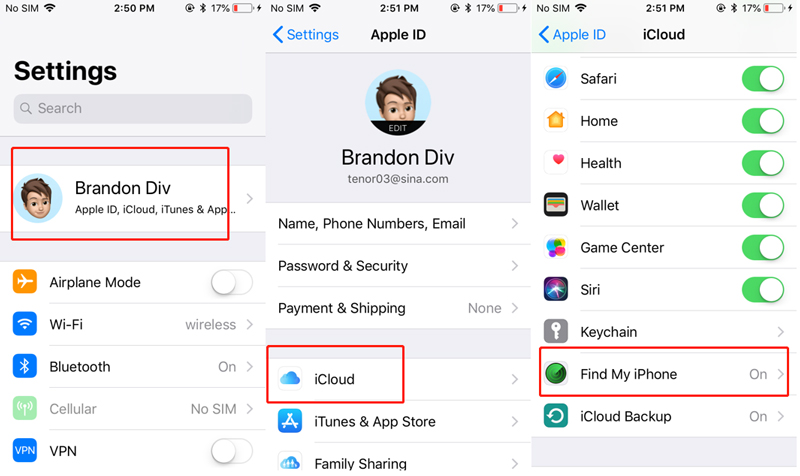 Conclusion
I hope that at least one of the three mentioned solutions have worked for you, and you have finally gotten rid of your problem of "the Apple ID cannot be used to unlock this iPhone". If the Apple ID is not restored then I would suggest you to go for the third solution and remove the Apple ID using tool like PassFab Activation Unlocker. It is a very renowned and helpful tool that is easy to use and guarantees the removal of activation lock in a matter of minutes. In short PassFab Activation Unlocker is worth checking out and save your precious time and device.