Activation lock is a security feature present in iPhone and iPad, this ensures that if your device is stolen or lost, then you can lock your device remotely and if the device is connected to any WIFI servers then it can also be tracked by Apple hence, increasing the chances of recovery. Apart from being the solution, iCloud activation lock can also be a huge problem if you forget your iCloud id or password or you have purchased a device online that came locked. Now, the first question you would be asking the Google search bar is, "how to bypass activation lock"?
Part 1: Why I Need Get Past iCloud Activation Lock
Being one of the most secure locks ever created by Apple, one can ask that is there any way to get past iCloud activation lock? Well, the answer is yes, there are many legal ways and reasons one can bypass iCloud activation lock. There are many reasons why you would want to get past an activation lock, like:
You have forgotten your iCloud password or ID.?
You have purchased an iPhone or iPad online but was iCloud locked.
Your iPhone or iPad is stuck on activation lock screen after recovery of your device and muck more reasons like this.
Part 2: How to Get Past Activation Lock
There are many effective ways that can help you bypass activation lock:
1. How To Get Past iPhone Activatin Lock with PassFab Activation Unlocker
How to get past activation lock on iPhone 7 is the most frequently asked question among iPhone users. If you are confused about how to get past activation lock on any models of iPhone, PassFab Activation Unlocker is the best solution for you.
Download the PassFab Activation Unlocker tool for either Mac or Windows.
Install the tool and launch the application.

Once launched select Remove iCloud Activation Lock.

Click on START button and let the application make some preparations.

Read the license agreement carefully and after accepting it click on NEXT. And connect your iPhone or iPad to the computer via USB cable and the PassFab Activation Unlocker application will automatically detect it.
Once the locked device is connected, the PassFab application will automatically start downloading Jailbreak tool for your device. Because in order to bypass iCloud activation lock your device needs to be Jailbroken.

Once the jailbreak tool is downloaded now the application will ask you to insert a USB flash drive on which the application needs to burn the jailbreak environment. After plugging in the flash drive click the START button.

After some time, the jailbreak environment will be burnt on the plugged-in flash drive. Then read the guide and jailbreak your iPhone or iPad.

After, jailbreaking your device using the guide the PassFab Activation Unlocker application will prompt following screen. Just click on START and the application will remove iCloud activation lock.
Congratulations! You have successfully got past your iCloud activation lock.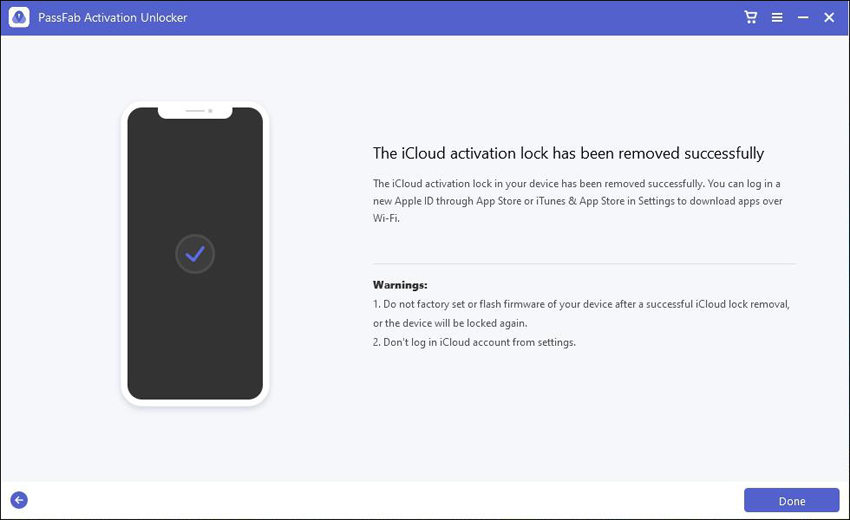 2. How to Get Past Activation Lock on iPhone via iCloud
This is the simplest method in getting past iCloud activation lock but this method still requires for you to have owners Apple ID credentials. This method is useful if the owner of the iPhone or iPad is not around and yet they need the data to be removed from their device before selling it or handing it over to someone then themselves.
Contact the seller, ask him to go to iCloud.com and log in using his Apple ID and password.
Once logged in click on FIND IPHONE icon and a map will prompt on which the location of the iPhone or iPad you are trying to access will be shown.
On the map click the device you want access to and then select ERASE DEVICE.
Now select REMOVE FROM ACCOUNT. This will remove the activation lock from your device remotely and now the device can be used with all of its features fully restored.
3. How to Get Past iCloud Activation Lock by iCloud DNS Bypass
If you want to bypass iCloud activation lock free, here is how to use iCloud DNS Bypass.
When you are setting up the device, select the country you are in.
Next, you are asked to connect to a WIFI network. On this screen select "i" button next to a WIFI network you need to connect to get MORE WIFI OPTIONS.

Now, under the DNS section enter one of the given IP addresses according the region you are in.

North America: 104.154.51.7
Asia: 104.155.220.58
Europe: 104.155.28.90
South America: 35.199.88.219
Other: 78.100.17.60

After entering the IP address go to the back screen and choose the WIFI network you want to connect to and enter password.

On the next screen select back, this will take you to the iCloud bypass screen.
4. How to Get Past Activation Lock with iCloud Bypass Service Online
If you are wondering how to get past activation lock, and consider hiring an iCloud bypass service online that charge you some money but in return provide you a completely clean, free of activation lock device. You can try Apple iPhone Unlock.


Just find your iPhone IMEI number, then choose your device model and enter the IMEI number. Click on the "Start" button to bypass iCloud lock. After completing the purchase, it will take 24-hours to unlock your iPhone.
Conclusion
These are some of the methods how to get past activation lock and to save your hundreds of dollars' worth of device from becoming useless just because you forgot an ID. If you have purchased a device online and paid in full but the device is locked, then instead of wasting your hundreds of dollars and throwing the device out the window you should try the above methods at least ones and if you really don't have time then I recommend using PassFab services because form all the above methods the most reliable method is the PassFab Activation Unlocker application that provides you with complete and detailed guided instructions to make the task of bypassing the activation lock seems like a child play, there service is quite reliable with 24/7 customer support.