Worksheet protection is not a security feature in Excel. It is not actually intended to prevent people from accessing data in a protected sheet. Because Microsoft Excel uses a very simple encryption innovation for worksheet protection so does this means that Excel protection is useless? Not at all! It is made to lock your worksheet to protect from accidental changes in the content. Now, here in this article, we will show you the detailed steps to unprotect cells in Excel.
Why People Want to Unprotect Excel Cells?
Protecting cells in Excel is very easy to eliminate the chances of any data changes or any loss of important content but unprotecting a cell in Microsoft Excel is even easier. The question of why people want to unprotect the cells in Excel has the answer to view the document, to make changes in the document or to fix an error in the document. In Excel, the cells are locked by default to protect a worksheet from being altered or edited by someone else. But, if you want to unprotect a cell in Excel it is not a big deal. There are some methods to unprotect cells in excel either you came up with a password protected sheet or a non-password protected sheet.
How to Unprotect Cells in Excel File?
Solution 1: Unprotect Excel Cells with Known Password
In Microsoft Excel, you set a password to prevent others from opening and modifying your documents, workbooks, and presentations. But you can easily unprotect a specific range of cells in your documents and presentation when read-only is not the option anymore. After setting the password for your file, that password has to be entered before anybody else can open the file.
Following is an easy guide on how to unprotect selected cells in Excel:
1. Select the cell you wish to modify. To highlight a range of cells, hold down the "Control" key while selecting the additional cells.
2. Click the "Home" button.
3. In the "Cells" area, select "Format" > "Format Cells".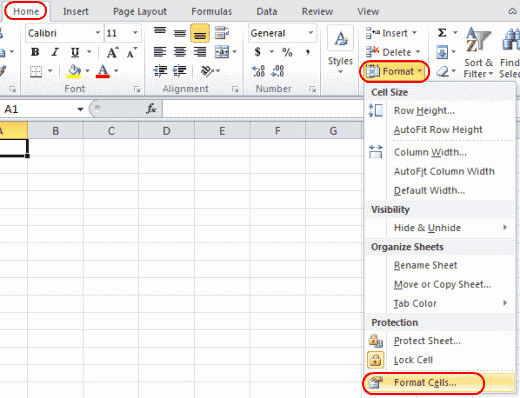 4. Select the "Protection" tab, and then clear the check mark from the "Locked" box.
5. As the dialog box says, locking cells or hiding formulas has no effect until you protect the worksheet. You can do so under the "Review" tab by selecting "Protect Sheet". Click "OK".
6. Right click the sheet tab at the bottom of the screen, select "Protect Sheet" and then click "OK". The entire sheet is now protected except the cells you unlocked.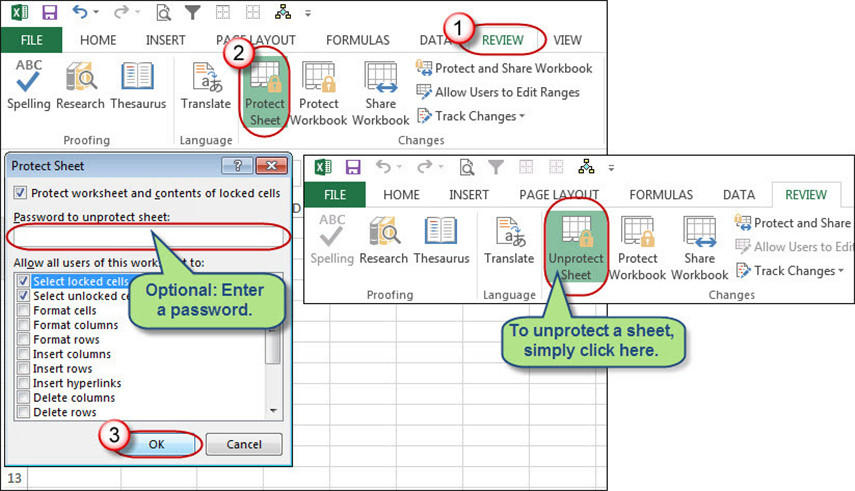 If you want to edit a password protected sheet but you have forgotten the password, try to unprotect the sheet by using the following methods:
Solution 2: Unprotect Excel Cells with Zip Software
This way only works for Excel file in .xlsx format. Hence, if your Excel workbook is in .xls format, just open it and then save it as .xlsx format.
1. Change the Excel file name extension from .xlsx to .zip. Just click on "Yes" to make sure when prompted.


2. Open the ZIP archive with 7-ZIP. Open the folder xl->worksheets and you can see sheet1.xml, sheet2.xml, sheet3.xml file. If you want to unprotect the sheet1, select the sheet1.xml file. Right click on it, select Edit, and open it with Notepad.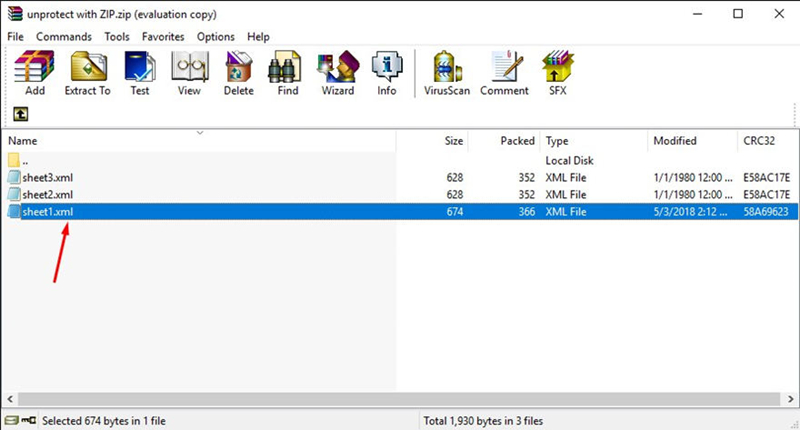 3. Delete the tag beginning with sheet Protection. Then save and close the sheet1.xml file.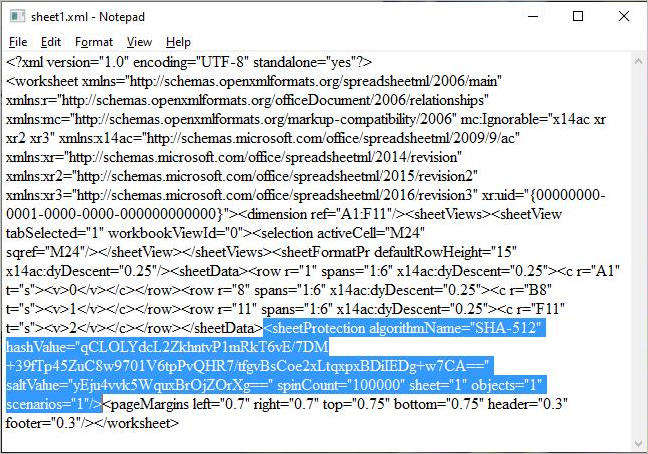 4. Update the modified sheet1.xml file in the ZIP archive when prompted. Then close the ZIP archive.

5. Change the ZIP file name extension back to .xlsx. At this point, the Excel sheet has been unprotected. Open it and you can edit the sheet without password.
Solution 3: Unprotect Excel Cells with VBA Software (For 2010 and lower)
1. Open your Excel document and switch to the password-protected sheet.
2. Press Alt + F11 to open the Visual Basic Editor.
3. Right-click on the workbook name on the left pane (Project-VBA Project pane) and select Insert > Module from the context menu.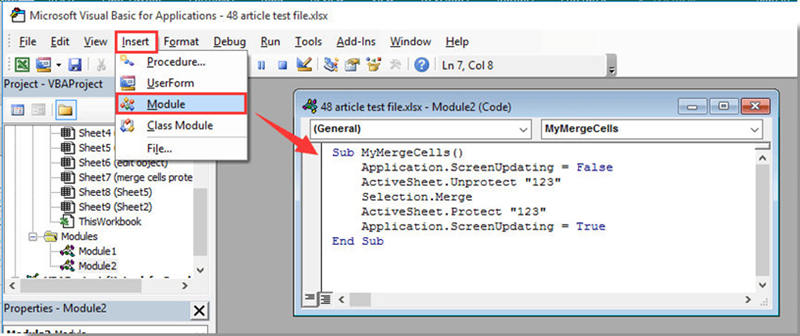 4. In the window that appears, paste the following code that appears.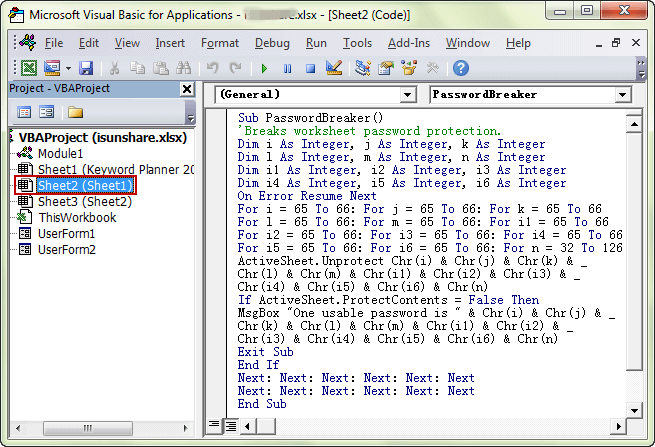 5. Press F5 or click the Run button on the toolbar and wait for some minutes.
6. The macro will report a cracked password, which is not the original one (always some combination of A's and B's), but it works. Simply click OK and the sheet is unprotected.
But remember that, if your file contains more than one protected sheets than you have to run the macro individually for each sheet.
To unprotect Excel sheet without password in the modern versions of Excel 2013 and Excel 2016, you can save the document as Excel 97-2003 workbook (*.xls) first, run the macro to unprotect it, and then save the workbook back as a .xlsx file. Alternatively, you can use one of the free tools, for example, Password Protection Remover add-in for Excel.
Solution 4: Unprotect Excel Cells with PassFab for Excel
The quickest and most efficient way is to use the PassFab for Excel software to unprotect cells in Excel. If you're locked out of the Excel file and would like to open the file without a password, that's not a worry anymore, because you got PassFab for Excel. This password recovery software can easily recover lost password with powerful attack mode and remove restriction password for Excel.
Step 1. Free download PassFab for Excel on your computer first.
Step 2. Launch PassFab for Excel. Then click "Remove Excel Restriction Password".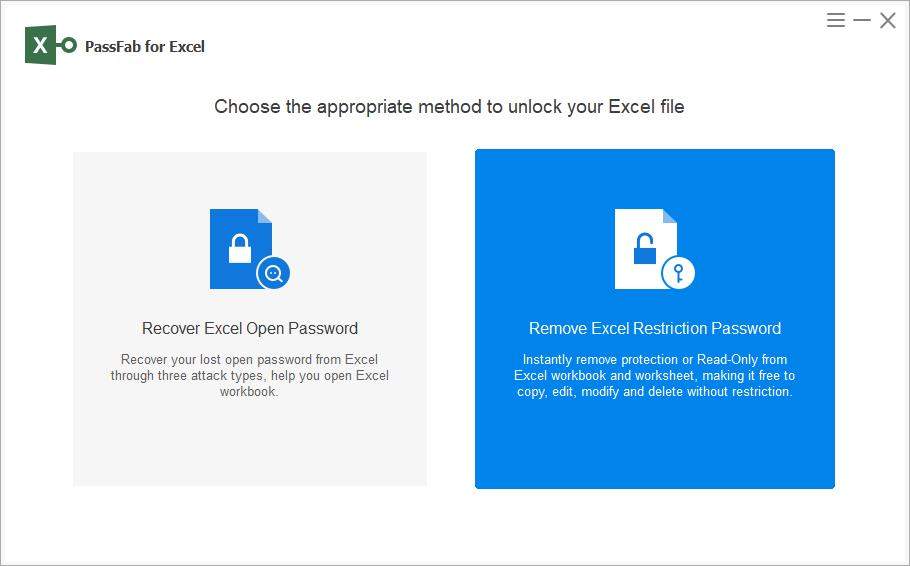 Step 3. Import the Excel file from your computer.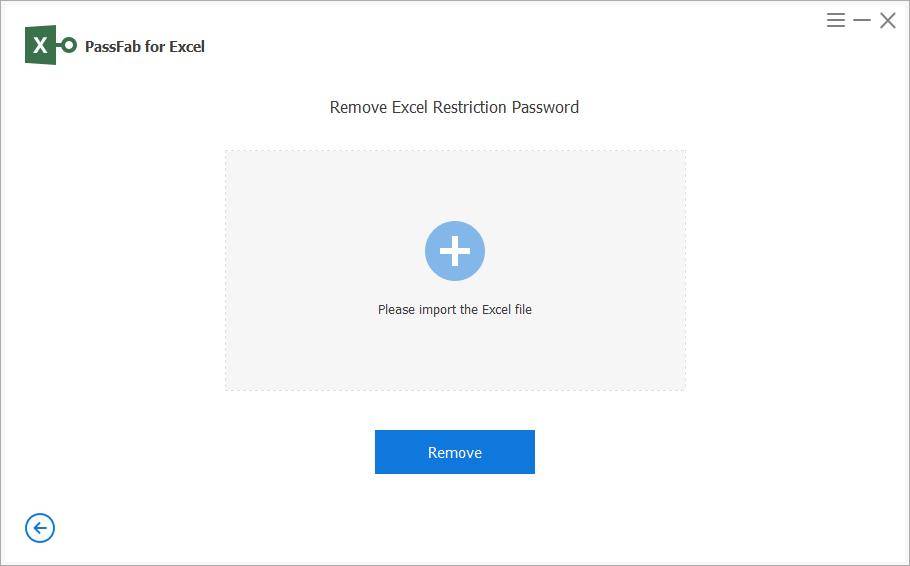 Step 4. Click on "Remove" to start removing Excel restriction passwords.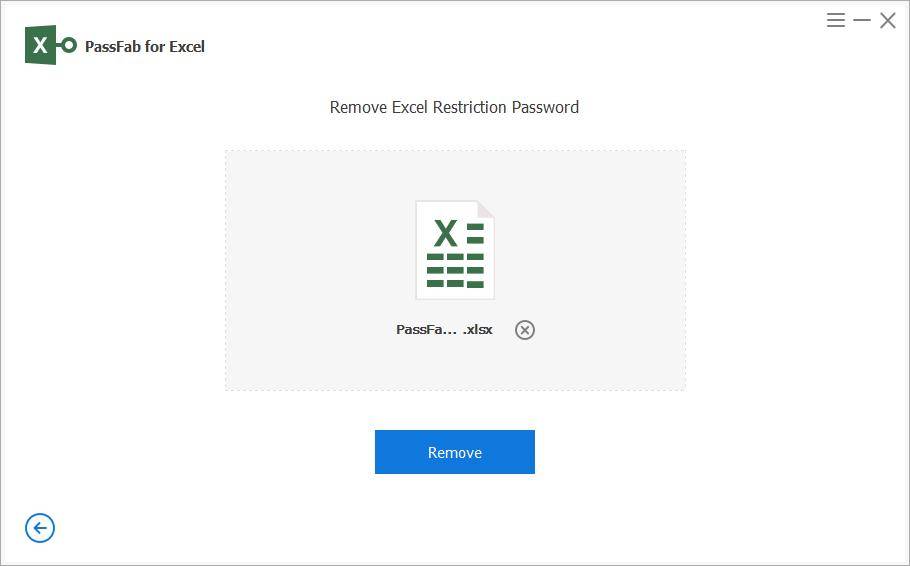 Then the removing process completes and the cells in Excel should be unprotected successfully.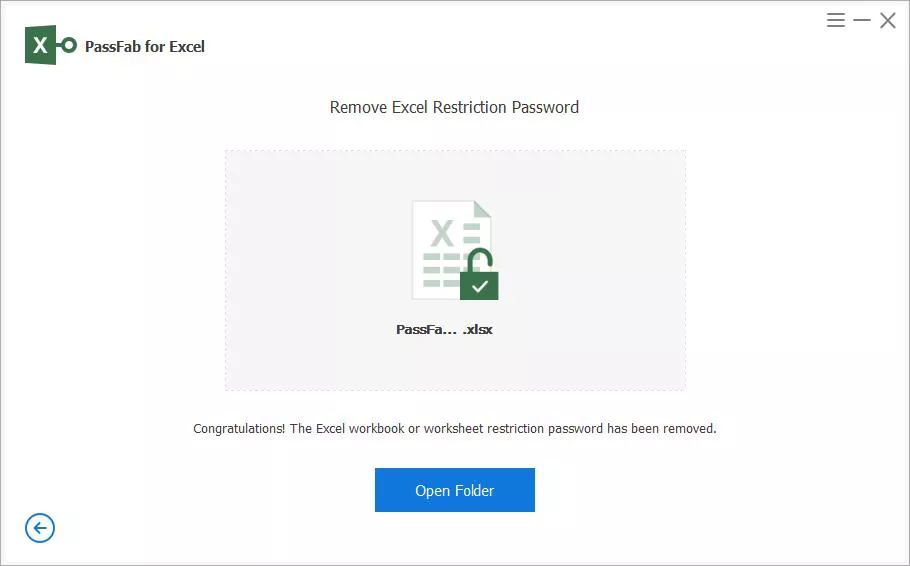 Here is a vido tutorial about how to unprotect Excel worksheet without password, which also works for Excel cells:
Summary
This article is about unprotecting cells in Excel worksheets. Unprotecting cells is easy when you know the password. But when you forget the password, it seems a little complicated. The solutions described above really work. A program named PassFab for Excel can be used in situations when you wish to unprotect cells in Excel but you don't remember. Use the PassFab for Excel software which uses three attack mode to recover the lost protected password.