When ever I click shut down the screens turn off for a split second then turn right back on. Same story when I press the power button. Only way to shut it down is to hold the power button down for like 5 seconds. Any fix for this?
Computer won't shut down in reddit is a hot discussion topic. Many Windows users reported that they are suffering from it. Some of them mentioned their systems getting restarted automatically after they shut them down.
Do you wonder, "Why windows 10 is not shutting down" and want to know how to fix it? Find out in this article!
Part 1: Why won't my PC Shut down?
The Windows PCs fail to shut down for multiple reasons; some of which are:
Pending Windows updates
Faulty system files
Fast Startup feature
Unwanted background apps
Outdated drivers or faulty Windows updates
The reason could be anything, but you can resolve this problem with the solutions given in this guide.
Part 2: How do you Fix a Computer that won't Shut down on Windows 11/10/8/7?
Although the computer won't shut down or restart issue seems comlex, it is quite simple to resolve with the following fixes:
Fix 1: Force Shutdown your Computer
Force shutdown is the most straightforward solution to the computer will not shut down problem. You must try this solution before moving to an advanced one because it has proven useful in most cases. You can force shut down your system in two ways:
Way 1: With Power Button
Step 1. Press and hold the Power button unless the lights on the computer get off.
Step 2. Remove the power supply, battery, or any other power source and wait 5 to 10 minutes.
Step 3. Restart your computer and try to shut down it.
Way 2: With Command Prompt
Step 1. Open Command Prompt with any preferred method.
Step 2. Type shut down /s /f /t 0 and hit Enter.
Fix 2: Smart Repair by PassFab FixUWin
PassFab FixUWin is an automated way to resolve Windows errors quickly and with a few clicks. FixuWin ensures a faster and more efficient repair process, leaving no room for damaged or corrupted files. Unlike traditional antivirus software, this advanced tool goes beyond scanning for viruses and dives deep into identifying critical system files and registry errors.Whether you're facing system crashes, blue screen errors, DLL issues, or other frustrating glitches, FixuWin has got you covered!
With its amazing Smart repair feature, the PassFab FixUWin scans your computer to find the potential culprit and resolve the problem. Its highly user-friendly interface makes it useful for anyone with or without computer experience. You can follow the steps below if your PC not shutting down:
Step 1. Install and open PassFab FixUWin.
Step 2. Plug in a USB drive in your PC and click Create a boot disk now button.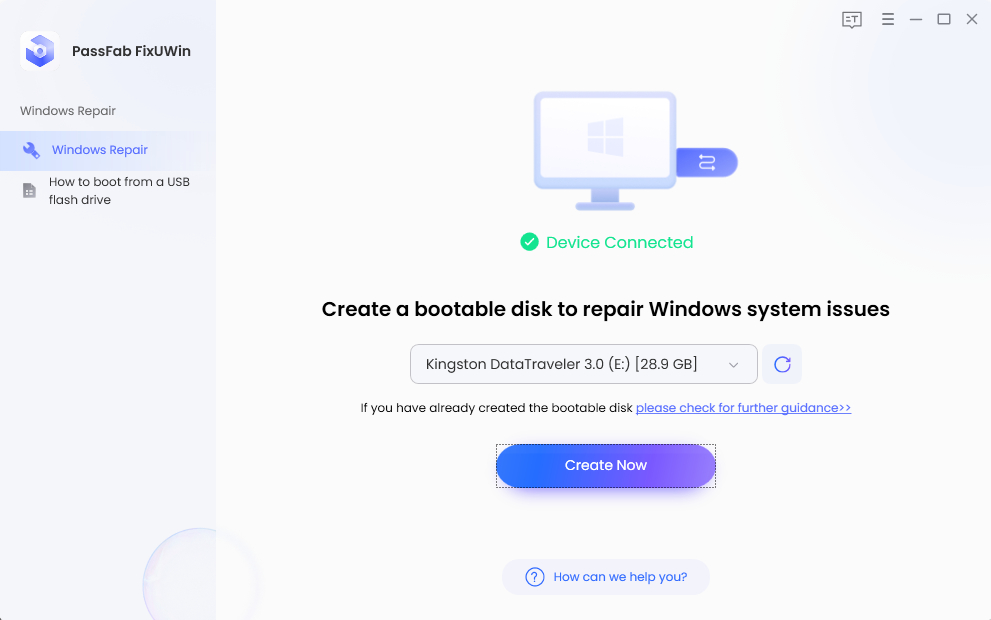 Step 3. Choose your USB drive from the list and click Next.
Wait for the bootable USB to be created. Note that any data on the USB will be removed.
Step 4. Restart your system and press the boot key.
Step 5. Set the bootable USB on boot priority using the corresponding keys and exit the boot menu.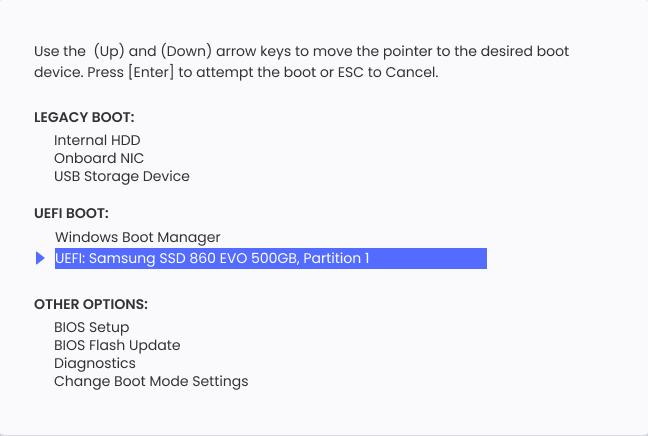 Step 6. When you see PassFab's interface, click Automated repair.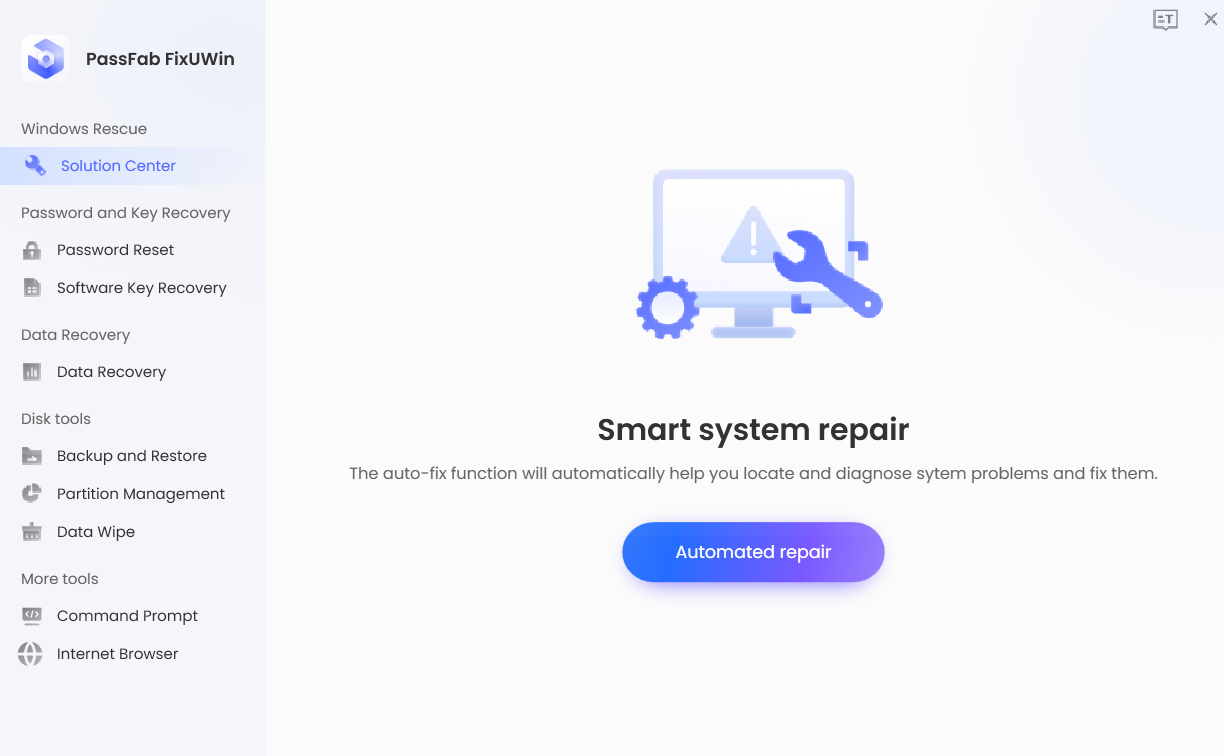 Step 7. Choose which partition to repair and click Start repair to initiate the repair process.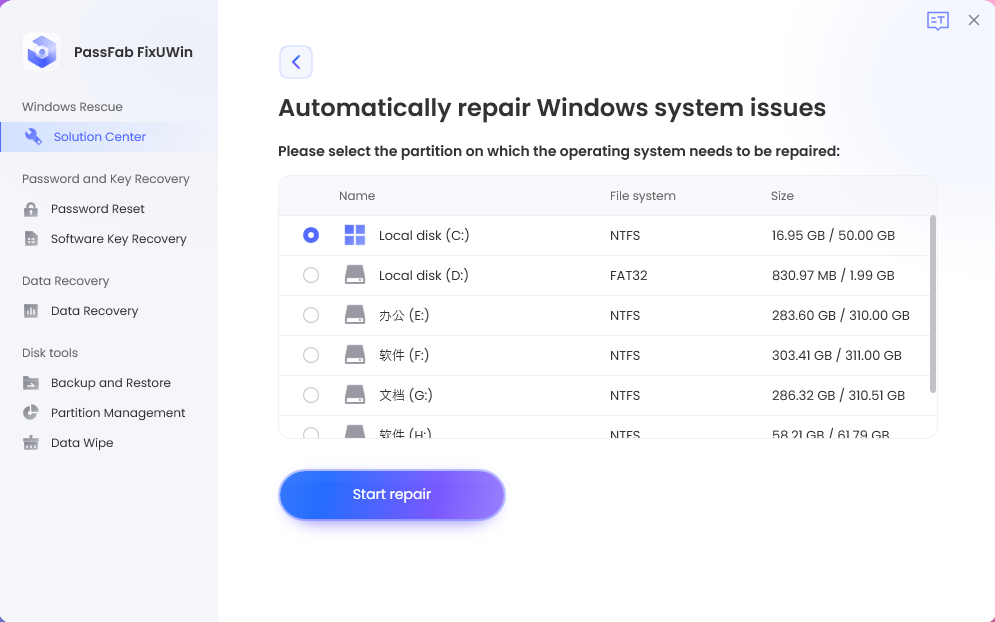 Let the program scan your system and fix the issue. The time it takes to complete the process depends upon the amount of data on the chosen partition.
Step 8. Click the Restart button to boot your computer normally.
When your computer starts up, try to shut it down normally. Hopefully, your problem will be fixed.
Fix 3: Disable Fast Startup
The Fast Startup feature makes the booting process faster by skipping background checks and system routines upon startup. This feature sometimes interrupts shut down routines preventing the PC from shutting down. Therefore, disabling this feature may help.
Please note that disabling fast startup will slow down the startup and shut down processes.
Step 1. Click the Start button, search Control Panel, and open it.
Step 2. Click System and Security.
Step 3. Go to Power Options.
Step 4. Click Choose what power buttons do link from the side panel.
Step 5. Hit Change settings that are currently unavailable link:
Step 6. Deselect Turn on the fast startup (recommended) option and click Save changes.
Fix 4: Run Windows Troubleshooter
Windows OS comes with a variety of troubleshooters focusing on different types of issues. You can try running a Power troubleshooter to fix the computer won't shut down just restarts problem. This troubleshooter will automatically look for the problem and attempt to fix it.
Step 1. Open Settings and go to Update and Security settings.
Step 2. Switch to the Troubleshoot tab in the side panel.
Step 3. Look for the Power troubleshooter in the list (If you don't find it up front, look for it in Additional troubleshooters) and click Run the troubleshooter button.
The troubleshooter will start scanning and mitigate the problem if found. Please remember that this method may not help as the troubleshooter sometimes fails to diagnose and resolve the issue.
Fix 5: Turn off All Running Apps
Some applcaitons keep running in the background even after you have closed them. These apps sometimes prevent your system from turning off. If you doubt that your PC might have such apps, you can try turning all the running apps off manually before your shut down your system as follows:
Step 1. Right-click the Start button and open the Task Manager.
Step 2. Select all the apps that appear in the Processes tab.
Step 3. Hit the End task button to kill all the processes.
Fix 6: Run System File Checker Tool
Corrupted or damaged system files are one of the major reasons behind many Windows errors, and they can cause computer won't shut down issue. The System File Checker (SFC) tool is a built-in utility in Windows that scans the system files for corruption and replaces the damaged files with their healthy versions. Using this tool, you can easily fix the startup or shut down issues. But remember that one small mistake in the command can cost you a lot.
Step 1. Open the Run prompt, type CMD, and press CTRL + SHIFT + ENTER simultaneously.
Step 2. Type the sfc /scannow command and hit Enter button.
Let the command complete, as scanning may take some time. Once complete, try to shut down your system as usual.
Fix 7: Install the Latest Windows Version (Windows 10 or 11)
If you have not installed the latest version of Windows in your system, you might face errors like the computer froze and won't turn off and PC won't shut down. Keeping the updates pending causes trouble to people, and we recommend you install any pending Windows updates to resolve the issue as follows:
Step 1. Open the Settings app and go to Update and Security settings.
Step 2. Click the Check for Updates button to look for available updates.
Step 3. If any updates appear, click the Install button to get them in your system.
Let the updates get installed, and restart your computer afterwards. Ensure it can now shut down normally, or else move to the next solution.
Fix 8: Perform System Restore
Installing a faulty update or problematic software in your computer causes various issues like computer will not shut down. In such a case, you must revert your system to the state when that particular software or update was not installed. To do so, you can perform a system restore. You will need a restore point to follow this fix and back up your important data, as you may lose it.
Step 1. Search for System Recovery in the Search box.
Step 2. Choose the Recovery option.
Step 3. Click Open System Restore.
Step 4. Choose a restore point to revert to and click Next.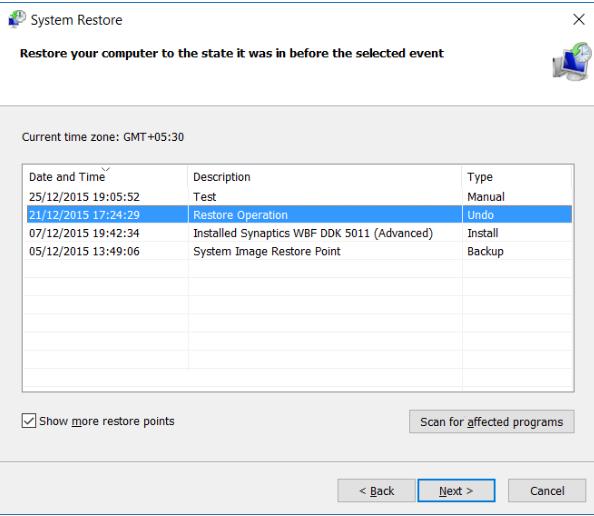 Step 5. Click Finish after confirming the restore point.
Once the system restore completes, attempt to shut down your computer.
Part 3: How to Fix Computer Won't Shut down on Mac?
If you are on a Mac that fails to shut down, you may feel troubled and look for solutions. In this section, we will discuss the most common fixes to this problem, but first, let's see some reasons behind computer won't shut down Mac:
Any hardware or software upgradation
Any program interrupting the shut down process
Faulty hardware, especially NVRAM
Now that we have the culprits behind the issue let's try to fix it using the most common methods:
Method 1: Close all the Running Applications
Before you try to shut down your Mac, you must close all the applications as they might prevent your system from turning off:
Step 1. Hit the Option + Command + Escape keys simultaneously.
Step 2. Choose the running application from the Force Quit window.
Step 3. Click on the Force Quit option.
Step 4. Turn off your computer.
Method 2: Try Resetting NVRAM
The NVRAM is responsible for storing some special Mac settings; resetting it can help resolve the shut down problems.
Step 1. Reboot your Mac and press the Command + Option + P + R keys when you hear the startup sound.
Step 2. Hold the keys unless you hear the sound again and release them.
FAQs
1. Why does my computer stay on when I shut down?
The reasons behind your computer not shutting down include the following:
Pending Windows updates
Faulty system files
Fast Startup feature
Unwanted background apps
Outdated drivers or faulty Windows updates
2. How do you force shut down a computer?
You can force shutdown a computer by holding the power button unless the screen goes black and removing all the power sources for 5 to 10 minutes.
3. Is force shutdown bad for PC?
Force shutdown can damage your data, corrupt any open files, and you may lose any unsaved data.
Final Words
It seems strange when you shut down your system, but it stays on. You may try to turn it off directly by removing the battery or the power cable, but it can damage your system. Therefore, we have proposed the best ways to troubleshoot the computer won't shut down Windows 11/10/8/7 issue. Besides, this article also suggests the best ways to fix the addressed issue in Mac.