I recently got the free upgrade to Windows 10 and I've been having an issue unzipping files. Every time I go to unzip a folder to get a file I always get the above error "0x80004005: Unspecified error" I was wondering if anybody else is having this issue and if it's been resolved, please let me know.
The error 0x80004005 is a common error many users face worldwide as it occurs in various situations. It can pop up when working with files or updating some Microsoft Store applications, and it is an unspecified error as it does not have a specific reason. In this article, you will find all you need about unspecified error 0x80004005.
Part 1: What is 0x80004005 Unspecified error?
Error 0x80004005 is known as an unspecified error because the cause of this problem is not specified by Windows when it occurs. Because this error appears in multiple situations, the cause of this error differs; hence Windows fails to identify and display it with the error message. Here are some situations when Windows 10 0x80004005 error may trigger.
Updating Windows
During File Transfer
Accessing Shared Files and Folders over a Network
Installing applications
Updating Microsoft Store apps
While Accessing a Virtual Machine
We have covered all the situations in this guide.
The causes of this error vary based on the situation it occurs in, but here are some known reasons.
Corrupt/Damaged System Files
Lack of privileges
Third-party apps and programs interference
Problems with your user account
Part 2: How to Fix 0x80004005 Unspecified error in Different Situations?
Situation 1: Error 0x80004005 When Updating Windows
While updating Windows, you face many errors. Error 0x80004005: unspecified error windows 10 is one of them.
Although these errors occur for numerous reasons, the most significant culprit is corrupt files. So, you can try the following methods to repair these files and get rid of Windows 10 0x80004005 installation error.
Fix 1: Use PassFab FixUWin
The best and simplest way to repair corrupt system files or any other Windows error is by using PassFab FixUWin. This magical tool finds the root cause behind a particular error and automatically rebuilds the corrupt or damaged files. It is highly useful in situations like a blue/black screen of death, stuck on a boot/restart loop, stuck on a loading screen, or any other error. Windows update error is also a simple task for it.
Step 1. Install and launch PassFab FixUwin.
Step 2. Plug a USB into your system and click Create boot disk now.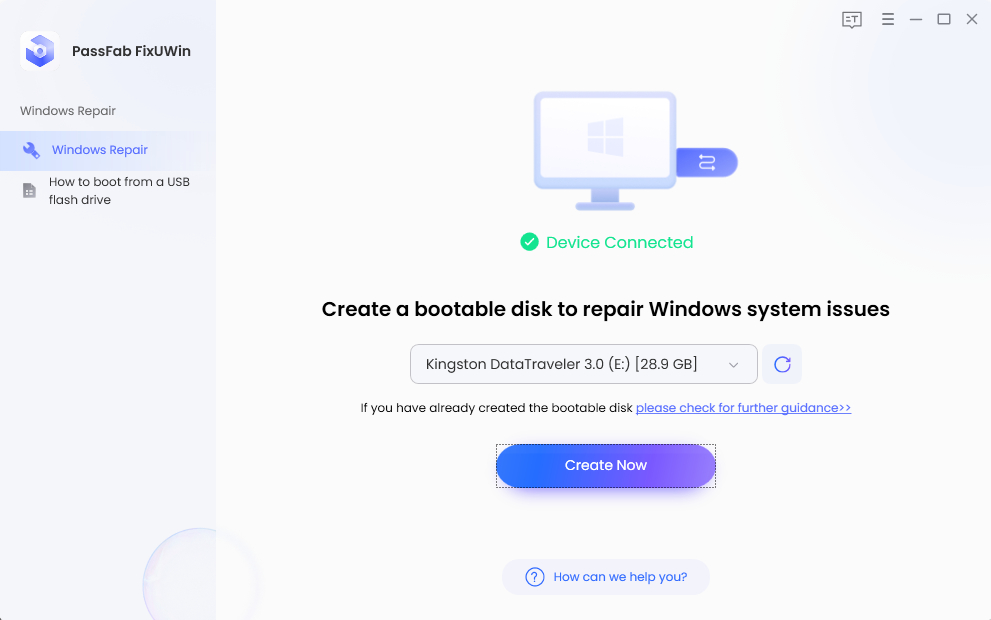 Let the system burn boot instructions on your USB.
Step 3. Restart PC, press the boot key, and set USB on priority.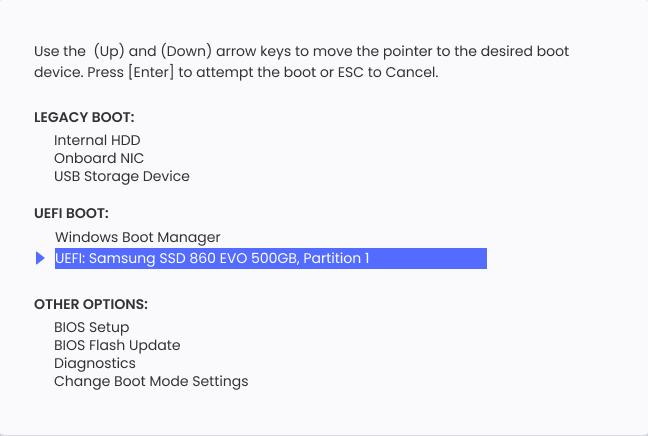 Step 4. Save changes and exit boot menu.
Step 5. Click Automated repair.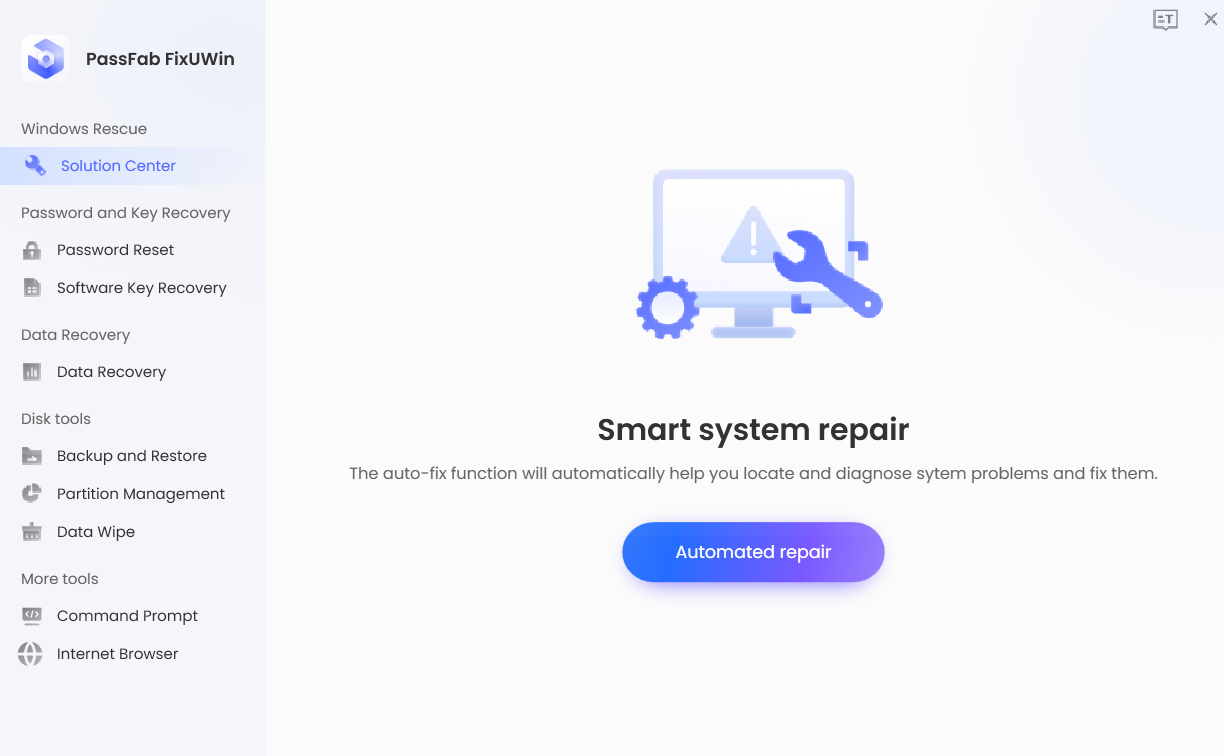 Step 6. Click Restart. And the tool will help you find and fix the problematic part automatically.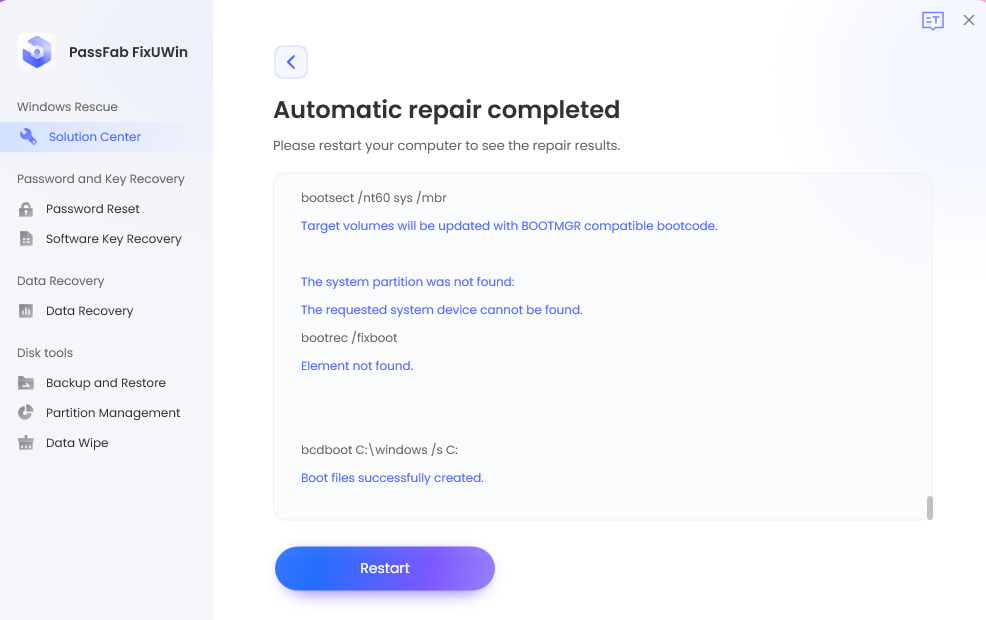 Fix 2: Download Windows Updates Manually
If you fail to install Windows updates after multiple attempts, you can try to download the respective update from Microsft Update Catalog. It is just like a library where you can find all the Windows updates that Microsoft has released.
Step 1. Visit Microsoft Update Catalog and search for the corresponding update KB code.
Step 2. Download the update compatible with your system architecture.
Step 3. Double-click the downloaded file to install the update and restart your PC later.
Fix 3: Execute Windows Update Troubleshooter
Windows OS comes with various troubleshooters to rescue you from different problems. Windows Update Troubleshooter is one of them which can be used when you face issues with Windows Updates. This troubleshooter tries to identify and resolve issues with Windows Updates and can be run according to the following steps.
Step 1. Launch the Settings app and go to Update and Security settings.

Step 2. Switch to Troubleshoot tab in the left navigation and click the Additional troubleshooters link.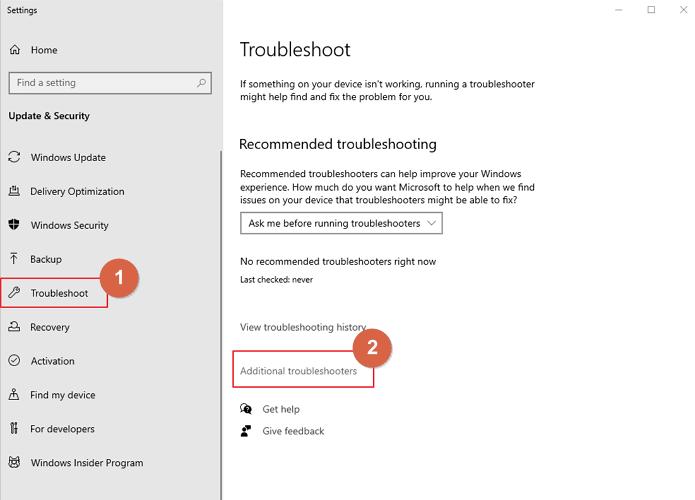 Step 3. Choose Windows Update, click Run the troubleshooter button.
Situation 2: Error Code 0x80004005 Occur During File Transferring
Many users have reported facing error 0x80004005 when copying or moving their data from USB to PC or vice versa. If you are facing this error while attempting to transfer files from one media to another, here are some reasons behind it.
Your USB contains corrupted or damaged data.
Some crucial updates for file transfer are missing.
Incompatible files are also a major culprit behind the error.
Do you want to know how to fix error 0x80004005 windows 10 while file transferring? Here are the best methods.
Fix 1: Try a Different File Compression Tool
If you are trying to transfer zip files and facing an error, the chances are that Windows built-in file compression tool does not recognize the zip files. When you unzip a file, Windows decompresses it using its built-in compression utility, and when it fails, it gives you the error 0x80004005. In such a situation, you can use other file compression tools as follows:
Step 1. Download and install WinRar or any other compression tool.
Step 2. Plug in your USB and unzip the files.
Step 3. Transfer files to the desired device.
Fix 2: Run Setupprep to Install Missing Update
As mentioned, a missing Windows update can cause Windows 10 error 0x80004005 unspecified error. You can run the setupprep.exe file to resolve this issue as follows:
Step 1. Open Run dialog by pressing Windows + R.
Step 2. Type C:$Windows.~BTSources and press Enter.
Step 3. Look for the setupprep.exe file in the directory and double-click on it.
Step 4. Reboot system and retry the file transfer.
Fix 3: Recreate USB Disk Volume through Disk Management
Recreating the USB Disk volume may resolve the issue, but you will lose all data during this process. We would recommend that you back up your data before proceeding. Here are the steps that you can follow to recreate the USB partition
Step 1. Put USB in the port, open the Start menu, type Disk Management, and hit Enter.
Step 2. Right-click on your USB in the Disk Management Window and choose Delete Volume.
Step 3. Right-click the unallocated partition and choose the New simple volume option.
Step 4. Follow the on-screen instructions and format your USB afterward.
Fix 4: Format your USB Drive
If none of the above ways helped you out of the problem, your last option is formatting your USB. Although you will lose all your data, you have no other options:
Step 1. Open Command Prompt.
Step 2. Type format /FS:FAT32 H:, hit Enter.
Tips:
Replace H: with the drive letter assigned to your USB drive.
Situation 3: Error 0x80004005 Showing when Accessing Shared Files and Folders
The error 0x80004005 windows 10 also appears when accessing the shared files and folders over a network when LocalAccountTokenFilterPolicy and AllowInsecureGuestAuth are not set properly. You can fix the error in this situation through the registry editor
Step 1. Open Registry Editor by searching it in Start Menu.
Step 2. Go through HKLMSYSTEMCurrentControlSetServicesLanmanWorkstationParameters
Step 3. Look for AllowInsecureGuestAuth and set its data value to 1.
Step 4. Now, navigate to HKLMSOFTWAREMicrosoftWindowsCurrentVersionPoliciesSystem
Step 5. Right-click the space in the right pane and hover over New. Choose DWORD (32-bit) value.
Step 6. Name the entry as LocalAccountTokenFilterPolicy and assign 1 in the value parameter.
Step 7. Click OK and restart your computer to check if the issue is resolved.
Situation 4: Error 0x80004005 while Accessing Virtual Machine
If you are accessing a virtual machine and facing error 0x80004005, you can troubleshoot the issue by following the methods given below.
Fix 1: Delete Registry Key
Step 1. Open the Run dialog, type regedit, and hit Enter.
Step 2. Look for the HKEY_LOCAL_MACHINESOFTWAREMicrosoftWindows NTCurrentVersionAppCompatFlagsLayers key.
Step 3. Delete any key found and restart the virtual machine.
Fix 2: Restart Windows Hypervisor (Hyper-v)
The version of VirtualBox you are using must be compatible with Windows Hyper-V because if you use an older version, you will face the error 0x80004005. However, if you are using the compatible VirtualBox version and still facing the issue, you can restart Windows Hypervisor through the command prompt.
Step 1. Run CMD in elevated mode.
Step 2. Type and run bcdedit /set hypervisorlaunchtype off command.
Step 3. Restart your computer and re-open the command prompt with administrative privileges.
Step 4. Type and run bcdedit /set hypervisorlaunchtype auto command to restart Hyper-V.
Fix 3: Delete Saved Session State
Due to the saved session state, the VirtualBox fails to start a new session and through E_Fail 0x80004005 error.
Step 1. Open the VirtualBox and right-click on the Virtual machine.
Step 2. Click Delete saved state.
Step 3. Restart the session.
Situation 5: Error 0x80004005 While Accessing Virtual Machine on Ubuntu
You can also face the error 0x80004005 while accessing the virtual machine on Ubuntu.
Here are some fixes that you can try in such a situation.
Fix 1: Disable the Hyper-V
Disabling the Hypervisor has proved to be the best and simplest method in the situation under discussion.
Step 1. Run Command Prompt in elevated form.
Step 2. Type bcdedit /set hypervisorlaunchtype off and hit Enter.
Fix 2: Update VirtualBox
Many users got rid of E_Fail 0x80004005 after installing the latest version of VirtualBox on their machines:
Step 1. Open the VirtualBox Manager and click the File menu option.
Step 2. Select the Check of updates option and go to the provided link to download the latest build.
Step 3. Run the .exe update file.
Fix 3: Disable Memory Integrity through Group Policy Editor
Step 1. Open the Run dialog and type gpedit.msc, hit Enter.
Step 2. Navigate to Computer Configuration -> Administrative Templates -> System -> Device Guard.
Step 3. Search and double-click on Turn on Virtualization Based Security.
Step 4. Choose Disabled and click OK.
Situation 6: Microsoft Windows 10 Store 0x80004005 Error
Microsoft Store error 0x80004005 also occurs when you update apps on the Microsoft Store.
Fix 1: Reset Microsoft Store
Resetting the Microsoft Store has been the most effective way of resolving error 0x80004005
Step 1. Open the Run dialog, type wsreset.exe, and hit Enter.
Step 2. Check if the issue has vanished.
Fix 2: Run Microsoft Store Troubleshooter
Step 1. Open Settings, go to Updates and Security -> Troubleshoot.
Step 2. Click the Additional troubleshooters link and scroll to Windows Store Apps.
Step 3. Click Run the troubleshooter.
FAQs
1. What is 0x80004005 Windows 10 Network Troubleshooter?
When you face error 0x80004005 while accessing an Internet connection or the network, you can run Windows 10 Network troubleshooter to fix the problem.
2. What is the best way to fix Error 0x80004005: unspecified error Windows 10 while updating Windows?
If you face error 0x80004005 while updating Windows, the best way to fix it is by using the PassFab FixUWin Windows repair tool. It will automatically look for the potential reason behind the problem and fix it in no time.
Final Verdict
Unspecified errors are the most difficult to resolve as their exact reason is unknown. In this article, we have discussed various ways to resolve error 0x80004005 in different situations. We hope the methods proposed in this guide help you eliminate the problem.