"My screen share suddenly stopped working. I was sharing Chrome with sound. But after I restarted my computer, there was no sound. I think there might be something wrong with the Windows 10 or the discord."
Frankly speaking, using discord on a PC was not a really good idea. The voice settings on discord can run into any possible error or browser problems where audio failed to capture. But there are just too many variables involved with discord screen share no audio. So, pinpointing the issue will be a bit difficult, but we have provided the necessary details in the article below. Check it out.
Part 1. Why Is My Discord Screen Share Audio Not Working?
The discord screen share audio not working problem appears due to discord not loading on your computer, discord screen share not loading, audio issues, faulty audio drivers, incompatible programs, antivirus, and more.
It is the most frustrating problem you can face, and it mostly affects gamers. So, before we start with the fixes, let's check out the causes for discord screen share no audio a bit more closely.
1. Audio Feature Problem
In the beginning, the discord screen share audio was faulty. But after an update, they fixed the issue. So, if you are still using the older and the faulty version of discord, then we recommend updating it.
2. Faulty Audio Drivers
Similar to other audio software, discord will show no sound error if the installed audio drivers are faulty. We recommend removing the faulty driver and installing a proper one.
3. Administrative Entry
Discord screen share requires administrative access. Without it, the program may not work properly. So, grant it administrative access.
4. Inappropriate Applications
Some programs interfere with discord's performance severely. If there is such a program installed on your computer, you will get a discord screen sharing no sound error. It is better to remove that specific program from the computer.
5. Discord Voice No Route Error
If there is no route for discord to transfer the audio, then you will get a discord screen share with no sound error. In this case, if you can just change the settings a bit, you will get positive results.
6. Stream Incompatibility
For YouTubers, discord is not even close to the best option as they stream videos. If you use discord to stream videos, you will most probably get discord stream no audio error, and there is also discord stream game not working error. You have to find an alternative.
7. Antivirus Problems
Lastly, we have antivirus. The antivirus program on your computer blocks several programs; sometimes, even the legit ones get blocked. It is the same for the discord files.
Antivirus causes serious damage to discord files. If you try and use discord while logging in on your Google Chrome browser, you will get this message. Then, you have to disable the antivirus and then use discord.
Part 2. How Do I Fix Discord Audio?
Here are the fixes for the discord screen share no audio error. Check out the details for each of the solutions.
1. Restart your Computer
First, you need to restart your computer. It is simple; still, a powerful method fixes any minor glitches with your system.
Simply click on 'Start' and click on the 'Restart' option. Wait for the system to start again and then check the performance of the discord.
2. Run Discord As Administrator
If restart didn't work, then try running Discord with Administrative privileges. Here are the steps;
Step 1: Launch File Explorer and navigate to the installation file location of Discord.
Step 2: Right-click on the discord.exe and choose 'Run As Administrator' from the drop menu.
Step 3: Finally, click 'OK' to save changes.
3. Update/Reinstall Discord App
Updating the Discord app is crucial for fixing the application's errors. It is also known that the preliminary version of Discord had audio issues, but they fixed with an update. So, update the app as soon as possible.
Step 1: Open the 'Run' dialog box and type '%localappdata%'. Hit 'Enter'.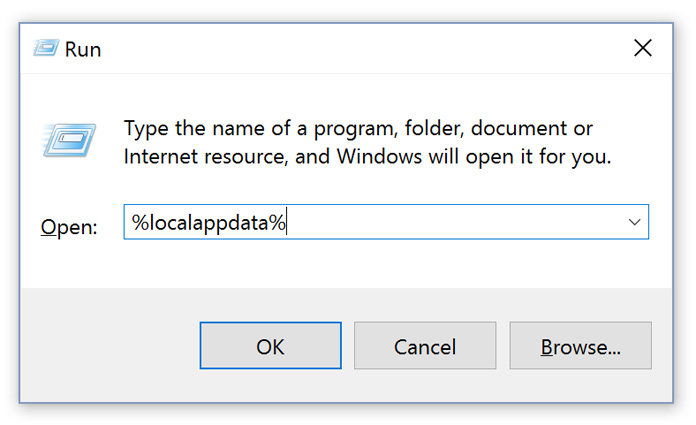 Step 2: Then double click on the Discord and then do the same with Update.exe.


Now, wait for the update to get finished. Then launch the app again.
4. Clear Discord Cache/Roaming Data
You can also clear roaming data to fix the discord screen share audio problem. The steps are simple; they are detailed below.
Step 1: Exit the app.
Step 2: Open the 'Run' dialog box and type '%appdata%' and hit 'Enter'.
Step 3: In the folder, locate the Discord folder, and delete it.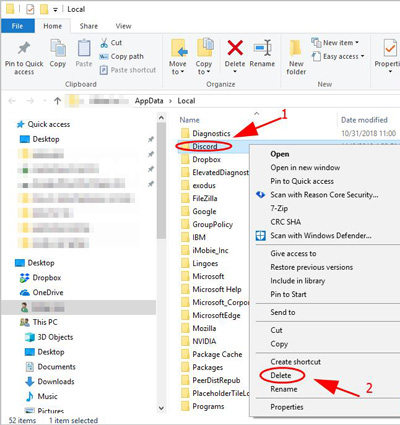 Now, launch the app again and check if it is working properly.
5. Avoid Full Windows Screen
Full screen would serve you well if you were only playing games. But playing games with a full screen while running discord, it not recommended. It will cause the audio error to appear.
So, if you have to use discord while playing games, you have to stop using the full-screen mode.
6. Add Discord Activity
Discord detects the activity you are performing and acts upon it. Like, if you are playing The Witcher 3 while running Discord in the background, you will have sound issues with the game.
So, we recommend adding a discord activity.
Step 1: Open Discord and go to its Settings.
Step 2: On the left click on 'Games'.
Step 3: Navigate to the 'Game Activity' tab and add an activity.
Step 4: Toggle the button associated with Overlay.
Now, launch the app and check if it is working properly with The Witcher 3.
7. Update Audio Driver
As you are having audio problems, we recommend checking the audio drivers. If you haven't updated them in a while, you need to do it now.
Step 1: Open the 'Run' dialog box and type 'devmgmt.msc'. Hit 'Enter'.
Step 2: Click on the Audio Inputs and Outputs to expand it.
Step 3: Make a right-click on 'Sound and Hardware'.
Step 4: Click on 'Update Driver'.
After the update is complete, you need to restart your computer. This should fix the discord streaming with no sound problem.
8. Reset Voice Settings on Discord
If there is a problem with discord's settings, then nor sound error might appear. So, resetting the voice settings on discord will be very effective.
Step 1: Run 'Discord' and click on 'Settings'.
Step 2: Navigate to 'Voice & Video' and click on 'Reset Voice Settings'.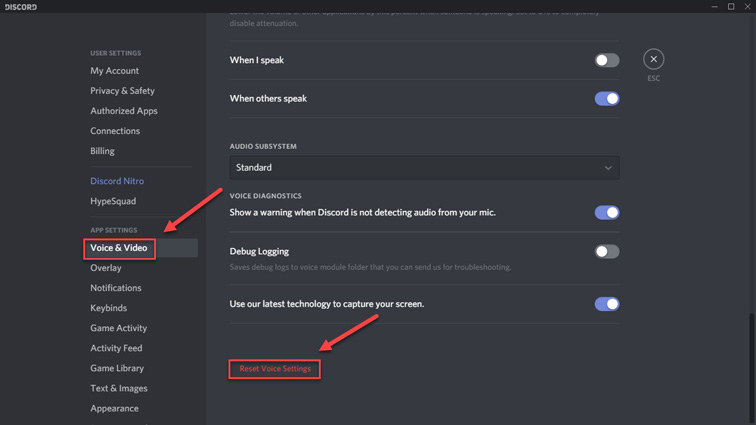 Step 3: Finally, click 'Okay'.
The voice settings have been reset successfully. Now, you should check the discord's performance and find out if it's running properly.
9. Use Push to Talk
Discord detects the audio activity immediately and sends it via the internet. But when this fails to happen and then you need to use the Push to Talk feature of the app.
Step 1: Locate your username and click on 'Settings'.
Step 2: Locate 'Voice & Video'.
Now, you need to click on the 'Next' button and enable the Push to Talk function.
10. Check Affected Application
Some of the times, we can come across a few cases where the affected app was not compatible with Discord's screen share function.
Like, if you were using Mozilla Firefox for this task, you will fail.
11. Check Computer Audio Settings
It is possible that the audio settings on your computer were not configured properly. So, we recommend checking the audio settings of your system.
Step 1: Type 'Microphone Privacy Settings' in the search box and click on Windows Settings.
Step 2: Locate 'Allow Apps to Access Your Microphone' option and turn it on.
Step 3: Turn on the Discord access.
Now, save the changes and exit. You have checked and even changed the settings, things should be okay now.
12. Disable Antivirus Program Temporarily
Last but not least, the antivirus installed on your computer could be causing this problem.
It happens; antivirus doesn't agree with several programs, and Discord happens to be one of them. So, just disable the antivirus temporarily. If Discord starts working after that, you will know that it was the antivirus. Then, you just have to look for a different antivirus.
Read Also: How to Fix Sound Not Working Windows 10
Part 3. Other FAQ about Discord Screen Share
Here are answers to some of the Discord screen share related questions.
Q1. How do I stream movies on discord with sound?
Discord comes with the streaming option. You just have to join a Voice Room. Then, click 'Go Live' and then select the browser.
Q2. Can you see the screen share on discord mobile?
Unfortunately, the screen sharing feature is not available for Discord mobile.
Q3. Can you screen share Netflix on discord?
After entering the server, you can click on the default voice channel to enter. At the bottom, you will see the option 'Go Live'.
Q4. How do I fix a black screen on the discord screen?
You can try updating the app, updating the graphics driver, clearing the Discord cache files, and even reinstalling Discord.
Read Also: How to Fix Speaker Setup Unknown
Final Thoughts
Hence, discord share screen no sound problem may appear on your computer, and it can be the result of several different reasons. Now, it is not always possible to figure out the problem, but we have detailed more than enough effective solutions in the article to help you. Another thing, if you are locked out of your Windows account for can't remember the password, we recommend using PassFab 4WinKey to get easy access again. It is effective and easy to operate.