As a Windows user, you must have seen or heard of Blue Screen of Death (BSoD) but have you ever faced a Red Screen of Death(RsoD) error? If your computer screen turns completely red after displaying an error message, it means you are facing aWindows red screen error and need to fix it to access your system.
This article will discuss what ared screen Windows 10/11 error is and how you can fix it.
Why did my Monitor Screen Turn Red?
Just like BSoD errors, Red Screen errors are also caused by various factors, and you can only fix them after identifying the potential cause. Here are some possible reasons if you wonder why is my screen red:
Outdated and incompatible drivers
Outdated or misconfigured BIOSv
Misconfigured Software
Faulty hardware
Graphics card failure
Typical Red Screen of Death Issues:
The Red Screen of Death can appear due to various reasons and on different events such as:
Upon Startup: Appears when you start your computer and indicates outdated or incompatible drivers or faulty installation files.
RsoD on Laptop: Points to a faulty Graphics card.
Excel Red Screen: While accessing an Excel file through File Explorer, this error might indicate some problem with either graphics card or one of its drivers.
Red Screen with Loading Sign: If you see a loading sign on red screen, it also indicates a graphics card problem.
Red Flashes: If your screen starts flashing, it is caused by overclocking.
Cursor and Audio Red Screen: Caused by faulty video/audio drivers.
Nvidia Red Screen: Integrating an Nvidia graphics card conflicts with overclock settings and causes RsoD.
How to Fix Red Screen of Death?
If you are stuck with Windows red screen of death, you can apply the following fixes to get rid of it:
1. Use Windows Boot Repair Tool
The most straightforward way to fix the red screen issue is using a Windows boot repair tool, i.e., PassFab FixUWin. It is an all-in-one Windows repair tool with outstanding capabilities to scan your computer for the potential culprits behind the error and resolve it automatically.
Here is how you can use it to fix RsoD:
Step 1: Install and launch PassFab FixUWin in your system.
Step 2: Plug in a USB and click Create boot disk now.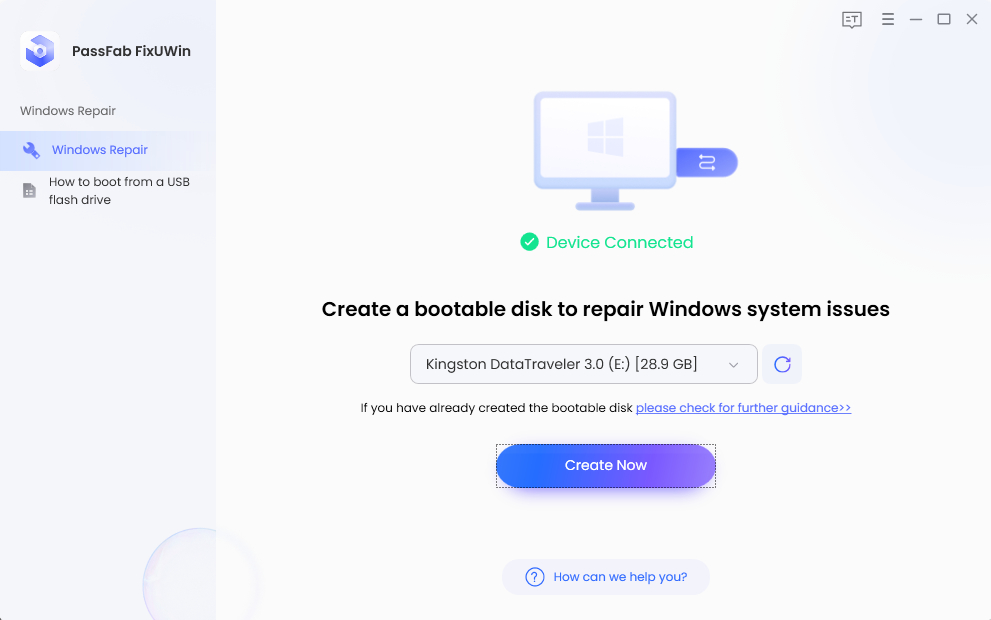 Step 3: Choose your USB, and hit Next. Wait until the program creates a boot repair tool and switch to the faulty system afterward.
Step 4: Restart your computer and plug in the bootable USB.
Step 5: Hit the boot key to enter the Boot menu. Set the bootable USB on priority and exit.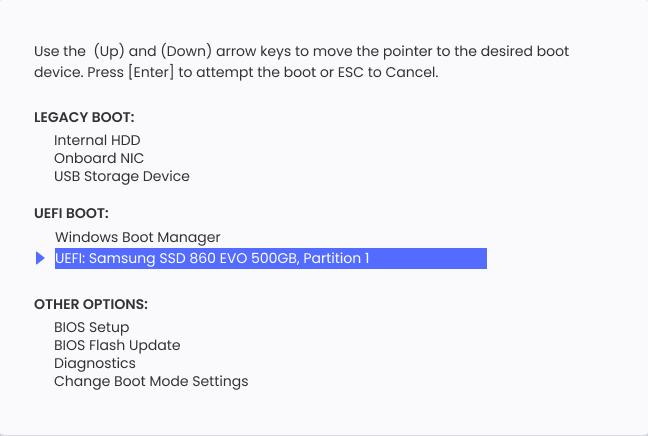 Step 6: Click Automated repair.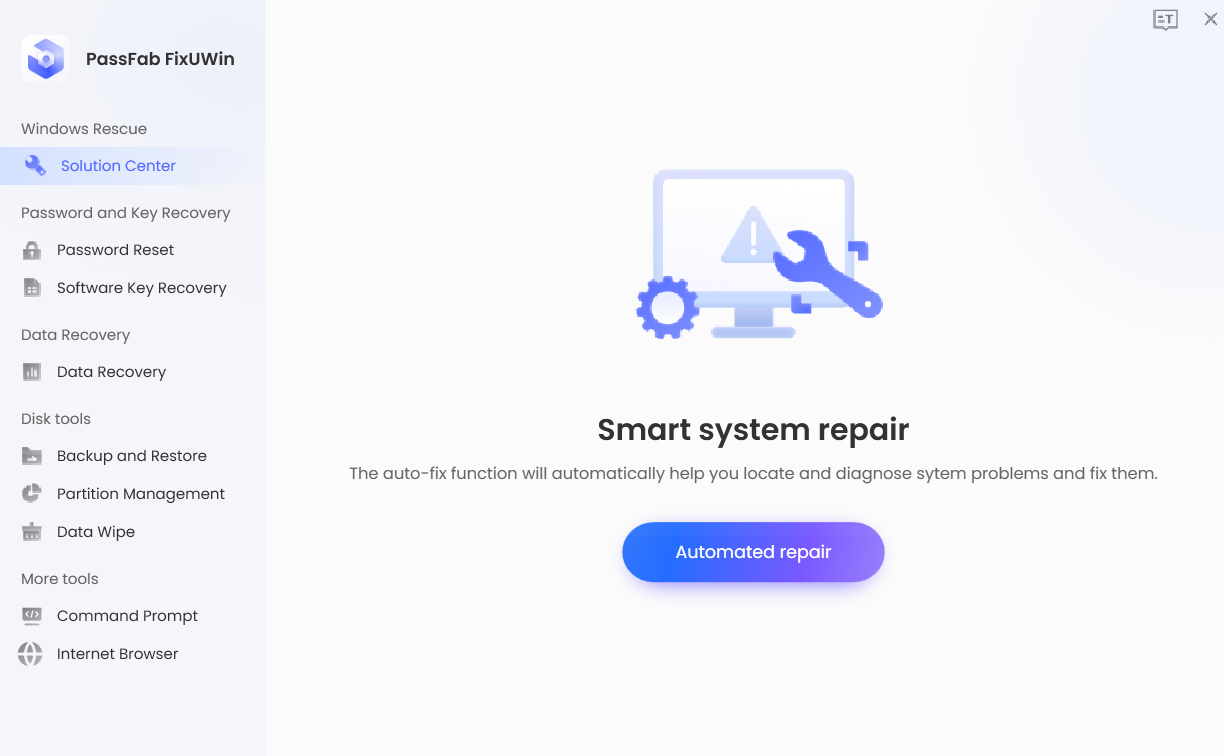 Step 7: Choose the system partition and hit Start repair to start the process.
Step 8: Click Restart to reboot your PC and check if the problem is solved.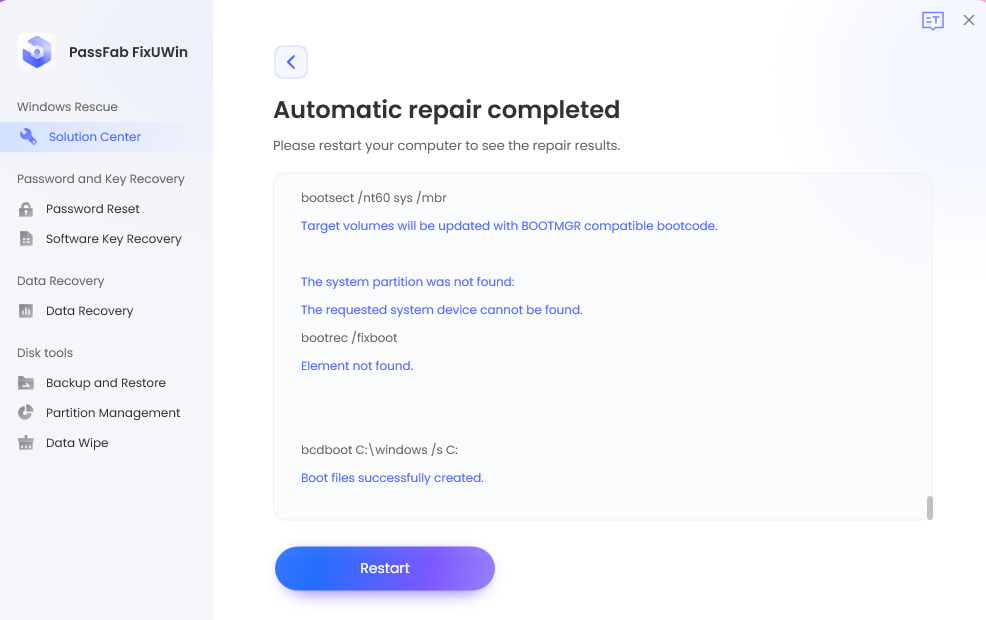 2. Remove the Overclocking Settings
Many users set the overclocking to make the most of their devices. Overclocking means changing the hardware multiplier, clock rate, or voltage.
While overclocking enhances the performance, it increases the heat produced by the CPU or GPU, on the other hand. This increased heat can adversely affect your CPU and GPU, which can be the cause behind the Red Screen of Death (BSoD) error.
If you ever overclocked your system, you should remove these settings.
3. Boot in Safe Mode
Booting into the Safe mode can help you troubleshoot Windows red screen as it is a utility that launches the OS with limited files.
Step 1: Open Windows Settings by pressing Windows + I keys
Step 2: Go to Update and Security and choose Recovery from the left-navigation menu.
Step 3: Click Restart now under the Advanced Startup tab.
Step 4: When you see Windows Recovery Environment, click Troubleshoot and then Advanced Options.
Step 5: Click Restart first under Startup settings.
Step 6: Now, hit the corresponding key to boot your computer in Safe mode according to your preference.
4. Update your Graphics Driver
If you haven't updated your graphics driver for a long time, we recommend you update it beforehand:
Step 1: Press CTRL + ALT + DELETE keys to launch secure login.
Step 2: Choose Task Manager File Run new task.
Step 3: Type devmgmt.msc, hit Enter.
Step 4: Look for Display Adapters and right-click on it.
Step 5: Choose Update driver hit "Search automatically for drivers."
Step 6: Wait for the driver's installation, restart your computer.
5. Repair atikmdag.sys File
Repairing the atikmdag.sys file may help you get rid of Dell Red Screen of Death:
Step 1: Navigate through C: Windows System32 Drivers.
Step 2: Copy the atikmdag.sys file to the desktop.
Step 3: Open CMD as admin and run the following commands respectively:
chdir DESKTOP
EXPAND.EXE atikmdag.sy_ atikmdag.sys
Step 4: Now, rename atikmdag.sys to atikmdag.sys.old.
Step 5:Move the atikmdag.sys from Desktop to C: Windows System32 Drivers.
6. Tweak Settings.ini File
If you play video games, there might be a bug that causes a PS2 RsoD error. You can fix it by accessing the Settings.ini file.
Step 1: Open Documents and go to the BFBC2 folder.
Step 2: Open the Settings.ini file with a text editor.
Step 3: Change DXChange=" auto" and DXChange=9.
Step 4: Save file and restart your computer
7. Reinstall the Installed Software
Reinstalling the recently installed program can fix the HP Red Screen of Death issue.
Step 1: Open Settings Apps.
Step 2: Choose the recently installed program under Apps & Features and click Uninstall
8. Install Latest AMD driver and Enable Include Subfolders Settings
In some cases, the AMD graphics driver causes Windows Red Screen. You can try reinstalling the latest driver as follows:
Step 1: Open Device Manager by typing devmgmt.msc in the Run dialog.
Step 2: Go to Display Adapters, right-click on it, and click Update driver.
Step 3: Choose Browse my computer for driver software and locate the AMD driver. Select "Include Subfolders" option, click Next.
Step 4: Wait for the driver to be installed and restart your computer later.
9. Update the BIOS/UEFI
The BIOS or UEFI is a small program installed on the motherboard. This program is responsible to start up your computer. Problems in BIOS/UEFI can lead to red screen errors. To address this issue, you must access advanced startup options and visit the manufacturer's website to download the update files. Later on, you can install these updates according to the instructions on the manufacturer's website. Please note to be careful while applying this fix, as it can lead to permanent damage and loss.
10. Uninstall Windows Updates
If the Red screen on PC occurred after installing Windows updates, you can uninstall these updates and resolve the problem as follows:
Step 1: Open Settings Update and Security Windows Updates View Update History.
Step 2: Click on Uninstall Updates link.
Step 3:
Choose the latest update, right-click, and hit Uninstall.
Restart the system after uninstalling and check if the issue persists.
FAQs
1.What is the difference between BSoD and RSoD?
The BSoD occurs when the Operating System fails to perform a certain task normally, causing the system to crash. When you encounter BSoD, your system becomes inaccessible. RSoD, on the other hand, is caused by the faulty graphics driver and lets your system boot normally.
2.What does Red Screen of Death mean in PS2?
The Red Screen of Death in PS2 indicates an unsupported disk format inserted in PS2.
3.What is the Red Screen of Death on iPhone?
The Red Screen of Death on iPhone is caused by a damaged screen or a bad update.
Conclusion
The Red Screen of Death in Windows 10/11 may sound new to you, but it is a common issue many Windows users face. Fixing this issue is less annoying than fixing Blue/black screen errors.
In this article, we have discussed what is Red screen of death, what causes it, and how to fix it.