If you have been using the Windows system for a long time, you must have seen the Blue Screen of Death (BSoD) at least once in your lifetime. But, do you know there is a windows green screen ? Does your PC show the Green Screen of Death suddenly while you are working on your PC? If yes, this article will try to answer all your questions regarding windows 10 green screen, and the best possible ways to resolve it.
Part 1: What is Windows Green Screen?
The Green Screen of Death (GSoD) is the same as the Blue Screen of Death (BSoD) and is caused for almost the same reasons as BSoD. The difference between both is that the BSoD appears in standard Windows, whereas the GSoD appears if the user is running Windows Insider Program.
Part 2: Why is my Windows Green Screen?
Do you see the Green screen having a sad emoji and some text with some codes? If yes, your PC shows the Green Screen of Death (GSoD). Like BSoD, the Windows 10 Green Screen occurs when the Windows system crashes. It is caused mainly by hardware failure, faulty system memory, low-level software running on the kernel, and corrupt system files. Uninstalled driver updates can also cause this issue. Furthermore, a virus or newly installed software might be the source of this error.
Part 3: How Do I Fix Windows Green Screen?
Fixing Windows 10 green screen problem is not a big deal for those with a lot of experience using Windows. Usually, just restarting your PC fixes the issue, but sometimes, it stays even if you restart several times. So, in situations where the issue persists, here are some tried solutions that will help you:
Fix 1: Use PassFab FixUWin
Recommended
PassFab FixUWin is a set of incredible software designed to resolve different issues your computer faces. It is an amazing tool that works like a charm for those who are non-technical and fear losing data while trying other ways. Its attractive and user-friendly interface allows you to get rid of Windows green screen in three steps;
Create the Bootable Media:

After downloading and installing the PassFab FixUWin suite on any accessible PC, launch it.
Plug a CD/DVD/USB drive into the PC. Click Create boot disk now button.
Choose your CD/DVD/USB from the list and click Next.
Let the instructions burn on your device. Once complete, plug it out.

Boot Windows System from Bootable Media

Now, plug the bootable media into the PC showing a green screen.
Restart the PC and press the Boot Key continuously

| Boot Key | Desktop | Laptop | Motherboard |
| --- | --- | --- | --- |
| F12 | ASUS, Acer, Founder, HP, Hasee, Haier, Lenovo, THTF | Acer, BenQ, Dell, Emachines, eMachines, Fujitsu, Founder, GIGABYTE, Gateway, IBM, Lenovo, SAMSUNG, ThinkPad, Hasee, TOSHIBA, THTF, MSI | Great Wall, Dell, TOSHIBA, Foxconn, GIGABYTE, Fujitsu, Gamen, Haier, IBM, Lenovo, Topstar, SONY, THTF, SAMSUNG, ThinkPad, Acer, HP, Hasee, Founder |
| Esc | Dell | ASUS, Sony | Great Wall, Foxconn, ESC, SOYO, MAXSUN, Colorful, SONY, SAMSUNG, Spark, UNIKA |
| F9 | | BenQ, HP | BISOTAR, HP |

When you see the Boot Menu, go to your drive and press Enter to boot from it.

Start repair

You will see PassFab FixUWin interface when your PC restarts.

Click "automated repair".
Choose the disk partition you want to repair and click the Start Repair button.
Let the process complete. Once done, click on Restart. You won't see any green screen when your PC starts this time.
Fix 2: Remove the Peripheral Devices
Any peripheral device connected to your PC might be the cause of the Windows 10 green screen. Try disconnecting all the peripheral devices, such as a USB drive, an external keyboard/mouse, a data cable, etc., one by one and check if green screen error disappears. If the issue persists even after removing all the devices, some other issue might be causing a green screen.
Fix 3: Update OS and Drivers:
An uninstalled OS or Driver update sometimes causes the issues like GSoD. Installing these updates can quickly solve the problem without needing OS reinstallation. To check if the OS is up to date and all the Driver updates are installed, follow these steps:
Open Windows Settings. Go to Update and Security.

Click Windows Update and then the Check for updates button.

Install the updates if available, or move to the next step.

Boot your PC in Safe Mode and type in Device Manager in the search bar.

Right-click on each device and click Update Driver from the dialog box.
Fix 4: Run SFC and DISM Command
If the corrupted file system is behind Windows 10 green screen, running the SFC and DISM commands can help. If you want to try this way, the steps are given below:
Type "cmd" in the search box, right-click on the first option and choose Run As Administrator.

Type "sfc/scannow" and press Enter.
Let the command execute. It may take some time. After completion, restart your PC and check if the issue is resolved. If not, try running DISM commands as follows:
Type Dism/Online/Cleanup-Image/ScanHealth and press Enter.

Now, type Dism/Online/Cleanup-Image/CheckHealth and press Enter.

Type in Dism/Online/Cleanup-Image/RestoreHealth and press Enter.
Let the commands execute completely. Try restarting your computer and see if you still see the green screen.
Fix 5: Perform a Clean Installation
If none of the above-mentioned solutions work, the last solution is reinstalling the Windows system. This installation will remove all the defective files that might be causing Windows green screen. Here are the steps that you can follow to perform a clean OS installation:
Open Settings and go to Update and Security.

Navigate to Recovery and look for the Reset this PC option.

Click Get started.

From the two options, choose the latter one by clicking on it.

When you see Ready to Reset this PC screen, click on Reset.
After the system has installed the Windows 10 on your PC, it will restart. This time, you won't see the Green Screen of Death.
Part 4: Extra Tips. How to Save Data from Windows 10 Green Screen?
Data is the most important and valuable thing in today's era of technology. Saving yourself from any possible data loss is necessary. But what if you cannot reach to your computer and had no backups? If you are facing an issue like this, don't worry! PassFab has your back.
PassFab FixUWin – Data Recovery Feature will help you recover all your data promptly. You can use this tool to get your data back without worrying about intrusions or damage to your disk.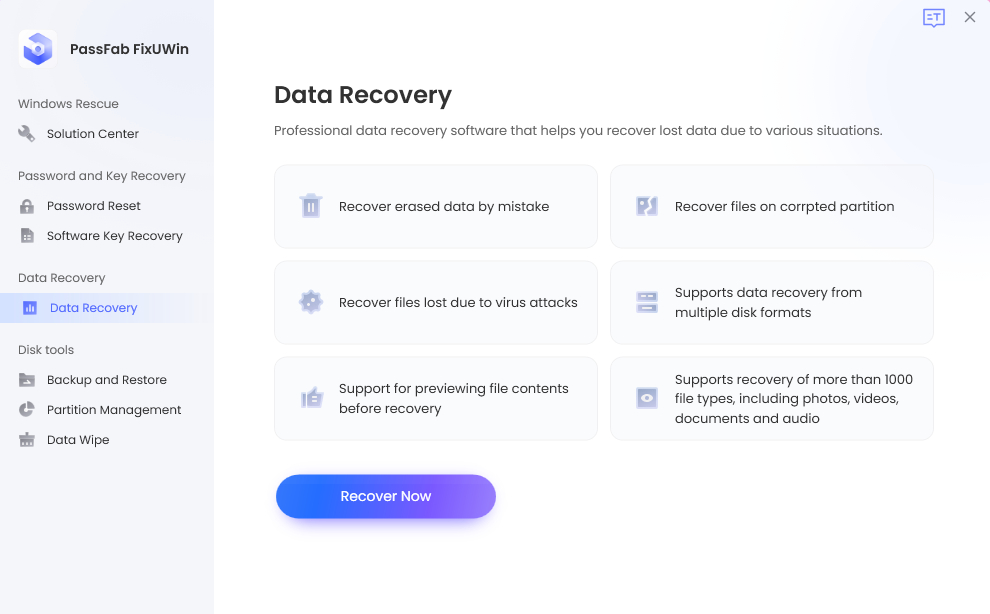 Final Words:
No doubt Green Screen of Death (GSoD) is not as common as the Blue Screen of Death (BSoD), but it is still an issue that needs to be resolved. In this article, we have addressed the GSoD problem and proposed the best solutions, including the PassFab FixUWin Software Suite. This is the best yet most reliable, sophisticated, powerful, and diverse tool you will find for the Windows 10 green screen. We recommend using the PassFab FixUWin tool for its robustness and features. However, we hope that our proposed solutions would have resolved your issues.