If your PC fails to start or shows random blue screen errors, It might be because of a virus/malware, corrupted system files, a damaged boot directory, outdated BIOS or drivers, and numerous other reasons.
Whatever the reason, the best and the most trustworthy Windows repair tool you can turn to is PassFab FixUWin. It is a magical tool that repairs most Windows errors in a few clicks.
This article does a complete review of PassFab FixUWin to help you make better choices.
Part 1: What is PassFab FixUWin?
PassFab FixUWin is a Windows repair tool well-known for repairing 200+ Windows errors. It helps you resolve blue/black and other Windows errors and perform various management tasks.
Pros and Cons of PassFab FixUWin
Here are some pros and cons of PassFab FixUWin:
Advance
User-friendly interface
On-screen instructions for users
Free boot disk creation
Support Windows 11/10/8.1/8/7
All modern PC brands supported
3-step fully automated process
Eliminates the need to reinstall Windows
100% safe, no data loss after repair complete
Disadvance
It may not work with older Windows versions, such as Windows xp
The best thing about PassFab FixUWin is that it allows you to create a boot disk for a faulty computer with another PC. The incredible tool comes in free and official versions, which we will discuss below:
PassFab FixUWin – Free Version
The free version of PassFab FixUWin has limited features. Using PassFab FixUWin, you can create a boot disk for free and use it to recover from the Windows error. The product has many additional features besides repairing the Windows OS, but you have to buy the license for its official version.
PassFab FixUWin – Official Version
This version of PassFab FixUWin offers many advanced features. You can use it in various scenarios other than repairing the Windows OS, such as:
As for the Windows repair function, it can be used in the following scenarios:
PC crashing
Stuck on restart/boot loop
Stuck on the welcome screen
Random reboots
Windows update stuck
Hanging PC and other 200+ issues
Besides, it has more features which can help you better manage your pc:
Manage Windows passwords
Recover data from a dead pc
Perform backup and restore of partitions
Manage disk partitions and much more!
The official version has perks like 24/7 technical support and guaranteed problem fixation. PassFab offers various subscription plans, which you can choose based on your preferences.
How people feels about PassFab FixUWin?
Now that you know the key features of different versions of PassFab FixUWin, here is our review based on its interface, functionality, and usability:
Interface:
The overall interface of the tool is quite sophisticated, simple, and self-explanatory. Everything you see on the screen has proper names according to their functionality, and there are on-screen instructions for whatever feature you use in PassFab FixUWin. Moreover, you can find the user guide on the product's official website if needed. Furthermore, the beautiful colors and gradients in the interface make it attractive, interesting, and engaging. Simply put, we found the PassFab FixUWin interface highly user-friendly.
Functionality:
Let's talk about the functionality of PassFab FixUWin. Its Windows rescue feature works like a charm in resolving 200+ Windows errors. Besides, you can perform many other computer management tasks such as disk management, data recovery, password recovery, etc. It lets you burn the boot instructions on a USB, CD, or DVD and boot the faulty computer. In a nutshell, PassFab FixUWin is your one-stop solution for all Windows-related tasks.
Usability:
The PassFab FixUWin has proved highly useful when other such software fails. Its foolproof interface and magnificent features can be used by a computer expert and a noob equally. This tool is highly recommended for those who do not have much knowledge and experience with computers, as it is 100% safe and simple.
Part 3: Who is PassFab FixUWin for?
The PassFab FixUWin is for those facing Windows errors who want to resolve them byself. From our experience, we can say that it is best suited for those who do not have much computer knowledge and find it difficult to manage and resolve system errors. However, this product is equally suited for computer experts due to its remarkable features, interface, success rate, and performance.
Part 4: Where to Get PassFab FixUWin Free?
We usually recommend installing programs from the Microsoft Store to prevent viruses or malware. But, PassFab FixUWin is not available on Microsoft Store, so we would suggest you download it from PassFab's official site.
Part 5: How to Use PassFab FixUWin to repair pc issues?
Step 1. If you are facing errors in Windows and want to give PassFab FixUWin a try, here are the steps that you can follow:
Step 2. Launch PassFab FixUWin, insert a USB/CD/DVD, and click Create boot disk now.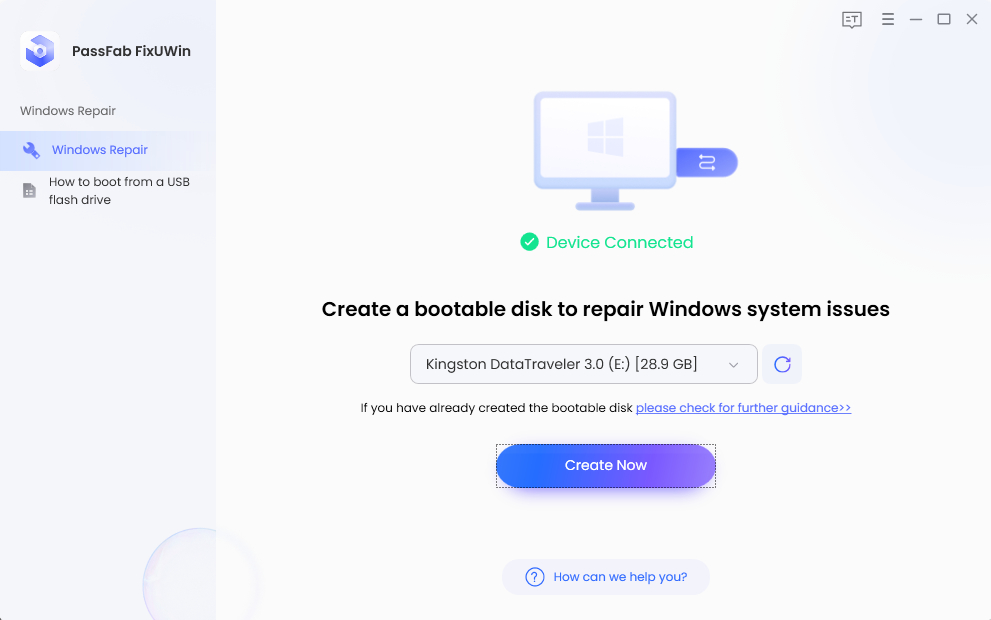 Step 3. Choose your device and click Next.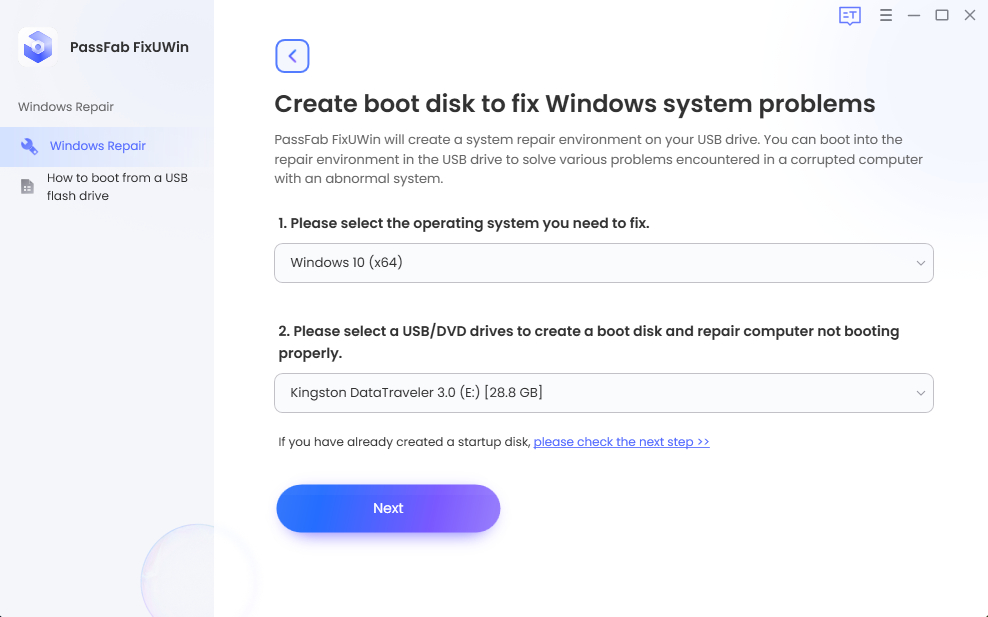 Step 4. Let the bootable device be created. Once done, restart your computer by pressing the Boot key. Usually the boot key is F10, ESC or F9.
Step 5. Enter the boot menu, set the bootable device on boot priority, and exit.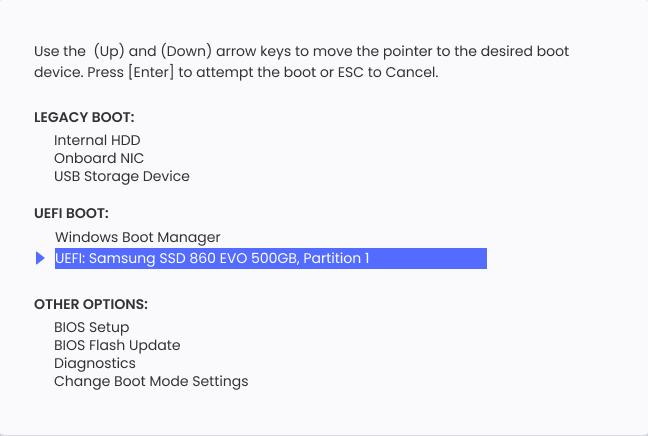 Step 6. Click Automated repair.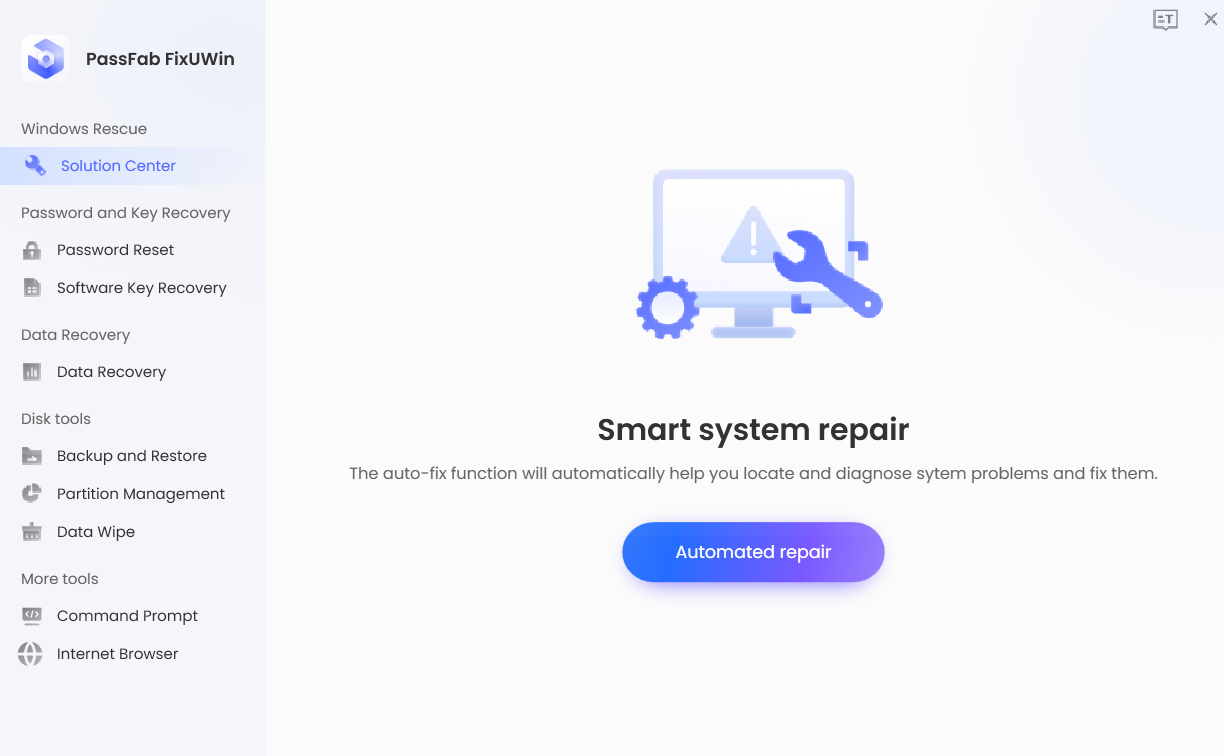 Step 7. Now you have to choose the partition to repair. After doing so, click Start repair.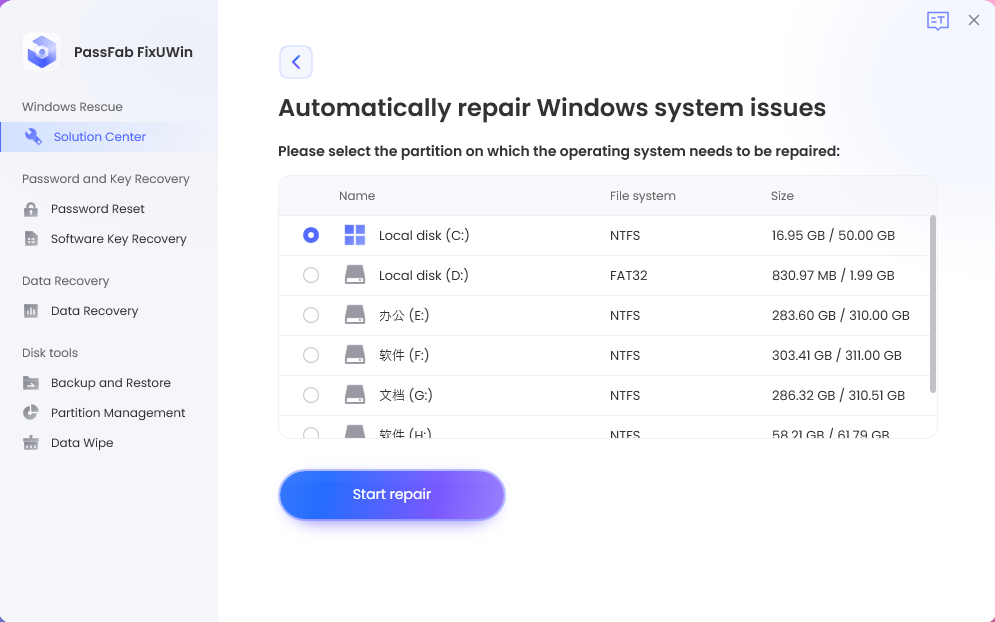 Step 8. Let PassFab FixUWin diagnose the problem and fix it. Restart your system afterwards.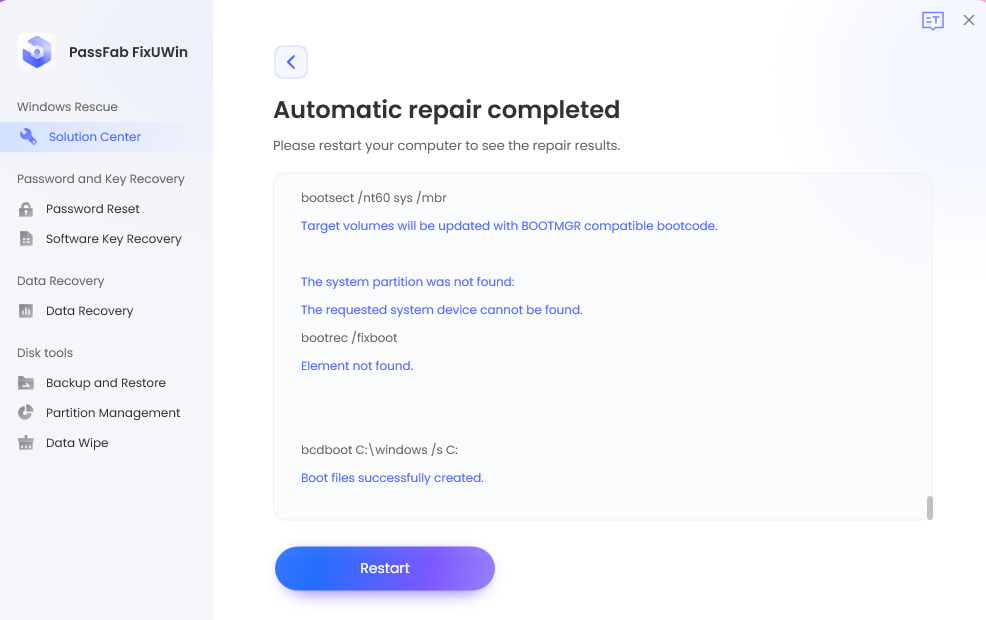 Part 6: Factors to Consider when Choosing a Windows repair tool
Here are some factors that you must consider while choosing a program to fix Windows errors:
Compare the cost and plans of similar products
Make sure that the product has the required features
Check the installation and usability
See how often the product is updated
Check the level of safety and security the product offers
Check its reviews and ratings
Part 7: PassFab FixUWin VS Other Similar Products
Here is the comparison table to help you identify the difference between PassFab FixUWin and other available products:
| Product | Key Features | Usability | OS Support | Rating |
| --- | --- | --- | --- | --- |
| PassFab FixUWin | Windows recovery; Disk Management; Data recovery; Login password removal; All-in-one computer management | Highly usable in terms of interface, functionality, and user-friendliness | Windows 11/10/8.1/8/7 | 4.9/5 |
| Windows Repair by Tweaking | Windows repair tool | A bit boring and complex for non-technical people | Windows 2000 to Windows 10 | 4.5/5 |
| Restoro | PC repairing and management | Quite complex for non-tech people | All Windows versions | 4.1/5 |
| Ashampoo® WinOptimizer 19 | System repair and optimization | Its simple interface makes it more usable | Windows 11/10/8/7 | 4/5 |
| Outbyte PC repair | System repair and optimization | A bit complex interface for noobs | Windows 10/8/7 and Mac | 3.5/5 |
FAQs about PassFab FixUWin
1. Is PassFab Software Safe?
Yes, PassFab FixUWin is a 100% safe. This Windows repair tool fixes all your PC problems without any privacy intrusion or messing up your data and settings. You do not see any ads or extra software installed when you install it.
2. Is PassFab FixUWin Legit?
PassFab FixUWin has proved to be 100% legit for resolving Windows errors.
3. Is there a risk of data loss in PassFab FixUWin?
No, you can use PassFab FixUWin without worrying about any data loss except for the data stored in the USB/CD/DVD that you will use as bootable media.
Final Words
PassFab FixUWin is a comprehensive and user-friendly system repair tool specifically designed for Windows. With compatibility across all Windows versions, it offers both automatic and manual repair options, including the ability to create system restore points before making changes. Its clean interface ensures easy usability, with detailed explanations for each repair option.
The software's effectiveness in resolving common Windows issues such as blue screen errors, DLL errors, and system crashes is emphasized, backed by a high success rate in extensive testing. Overall, PassFab FixUWin is lauded as a reliable and effective solution for repairing Windows problems, making it a recommended choice for users seeking robust Windows repair functionality.