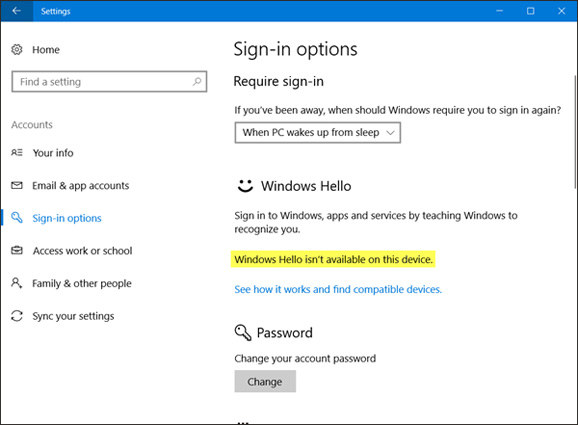 Microsoft's Windows Hello feature is one of the most advanced security features in personal computers. Every security system has some imperfections that get fixed with time, and Windows Hello is no exception. Several users report, "Windows Hello isn't available on this device" error quite often. We have come with some of the best and significant ways of Windows Hello isn't available on this device fix.
How to Fix Windows Hello Isn't Available on This Device
1. Turn off Fast Startup
One of the many reasons that can provoke the "Windows Hello not compatible" error is the fast startup. As the name suggests, a fast startup is used to make your computer boot as earliest as possible through all the startup checkpoints. There is a strong chance that fast startup will not work in harmony with Windows Hello. As a result, you might see the Window Hello error.
To eradicate this error,
Go to Start, open Settings, select System, and choose Power & Sleep.
Click Additional power settings. And select "Choose what the power buttons do" option.
Tap "Change settings that are currently unavailable".
In "Shutdown settings", uncheck "Turn on fast startup (recommended)".

2. Update Device Drivers
Outdated device drivers is a common issue that most people ignore at first. Every once in a while, the device manufacturers update their drivers/software to increase their components' reliability and performance. The same is the case with the security sensor used by Windows Hello. If the device's proper drivers are not up to date, most probably, your device will not communicate appropriately with other components, in this case, Windows Hello. To fix the "Window Hello isn't available on this device," update any possible device drivers linked with the security hardware such as the IR Camera or the fingerprint sensor.
Open Control Panel, select Device Manager.

Right click the driver need to be updated, choose "Scan for hardware changes".
And the driver be will reinstalled automatically.
After updating the drivers, restart your computer and check to see if the problem still persists.
3. Run Hardware and Devices Troubleshooters
Among the list of the "Window Hello isn't available on this device fix", the easiest and most effective one is running the troubleshooter. The devices and hardware troubleshooter is a fix that every amateur user of computer can attempt. Often, some settings provoke some action not to happen.
Follow these steps:
Ahead to Settings, click Update & Security, and choose Troubleshoot.

Click the drive, the "Run the troubleshooter" button will appear, click it.

A dialogue box will appear that will automatically start diagnosing the issue. Once the issue has been resolved, it will request a restart.
Restart the computer and check if the problem is resolved.
Most of the time, the troubleshooter helps the user find the issue; however, there is nothing to worry about if it is not resolved. There can be plenty of other reasons which we will get to next.
4. Update Windows to the Latest Version
This is one of the most common issues of several hardware components not working on the computer and the "Window Hello not available" is one of them. It is necessary to keep your windows up to date to support the latest versions of your system software installed at all times. Follow these steps to check if your Windows is up to date.
You can check for your windows updates by going into the settings and then the "Update & Security" section.
In "Windows Update", Click on "Check for Updates". The computer will check for any latest updates and automatically install them once they are downloaded and ready.
The windows update the most common reason for the Windows Hello not working and there a strong chance that it will fix your issue.
5. Enable Biometrics
If the above options don't work, there is another option that you can check for and that is enabling the biometrics of your computer. There is a weak chance that your device's biometric scanner is turned off; however, it is always a good thing to check to be sure.
Check the following steps to ensure your biometrics aren't disabled.
Type "Local Group Policy Editor" in the searching box, and open it.
Click "Computer Configuration", choose "Administrative Templates", and find "Windows Components" in the list.
Double click "Biometrics". In the right panel, choose "Allow the use of biometrics".

Look for the enable and disable option. Once you find it, check "Enable" and save.
If the biometric scanner is not allowed, it will not be able to communicate with the windows. As a result, you get the "Window Hello not available on this device."
FAQs: You May Want to Know about Windows Hello
Q1: Why does Windows Hello not work on my laptop?
One of the main reasons for Windows Hello not working on your laptop is because your device is not compatible with the feature. Not every device supports the Windows Hello feature.
Q2: How do I make my phone support Windows Hello?
Windows Hello supports security keys, which are actually the physical devices you can use, such as a USB or a smartphone. There is an app that you download and use for pairing with your smartphone.
Q3: What devices are compatible with Windows Hello?
More and more laptops are getting compatible with Windows Hello. To check for your device you can google the model number and you will get the compatibility status.
Read Also: Top 4 Ways to Solve Windows Hello Compatible Camera Can't be Found
Extra Tips: How to Bypass Windows Hello Sign in Option
The PassFab 4WinKey is a great way to bypass the Windows Hello security checkpoint. Following are the steps to bypass Windows Hello sign in option.
Run PassFab 4WinKey on another computer.

Insert a USB to the computer and use PassFab 4WinKey software to create a password reset or remove USB.

Plug in the burned USB to the locked computer and restart. Press F12 and boot from USB. Select your operating system and account. Tick "Remove Account Password".

Once your password has been removed, reboot your computer.
Conclusion
Having errors setting up the Windows Hello is nothing to be worried about. The "Window Hello not available on this device" is something that can be fixed with very minimal effort. There are multiple ways to resolve this issue and get back the additional security feature of Windows Hello. However, if you fail to unlock the Windows Hello or want to bypass the security for some reason, the PassFab 4WinKey is an excellent way of doing so. Check out our website for additional information.