Installing Windows can be a bumpy ride, with different errors cropping up for different reasons. While some errors may disappear on their own after a restart, others require a more in-depth approach to troubleshoot and resolve. One such stubborn error is the Windows update 0x80080005 error. But don't fret, we've got you covered! In this article, you'll discover all you need to know about the pesky 0x80080005 error code and learn multiple methods to kick it to the curb for good.
Part 1: Demystifying the 0x80080005 Error: All You Need to Know
The 0x80080005 error signifies that the system routines essential for installing Windows updates are malfunctioning, likely due to misconfiguration, corruption, or other factors. Unfortunately, this is a complex and persistent error that requires advanced troubleshooting.
There's no specific root cause, making it a challenging issue to resolve. You'll likely see a detailed error message on the Windows update screen when encountering this issue. The error can impede automatic updates, potentially leading to sluggish PC performance and outdated drivers and software.
Part 2: Exploring the Roots of the 0x80080005 Error: A Comprehensive Analysis
Similar to other Windows errors, the update error 0x80080005 on Windows 10 may arise from several factors, including:
An antivirus program conflicting with system routines and hindering access to system files.
Malfunctioning Windows Updates components.
Missing, corrupt, or misconfigured system files.
Impaired Internet connectivity.
Misconfigured startup settings.
Malware or virus.
Part 3: Solving the Stubborn Windows Update Error 0x80080005--The Simplest Solution
Looking for the easiest way to resolve the frustrating Windows update 0x80080005 error? Look no further than PassFab FixUWin - the ultimate Windows repair tool designed to solve all your Windows-related issues in just a few simple steps. Whether you're struggling with blue or black screen errors, stuck boot loops, system crashes, or disk errors, this amazing tool has got you covered.
It will automatically scan for the files causing the error and replaces them with healthy files, making it a breeze to resolve it. With its reliable performance and user-friendly interface, PassFab FixUWin is the perfect choice for anyone seeking a quick and hassle-free solution to fix the Windows update 0x80080005 error.
Download and install PassFab FixUWin on a working computer.
Connect a USB drive to the computer and launch PassFab FixUWin. Click on "Create boot disk now" to create a bootable USB/CD/DVD drive.
Insert the USB drive into the computer with the Windows update 0x80080005 error and restart the computer.
Press the Boot key (such as F2, F12, or Esc) repeatedly upon startup to enter the BIOS setup utility.
Set your USB/CD/DVD device as the primary boot device in the boot menu. Save the settings and exit the boot menu.
After the computer boots from the drive, click on "Automated repair" in the PassFab FixUWin interface.
Once the repair process is complete, click "Restart" to restart your computer.

When your computer restarts, try to install Windows updates again. You will not see 0x80080005 or any other error again for sure.
Part 4: Overcoming the 0x80080005 Error--More Tried and Tested Solutions
If you want to try some other ways to resolve update error 0x80080005 error on Windows 10, here are 7 of some of the best solutions:
Solution 1: Use Windows Update Troubleshooter
Running Windows built-in troubleshooter effectively resolves system errors, including 0x80080005. Windows update troubleshooter can be run as follows:
Step 1. Open Settings App and go to Update & Security.
Step 2. Switch to Troubleshoot tab from the left navigation.
Step 3. Click on the Additional troubleshooters link.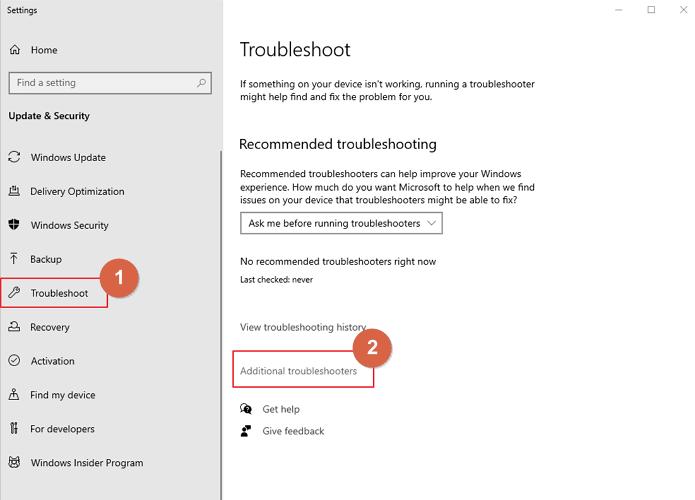 Step 4. Choose Windows Updates and click Run the troubleshooter.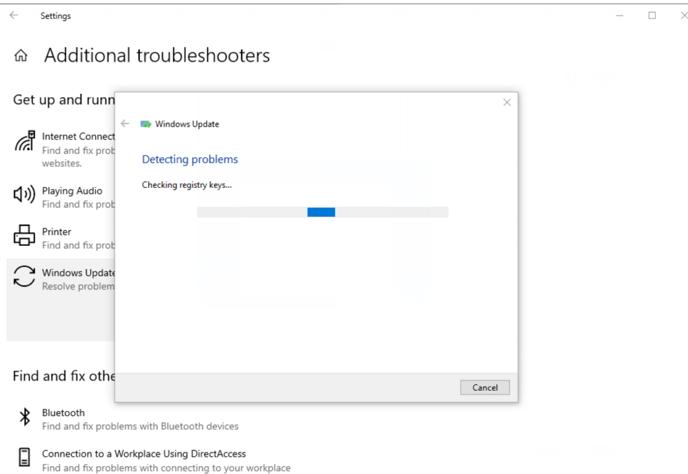 The troubleshooter will start scanning your system for any possible problems and fix them automatically. Once done, you can try installing the Windows updates again.
Limitations:
It may not always be effective in resolving the issue, especially if the problem is caused by deeper system issues. Besides, In some cases, users may also experience technical difficulties while using the troubleshooter, such as the tool failing to launch or not responding.
Solution 2: Disable your Antivirus
Sometimes, the antivirus software prevents other software from accessing system settings causing different errors. Although antivirus is intended to protect your PC from potential viruses and malicious programs, it can be a culprit behind various system errors. Just disable it and try installing the Windows updates again.
Solution 3: Run SFC Command
The System File Checker (SFC) is a built-in Windows tool designed to scan for any damaged or corrupt system files. This tool automatically checks all the system files and repairs them. To use this tool, you need to run a command in Command Prompt as follows:
Step 1. Open Command Prompt as an Administrator.
Step 2. Type sfc /scannow. Hit Enter.

Step 3. Restart the computer.
Limitations:
SFC command can be a time-consuming process, especially if it needs to scan and repair a large number of files. Furthermore, running the command incorrectly can cause further system issues, so it is essential to follow the proper procedures when using this solution.
Solution 4: Try Running DISM Command
DISM command works just like the SFC command. The only difference between both is that the DISM command scans for errors in the component store of the Windows system image, whereas the SFC command only scans the system files. You can run the DISM command as follows:
Step 1. Open Windows PowerShell as admin by pressing the Windows + X keys.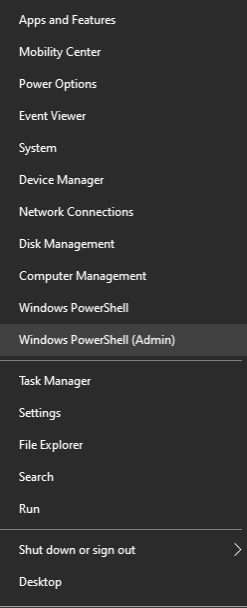 Step 2. Type DISM /Online /Cleanup-Image /RestoreHealth and hit Enter.

This command will take longer than the SFC command. Make sure not to stop it or shut down your computer unless the command completes; otherwise, it will not have any impact.
If the problem persists after running the DISM command, re-run the SFC command.
Solution 5: Run CHKDSK Command
The CHKDSK command searches your hard drive for potential errors and faulty sectors and repairs them. You can run this command in Command prompt or PowerShell as follows:
Step 1. Press Windows + X key and open Windows PowerShell.
Step 2. Type CHKDSK /f c and press Enter.

The command will execute and scan the entire hard disk for errors and fix all the problems it may find. After the command completes, you can install the Windows updates.
Solution 6: Reinstall Windows Update Components
Windows updates components are responsible for installing and implementing your computer's new updates. When there is some problem in these components, and they fail to function properly, they cause Windows Update error 0x80080005. However, you can reset these components very easily by running some commands in the command prompt as follows:
Step 1. Open the Command Prompt (Administrator).
Step 2. Type net stop wuauserv and press Enter.
Step 3. Type net stop cryptSvc and press Enter.
Step 4. Type net stop bits and hit Enter.
Step 5. Enter net stop msiserver and press Enter.
The above four commands will stop Windows Update Services, Cryptographic, BITS, and MSI Installer.
Step 6. Now, type ren C:\Windows\SoftwareDistribution SoftwareDistribution.old and hit Enter.
Step 7. Again, type ren C:\Windows\System32\catroot2 catroot2.old and press Enter.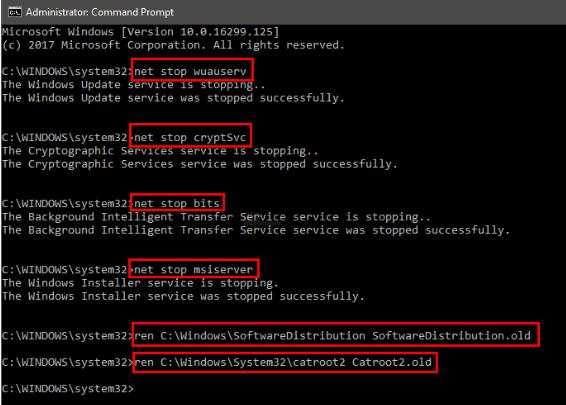 The above two commands will rename SoftwareDistribution and catroot2 folders.
Step 8. Type net start wuauserv and press Enter.
Step 9. Run the net start cryptSvc command.
Step 10. Type net start bits and hit Enter.
Step 11. Now, run the net start msiserver command.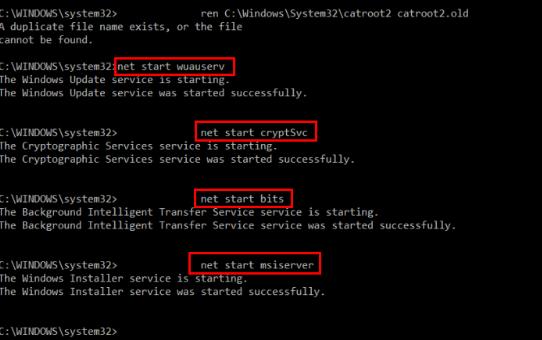 The above four commands will restart all the services we stopped with the first four commands. Now, exit the command prompt and install Windows updates to check if the 0x80080005 error is gone.
Limitations:
This solution is unsuitable for non-technical people who do not know much about computers, as they may lose their data if they accidentally run a wrong command.
Solution 7: Disable Windows Update Services
Some users have suggested that disabling the Windows updates services have helped them resolve the Windows update 0x80080005 error in Windows 10, so we will recommend you give it a try too:
Step 1. Open the Run dialogue by pressing Windows + R key.
Step 2. Type services.msc and press the Ok button.
Step 3. Look for Windows Update Service in the list of services and double-click on it.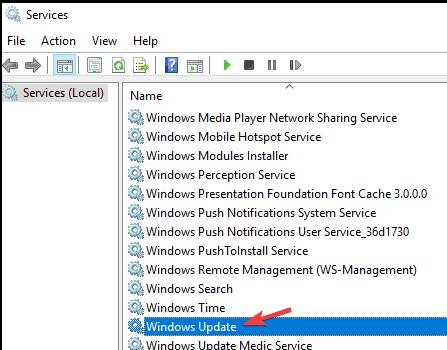 Step 4. Open the properties and choose Disabled in the Startup type option.
Step 5. Click OK and restart your computer to implement changes.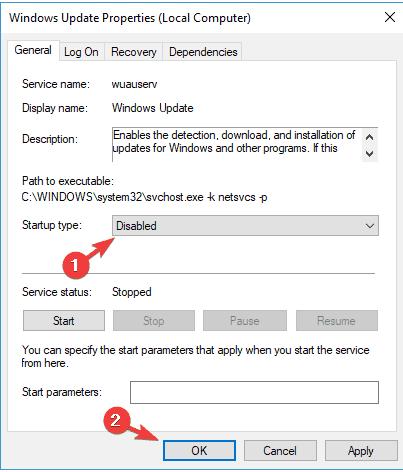 Step 6. Follow the same steps when the computer starts up and set Automatic in the Startup type option.
Again try to install Windows updates. Most probably, you will be able to install the updates now.
Part 5: FAQs about Windows Update Error 0x80080005
1. Is 0x80080005 a fatal error?
No, it is not a fatal error. A fatal error stops your computer from working. The Windows Update Error does not make your computer useless, and the error stops any Windows updates from installing.
2. Can I resolve Windows update 0x80080005 error myself?
Yes, you can resolve this error yourself very easily. We have mentioned several ways to fix the issue in this article.
3. What is the best way to fix errors like 0x80080005 in Windows?
The best yet most recommended way to fix any Windows-related issue is by using the PassFab FixUWin Windows repair tool, which is easy to use and resolves the errors in simple steps and minimum time.
4. How can I avoid update error 0x80080005 on Windows 10?
You can avoid this error in future by taking some measures such as:
Install Windows as well as other software and driver updates as soon as they are available. You should not delay the updates unless you are doing something really important. If you keep the updates pending for a long, they will cause different problems that you will find difficult to identify.
Uninstall any unnecessary or useless programs from your computer, as they can corrupt system files and cause problems while installing the update. You should keep your computer as clean as possible to avoid such problems.
Install a reliable antivirus program that guarantees protection from potential viruses and malware.
Conclusion
An error while updating Windows? Sounds strange, but it is a common issue faced by many people around the globe. The Windows update error is commonly accompanied by the error code 0x80080005 and indicates that something is stopping Windows updates from being installed properly. In this article, we have proposed the 8 best ways to resolve the Windows update 0x80080005 error. The most recommended solution for the addressed error is using the PassFab FixUwin Windows repair tool.