Did you lose your iCloud Activation Lock password and you are facing an iCloud Activation Lock Problem on your device? Don't worry; you are not the one who is facing this problem. So many users are facing the same problem. Generally, new iPhone users or sometimes those buyers who purchased second-hand iPhones face this problem. It may be that you forgot your iCloud password, or maybe the old owner did not sign out of his Apple ID before selling the phone to you. It can be any reason, but the problem is, you want to remove it without the password. Now you have to remove iCloud activation lock without password. No worries, we are here to tell how to do this. After reading this article, you will be able to remove the iCloud Activation Lock with These 5 Methods I am going to share.
Part 1: Why My iPhone is Locked by iCloud Activation Lock
Before knowing how to remove the iCloud activation lock without password, you must know why it is enabled? Why your phone is locked by iCloud Activation Lock? iCloud Activation Lock is an Apple security feature that makes your phone less attractive for thieves. When you set up your phone for the first time, the iCloud Activation Lock feature is automatically enabled. If someone steals your phone, they can't use it till you remove device from your account.
If you are the owner of the phone then the presence of this feature did not bother you until you force to reset your phone, or install a major iOS upgrade. At this point, you have to enter Apple ID and password. Now if you set up your iCloud account yourself and remember the password then there is no issue for you. But most of the time people forgot their Apple ID and password. Or in case you purchased a second-hand iPhone and you don't know the password.
Part 2: How to Remove iCloud Activation Lock without Password
Here in this article, we are going to share with you 5 Methods to remove iCloud activation lock without password.
1. Remove iCloud Activation Lock with PassFab Activation Unlocker
The best and most reliable method to remove activation lock is to use a bypass tool. And one of the best tools to bypass iCloud Activation Lock is PassFab Activation Unlocker. I always recommend using PassFab Activation Unlocker to all of my friends and office colleagues.
Because it is very effective and the procedure to remove Activation Lock is super easy. It guarantees safe and quick removal of iCloud Activation Lock.
Download PassFab Activation Unlocker on your PC/Mac.
Install and launch PassFab Activation Unlocker.

Select Remove iCloud Activation Lock.

Click Start, and read the agreement carefully before clicking on the Next button.

Now connect your device to the computer via USB cable and let PassFab Activation Unlocker detect it automatically.

Burn the jailbreak tool into a USB.

Jailbreak your device by following the tutorial.

Click Start in PassFab Activation Unlocker after jaibreaking your device successfully.

Now the program will remove the iCloud Activation Lock in your device. Click Done.
2. iCloud Activation Remove Remotely on iCloud
The second method in our list of methods to remove iCloud Activation Lock is to remove it remotely on iCloud. If the phone is not in your possession and you want remove Apple ID remotely from anywhere, then this method is best for you.
Follow the following steps to remove iCloud Lock remotely on iCloud:
First of all, visit iCloud.
Sign in with your Apple ID details.

Sselect the Find My Phone icon and then click on All Devices from the top of the screen.

Then select the device in which you want to remove the iCloud Lock.

Click on Erase Device and then select Remove from account.
3. Remove iCLoud Activation Lock iPhone 6 with iCloud DNS
If you are searching for how to remove iCloud Activation Lock on iPhone 6 or any other iPhone, then the DNS method can also help you. DNS method reclaims some of the features of your iPhone. This method does not always work, but as it is free of cost you can try it.
The following steps will help you:
Complete the set-up process until the 'Choose WiFi Network' option appears.
Tap on the 'i' symbol next to the WiFi network.
Tap on 'Configure DNS' and then Tap 'Manual'.
Click on '+Add Server' and a blank will come up.

Enter the server address of your location here.

USA: 104.154.51.7
Europe: 104.155.28.90
Asia: 104.155.220.58
Africa, Australia, and other locations: 78.109.17.60

Click Save and then press the Back button.
Now join your WiFi network by entering the password.
When your phone tries to activate, hit the back button.
4. Remove iCloud Activation Lock with AppleiPhoneUnlock
Now the next method to remove iCloud Activation Lock without password is by using AppleiPhoneUnlock.
There are three easy steps to unlock Activation Lock through this method.
Visit AppleiPhoneUnlock.

Enter your device IMEI number and select the Model.

You can get your IMEI number here:

Now click Remove Activation Lock and make the payment.
When your payment is received, they process your order, and confirmation of your unlock will be sent to you via email.
5. iCloud Activation Lock Remove Via Apple Support
If you are unable to remove iCloud Lock yourself, then you can contact Apple support to help you. You can contact them and narrate your problem to them.
To remove the iCloud Activation Lock via Apple Support, you must have:
Original receipt of purchase with name, date, time, and serial number.
Bonus Tip: How to Avoid iCloud Activation Lock
iCloud Activation lock is an Apple security feature that protects your data if your phone is lost or stolen. You can avoid the iCloud Activation Lock by turning it off in the settings. If you want to disable iCloud Activation Lock then follow the following steps:
Go to the settings of your phone.
Tap on Your Name/Apple ID on top of the settings.
Now tap on iCloud and Select Find My Phone.
Now tap the switch to turn it off.
You have to enter your iCloud password to continue. Enter Password.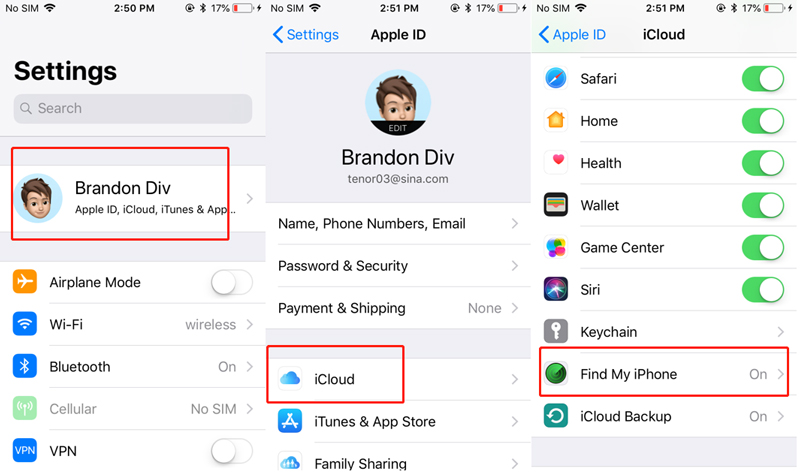 Conclusion
Here in this article, we prepared 5 methods for you to remove iCloud activation lock without password. If you forgot Apple ID or password to activate your iPhone, the easiest way is to use PassFab Activation Unlocker. If this article is helpful, please share it with your friends. Also, if you have any question, leave a comment to let us know.