"How to activate iPhone 12 Pro Max, after restoring from 14.6?"

-- From Developer Forums
Are you facing the same problem? Want to know how to fix "C1ould not Activate iPhone"? There might be lots of reasons that make your iPhone could not be activated. Read this article to learn what to do when your iOS device could not be activated.
Part 1: Why is "unable to activate iphone" happening?
So, What cause your iPhone 7 or any other models unable to activate ? The reasons could be:
Your iOS version is too old.
Your network connection such as Wi-Fi or mobile network is poor.
the Apple activation server is too busy to be reached.
The activation server goes wrong occasionally.
Your device is locked to a certain carrier.
Fail to verify your iPhone via iTunes.
The activation issue on iPhone 7 is most likely a baseband circuit fault on it. Apple stores offer free repair in this case.
Perhaps your iPhone is still inked to the previos owner and the activation lock will occur to protect the device.
Part 2: "Unable to Activate iPhone" in which scenarios?
Here are some common screenshots you may encounter when you cannot activate your iPhone.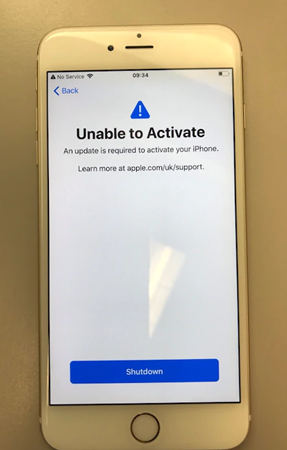 Case 1

"Unable to Activate. An update is required to activate your iPhone".   You only get one choice to shut down your iPhone.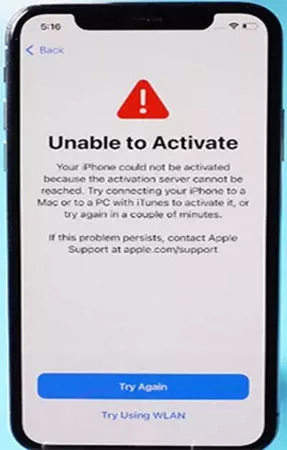 Case 2

"Unable to Activate. Your iPhone could not be activated because the activation server cannot be reached."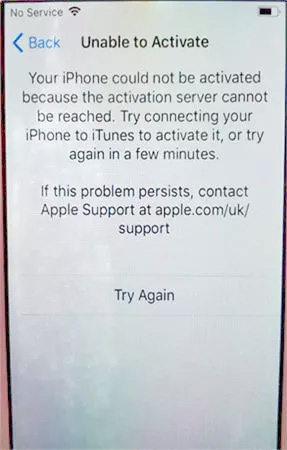 Case 3

"Unable to Activate. Your iPhone could not be activated because the activation server cannot be reached."
Part 3: 10 Worth to Try Methods
Here are some useful methods for you to get out of trouble.
Fix "Unable to Activate" on iPhone
    (Easy but Not Guaranteed)
Method 1: Force to Restart
You have to admit that a force restart is a magic method when you don't know what to do.
If there is a "Shutdown" button, just tap it and restart your device. Or you can follow below instructions to restart your device:
iPhone 8 and later models: Press and release the Volume Up and Volume Down buttons, then hold the Power button when the Apple logo appears.
iPhone 7 series: Keep holding the Volume Down button and the Power button together until the device restarts.
iPhone 6 series: Hold the Power button and Home button at the same time. Release the two buttons till the Apple logo appears.

You can find the precise instructions on how to restart your iPhone at Apple's support.
Method 2: Check Network Connection
To activate iDevices, a stable network connection is essential.
So if you cannot activate your iPhone, try to change a WiFi or personal hot.
Method 3: Check SIM Card
Make sure you have installed a SIM card. Or simply find your SIM tray, insert a pin to let your SIM card pop out. And put it again or put in another supported SIM card.
Now, you can restart your iPhone and try again.
Method 4: Check Apple System Status
Sometimes, there are some bugs reported by Apple Server. So the easiest way to check if your problem is caused by these bugs is just to go to Apple System Status. If the problem you are facing is listed on the table, just wait Apple to solve it and retry when the dot in front your problem becomes green.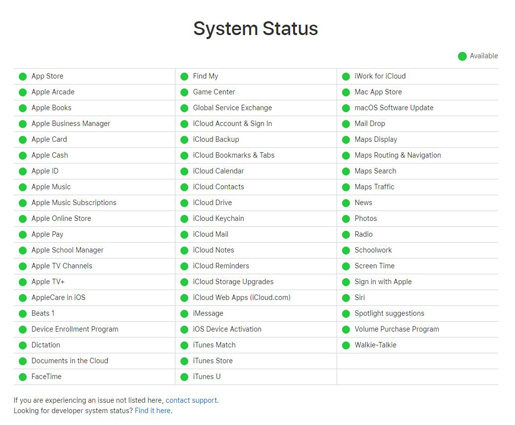 Method 5: Wait and Retry
When the Apple server is too busy to respond your request, it may be difficult to activate your iPhone immediately. So, you can just wait for some while. Then go back to net work page, re-enter your Apple ID and password to activate your iPhone. It may take a few minutes to activate your iphone, if you can't wait, you can also use PassFab Activation Unlocker.
Method 6: Connect to Mac or iTunes
If you can't activate your iPhone, you can connect it to your MAC or a pc with iTunes.
Through iTuens, enter your Apple ID and password to activate it.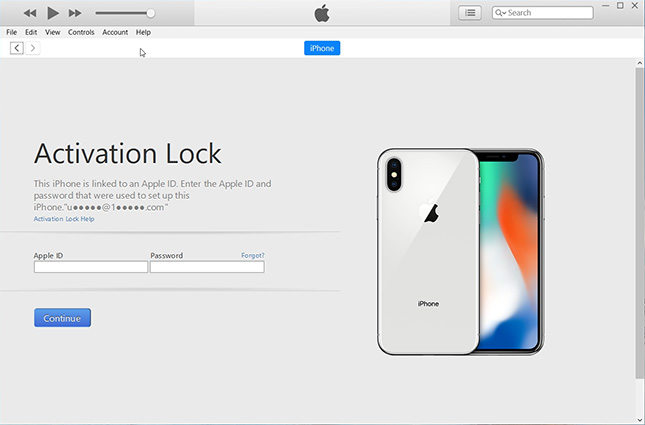 If your iPhone could not be recognized by iTunes or MAC, you can put your iPhone into recovery mode first. Then iTunes will remind you to restore or update your iPhone.

Now, you can update your iPhone to the latest iOS version to fix "unable to Activate an update is required to activate your iPhone".
Method 7: Contact Carrier
If your iPhone is locked to a certain carrier, and you are using a different carrier to activate your iPhone. You can only change a SIM card or contact your carrier and ask them to unlock your iPhone.
Method 8: Contact Apple
If above methods can't solve your problem, you can report your issue to Apple Support. Or order a technical support on the internet.
Method 9: Passfab Activation Unlocker - Ultimate Way to Fix Unable to Activate Error
If you meet above problems, then try this PassFab Activation Unlocker. With powerful features, this tool can help you remove activation lock or fix iPhone unable to activate. Just follow 3 steps after launching the software on your computer.

Step 1: Launch and Start PassFab Activation Unlocker

Download and launch PassFab Activation Unlocker, you will see its main interface. Select "Remove Activation Lock" feature.

Now, connect your device to the computer. Click "Start" to bypass the activation page. Read the agreement carefully and click Next then.

Step 2: Jailbreak Your iPhone

Once your iPhone is recognized, PassFab Activation Unlocker will download a jailbreak tool for you. Just wait for a few seconds.

Now, plug in a USB and click "Start" to burn the jialbreak tool in. This will erase all your data in your USB.

Once the tool has been burned into your USB, you will see a detailed tutorial. Read it carefully and follow it to jailbreak your iPhone.

Step 3: Bypass the Activation Page

Once you jailbreaked your iPhone successfully, restart your computer and run Passfab Activation Unlocker again. Confirm your device information. Click "Start".

Congratuations! You fixed unable to activate your iPhone successfully!
Part 4: FAQs About iPhone Activation
Q1: What does it mean when your iPhone cannot be activated?
It can be your iPhone goes wrong, or you network connection is unstable. Also, maybe the iOS system have some problems to be repaired, or your SIM card is not compatible or is invalid.
Q2: When you need to activate the device
You need to activate the device when you first set up your iOS device. In this process, You need to connect to a Wi-Fi network, a cellular network, or iTunes to activate and continue setting up your device. Then tap the Wi-Fi network that you want to use or select a different option. If you're setting up an iPhone or iPad (Wi-Fi + Cellular), you might need to insert your SIM card first.
Q3: How do I know if my iPhone is activated?
Connect your iPhone to iTunes, if it prompts that Set up as new or Restore from backup, it indicates that your iPhone is activated.
Q4: Can you activate iPhone without SIM?
You can activate iPhone by connecting it to latest iTunes or using an R-SIM or X-SIM card. If these two all failed, you can try to jailbreak your iPhone.
Final Words
All in all, if you meet the problems we introduced in 3 cases or other activation issues, you can try 12 methods we mentioned before. Also we introduced a worthy Activation Lock Removal tool for you. With this software, you can bypass activation lock of your iDevce or fix activation error quickly and safe.