The Activation Lock deters thieves from targeting iPhones. Your iCloud ID is linked to your iPhone when you set it up. Even if someone takes it, they won't be able to set it up and use it until the Activation Lock is removed.
Unfortunately, Activation Lock isn't only a source of frustration for thieves. You could find yourself locked out of your new phone if you purchase a secondhand iPhone and don't know it's locked. In this article, we will list different ways to help unlock activation lock. Keep reading to learn more.
Part 1: How to Unlock Activation Lock on iPhone/iPad
1. Recover Apple ID Password to Unlock Activation Lock
You just need to log in with your Apple ID to activate an iPhone. You'll need to know your email address and password to do so. The Apple ID is your iCloud account, which you utilize for everything you do with Apple, including shopping in the iTunes Store, logging into iCloud, purchasing apps, and so on. You'll need to know your Apple ID's email address to change their account password.
Visit this website: https://appleid.apple.com.

Click Forgot Apple ID or password below.

Type your Apple ID and click Continue.

Select I need to reset my password and continue.

Select one Apple ID password reset method.

Answer security questions
Reset password via email
Reset password via two-step verification

Follow the on-screen instructions to complete the Apple ID password reset.
2. iPhone Activation Lock via iCloud
If you have recently bought a used iPhone and it has an activation lock, you can unlock it by contacting the previous owner and asking them for iPhone activation lock bypass.
Go to any browser and sign into iCloud.

Choose Find My feature.

Select your iPhone from All Devices. And click "Erase iPhone".

Once the erasing process completed, click Remove Device from Account.
This way, the activation lock will be removed and you can access and use the phone.
3. Unlock iCloud Activation Lock with Two-Factor Authentication
If you've activated two-factor authentication, can use your old passcode to bypass Apple activation lock.
Tap Unlock with Device Passcode.

Select Use Device Passcode.

Enter the passcode you used before.
After that, you can set up your iPhone and use it.
4. iCloud Unlock/Activation Lock Removal with PassFab Activation Unlocker
PassFab Activation Unlocker can help you easily unlock your iPhone activation lock without any password. This expert activation lock removal allows you to get into your iPhone when you were locked by iCloud lock. This tool can be used to bypass an existing Apple ID and iCloud account from an active device in various situations.
Here is how to unlock activation lock:
Connect your iPhone to your computer and run PassFab Activation Unlocker.

Select Remove iCloud Activation Lock in PassFab Activation Unlocker.

To begin the procedure, click the Start button. Then read the agreement carefully and click Next.

The software will identify your device then, and download the jailbreak tool for you.

Then you must plug a USB flash drive into the computer to burn the jailbreak environment.

Then follow the jailbreaking guide to jailbreak your iPhone.

After you've successfully jailbroken your device, click Start, and the software will remove the iCloud activation lock. Just wait a bit.

You've successfully removed the iCloud activation lock, click Done.
5. How to Unlock iCloud Activation Lock with DNS Bypass
This iPhone activation unlock method works by bypassing Apple's security mechanism by using your WiFi. As a result, you won't need a SIM card in your iPhone or iPad to use this. With this method, you won't be utilizing the operating system (iOS) on your iPhone. Instead, all smart features, such as Facebook and Instagram, are provided by a server.
Press the home button to open the activation window, choose Wi-Fi settings.

Tap on the 'i' surrounded by a circle.

Type new DNS server according to your location.

USA: 104.154.51.7
Europe: 104.155.28.90
Asia: 104.155.220.58
South America: 35.199.88.219
Australia and Oceania: 35.189.47.23

Go back to WiFi page and click next until bypassing the activation lock.
This is an excellent alternative to keep on hand since it enables you to use your Apple device even if you cannot break the activation lock using any other way.
You'll be able to do the following after an iCloud DNS bypass:
Watch videos
Visit several websites
Play video games
Play music or listen to the radio
Chat with your friends
Nobody knows whether or not this technique will always work or whether Apple is trying to close this loophole. There are a few things that might go wrong in the future to prevent this from functioning, including:
Apple may make changes to iOS and iPadOS to prevent DNS servers from being used (although it still works today)
The servers may be closed down.
On the plus side, this tool has been in use for a time, and there are no reports that Apple plans to disable it. Apple, on the other hand, is concerned about preventing theft. This vulnerability allows for the usage of stolen iPhones, iPads, and Apple Watches. Therefore, they may be looking at methods to avoid this.
6. Ask Apple Support for Assistance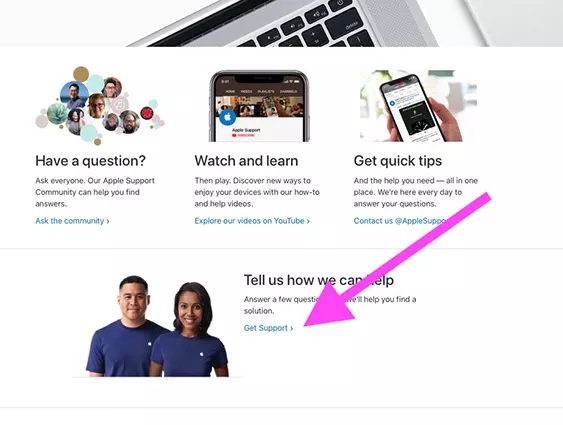 There's one more thing you may do if you still can't activate your iPhone. If you have verified proof of purchase, Apple will remove Activation Lock from your device. This can be done in one of two ways:
Make an appointment at an Apple Store near you. Bring your device, your receipt, and your brightest smile.
Explain the issue to Apple Support online. Request an activation lock support.
The removal of Activation Lock from devices (both in-store and over the phone), according to the representative, generally "falls within the sphere of our free services," so you shouldn't require Apple Care for either.
Part 2: Important Things to Do Before Selling Old iPhone
Before selling your iPhone, make sure you sign out of your iCloud account and reset the device to factory settings. The first guarantees that the seller can use your phone, while the second ensures that your data remains private.
1. Sign Out of iCloud Account
You can sign out by going to the Settings app and tapping on your name. From there, scroll down to the Sign Out option. You'll be asked to enter your Apple ID and Password, after which you'll be able to turn off the device and delete your credentials.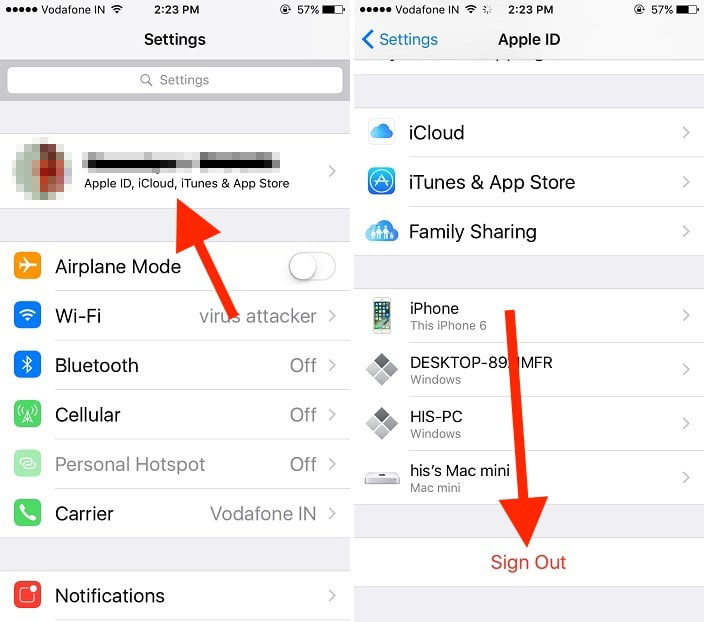 2. Erase All Personal Data
You may now continue to erase the whole iPhone. You can now connect to your charger and reset the device after backing up all of your data and disabling all of the features.
Go to the General section of the Settings app.

Scroll to the bottom of the page and choose the Reset option.

Now, choose to Erase All Content and Settings from the menu.

If you have already set up your passcode, you will be prompted to confirm again through a prompt if you wish to erase all of the data and settings on your iPhone.

To reset your iPhone, select the Erase All Content and Settings option.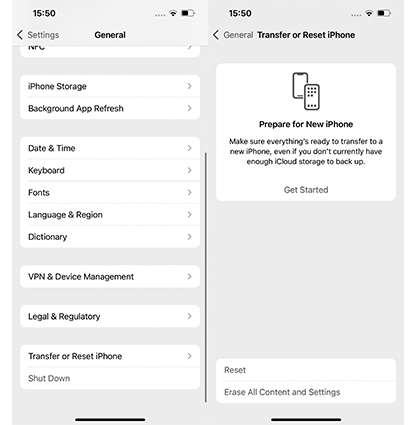 The iPhone will reboot to display the Apple logo and the progress bar; depending on the version of data and the quantity of data on the iPhone, this procedure may take anywhere from a few minutes to an hour. Before resetting the device, it's a good idea to disconnect all of the services.
Frequently Asked Questions
Q1: How can I disable activation lock on iPhone?
You can go to Seetings, Your Apple ID, Find My, and switch off Find My iPhone to disable activation lock.
Q2: How can I unlock a second-hand iPhone?
You can unlock a second-hand iPhone by using various methods such as recovering Apple ID password, requesting the seller to unlock it, or using a tool like PassFab Activation Unlocker.
Q3: Can you unlock a carrier locked iPhone?
Your iPhone can only be unlocked by your carrier. Request an unlock from your carrier. For unlocking, your account may need to fulfill specific requirements. It may take a few days to process your request once you submit it.
Unlocking the activation lock on an iPhone can seem to be an impossible task. However, whether you want to unlock activation lock on iPhone 5 or the latest iPhone 12 Pro Max, there are various ways to bypass it! We recommend using PassFab Activation Unlocker for this purpose as it is the easiest and most convenient method to unlock an iPhone.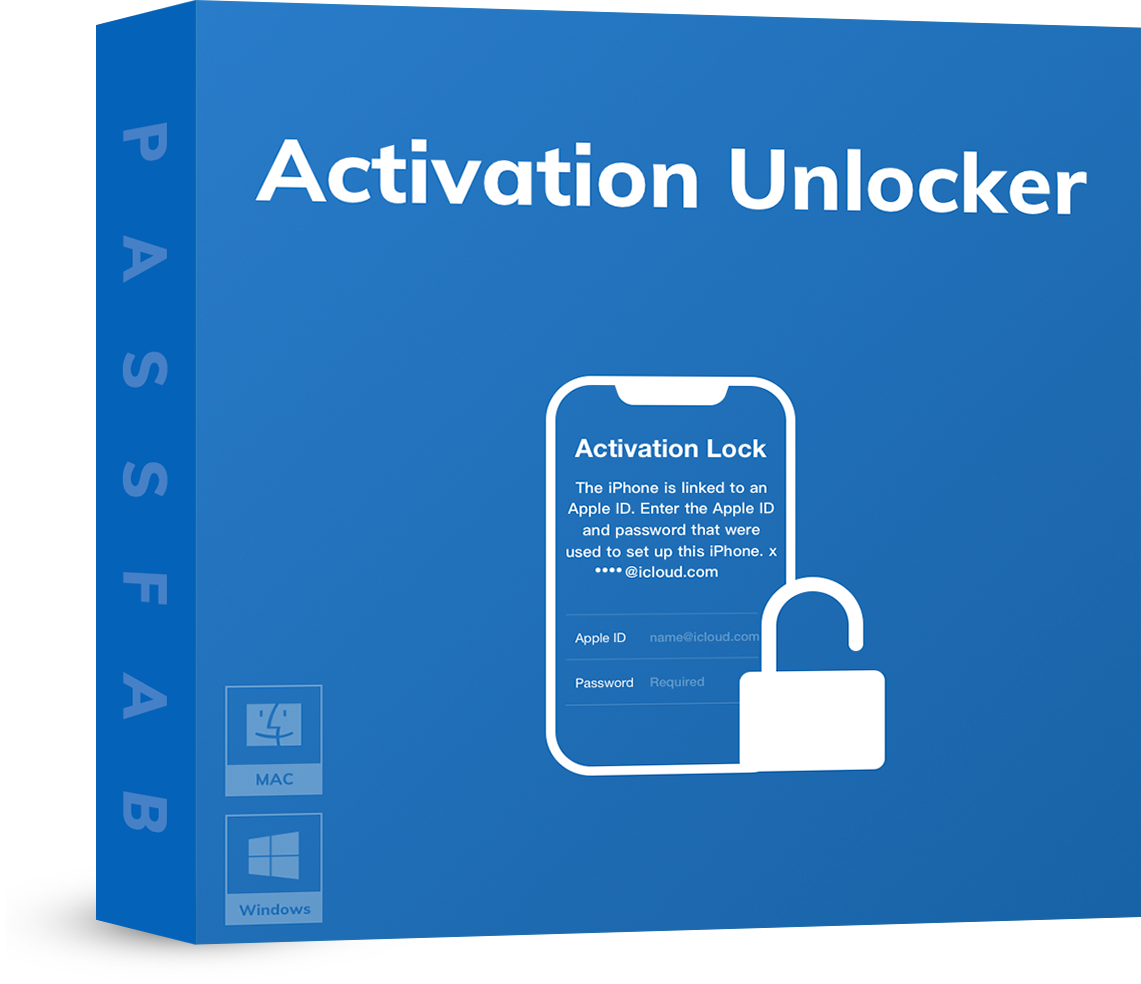 PassFab Activation Unlocker
Remove activation lock on iPhone, iPad or iPod touch.
Turn off Find My iPhone/iPad without Apple ID password.
Unlock Apple ID without password..
Removing iCloud Activation Lock supports iOS 12-14.7.
Removing Apple ID or FMI is now available on iOS 12-15.
Compatible with Windows 11/10/8.1/8/7, MacOS 10.11-11.1.
---
PassFab Activation Unlocker has Recommended by many medias, like macworld, makeuseof, appleinsider, etc.