When you search Lenovo on Google you will see there are many Lenovo users are troubled by password problems. So, how to reset Lenovo laptop password on Windows 10/8/7 is one of the most popular password problems. If you are the one who wants to solve the Lenovo password problem, then you came to the right place. In here, we gathered 5 useful ways for you.
Way 1. Reset Lenovo Laptop Password with Super Administrator Account
If you have setup Super Administrator Account (SAA) on your laptop before forgetting your password then the resetting procedure is quite straightforward. SAA is essentially super Administrator account, which has all the manager tools that could reset the password of your Lenovo laptop. Follow these steps if you don't know how to reset password on Lenovo laptop.
Step 1: Sign into laptop using the Super Administrator account.
Step 2: Right-click on "My Computer" and select "Manage" to open the Computer management.
Step 3: In the left sidebar, click "Users and Local Groups" and then select your username and click "Set Password".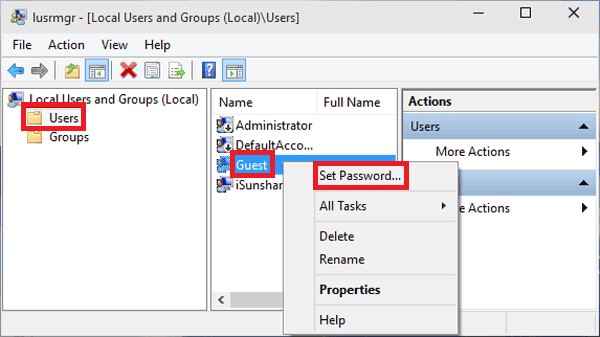 Step 4: Enter a new password and restart your computer. Now, use this new password to enter into your laptop and that would do the job.
Way 2. Reset Lenovo Laptop Password with Command Prompt
We can reset Lenovo laptop Windows password using command prompt by following these steps:
Step 1: First of all, restart your Lenovo laptop, press F8 key continuously to enter Advanced Boot Options when Lenovo logo appears.
Step 2: When you enter advanced boot options you have to press the up (↑) or down (↓) key to select "Safe Mode with Command Prompt" and press Enter.


Step 3: On the main screen, if you have the built-in Administrator, click on it so that you can login into Windows without password. (In all versions of Windows, there is always a built-in Administrator with no password, you can login with it if it is enabled).
Step 4: It will get you into the safe mode window along with the Command Prompt window popup. After that you can reset your user account password by entering the following command: net user <user name> <new password>.
For example, if you intend to reset your login password of your user account from "pass" to "tell", then you have to enter the following command: net user pass tell, and then press Enter. You will receive a massage saying "The command completed successfully", it means the password has been reset successfully, after that you can log out and sign into system with your new user account.
Way 3. Reset Lenovo Laptop Password with PassFab 4WinKey
The free ways have limitation just as you saw, this is the reason why we recommend PassFab 4WinKey. No complicated steps, can create a password reset disk when you locked out of computer. You can also create the disk on Mac by using this tool. Let's give it a look.
Here is a step by step guide to use PassFab 4WinKey for Lenovo Windows password reset.
Step 1: First of all, Launch PassFab 4WinKey and select a boot media (CD/DVD or USB Flash Drive). You can only boot from CD/DVD in 4WinKey Standard.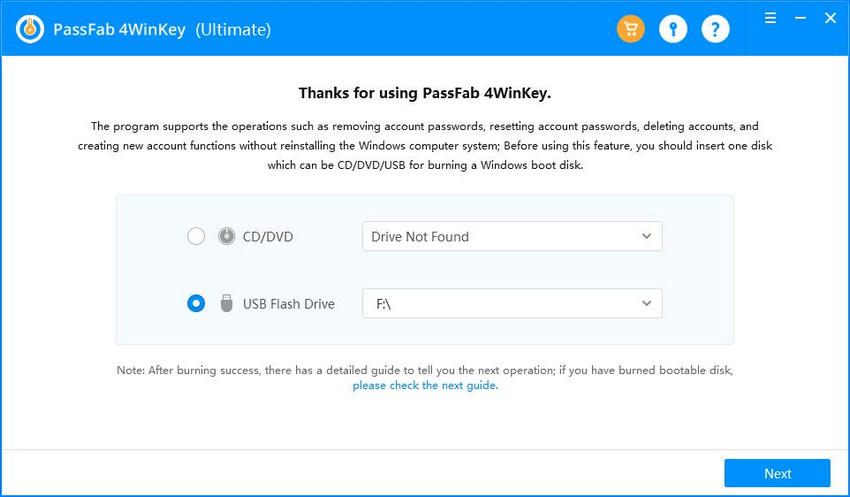 Step 2: Click "Burn" to start burning a boot disk. The software will tell you that your CD/DVD/USB will be formatted and all data will be lost as a consequence. Click "Yes" and this Windows password recovery tool will start to burn bootable CD/DVD/USB. After few minutes, your disk will be burned successfully. Now we will use this CD/DVD to reset Windows login password.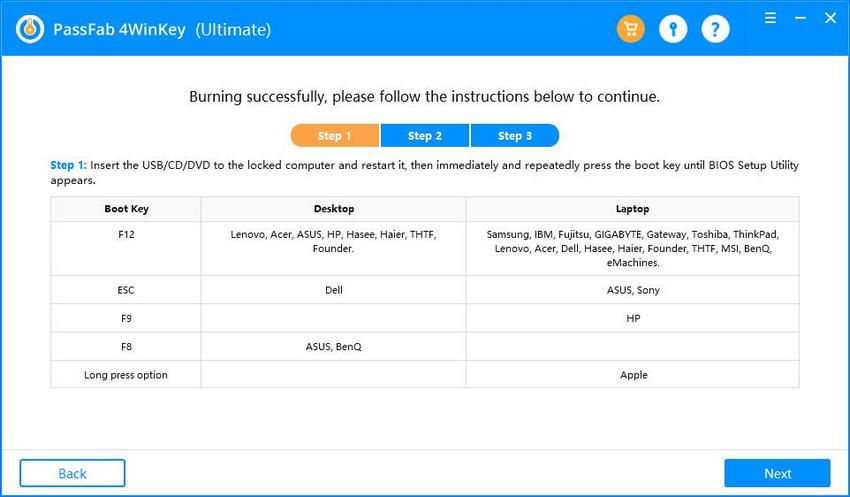 Step 3: Insert this bootable CD/DVD/USB to the password locked Windows laptop. Restart your laptop and press "F12" (or other keys) on the keyboard to enter Boot Menu interface. In the Boot Menu, you will find that there will be a list of boot choices. You can identify and find out your inserted disk from the DVD/CD/USB name. Using the arrow keys to highlight it and press Enter to select boot device. When you've entered the locked Windows, you can reset or remove Windows password.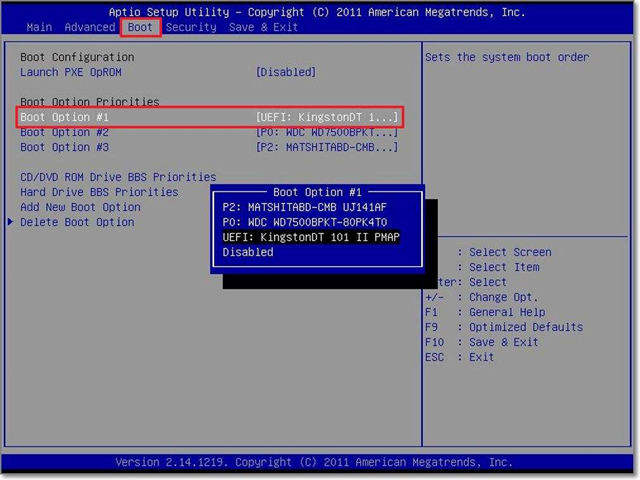 Step 4: Exit BIOS and restart your Lenovo laptop again. You will see the 4WinKey main interface. Select your Windows operating system and hit "Next" button.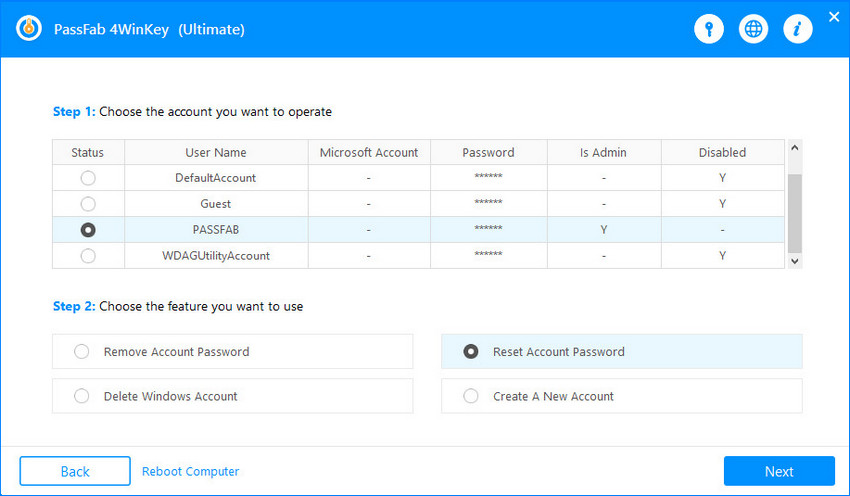 Step 5: Select your user account from the list. You'll find that your account name is displayed in User Name box.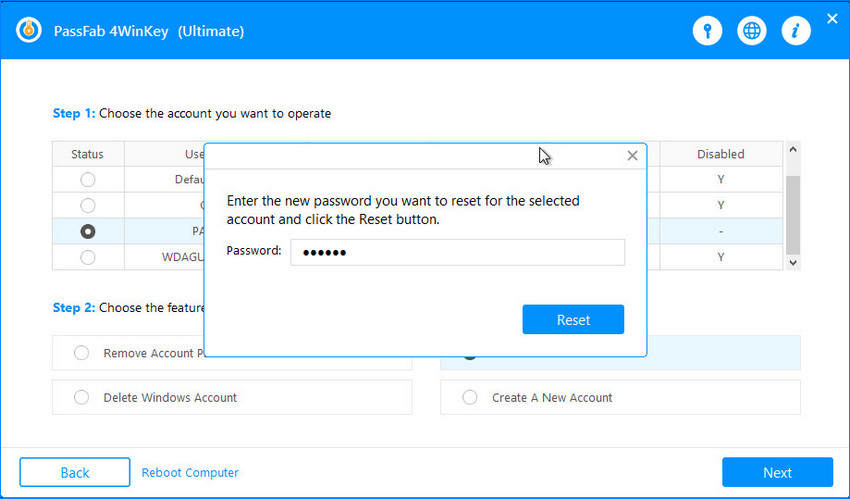 Step 6. Click on "Next" and your password is reset to the new password successfully. Click Reboot to restart your laptop. You can log into Windows with the new password.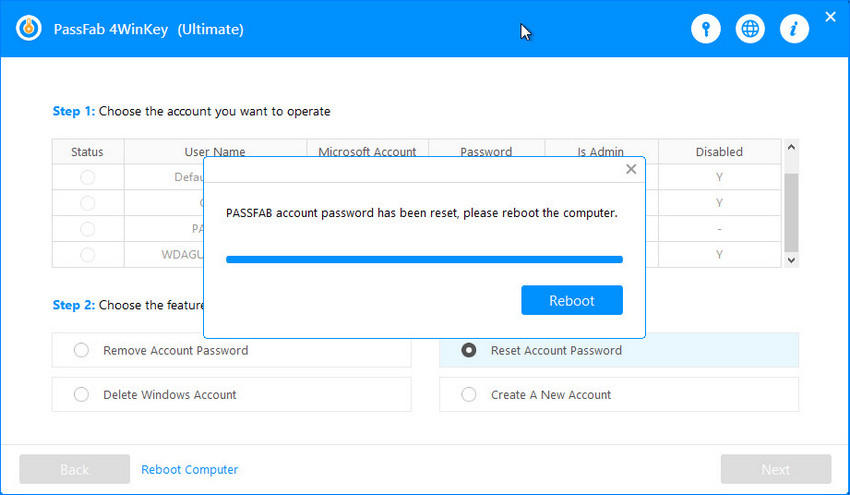 Way 4. Reset Lenovo Laptop Password with Install Disk
This way required you have an installation disk that you have to create before you didn't get locked out of computer. If you created before, then follow the guide to operate.
Step 1: Insert the installation disk into your computer and reboot it, after that operate according to the contents of the screen to enter Windows setup interface.
Step 2: Then, presss "SHIFT + F10" to enter Command Prompt
Step 3: Type copy d:\windows\system32\sethc.exe d:\ and press enter. Next, Now, type copy /y d:\windows\system32\cmd.exe d:\windows\system32\sethc.exe.
If your computer system is 64bits, please change system32 to system64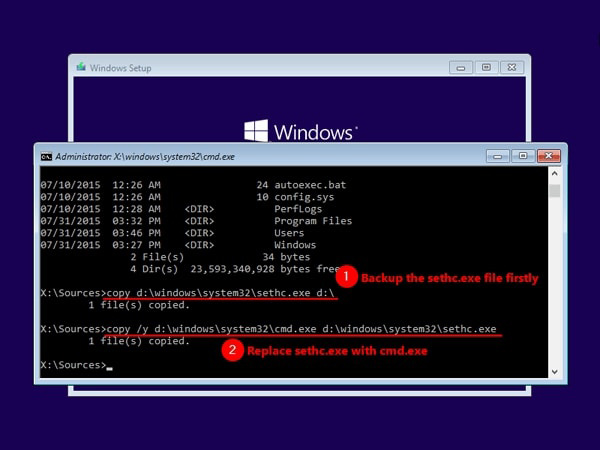 Step 4: Quit out and remove your installation disk and reboot your computer.
Step 5: While your computer booting, press "SHIFT" a few times to launch command prompt again. There type "net user username newpassword". You have to change username for your account's name and set a new password.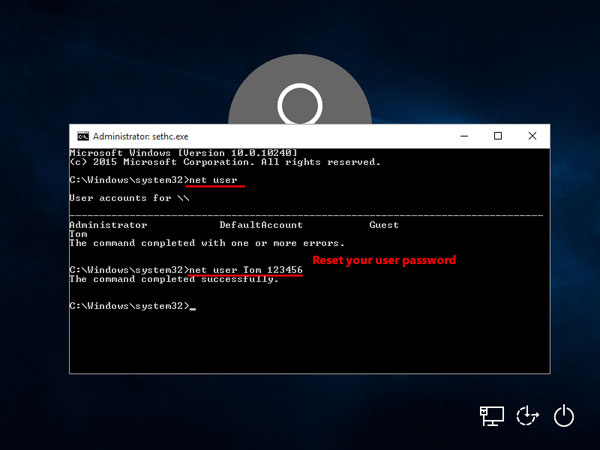 In the end, you are able to login your computer with the new account.
Way 5. Take Lenovo Laptop to Repair Shop
If you have a busy routine and don't have much time to go through these steps then the best possible solution for resetting password for Lenovo laptop is to take it to Lenovo repair shop.
Summary
There are many reasons that require you to recover your Windows password on Lenovo laptop. Once you have forgot you cannot access your files which was our main concern in this article. You needed to know that how you will recover or reset your Lenovo laptop Windows passwords if you have forgotten it. In the article above, we discussed the most famous methods to reset Windows admin password on Lenovo laptop.