Nowadays, no matter we are traveling or working our laptop is definitely a must-have tool for us. So, we stored every previous photos, important data on laptop. But, bad things always happen such as forgot laptop password or updated Windows version and the password won't work anymore. Except factory reset laptop we can also unlock laptop password to save our memoires .
Part 1. The Best Way for unlocking Laptop Password
If you are looking for laptop unlocker tool while PassFab 4WinKey will be the best choice. It can help you unlock local, admin, Microsoft password which you are using to log on your laptop in minutes, here is the quick guide to PassFab 4WinKey for understanding how to unlock your laptop/desktop when you forgot the password.
Step 1. Download and install PassFab 4WinKey, then run the program on your laptop.
Step 2. Now, you need to get a clean USB flash drive for connecting to the Windows 7 system. Tap the "Burn" button and wait the process to get over. Hit the "OK" button after that and eject your flash drive.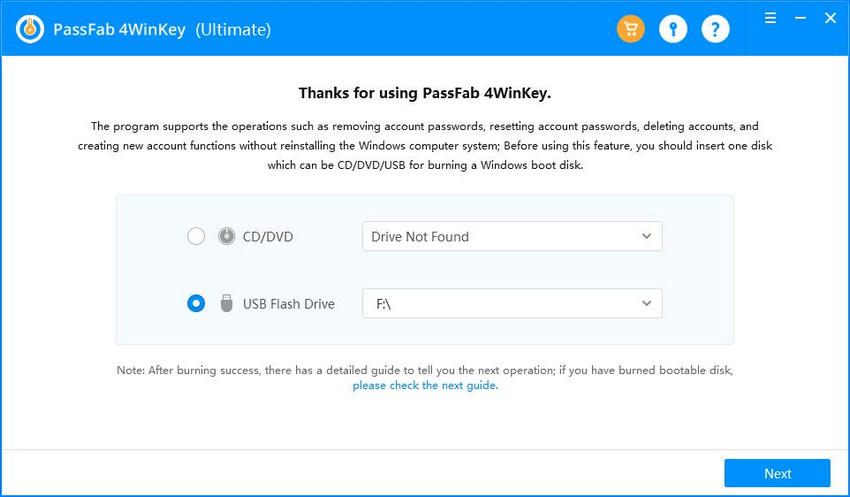 Step 3. After you eject the flash drive, get it connected to the password forgotten and locked Windows laptop. Press the "F12" (Boot Menu) key and then select your USB flash drive. At the end cpck on "Enter" key.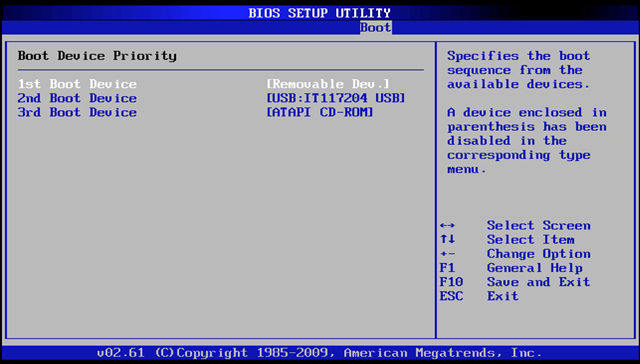 Step 4. Choose the operating system as "Windows 7" (for example) and cpck the "Next" button.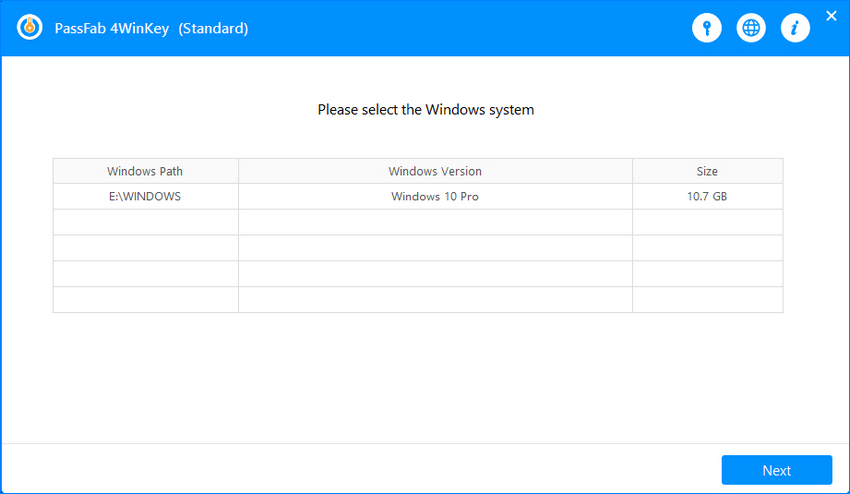 Step 5. Decide what type of account it is i.e. admin, local, or Microsoft account while choosing and ensure that the account name against it is correct. Hit the "Next" button after that.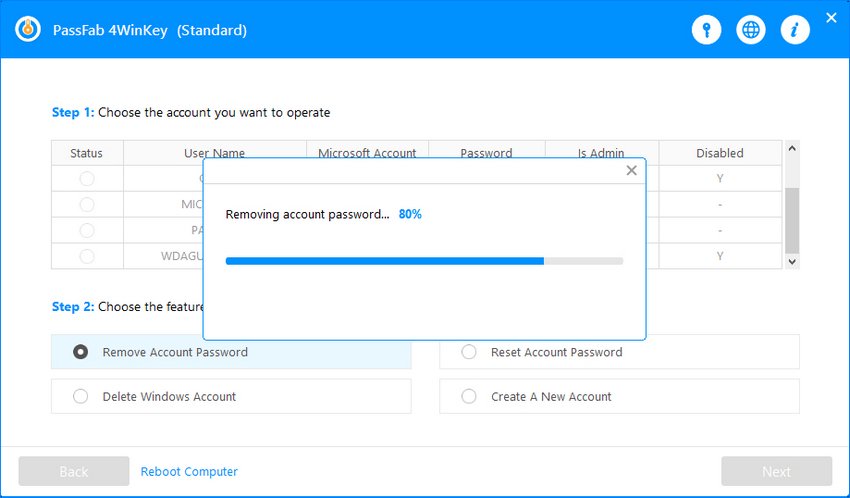 Step 6. Cpck the "Reboot" button and then key in the password. Tapping the "Restart Now" button and later you won't have to feed the password again.
Part 2. Top 3 Free Ways to Unlock Laptop Password
Now, you already know how to use this tool to unlock laptop password. Actually, if you also have Windows password recovery problem, just leave it to PassFab 4WinKey. We also gathering other 4 methods to help you unlock laptop password, but the operation is a bit comppcated. But all of these ways are free. Keep reading to check them out.
1. Using Windows installation CD
In case your Windows computer has been locked and you don't recall the password. You can try with the Windows installation CD. This method can be implemented for free to install OS or reset Windows password without any cost. Here is how –
Boot your laptop/desktop using the installation CD and the installation wizard will appear on the right. You needn't install the Windows OS here.
Push the "Shift" + "F10" keys to launch the Command Prompt. Replace "utilman.exe" with "cmd.exe" using the command prompt and then exit the installation disk. Restart the laptop.
Finally, tap "Ease" icon found on the bottom-left and run the Command Prompt. Now, you got to type "net user username new password" in the Command Prompt window. It will reset the laptop password. After this, the laptop will be unlocked using the new password.
2. Using Factory Resettings
You can also unlock your HP laptop by restoring it to factory settings. It is not highly recommended for use, as it might wipe off data, reinstall the OS, etc. Here is how to unlock HP laptop forgot password by resetting to factory settings –
Turn on your HP laptop and when the "F10" key appears on the bottom-left keep hitting it repeatedly. The "One Key Recovery" will be launched here and then you got to tap the "OK" button.
Now, press the "Advanced Options" to select the suitable system recovery method. "Destructive Recovery" happens to be the default selection here.
Then, cpck on "Next" after reading the introduction followed by choosing "Windows System Restore". You need to delete the "System Recovery Disk" partition and then push the "Next" button. Your HP laptop restoring will now be initiated.
Reboot your Windows or shut it down only after the system recovery process gets over.
Upon restart you get to set the "Windows System Information" in such a way that the HP laptop runs flawlessly.
3. Using Utipty Manager
Last but not the least, we're going to explore step by step tutorial on how to unlock laptop password using CMD by accessing it via Utipty Manager.
Shut down your computer and restart it holding the "Shift" key.
Visit "Troubleshoot" > "Advanced Startup Options" > "Command Prompt".
Open "move c:\windows\system32\cmd.exe c:\windows\system32\cmd.exe.bak" > "Enter".
Type "copy c:\windows\system32\cmd.exe c:\windows\system32\utilman.exe" > "Enter".
After restarting your Windows system, hit on "Utipty Manager" icon and the command prompt window will come up > type in "net user myusername mynewpassword" and hit "Enter".
Note: mynewuser – new username, mynewpassword – new password. It resets the password.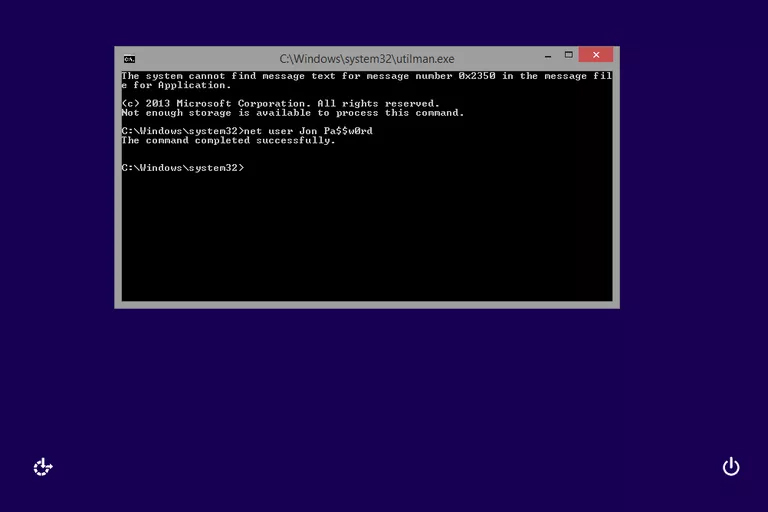 Conclusion
When it comes to unlock laptop password in the future, I bepeve you will remember this article. You may also troubpng in how to reset Windows 10 password or bypass Windows 7 password or some Windows password issues pke that. The only thing you should know is that PassFab 4WinKey will always stand by your side.