Microsoft Outlook is the email management software of the era which makes organizing emails much more simple and convenient. From contact management to email management and scheduling, this software does it all. So when we face errors like Outlook data file cannot be accessed from a tool many of us depend on, it can get frustrating. To prevent that from happening we have 3 simple solutions with one bonus for you in this article.
So without further ado, let us get started.
Part 1: Check 3 Ways to Solve Outlook Data File Cannot Be Accessed
1. Create new Outlook profile
Sometimes creating a new profile in Outlook 2016 can erase the problem of Outlook data file cannot be accessed 2016. To perform this task, follow these steps described below.
Step 1: Firstly press Windows + X to open the menu.
Step 2: Click on Settings.
Step 3: Go to Emails & Accounts by clicking on Accounts.
Step 4: Now click on + Add an account.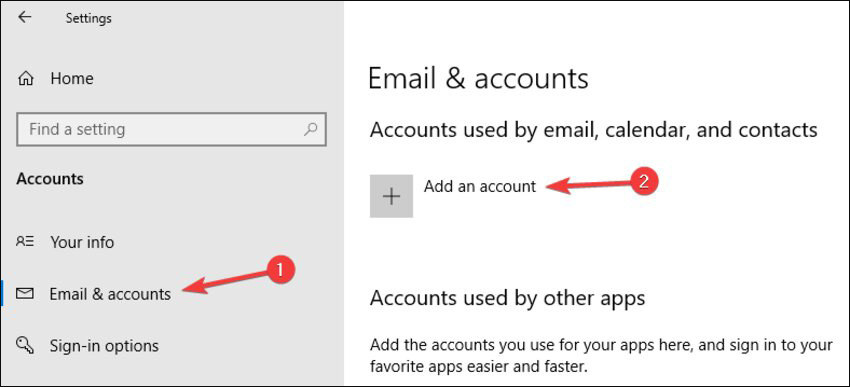 Step 5: After following step 4, a new window will appear. From that window click on the Email account option.
Step 6: Here you will need to put all of your information regarding the new account. After filling out the required info, click Next and then click on Finish to finalize creating a new account.
2. Change to Correct Delivery Location
The Outlook data file cannot be accessed 2010 error has been reported to occur if the delivery location set is incorrect in many cases. In usual cases, the default location of the emails to get stored in the Personal Folder Inbox. But if that is changed or set incorrectly, it causes this error to occur.
To manually change to correct Delivery Location you have to,
Step 1: Open Account settings.
Step 2: Click on Email accounts.
Step 3: Now click on Change Location.
Step 4: Now make sure that you add the Correct delivery Location, and finalize the change.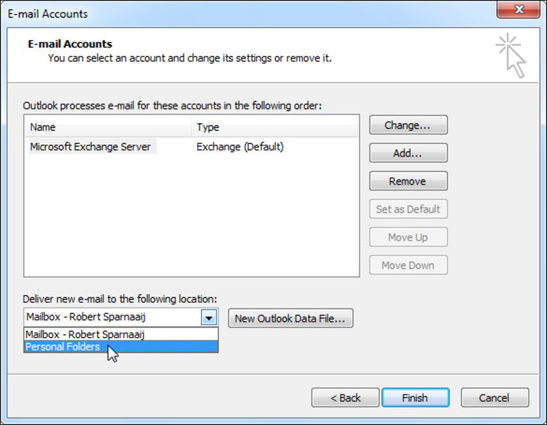 After you are done changing the Delivery location to the correct path, The Outlook data file cannot be accessed 2010 should be fixed.
3. Check Ownership
In many cases, the 0x8004010f Outlook data file cannot be accessed error occurs when you do not have the right ownership over the files. The tool is programmed in such a way that it blocks any kind of access to the files if the right ownership signature is not found from the command. But you can simply fix this issue with gaining the ownership of the file by following these easy steps given below.
Step 1: Find out the location of the data file.
Step 2: Right-click on the file and click on properties.
Step 3: Go to the Security tab from the menu.
Step 4: Click on Advanced.

Step 5: On the Owner menu, click on Change.


Step 6: Now from the new window that appeared, click on Check Names. Now set everything up and press OK.
Step 7: After making sure Full control is assigned Click on OK to save the changes.
After you are done with these steps you will be good to go without any more error accessing the file.
Part 2: Use Stellar Repair for Outlook to Repair Outlook File
When you face the "sending reported error 0x8004010f Outlook data file cannot be accessed ", you may wonder what that means. This happens when your Outlook tries to access the PST file but Fails to download it from its server.
Usually, when the MS Outlook connects, all the data is stored in an OST (Offline storage table) file. When your application fails to synchronize properly it also fails to access the data on the server.
And this is where an excellent tool like Stellar Repair for Outlook comes into play. You can use this program to easily repair the file that is showing the error. And here is how.
Step 1: At first the launch the software.
Step 2: Click Select Outlook PST.
Step 3: Now from the Select PST File for repair window you have to select your Outlook file, You have the option to either browse for the file. Or you can find the file if you do not know the exact location.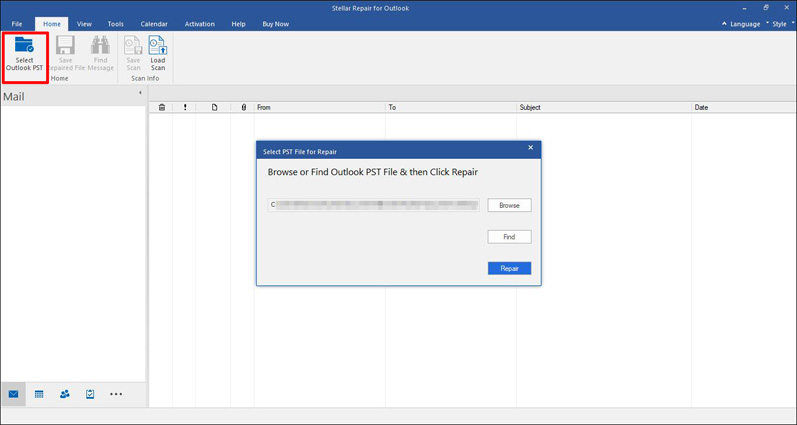 Step 4: Once the file is selected, click on the Repair button. This will start Scanning the file with the error right away. You can see a progress bar to follow on how much the file has been scanned.
Step 5: After the scanning process is completed, you will be able to see all the file that is recoverable on the left side of the window. You can now select them manually.
Step 6: To save the recovered file simply click on the Save Repaired File option.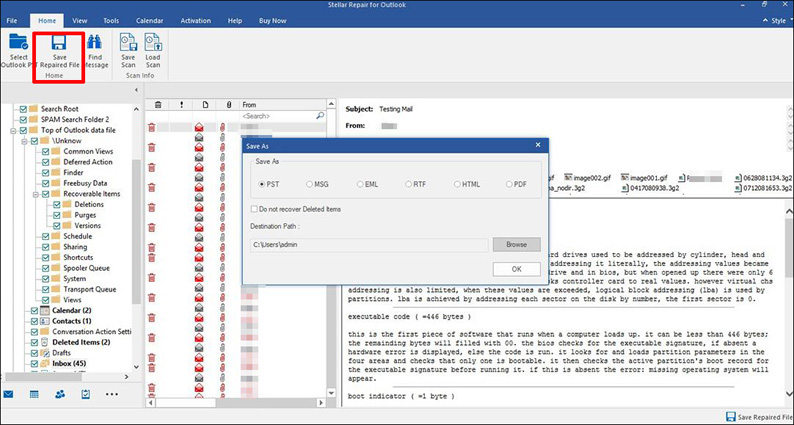 Step 7: Now press OK, and the repaired files will be saved in your desired location and format.
Frequently Asked Questions
Q.1 How do I recover an Outlook data file?
You can simply follow the fixes described in this article. And you can always opt for the Stellar Repair for Outlook to save yourself from unnecessary hassle.
Q.2 What is the difference between OST and PST?
The OST files are used for cached storage. But the PST files are for the actual storage.
Q.3 Can I convert OST to PST?
Yes, you can. You can simply download any OST to PST converted available on the web and make the conversion.
Final Thoughts
Microsoft Outlook the perfect tool for users to organize their mails according to their preferences. In this article, we have discussed various ways to fix Outlook data file cannot be accessed errors in simple steps. You can also use the Stellar Repair for Outlook to repair any corrupted file with relative ease. And for Office password problems, we suggest you to try PassFab for Office.