Microsoft Outlook is one of the most popular for sending and receiving emails. In MS Outlook, you may delete an email accidently of great importance. But luckily, there are some mechanisms and some tools which are embedded in the Microsoft Office suite that can help you on how to recover deleted email in Outlook 2010, 2013 and so on. In addition, we are also here to help you in these difficult circumstances by retrieving deleted email from Outlook.
Part 1: 2 Ways to Recover Deleted Outlook Email
1. 3 Steps to Recover Deleted Outlook Email from Deleted Items
The first way, we are going to start with, is the built-in feature to recover deleted Outlook email, provided by the Microsoft Outlook itself. Following are the basic 3 steps to take to recover your deleted email from the "Deleted Items" folder in the application:
Step 1: Open MS Outlook on your desktop.
Step 2: Go and click the "Deleted Items" folder, present in the left sidebar of the screen, there resides email that you have deleted.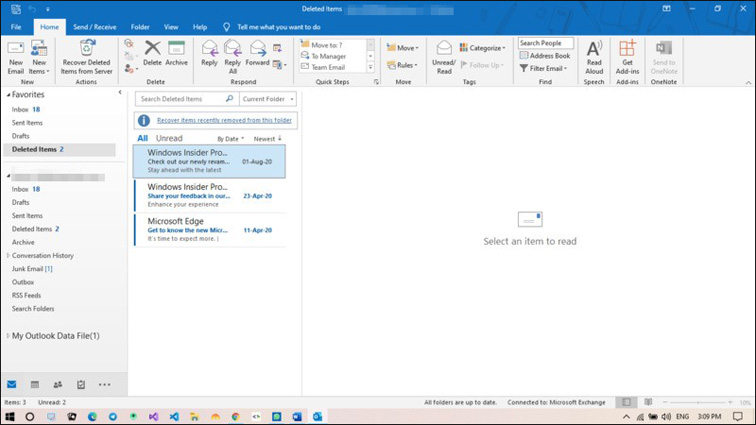 Step 3: Now search for your deleted email and right-click on it and then choose the "Move" and then "Other Folder" option from the list.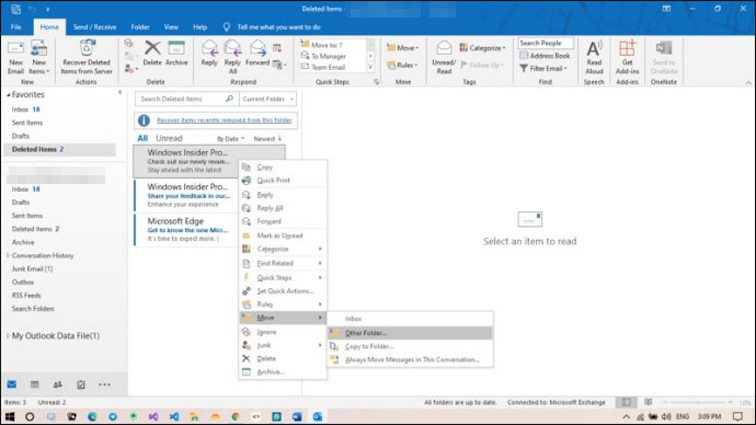 Step 4: In the next window, select the folder to move your item to and press OK.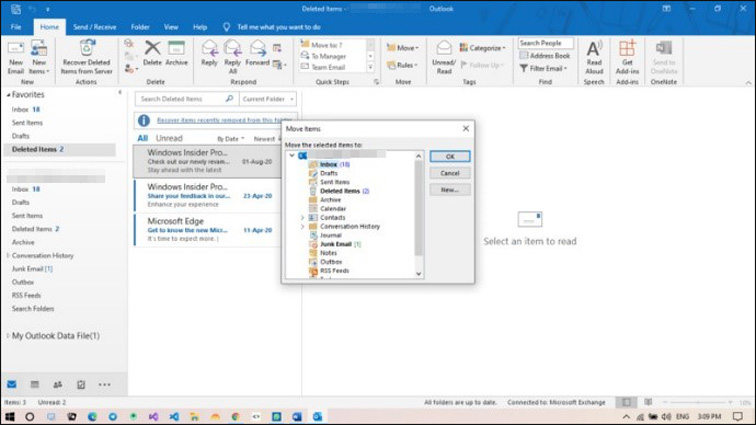 Note: If you are using MS Outlook web version, you can restore all of your deleted files at once, to do that you just have to click on the restore option without clicking on any of the specific email to restore, and by default all your deleted emails will be restored in the inbox folder. If you can't find email in the Deleted Items folder you can retrieve from Recoverable Items folder
2. Retrieve Deleted Outlook Email from Recoverable Items Folder
There are sometimes when you may have emptied the deleted emails folder and you want that deleted email no matter what. There is also a solution for this problem that is our second way to retrieve deleted email Outlook from the "Recover Deleted Items" folder. Follow up the steps described below and recover the email you have also deleted from the "Deleted Emails" folder:
Step 1: Open MS Outlook on your desktop.
Step 2: Go and click the "Folder" tab, present on the upper header of the screen.
Step 3: Click on the "Recover Deleted Items" option that shows up in the folder panel.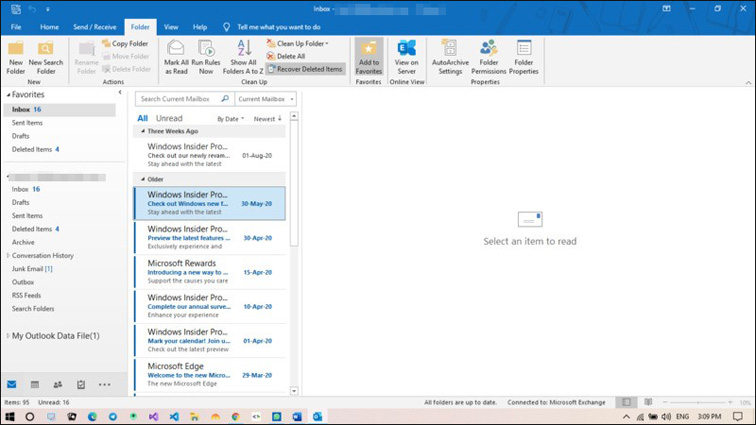 Alternatively, you can go to "Deleted Items" folder and click on the option of "Recover items recently removed from this folder", present on the top of the deleted emails panel.
Step 4: Now search for your deleted email in the window, click on the "Restore Selected Items" and click OK.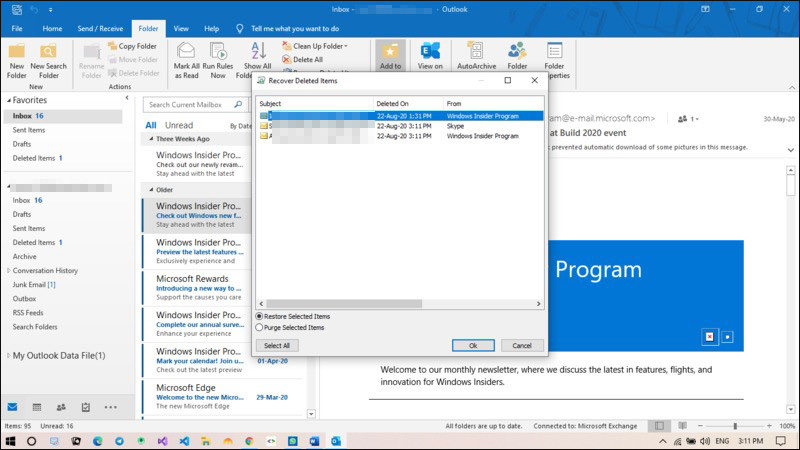 Part 2: Recovering Deleted Outlook Email Using Stellar Repair for Outlook
Another way that can help you recover your important and valuable deleted emails is "Outlook PST Recovery Tool". Here we recommend Stellar Repair for Outlook, which has many of the recovery tools for all of your problems. This tool has gained trust by Administrators and users worldwide to recover data and emails from the corrupted or damaged PST files. All the steps for repairing and recovering these files are mentioned below:
Step 1: Open "Stellar Repair for Outlook" application in your device.
Step 2: Browse for the location of the PST file, you want to repair / recover. (Usually location for your PST files is "C:\\ Document > Outlook Files").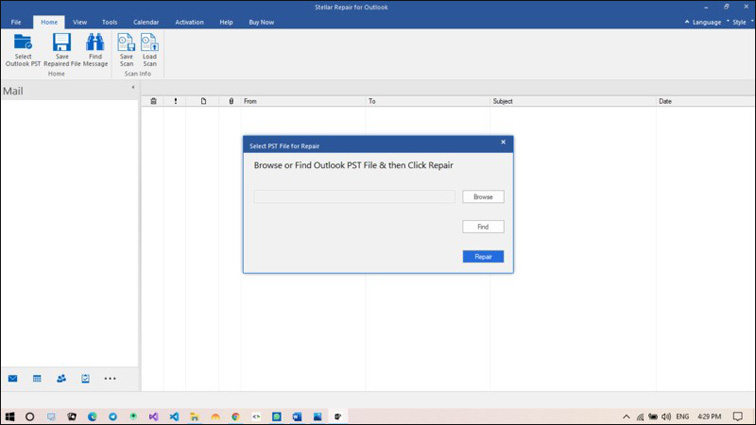 Step 3: If you don't know about the file location of the PST file, click on the "Find" button and enter the drive you want to search first for the PST files. This will result in all the PST files present in the desired drive.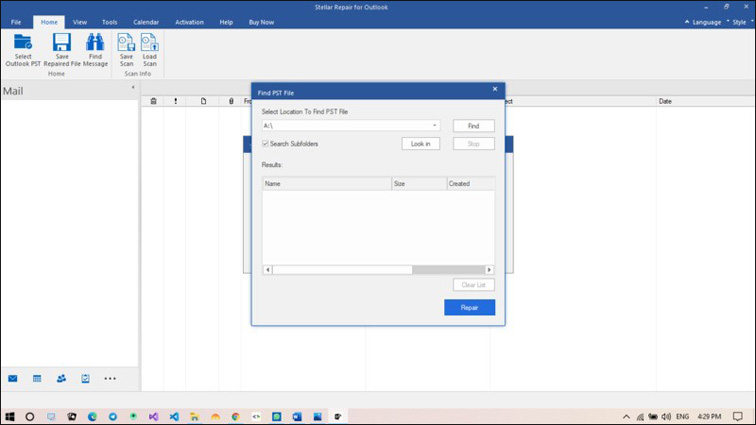 Step 4: Now select the file you want to repair and click OK.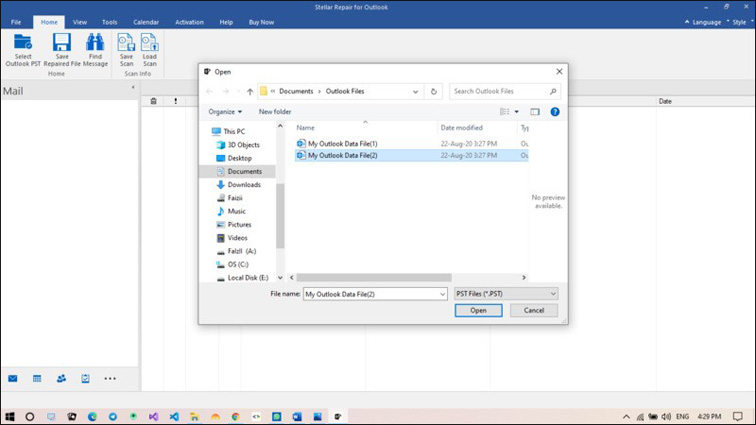 Step 5: Repairing process will begin and the time for repair will depend on the size of the Outlook data file you are repairing.
Step 6: When the repair finishes, the permanently deleted emails are recovered.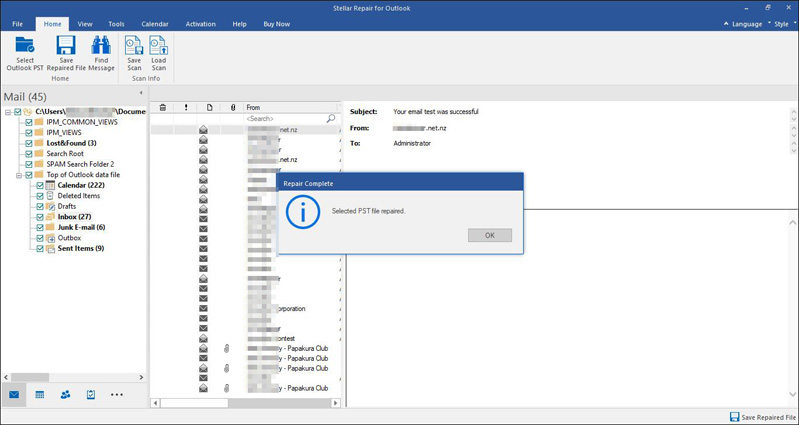 Part 3: FAQs about Recovering Deleted Outlook Emails
Q1: Why are my emails not showing in my inbox?
These kinds of problems are mostly caused by the glitches and sometimes due to the wrong settings. If you are facing problem like missing emails, you should try custom filter settings, there are chances that you may find your missing emails there.
Q2: Why is Outlook not showing all my emails?
There are several reasons for that to happen, one of which is the internet connectivity problem. You may also have synchronization issue due to your Outlook account being used on different devices. Another reason can be that, you may have applied some advanced filters on your inbox to only show you specified emails from your specific email accounts.
Q3: Why is my Outlook email not working?
This issue can appear in mostly those cases, when you do not have a strong internet connection. Your ISP may have a firewall configured that restrict your emails to be sent or received improperly. Or in some cases, when your credentials and account settings are incorrect.
Read Also: I Forgot My Outlook Password, What to Do Then?
Summary
Whenever you are stuck in a situation like you have deleted your emails or events or tasks, there is no need to worry, and we have provided you with some of the best ways for recovering deleted Outlook email. You can also use Stellar Repair for Outlook tool, this can help you restore any kind of deleted or corrupted emails, tasks, events or calendar due to its extensive features that covers all kinds of problems regarding mailbox (Outlook) and can help you fix them instantly. And if you have problems on Microsoft Office password recovery, you can try PassFab for Office. If you still have some questions or doubts on how to retrieve deleted email, you can ask us and give your feedback about the solution.