Microsoft Office 2013 Home and Business/Student or Professional Plus is asking you for the 25 digit product key after you re-installed a new operating system or reformatted the hard drive? You are not the only one who encountered this issue. Read this post to find Office 2013 product key in Windows 10/8.1/8/7/XP/Vista effectively.
For old versions of Office 2010/2007/2003/1997, the product key is stored in Windows Registry. However, since Office 2013, Microsoft changed the way to handle Microsoft Office product keys, so there is no way to extract Office 2013/2016 product key from the registry.
Luckily, you can use Command Prompt to enter a script to find the last 5 digits of Office 2013 key and then contact Microsoft to track the full key using the last 5 digits. And you can also use professional product key finder software to retrieve the full Office 2013 product key directly.
Extract Office 2013 Key on PC CMD
Here are the steps to find office 2013 last 5 characters of the installed product key:
1. Press Windows and R on your keyboard simultaneously, type cmd in the dialogue box and hit enter.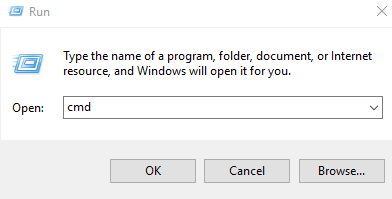 For 32 bit Windows: cscript "C:\Program Files\Microsoft Office\Office15\OSPP.VBS" /dstatus
For 64 bit Windows: cscript "C:\Program Files (x86)\Microsoft Office\Office15\OSPP.VBS" /dstatus


Note: If you previously changed the default Office installation path, you can right click the Office icon and select "Open file location" to find the drive where your Office is located and then update the C drive above.
3. You'll view the last five digits of your Office 2013 product key in the command prompt. Then, you can contact Microsoft to get the entire Office 2013 serial key code.
Use an Office 2013 Product Key Crack/Recovery Tool
Want to get Office 2013 recovery full key in a quick way without contacting Microsoft? You can use PassFab Product Key Recovery to view Office 2013 license key just by 1-click.
PassFab Product Key Recovery is an efficient product key generator to crack your Windows, Office, Internet Explorer key, SQL server key and more.
Here is a video guide about how to find Office 2013 product key by using PassFab Product Key Recovery:
1. Download Product Key Recovery in PassFab home page, you'll enter Product Key Recovery feature.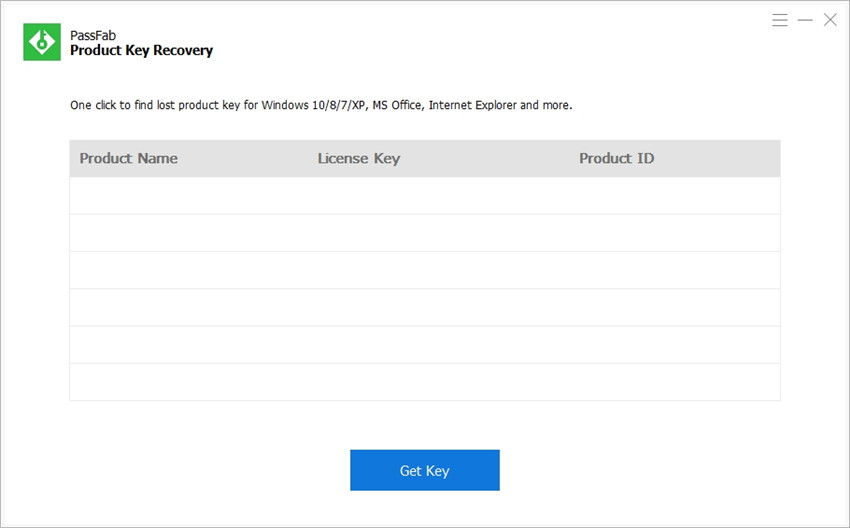 2. Click "Get Key", you'll see the whole Microsoft Office 2013 serial key number immediately as well as other product keys including Windows, Office, SQL, IE, etc. You can click "Generate Text" to Copy&Paste the key to activate your Microsoft Office Home and Student/Business 2013.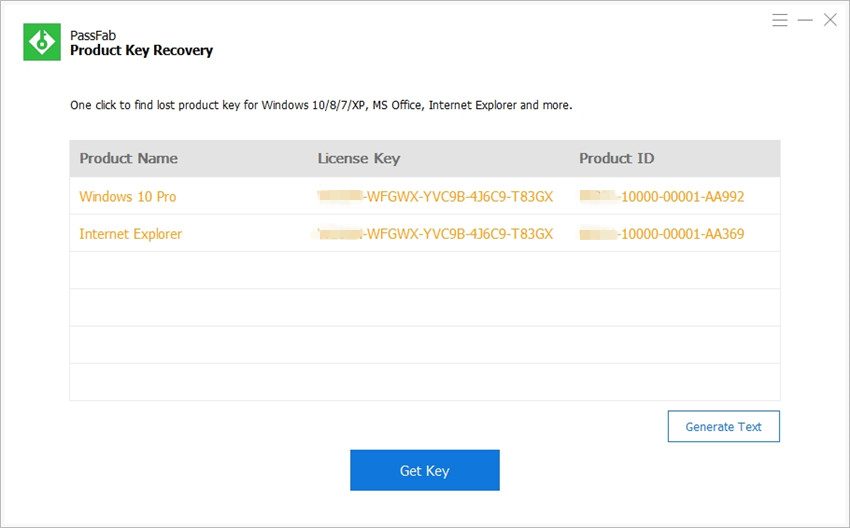 When Microsoft Office 2013 product key missing, you might have searched Office 2013 product key free online, but this is illegal. You can have a try to log on to the MS Account (Hotmail Account) that associated with your purchased Office version to reinstall Office.