What you need is a 100% working method that can crack RAR password easily. In this detailed article, we'll be sharing some simple yet effective password recovery methods to recover your lost/forgotten WinRAR file passwords. The methods below are quite natural, all you need to do is to use our guidelines that will let your Win RAR password crack the locked WinRAR files easily. Following are the cool methods to crack WinRAR password.
Method 1. Easy and Safe WinRAR Crack - PassFab for RAR
To open a RAR password protected file and use the data in it, you need to try to use a Win RAR Password Cracker. The method I want to introduce first is use PassFab for RAR. Although there are numerous methods to crack WinRAR password like using the command prompt, the most straightforward try is to use a tool.
PassFab for RAR is an ultimate and powerful tool that will unlock all kinds of RAR password. This is a wonderful RAR password recovery tool that is popular for high speed and guessing the complicated passwords. It facilitates with all the software that creates the RAR archives.
You can check out this video tutorial.
I'll explain how to crack Win RAR passwords with this tool in the steps given below:
Step 1: Download and install
First of all, download this strong RAR password unlocking tool to your desktop or laptop. Then, install it by following the wizard instruction without hesitation.
Step 2: Import RAR Archive
Run this application and get ready to import the encrypted RAR archive. This RAR password recovery tool will auto-detect the file's algorithm and password complexity, and then show them to you instantly.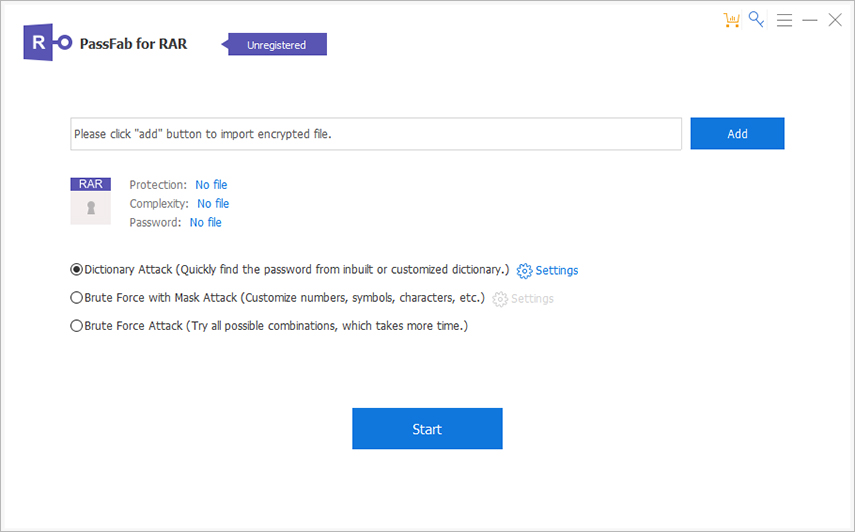 Step 3: Select Recovery Type
Select any one of the three password attack types: Dictionary Attack, Brute Force with Mask Attack and Brute Force Attack.

Dictionary Attack:

In this mode, you may figure out your password from a customized or inbuilt dictionary. Once you get the full version of this software, it will download the latest password dictionary file automatically. You are also allowed to add a dictionary on your own.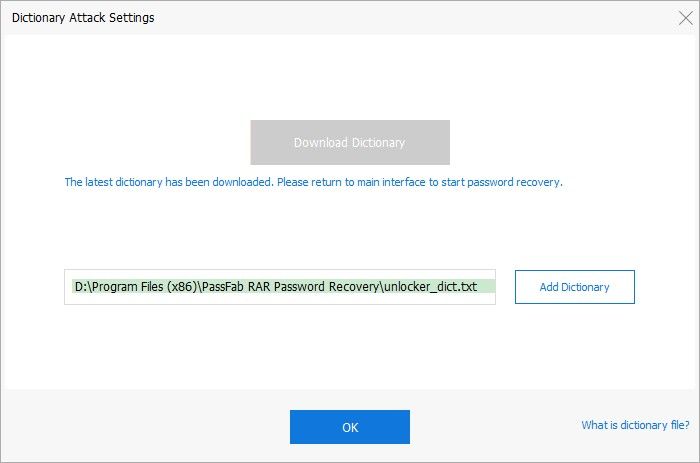 Brute Force with Mask Attack:
In this option, you are welcomed to customize the possible password, from password length, character set, to affix set.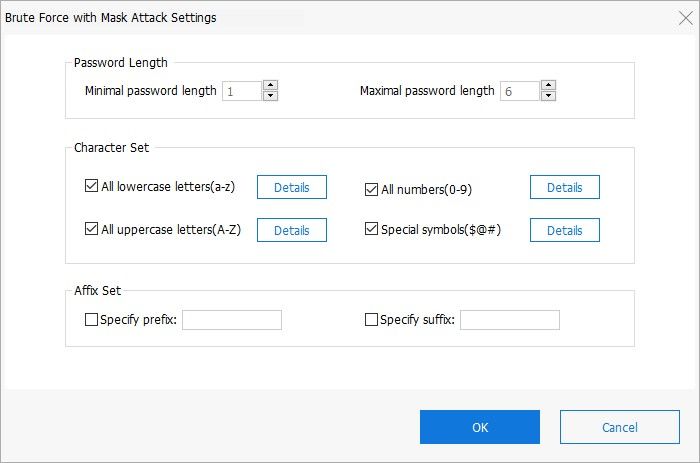 Brute Force Attack:
If the first two attack types couldn't work, this type is worth a shot. As the name suggests, this type of attack tries out all the possible combinations and ultimately bypass your RAR password.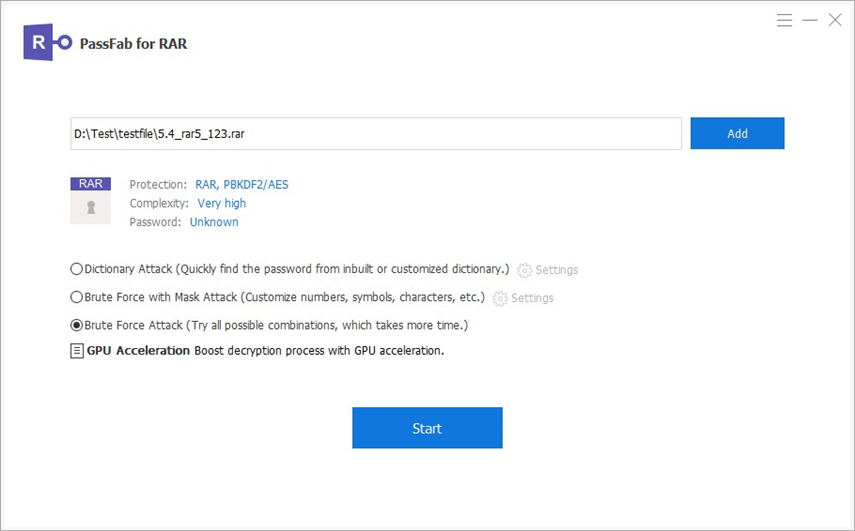 Step 4: Start Recovering Password
Once you have selected the password recovery mode, you can take action to click Start button and wait for your RAR password to be found.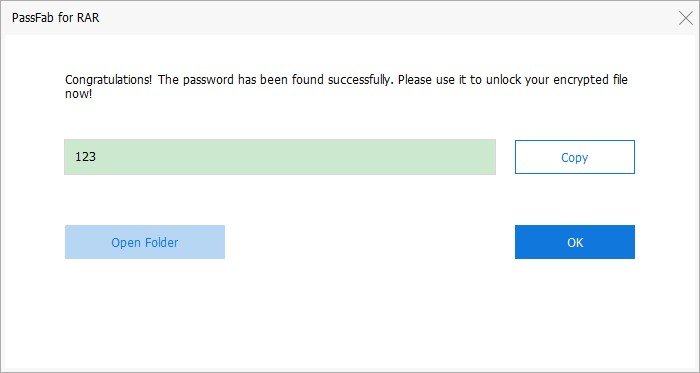 Method 2. Crack WinRAR Archive Password with Notepad/CMD
In this method, I will show you how to crack RAR file password without any software. Some time password protected RAR files occasionally face problems. Most of the time we use various software to recover the password. But without any software, we can do this using some simple Notepad tricks. You can get more details about how to bypass WinRAR password here.
If you forgot the password, you could likewise create your recovery tool (most of us prefer integer password), that's the beauty of batch script. You can make any tool of your own. So let's start with the steps to make our password recovery tool with CMD. Following steps will show you how to crack .rar password with cmd.
Note: This method will crack the Integer password only!
Step 1: Launch notepad ( Windows Key + R > then type "notepad" and press enter key ).
Step 2: In notepad, copy paste the below code:

@echo off
title Rar Password Cracker
mode con: cols=47 lines=20
copy "C:\Program Files\WinRAR\Unrar.exe"
SET PSWD=0
SET DEST=%TEMP%\%RANDOM%
MD %DEST%
: RAR
cls
Echo----------------------------------------------
echo GET DETAIL
Echo----------------------------------------------
Echo.
SET/P "NAME=Enter File Name: "
IF "%NAME%"=="" goto NERROR
goto GPATH
:NERROR
Echo----------------------------------------------
echo ERROR
Echo----------------------------------------------
Echo Sorry you can't leave it blank.
pause
goto RAR
: GPATH
SET/P "PATH=Enter Full Path : "
IF "%PATH%"=="" goto PERROR
goto NEXT
: PERROR
Echo----------------------------------------------
echo ERROR
Echo----------------------------------------------
Echo Sorry you can't leave it blank.
pause
goto RAR
: NEXT
IF EXIST "%PATH%\%NAME%" GOTO START
goto PATH
: PATH
cls
Echo----------------------------------------------
echo RROR
Echo----------------------------------------------
Echo Opppss File does not Exist.
pause
goto RAR
: START
SET /A PSWD=%PSWD%+1
UNRAR E -INUL -P%PSWD% "%PATH%\%NAME%" "%DEST%."
IF /I %ERRORLEVEL% EQU 0 GOTO FINISH
GOTO START
: FINISH
RD %DEST% /Q /S
Del "Unrar.exe"
cls
Echo----------------------------------------------
echo CRACKED
Echo----------------------------------------------
Echo.
Echo PASSWORD FOUND!
echo FILE = %NAME%
echo CRACKED PASSWORD = %PSWD%
pause>NUL
exit
REM
Step 3: Click save to save the file and save it with crack.bat (the extension must be .bat).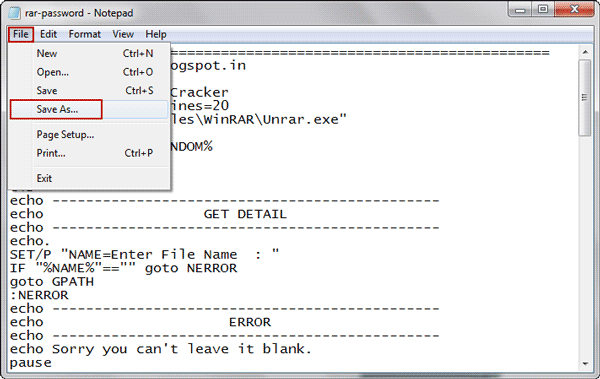 Step 4: Now open the crack.bat file by double-click it. It will display the cmd screen on your screen.
Step 5: Type Full name of the file along with extension and press enter. Then, it will ask you to input where the file is located. Input the location (view property of the RAR file to know the location) and press enter to proceed.
Step 6: Now the process will take a while to find the password. So wait until it finds your password.
Method 3. How to Crack a Winrar Password with Frequently-used Ones
WinRAR seems to be the best choice for data compression and protection. But have you ever ended up with a WinRAR file that was password protected? WinRAR is a wonderful utility program to compress your files and protect it with a password. You can keep your data safe in a save storage space by keeping it compressed in .rar format. However, what to do if you can't remember the password of your WinRAR password protected file?
You can follow the following steps in order to crack WinRAR password with frequently-used ones when you can't remember it:
Step 1: Open the encrypted RAR archive of which password you want to crack. Click Extract To option on the left upper side. And on the window, please locate where you want to put your WinRAR archive without password protected.
Step 2: Type in the RAR's password in the box by guessing 1234 or ABCD that appears to be most common, and click "OK".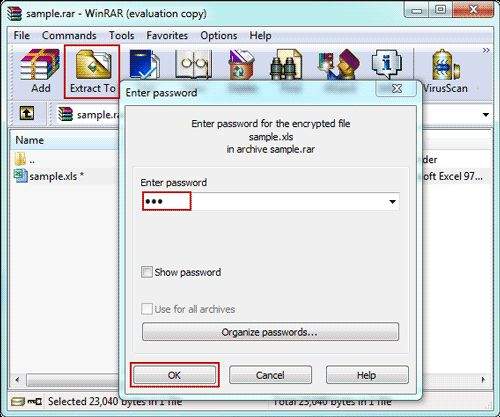 Step 3: Then check the destination path, you will find a new file folder without password protected if you are successful with this approach. Note that you may or may not be able to guess the password, there is no guarantee.
Summary
So above is all about cracking RAR files protected with a password. With these methods, you will be able to access any RAR file that is password protected, and you can open all the essential files locked inside the file. Now you know some magnificent methods to crack the password of RAR files without any software without or with software. I'm sure you will benefit from these methods. Surely there are a lot of other RAR password remover tools available on the market, but PassFab for RAR is highly recommended because of its security and speed.