Sometimes co-workers need to work on the locked RAR files which have been locked by other employees. Many times, the person having the password is unavailable. Hence, there is a need to unlock these files using certain software. If you know how to hack RAR password then you do not need to wait for the other employee, you just need to unlock them and continue your work without any hurdle. Secondly, you can forget the password as well. But these hacking software can assure that you can get into your files even if you forget your password.
Countless solutions are available out there, but here we have discussed only three of them. The easiest and most convenient one, which does not damage your file, is PassFab for RAR. It provides a user-friendly interface.
Solution 1. Hack RAR Password with Notepad/CMD
Sometimes, files downloaded from the internet, are locked, and there is a need to unlock these zip files. Many software are available for this problem but the easiest way is to hack RAR password using CMD. It is unpaid as well. In this method Notepad is used without any need of further of software, that's why this method is also called hack RAR password through Notepad.
To hack RAR file password, you just need to follow the various instructions/commands in notepad at the end, which leaves you with your file unlocked. To find out how to hack RAR password follow the steps mentioned below:
1. Open a command prompt window by double-click on batch file.
2. Now insert your RAR file name and find out its path. A command window pops up. Again enter the RAR file name and its path in specified location.
3. In the last step, Press Enter button for unlocking the file but before this perform all commands and save the file as .bat extension e.g. file.bat. As soon as the Enter key is pressed, searching of the password of that file starts, whose path and the name has been mentioned in the command window.
Above method of hacking RAR password is easy but not that accurate. Sometimes it gives you the password but many times it fails and hence you should not always rely on it.
Solution 2. Hack Password from RAR File Online
When you need to unlock the RAR file, the first solution in mind is to find an online tool. Countless solutions are available online, but most of them waste time and do nothing. The more convenient way of unlocking the RAR file without any software is the use of RAR File Online.
It just converts the desired locked file into an unlocked zip file. Its working is described in the following steps:
1. After opening Online Zip converter, upload the desired locked file as shown in the screenshot.
2. Click the convert file button. As a result, an unlocked zip file will be generated. After that download the unlocked file.


No doubt it is the simplest method but it converts the RAR file into a zipped file. If someone does not want to lose its RAR file then it is useless.
Solution 3. Hack RAR Password with Third-party Software
If you have PassFab for RAR software, you do not need to worry about the locked RAR files because it can unlock them easily and quickly. Furthermore, it works accurately for all the encrypted and compressed files. It basically unlocks the files through three attacks. These are Brute-Force, Brute-Force with mask and Dictionary attack.
Brute-Force with masking attack is faster than brute-force because brute force attack tries all the possible combinations (when you have no information about password) but if you know even a little part of it, then there are less number of possible combinations available (Brute-Force with Mask). Last attack is the fastest attack because it is based on self-created dictionary.
As compare to other possible solutions, it is a quick method because it is designed on the basis of new searched algorithm with innovative SSE technology. It is also compatible with Multi-core CPUs, GPUs, NVDIA CUDA and ATI OpenCL GPUs.
It not only cracks the forgotten password but also displays the forgotten password. Following steps are followed for RAR password recovery.
Step 1. Download and install this software and lauch it.
Step 2. Add the Path of the locked RAR file.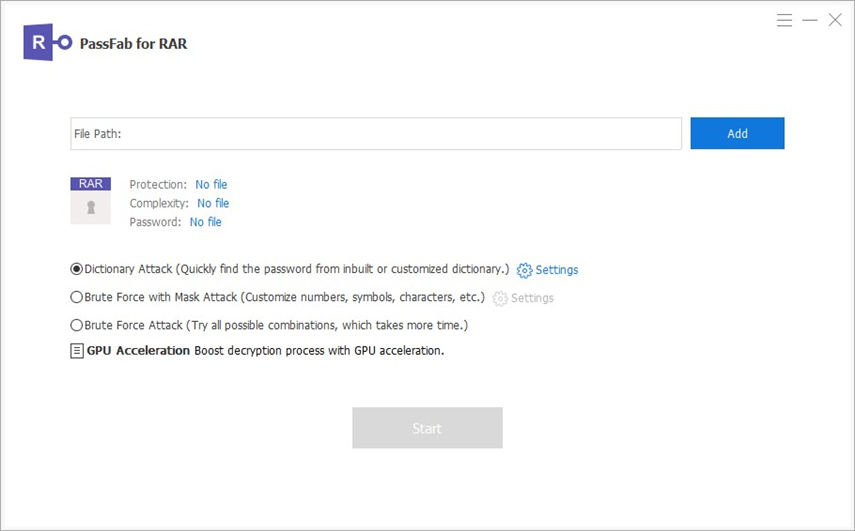 Step 3. Select from one of the three possible attack choices.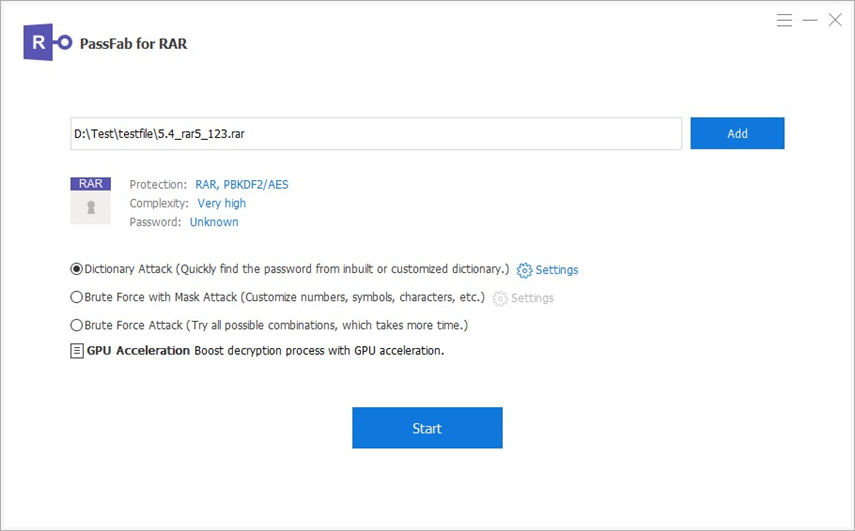 The dictionary attack is the quickest. The latest dictionary can be downloaded. A default dictionary is available but you can add your own. It includes famous combinations which are mostly used by people in passwords. If you are blind about the password, then choose Brute-Force attack.
Step 4. The last step is to hit the start button soon RAR files will be unlocked. Now you can decrypt RAR password successfully.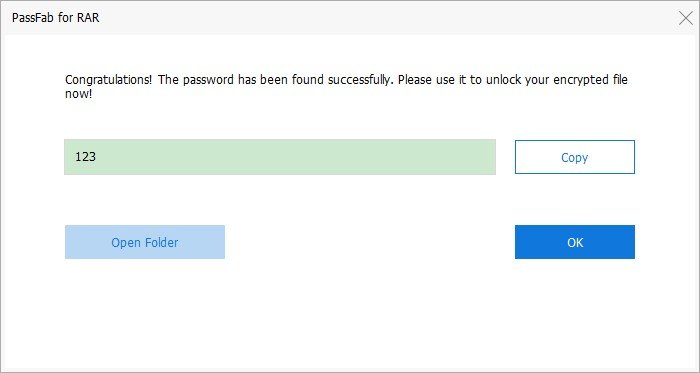 While selecting the option of attack one must be careful because the attack type decides the speed of the process. Quickest among them is dictionary attack but if you remember 2 or 3 letters of your password then try Brute-Force with mask attack.
Summary
Some popular RAR password hackers have been explained in this article. Some of them require software and other works without any software. One of them is based on CMD and Notepad. The methods to use them are explained briefly. You can also bypass RAR password by using PassFab for RAR. If you have any other questions, please leave the message below to let us know!