WinRAR is a competing product to WinZip; these products compress/decompress and archive files. It might also occur that you save an important ZIP or RAR file on your computer for a period time and set a password on it to avoid unwanted people from taking a look at its content but, when you decided to check the files, you can't recall the password again! If you forget your RAR file password, don't panic, it is not a big deal. In this article, I will share some amazing methods to hack WinRAR password.
What do you do with a password protected WinRAR archive? You hack it - naturally. And how do you hack it? Follow this article to learn how to hack RAR password. In the next part of this write-up, I will list four amazing methods to hack RAR password.
There are countless ways to hack WinRAR password, but by the end of implementing these four amazing methods, you are on your way to becoming WinRAR password hacker.
Method 1. RAR Password Hacks with Frequently-used Ones
If you want to hack WinRAR password, you will have to think like a hacker. What I mean by thinking like a hacker is that you will have to start following their basic practices. As you already know that 99% of the people set passwords that are meaningful to them (For example, number of their car, name of their pet, Social Security Number, etc.) otherwise, it would be quite difficult for them to remember, DO YOU AGREE? So, as a starte, a hacker would find the information about the person who set the password so that he/she can guess it. Why can't we do the same? Who knows an individual better than himself/herself. Many people set some common and easy passwords like qwerty, 12345, name786, etc.
So, before trying anything else, we can try to guess our passwords and try most commonly used passwords, it's worth a shot.
Step 1: Open RAR File.
Step 2: Extract the files/data in the RAR file to your desired location.
Step 3: A new dialog box will open and will ask you to enter the password before the extraction process can take place. Enter your guesses, who knows if your guess is right.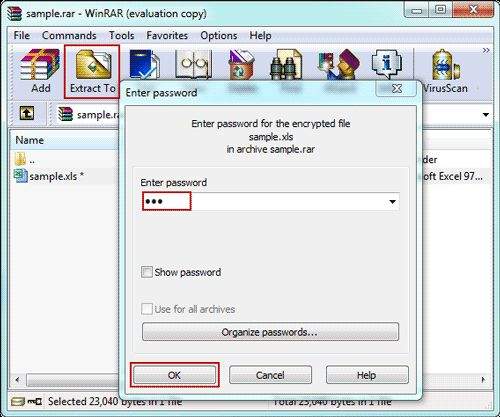 If you are lucky enough to guess the password, the extraction process will start right away and you will get your uncompressed files.
But if this method is not working for you, don't worry. You can bypass WinRAR password easily with this article.
Method 2. Hack WinRAR Archive Password with Notepad/CMD
Most of the time we use various software to recover the password. But we can also do this without the help of any software. All you need is a built-in tool in Windows "Notepad". There are a few Notepad tricks to unlock WinRAR password, one of those tricks have been explained below in detail
Note: This method works only on RAR files and is able to hack numeric passwords only. You should have WinRAR installed to make this password cracker.
Below are the steps with notepad:
Step 1: Create a new folder with a name 'RARCrack.'
Step 2: Launch the notepad and paste the code below.
TITLE PASSWORD HACKER
ECHO OFF
COLOR 03
SET PSWD=0
SET DEST=%TEMP%\%RANDOM%
MD %DEST%
CLS
ECHO.
ECHO Drag and drop the archive into this window...
ECHO.
SET/P NAME=
IF EXIST "%NAME%" GOTO START
:PATH
CLS
ECHO.
ECHO Cannot find the file specified. Please enter the archive path...
ECHO.
SET/P NAME=
IF EXIST "%NAME%" GOTO START
GOTO PATH
:START
CLS
SET /A PSWD=%PSWD%+1
ECHO.
ECHO GENERATING PASSWORDS...
ECHO CURRENT PASSWORD = %PSWD%
UNRAR E -INUL -P%PSWD% "%NAME%" "%DEST%"
IF /I %ERRORLEVEL% EQU 0 GOTO FINISH
GOTO START
:FINISH
RD %DEST% /Q /S
CLS
ECHO.
ECHO PASSWORD FOUND!
PAUSE>NUL
CLS
ECHO.
ECHO FILE = %NAME%
ECHO HACKED PASSWORD = %PSWD%
PAUSE>NUL
EXIT
Step 3: Select Save to save the code as RARCrack.bat into the folder you make in step number 1.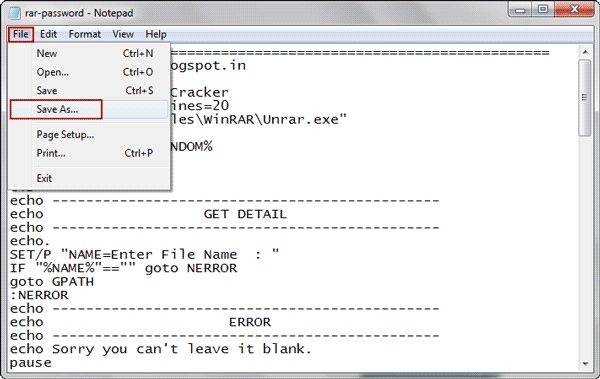 Step 4: Last of all, surf to the folder where WinRAR is set up. Usually, this will be C:\Program Files\WinRAR. Find a file known as UnRAR.exe and duplicate it into the folder you created on Stage 1.
Step 5: Start using the security password cracker! (Open the group file)
Note: Remember to keep both the batch file and UnRAR.exe in the same folder. Or else the program won't work. Don't rename the UnRAR.exe.This password cracker can crack only numeric passwords.This password cracker cannot crack passwords starting with 0 (zero).
Method 3. Win RAR Password Hack Online
Many online services offer to hack RAR protected files. lostmypass.com/file-types/rar/ unlocks your RAR password-protected files if you upload them to their online server and after decoding the password, they will provide you with a new RAR file to download, it will be a different file, but it would contain the same data as your original file. Here's how to do that:
Step 1: Open your favorite browser and visit http://www/lostmypass.com/file-types/rar/
Step 2: Wait for the website to load and then click on "Uncompress Files."
Step 3: Now, locate the RAR file from your system and click the "Uncompress File."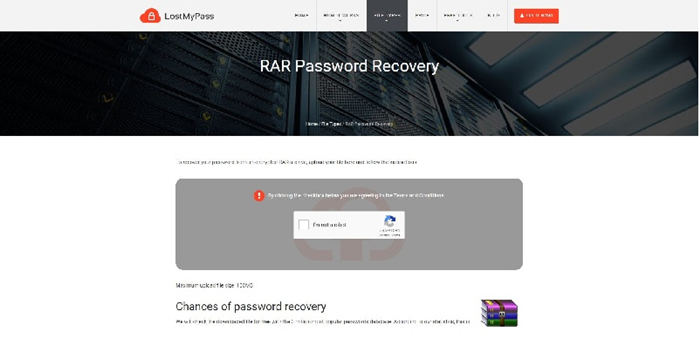 Step 4: Wait for the website for the decompressing operation to be done in order to remove the password from your RAR file. Once it is done, it will provide you a new download link with the data that you wanted to unlock.
For me, the online unlocking service is not recommended because there is a high chance of data leakage.
Method 4. Hack WinRAR Password with Win RAR Password Hacker
To hack the password of RAR files all you need to do is to use a software called PassFab for RAR, which will help you to achieve your task. PassFab for RAR is a powerful password recovery tool that is famous for high speed and hacking the difficult password algorithms. It facilitates all the software that creates the RAR archives. In the steps described ahead, I'll explain how to hack WinRAR password. Follow the steps below:
Step 1: Download and Install this RAR password recovery software.
Step 2: Click on "Add" button there and find your RAR file that is protected with a password.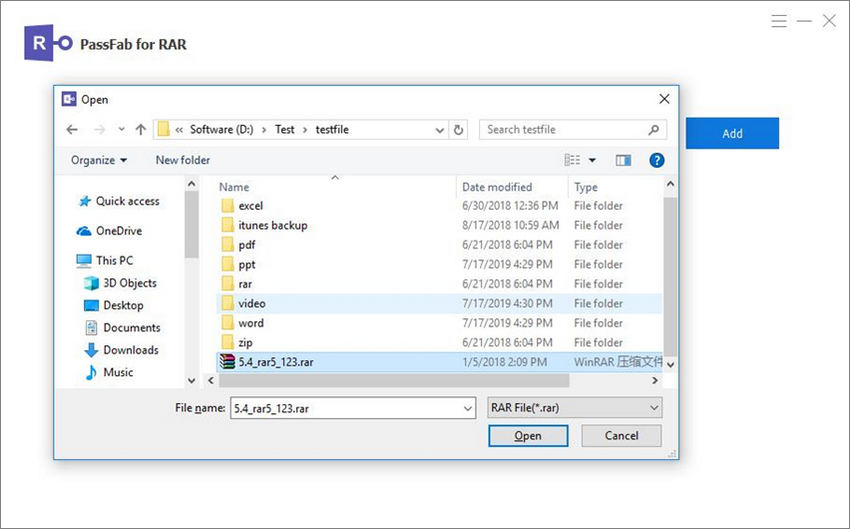 Step 3: Now you need to choose the attack type that you want to perform to unlock your RAR files. If one not work keep on trying another one. Then just click on the start icon.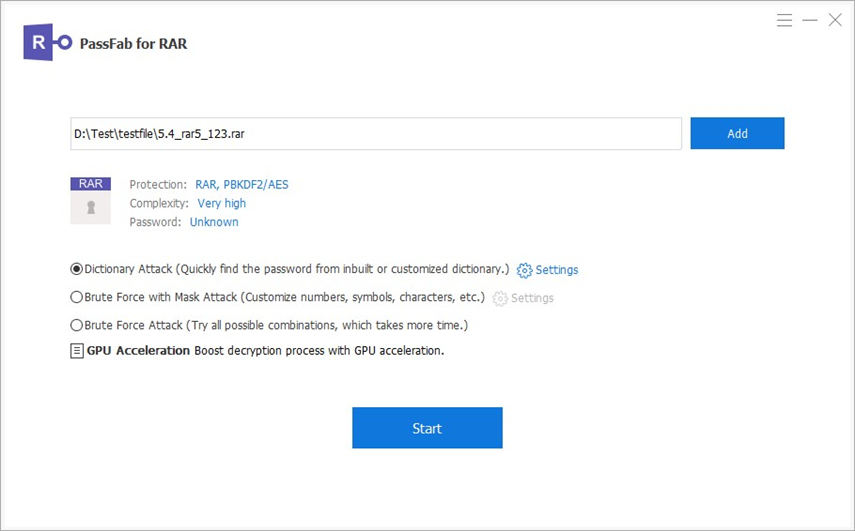 Step 4: This will show you RAR password once it is found. Use the password, and open password protected RAR files when it is done.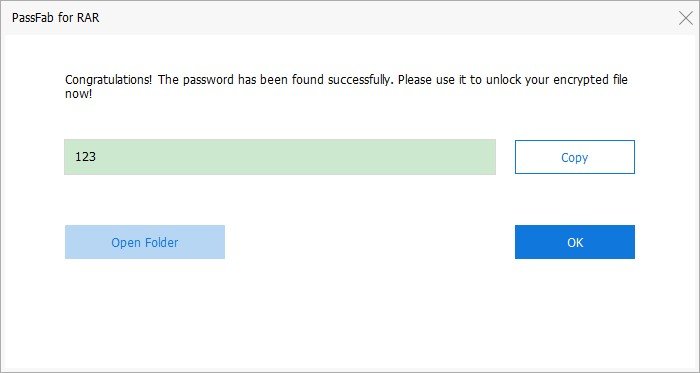 Summary
In summary, using these four methods, you can hack the password of your RAR file without any issue. All of theme methods have some limitations except PassFab for RAR. We recommend using it because of its user-frienliness, fast speed, and integrity. It is the only tool on which you can relly to hack all kinds of RAR passwords no matter what. So, get it now, and get the files extracted from the protected RAR files. From now on there're no worries about WinRAR password forgot.