Remembering passwords can be a difficult task, especially when you have a lot of accounts and even more files to protect. You can't even write passwords at random places because there is always at risk of the passwords being stolen and accounts being hacked. Unless you are using a strong password manager, forgetting passwords is something that will happen after every short while so you should know how to deal with the issue. A similar issue is to recover RAR file password. It gets difficult to carry out the process manually which is why a software approach is recommended. Below we are going to talk about few of the RAR file password crackers and see which of them the best RAR password cracker is.
1. PassFab for RAR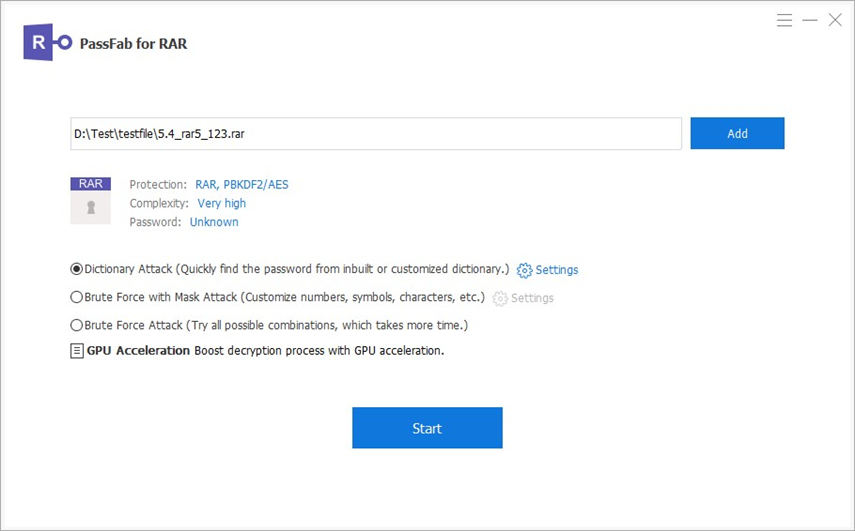 Amongst all the RAR password crackers available in the market, PassFab for RAR is one that clearly tops the list. It is a highly efficient recovery tool that uses a combination of three different attack modes to recover the password, which is why there is a 100% recovery rate.
Key Features:
Highly efficient three attack forces
Advanced SSE technology and search algorithm
Passwords recovered at high speed
2. RAR Password Unlocker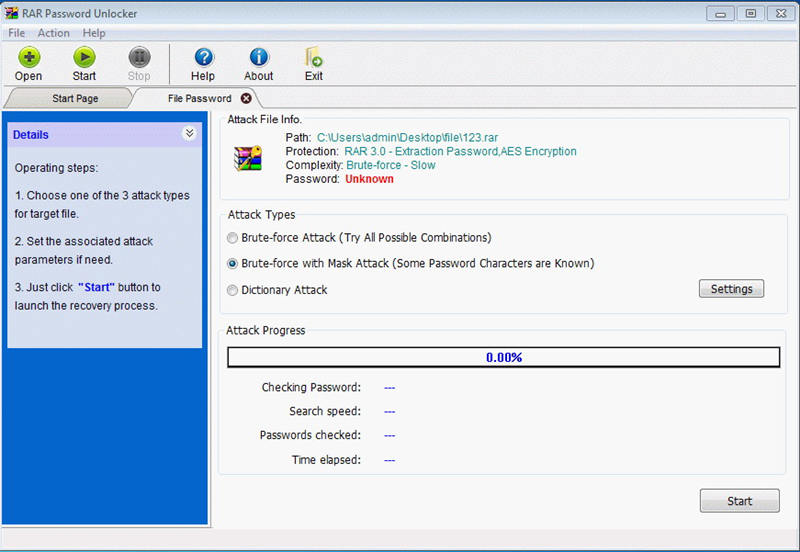 RAR Password Unlocker recovers passwords for all RAR file archives. It uses Brute-force Attack, Dictionary Attack and Brute-force Attack with Mask for recovering the lost password. Just drag and drop the file in the software window and your password will be cracked.
3. KRylack RAR Password Recovery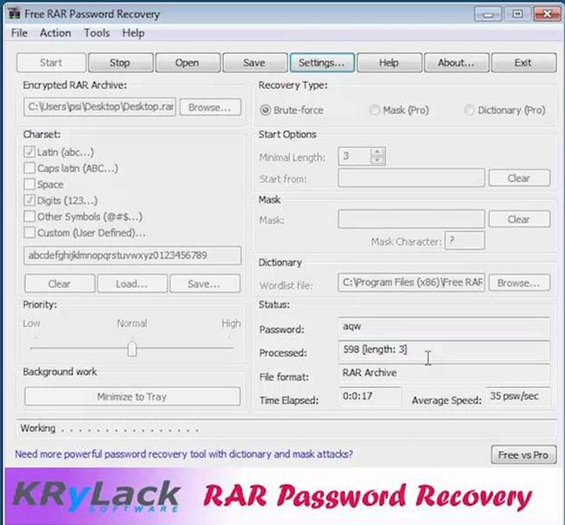 KRylack RAR Password Recovery can recover lost and forgotten RAR archives for version 3 and 4 along with ZIP and ACE archives. It uses three types of attacks Brute force attack, brute force attack with mask and dictionary attack.
4. Crark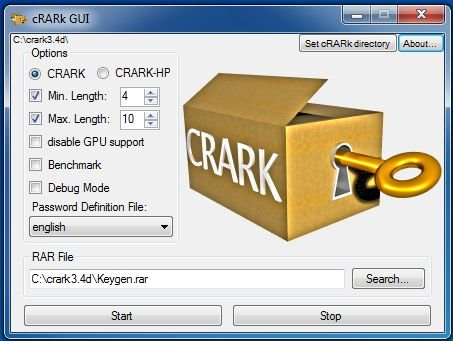 Crark is one of the fastest RAR password recovery software options that works for all RAR versions. It works efficiently if you remember any information related to the forgotten password. Passwords longer than 6 to 7 characters are very difficult to crack if you do not remember any information related to the password.
5. iSumsoft RAR Password Refixer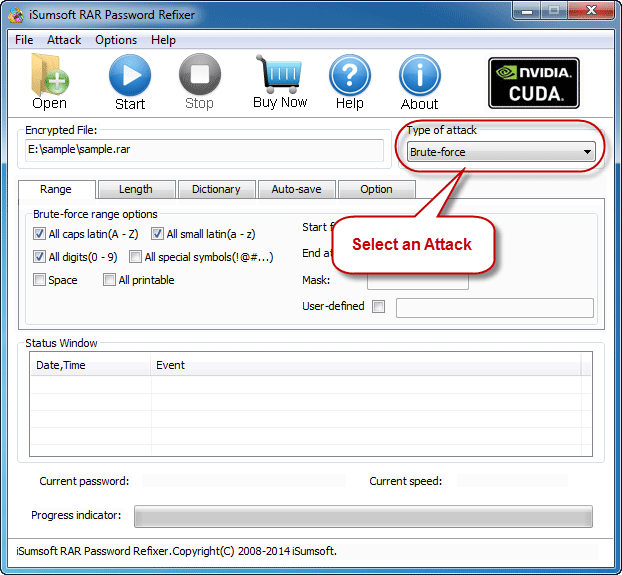 iSumsoft RAR Password Refixer software helps recover password for RAR and WinRAR files. It recovers passwords in the shortest time and that too without any data loss or file damage. Download and install the Refixer and click the "Open" button. Choose one of the recovery type options from drop down menu and recover password.
6. iSunshare RAR Password Genius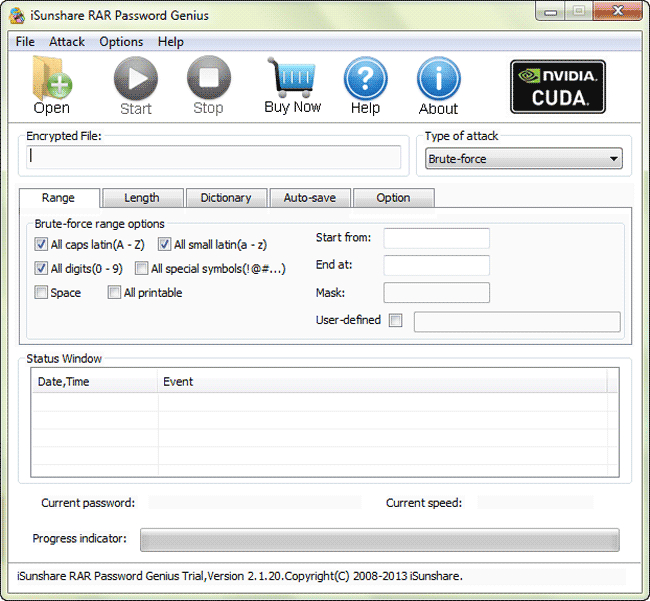 iSunshare RAR Password Genius is a very powerful and advanced password recovery software that can recover passwords for RAR and WinRAR archives lost or forgotten password. You can stop and resume the recovery process as per your wish. Free technical support is always there in case you need it.
7. Accent RAR Password Recovery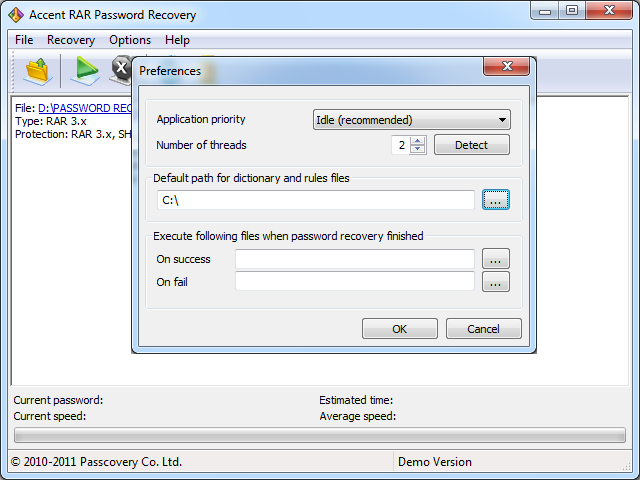 Accent RAR Password Recovery utilizes the modern and advanced algorithm to recover lost RAR password. The algorithm has been developed specially for NVIDIA and AMD graphic cards and this increases its recovering speed up to 40 times. It utilizes brute, brute force with mask and dictionary attacks.
8. Atomic RAR Password Recovery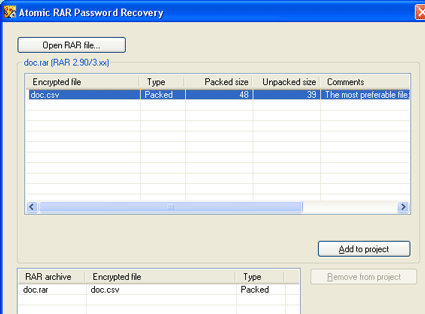 Atomic RAR Password Recovery is designed to restore the lost passwords for the WinRAR archives. The speed of password recovery depends on the version of the archived file. Recovery for older versions will be faster. However, the password cannot be recovered instantaneously as it requires a lot of resources. It is best for passwords with less than 5 characters as it uses brute force attack to search for the password.
9. Intelore RAR Password Recovery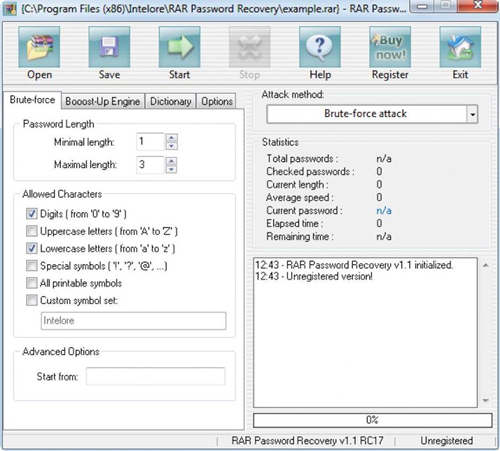 If you want to recover password for WinRAR/RAR archives for versions 2x or 3x then Intelore RAR Password Recovery is an option for you. It works at a very high speed i.e. for brute force attack - 3000 passwords per second while for boost-up mode the speed is 22000 passwords per second.
10. Daossoft RAR Password Rescuer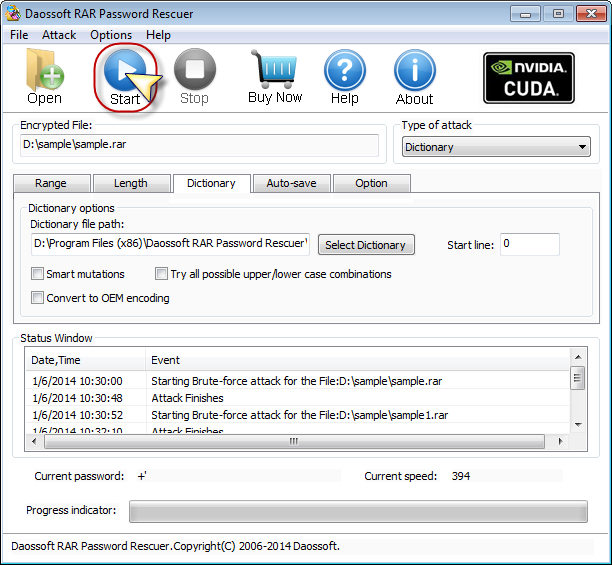 Daossoft RAR Password Rescuer, this RAR password recovery tool,can work for all RAR archives. Its processing speed is pretty high as it uses multi-core CPU and it can recover lost passwords within seconds. You can also set the program priority and more CPU power will be allocated to it. The more CPU cores result in faster password recovery speed.
11. Top Password RAR password Recovery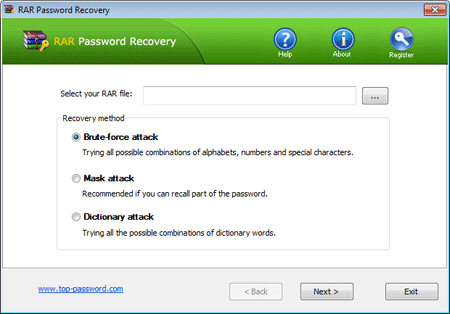 Top Password RAR Password Recovery can be used for all types of RAR files regardless of the compression and encryption algorithm and has a very simple user interface. You can speed up the process by taking advantage of the multi-threading technology.
12. Asunsoft RAR Password Geeker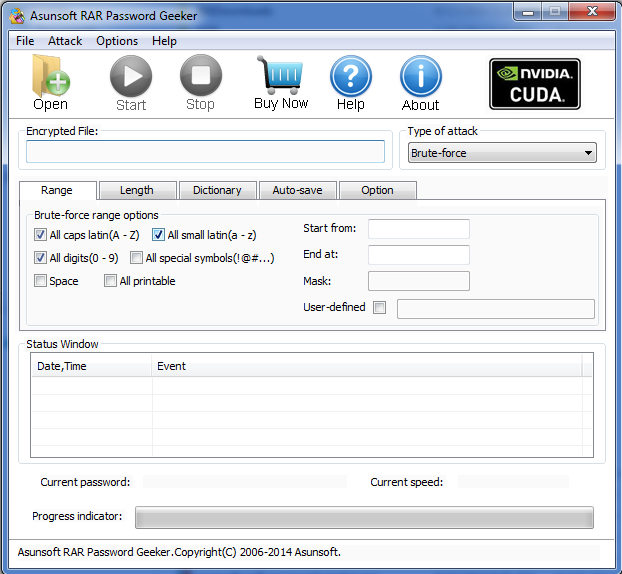 Asunsoft RAR Password Geeker can recover your lost RAR password in only a few minutes and you can also use multi-core to speed up the recovery process. If the password recovery process is suspended, then it will resume automatically the next time. The computer will also shut down automatically when the password recovery is done. Free and timely tech support is always there for you to avail.
13. Stellar Phoenix RAR Password Recovery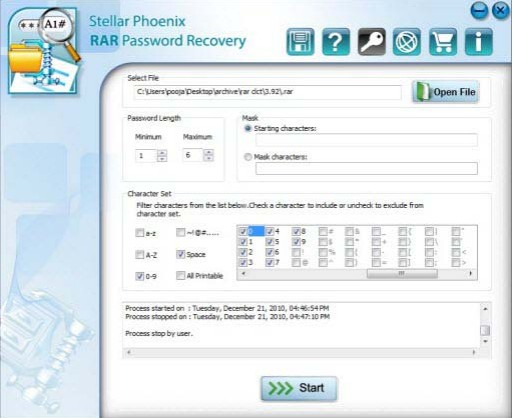 Stellar Phoenix RAR Password Recovery uses brute force attack to recover the password. It can use all the character combinations and provides result in shortest time span. You can specify the password length, limit character lengths and even use masking option to ensure precise and speedy recovery.
14. Vodusoft RAR Password Recovery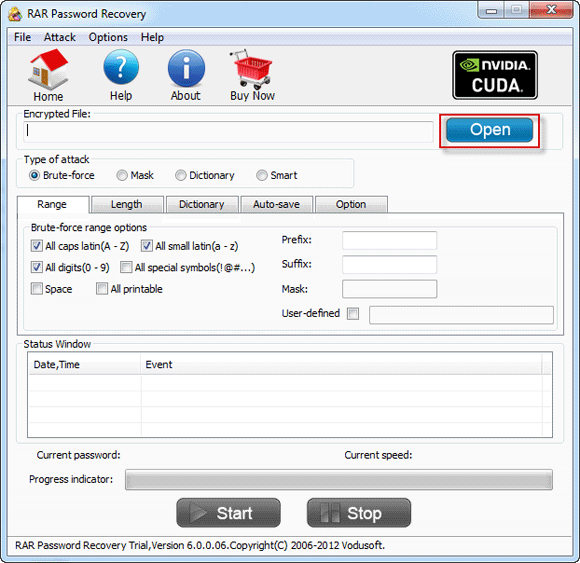 Vodusoft RAR Password Recovery uses three powerful attacks Brute-Force, Dictionary Attack and Brute-force with Mask Attacks. It can also use video card hardware and multicore CPU to decrypt RAR password.
15. Appnimi RAR Password Unlocker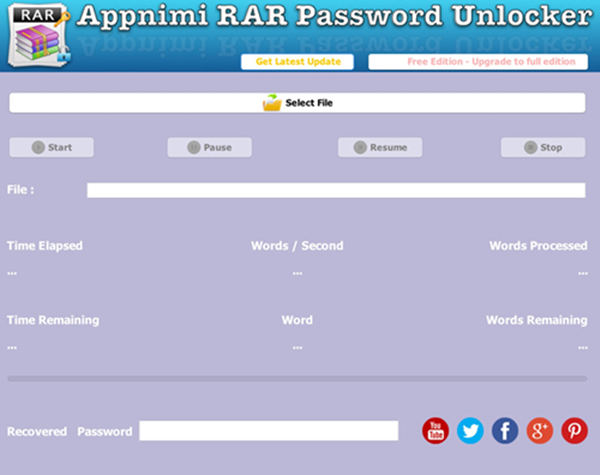 If you have lost or forgotten password for an old RAR file, then Appnimi RAR Password Unlocker is there to help you bypass RAR password. This software is easy-to-install and easy-to-use. All you need to do for recovering your password is just to drag and drop your file to the program window. You are able to start, pause, resume or stop the recovery process.
Conclusion
From the above article, it must now be very clear to you on how you can recover your RAR password if it is lost or forgotten. RAR file password crackers are easily available online, all you have to do is buy or download their free links to start the process. You will find software for all the operating systems, for instance RAR password cracker Mac systems. Nonetheless, PassFab for RAR, this RAR password recovery tool is efficient than most of the software offering the best value.