RAR is a very amazing and efficient tool used to compress as many files as you want at one place. It is the other form of Zip software. The main difference between these two is, RAR is used to make the compressed file size much smaller as compared to Zip. RAR provides a very smooth privacy option by letting the user apply password on the folder so that no other person can unlock RAR password.
Why People Want to Unlock Their RAR Password?
People apply a password to their RAR folder while sending their folder to another company or when they want no other person to view or edit their personal files. The issue arrives when a user forgets the password he/she set to their RAR folder. Not all the people who use "RAR" software, know how to unlock RAR files without password.
There are many steps to unlock RAR password Mac as well. These amazing tricks work on almost every operating system and thus, is compatible with MacOS as well. In the following article, we will discuss how to unlock RAR password.
How to Unlock RAR File Password?
Unlocking your RAR file makes two cases, either you know the password for the file or you have forgotten the password. If you know the password, then it becomes very easy for a user to unlock a RAR file. Just open your file and it will ask you the password for it and if you enter the correct password, the RAR folder will open and you will be able to UnRAR the folder easily.
But, if you have forgotten the password, then it becomes an issue for you. There are no actual methods provided by RAR to recover the lost or forgotten password. People try and run online software and still fail. You can easily unlock your RAR password if you have forgotten the password for it, by just following these simple ways.
Solution 1. Unlock RAR Password with CMD
RAR files, once locked cannot be opened easily without a password. Even if you send the locked file to someone, they will receive it as a locked file, that is, they will have to enter the password to open that file first. CMD (Command Prompt) can be used in a very effective way to unlock RAR file without password.
If you cannot find any other way to unlock your RAR password, you can always make your own recovery tool. You can make a recovery tool by using a batch script. A batch script is a DOS file that contains a series of commands. A batch file is actually a plain file, with full of instructions or commands for Windows or any operating system.
You might be wondering, how come a batch file is linked to a command prompt? When you make a batch file ".bat" and you open it, it opens in command prompt automatically. To unlock your forgotten password for RAR file, you need to follow these simple steps.
Step 1: Open Notepad.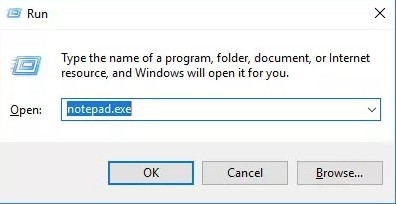 Step 2: In your Notepad file, enter the code for batch script that you can find easily on the internet.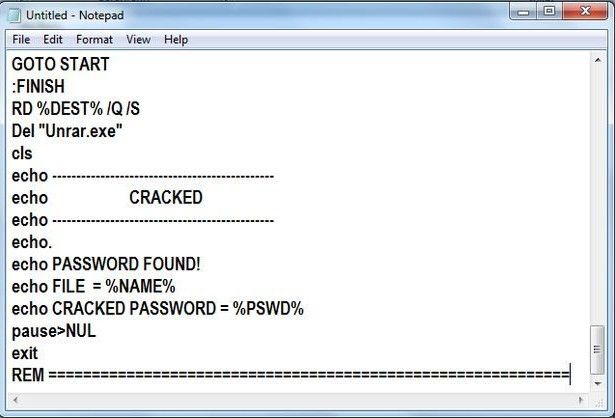 Step 3: After entering that code, just save the Notepad file as "Cracker.bat". Make sure that the extension to file is ".bat".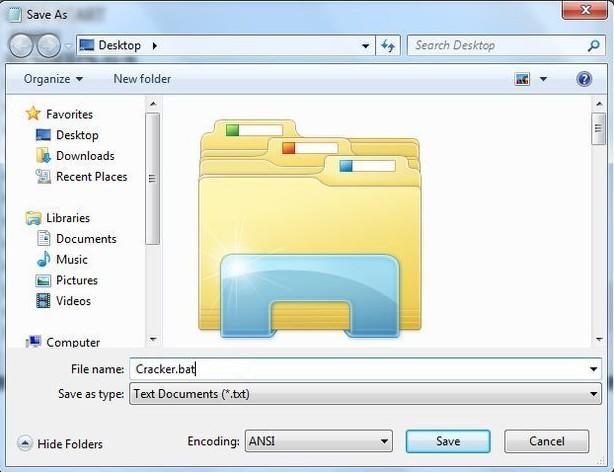 Step 4: Now go to the file and open it, it will open the command prompt. The command prompt screen will be asking for file name.
Step 5: Enter the name of your file that you want to unprotect. Remember to enter the extension with the name.
Step 6: Once you have entered the name, the command prompt will ask you about the location of the file. After entering the location of the file, press Enter.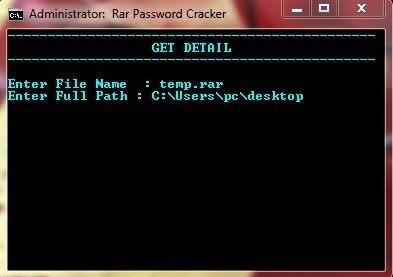 Step 7: Depending upon the length and complexity of your password the command prompt will take time to crack your password.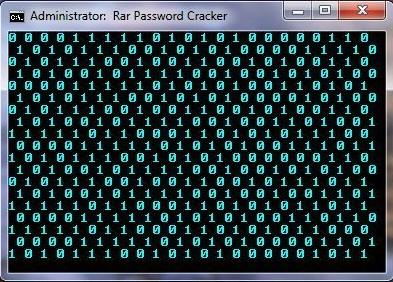 Step 8: Enter this password to decrypt your RAR file and it will be unprotected.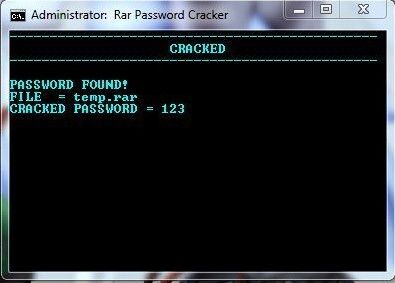 Solution 2. Unlock RAR Password with RAR Password Unlocker
If you cannot open the RAR password from the command prompt, we have another easy way through which you can unlock RAR password online. There is an online password recovery software known as PassFab for RAR. This amazing software promises 100% password recovery.
The software uses three kind of recovery attacks, Brute Force Attack (enters every possible combination and wait for it until the right combination matches), Brute-force with Mask Attack (when you know some of the characters from your password) and Dictionary attack (you create your own recovery dictionary). The dictionary attack is the fastest and recommendable for recovery.
The software has a very friendly interface which means you don't need any professional skills to use this software. To unlock your RAR file for whom you have forgotten the password for, you need to follow these simple steps.
Step 1: Download and run the software.
Step 2: Import the RAR folder in the software from whom you want to remove protection from.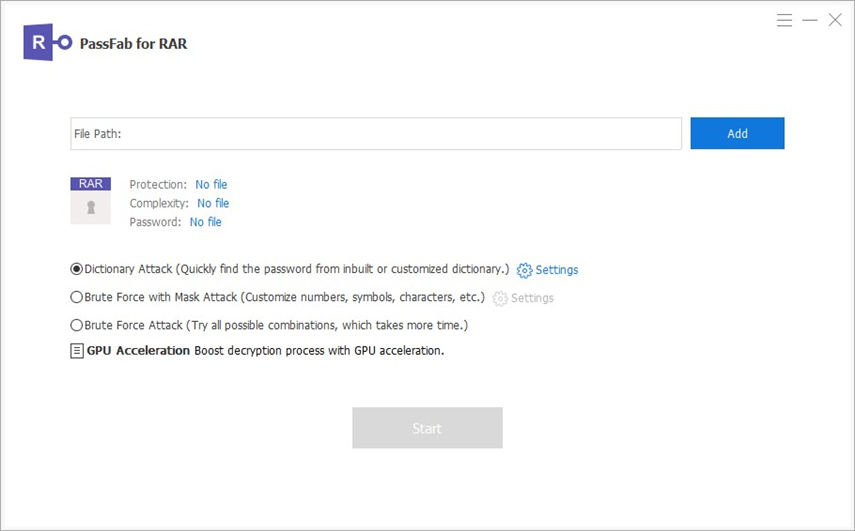 Step 3: Choose the type of attack through which the software will crack your password.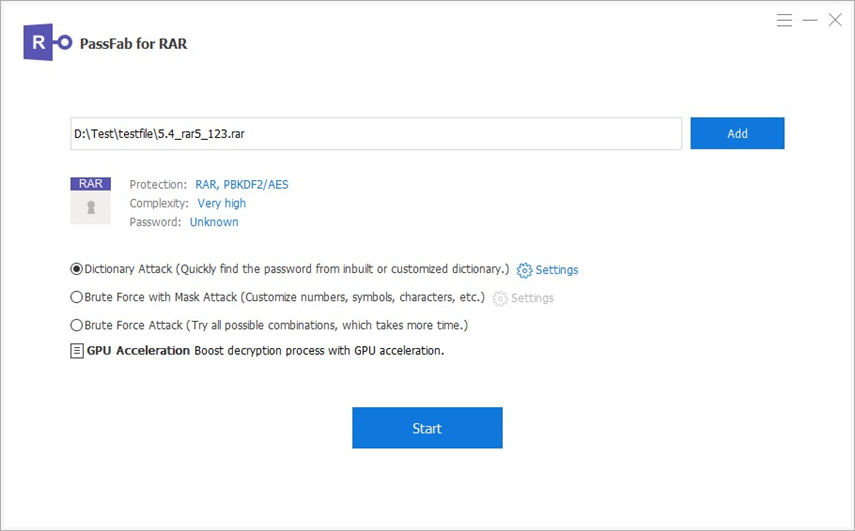 Step 4: Click on "Start" button and wait for the software to crack your password. The password will take time, depending upon the length and complexity of your password.
Step 5: Once the software is done, this RAR password recovery tool will provide you with a password that you can enter in your RAR file and your file will be unprotected.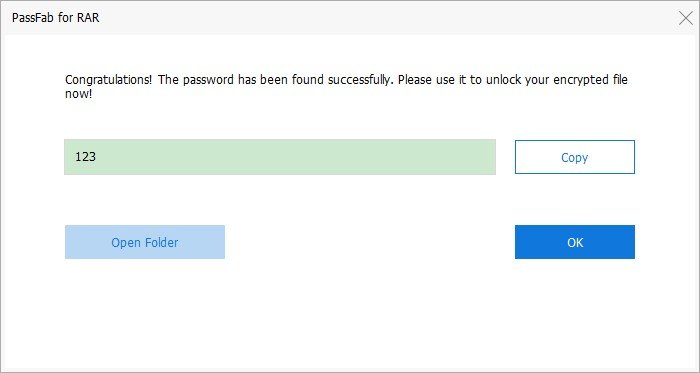 You can watch this video tutorial about how to use it:
Summary
RAR files are being used worldwide. People compress their precious files and apply password protection to them so that no other can update, delete or view their personal files. In the above article, we have seen that how can a user unlock RAR with a password, you can also use this tool to bypass RAR password. We have seen the other side of the picture as well. We have also seen that if the user forgets the RAR file password how he/she can access the file again. For such, we have shown a local method using Command prompt and we have also discussed an online method. If you can find any other useful information related to this article, please feel free to tell us and we will definitely look into it. Thank you.