The most common reason why people want to unlock their iPhone or have their phones unlocked is that it is definitely capable of working with every other carrier. It is simple as popping out the SIM card from the slot and replacing it with a different one to avail a better service. You may want to unlock your iPhone because you want to use another carrier with better plans or simply because you are visiting a country where your carrier does not work. So, in this article, we are going to discuss how to unlock iPhone using different methods.
Part 1: How to Unlock iPhone
Unlocking your iPhone implies that you can use it with different operators. Your iPhone may have been blocked by your provider. Take the following steps to contact your network operator and unlock your iPhone. If you do not want to change provider and your device is locked because you have forgotten the PIN, Apple cannot unlock your iPhone for use, only your operator can unlock your iPhone.
First of all, you have to check whether your operator offers an unlock because only your operator can unlock your iPhone. Call your operator and ask for an unlock. Your account may need to meet the unlocking requirements. If you meet the requirements, just send a request to your operator. After the request is sent, the treatment may take several days. Contact your network operator for information about the status of your request.
If you have a SIM from a different operator than your current operator. Follow these steps to complete unlocking your iPhone:
Backup your iPhone using iTunes on Windows or Mac.
Once the backup is complete, reset your iPhone.
Restore your iPhone from the backup you have just made.
You may see this message in iTunes or on your device: "The SIM card inserted in this iPhone doesn't appear to be supported," only compatible SIM cards from a supported email provider can be used to activate iPhone. Insert the SIM card that was delivered with your iPhone or visit a supported transport store.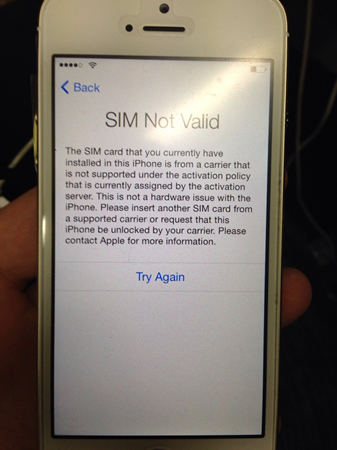 If you see this text, follow these steps:
Restore your iPhone to the factory settings.
Contact your service provider to ensure that they have unlocked your iPhone in their system. For instance, if your iPhone is operated by AT&T, then you have to unlock AT&T iPhone.
Restore your iPhone from a backup.
Part 2: How to Unlock iPhone Passcode
Did you forget your iPhone passcode and cannot open it? Are you still looking for an answer to the question "how to unlock disabled iPhone"? Well, do not worry, if you have forgotten the passcode on your iPhone, and would like to unlock iPhone 7 or other iPhone types, all you have to do is restore the device.
Please note that restoring your iPhone removes all your data (songs, photos, videos, applications, etc.) from the iPhone, so, make sure to back it up using iTunes.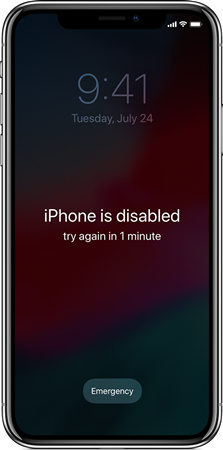 Alternative 1. Unlock iPhone Passcode Using iTunes
If you've already synced your iPhone with iTunes on a Mac or Windows computer, you can usually save recent add-ons to your iPhone by connecting them to the same machine that you used previously without entering the verification code.
Apple's official instructions for restoring an iTunes and iPhone are:
Connect your iPhone to your computer [which you have already used to synchronize the device].
In iTunes, choose the iPhone in the "Devices" list and then "Summary" at the top of the screen.
If iTunes does not sync your iPhone automatically, do it manually [and confirm that synchronization and backup have been successful.]
Click on "Search for updates." iTunes tells you whether a newer version of the iPhone software is available.
Click Restore. Follow the on-screen instructions to complete the recovery process. When restoring it, it is recommended to back up [the iPhone] when prompted.
When the iOS setup wizard asks you to set up your iPhone, choose "Restore via iTunes Backup," your device in iTunes, and choose the latest backup of your iPhone.
After this process, your iPhone needs to be restored with the information from the last backup, but the authentication code is no longer activated. It is wise to think carefully before defining another code or using the code function again.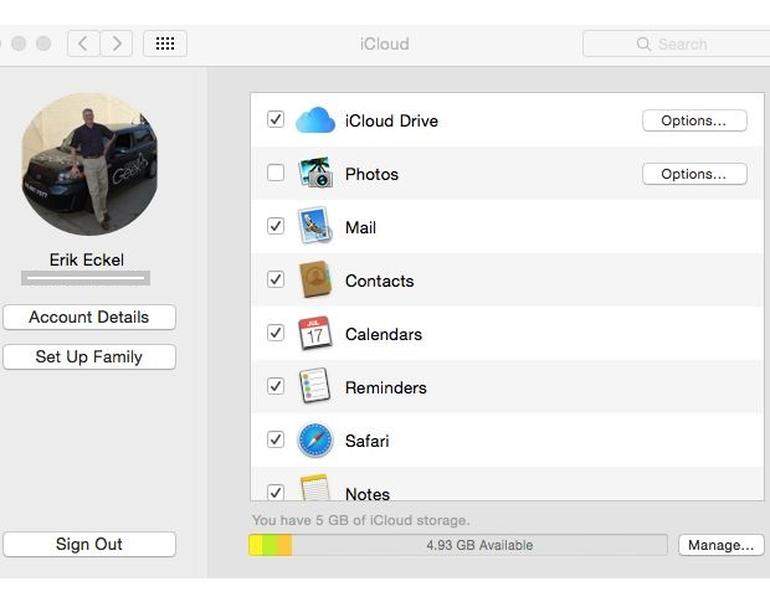 Alternative 2. Unlock iPhone Passcode Using PassFab iPhone Unlocker
Another professional way is to make use of PassFab iPhone Unlocker to unlock iPhone passcode when it is disabled or locked. What't more, it can also unlock Apple ID and remove MDM. It supports iPhone, iPad and iPod touch. You can see how to use it as below:
Step 1. Launch this software and then choose "Unlock Lock Screen Passcode" option.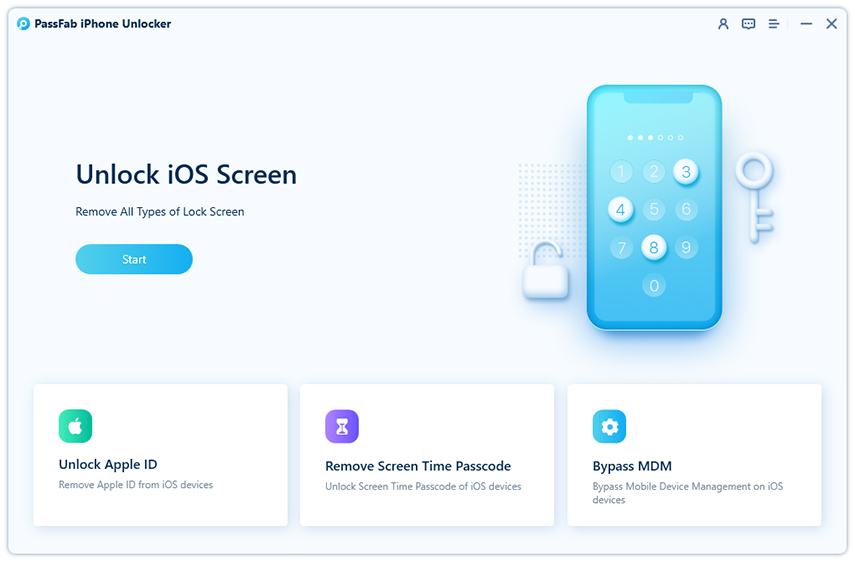 Step 2. Conect your device to the computer that installed this unlocker. Click "Start" button. Then enable it to enter recovery mode.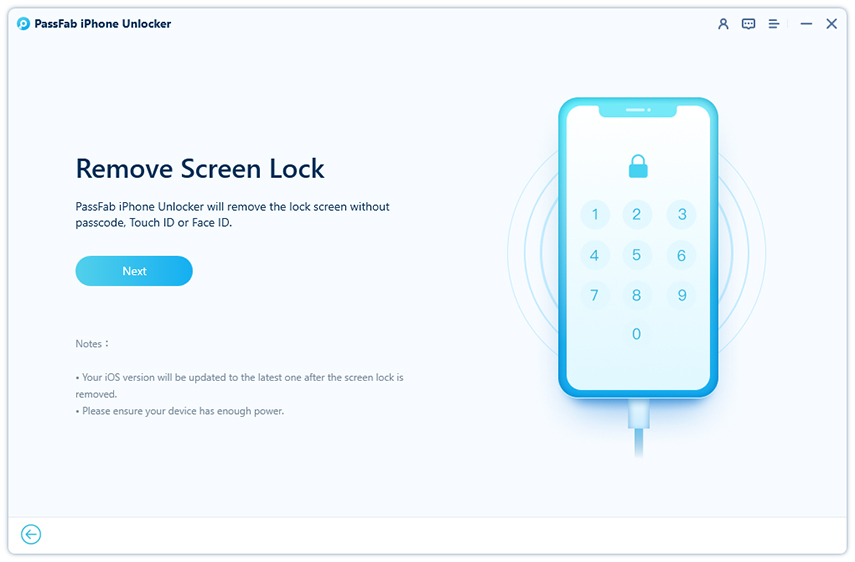 Step 3. Download firmware package and then click "Start Unlock" button.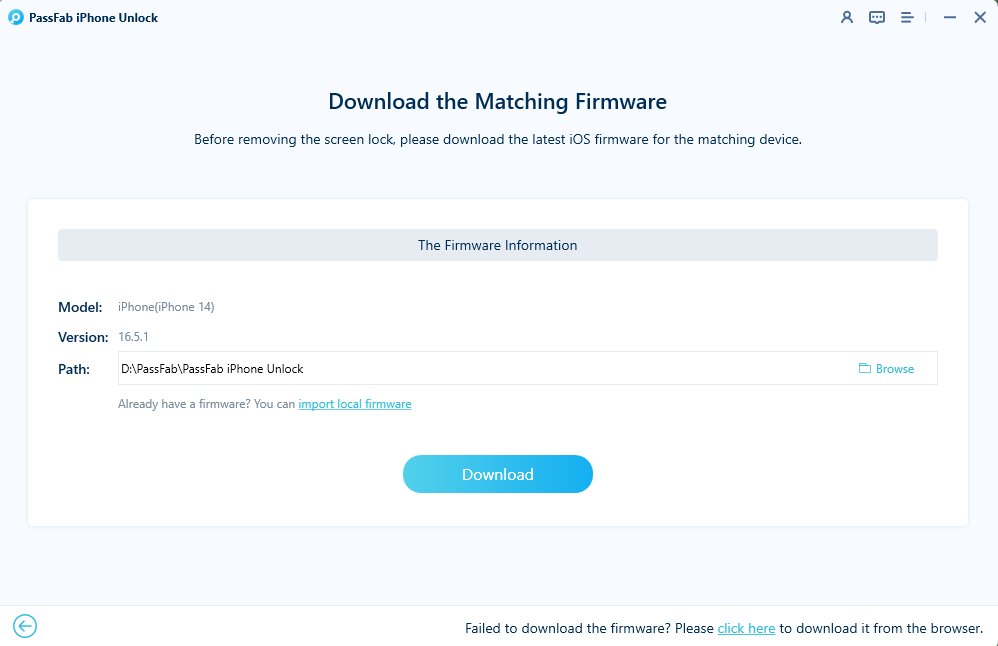 Step 4. After a while, you passcode will be removed in a successful way.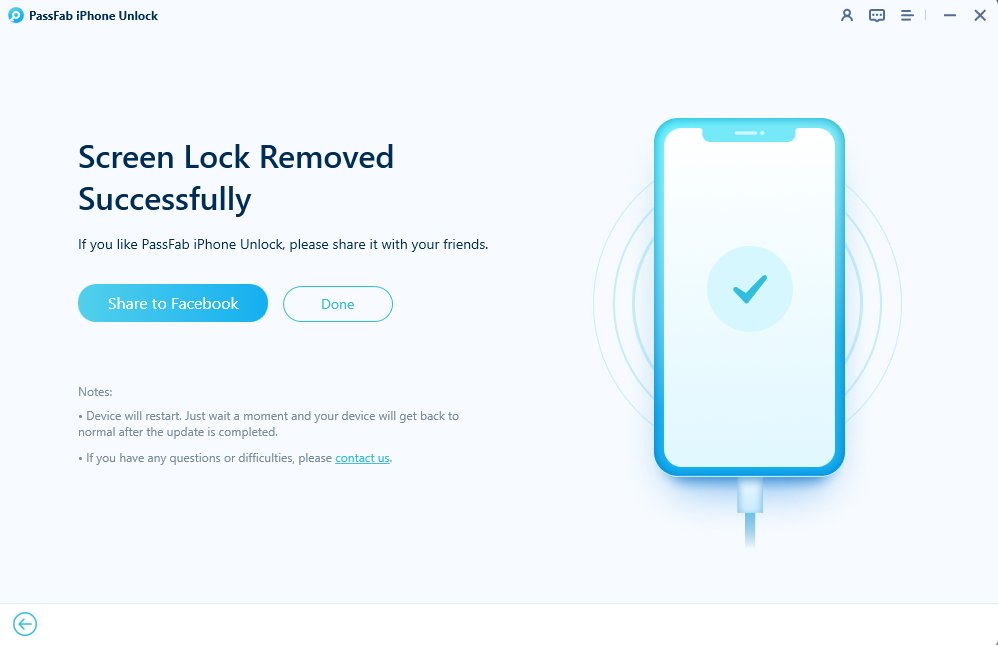 Part 3: How to Unlock iPhone Backup Password
Have you forgotten your password for your iPhone/iPad backup file? A password-unlocking utility, such as PassFab iPhone Backup Unlocker, is necessary and saves you a lot of problems. It provides a unique way to unlock the password for the iOS device backup file. With built-in GPU acceleration and advanced algorithmic support, unlocking iTunes backup files for iPhone, iPad and iPod Touch has never been easier.
PassFab iPhone Backup Unlocker is a proven software to unlock, and it has worked for thousands. It allows you to unlock up to 5 iPhones so the whole family can have their phones unlocked. With this tool, you will be able to get your iPhone backupo password unlocked in a short time.
This program is designed to unlock the forgotten iTunes backup password for iPhone, iPad, and iPod. You can restore everything from the backup file including address books, call logs, SMS archives, calendars, camera images, voicemail and e-mail settings, applications, web browser history, and cache. You can also use it to delete your backup password.
Here is how to unlock iPhone password without a password using this iTunes backup unlocker.
Step 1: Download and Preparation
Download PassFab iPhone Backup Unlocker on a computer. With trial versions, you can see what the user interface looks like and enjoy the ease of use of the software, while you can view the various available iTunes backups for which you want to decrypt the password.
Step 2: Import the iTunes backup file
Start iPhone Backup Unlocker after installation. You may be asked to upgrade the dictionary library. This update is automatic and will take some time. Now click the "Add" button. Choose your encrypted backup file from the drop-down list and import it into this software.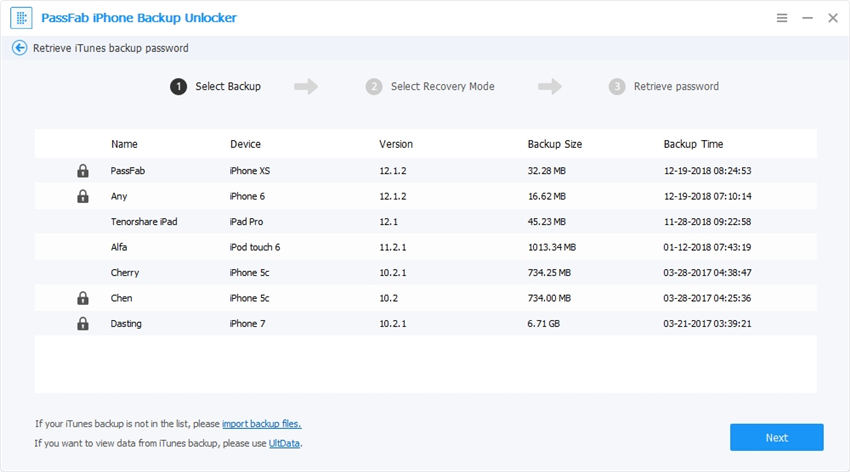 Step 3: Select Password Unlock Type
There are three password attack modes for your choice. Select the one that best suits your needs. You can also specify particular settings to shorten the password recovery process, such as the length of the password, possible characters, and so on. After choosing, press on start button to start the procedure.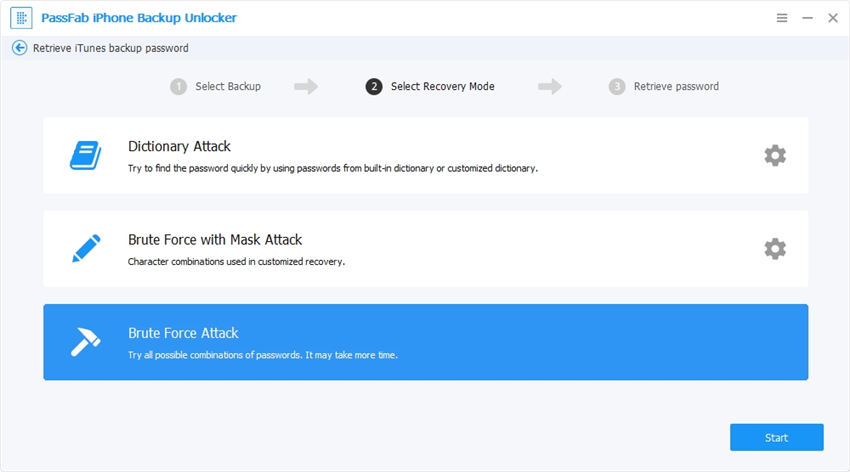 Step 4: Unlock iTunes Backup Password
Wait patiently until this program finds your password. Depending on how the complex the password is, the process can take several minutes to hours. You can then use the password found to decode the document file.
If this is successful, the password is displayed in the 'password' field. Copy it to your clipboard and start iTunes and paste the password when iTunes requests it. You can now restore all data in this backup.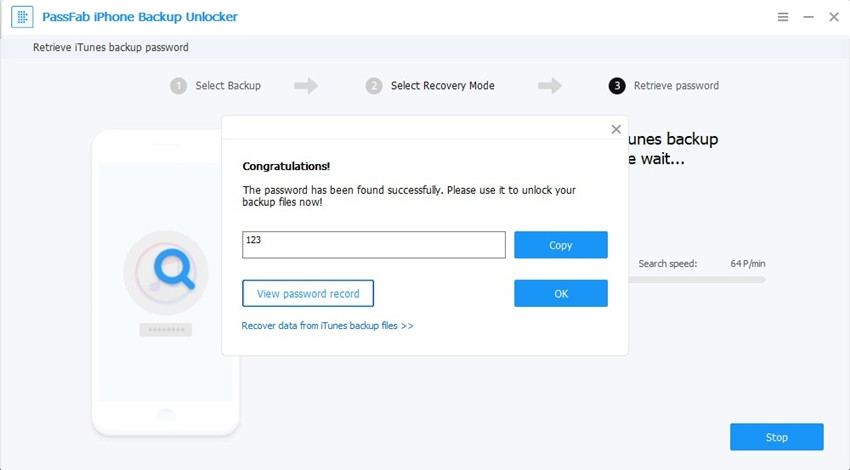 Here is a video guide about how to unlock iPhone backup password:
Summary
Now you have learned how to unlock iPhone, unlock iPhone passcode and how to unlock iPhone backup password clearly. Be patient because unlocking the iPhone is a complex process that can take a few hours if your password is complex and contains numbers and special characters.