FRP lock, or Factory Reset Protection, is one of Google's most secure locks on Android 5.1 and above. This lock protects the phone from getting unlocked without a password, even if it is your own phone. However, if you forgot the login credentials of your Samsung phone, this can also lead you to trouble.
But don't worry, this article will tell you solutions and tips about Samsung J6 FRP bypass .
Part 1: Fast Way to Bypass Samsung J6 FRP with PC [Recommended]
Bypassing an FRP lock on Samsung J6 is a challenging task. You might face real complications when trying to remove the connected Google account from your Samsung phone. However, different ways can help you remove the FRP lock without any hassle.
Here we recommend you the most effective and easiest way to bypass FRP on Samsung Galaxy J6 by using PassFab Android Unlocker .
If you are using a Samsung J6, the tool can break the lock without any data loss. This is something great since you will recover all your data even after breaking the FRP lock. Let's discuss some of the insights on the tool, with steps to bypass the lock.
1.Why Should I Use PassFab Bypass Tool for Samsung J6 FRP Unlock?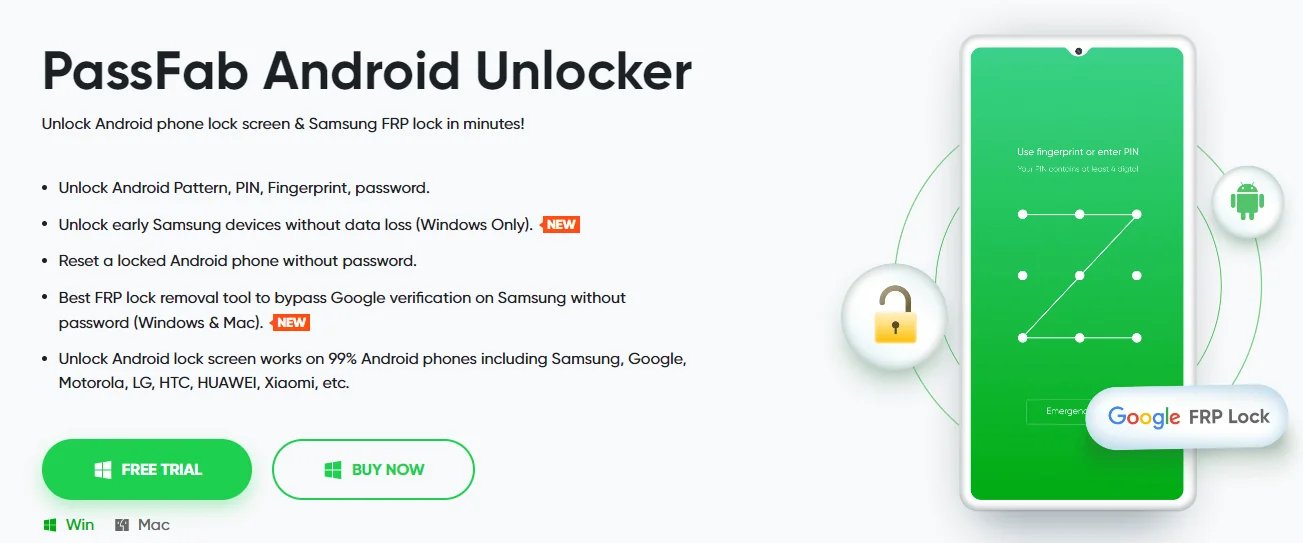 Effectively Bypass FRP Lock

100% high success rate to bypass FRP lock on Samsung galaxy, including Samsung Galaxy J6, Samsung Galaxy J8 and so on. PassFab Android Unlocker also supports Samsung devices of Andriod 6/7/8/9/10/11/12, including S21.

The worth of the tool increases even more if you have an older Samsung phone since now you can bypass the lock without any data loss.

Easy to Follow Steps

This Samsung J6 FRP bypass tool allows you to unlock the FRP-locked phone by connecting to a computer in a few simple steps. It allows you to get rid of the lock without any hassle.

Unlock all Type of Passwords

The best thing about PassFab Android Unlocker is that it completely works fine with any type of password you want to bypass. Whether it is a written password, a pattern, or a face lock, PassFab can remove the lock without any issues. 
2.How to easily Perform Samsung J6 FRP Bypass with this Tool?
Now that you know some of the features of PassFab Android Unlocker, let's discuss how to perform Samsung j6 FRP bypass with pc using this tool. 
Connect Samsung Device

Connect your Samsung device to computer by USB cable, then select "Remove Google Lock(FRP)".

Select Device OS Version

Select the OS version of your Samsung device and click "Start". If you don't know, click on the below "Don't know the device OS version?" to check.

Remove FRP Lock

Before starting, you need to check the on-screen notes and confirm. Then click on "Start". Then set up Samsung devie according to the insrtuctions.

Restart the SAMSUNG device

After setting up, you need to restart your SAMSUNG device. Use the PIN code you set to unlock the SAMSUNG device.

Now you have remove Samsung J6 FRP lock successfully and are able to enjoy all features of your Samsung j6.
Part 2: Other Way for Samsung J6 FRP Unlock without PC
As we mentioned, there are different ways to bypass an FRP lock. However, most of them are complicated ones that require some effort.
If you don't want to download any Samsung j6 frp bypass apk or you may choose to perform Samsung J6 FRP bypass without PC for security reasons, you can use the following way to unlock Samsung j6 FRP.
Samsung FRP Bypass using the Sim Pin Code[ Android 10 Only]
Bypassing Samsung FRP using a SIM Code is an effective way to get rid of the lock. However, it is relatively complicated that requires much patience. Let's take a look at the steps to bypass the Samsung FRP lock without PC. 
Switch "ON" your Samsung phone and connect it to WiFi. 
Go to the "Google Verification" page from your phone's account section. 
Tap the three dots, press "Go To Galaxy Store" and tap the "Agree" button present at the bottom.
Press the "Update" button and wait for the phone to get the app "Updated". 
Select the Search icon, find "Samsung Internet Browser" and tap "Update". 
Once updated, launch the "Browser".
Open the Samsung browser and download FRP bypass "Apk Apex Launcher".
Click on "Settings" and go to "Biometrics and Security". Next, tap on the "Other Settings" option.
Enable the "Pin Windows" option, and enable the Use Screen Lock Type To Unpin option.
Set up a "Pin Code" as per your preference.
Restart your device and enter the Pin you created to open the device.
Now, you can add any of your preferred Google accounts. 
Tips:
When searching for bypass FRP lock on Samsung galaxy, you may find many website providing you download link of Samsung j6frp bypass apk. Before you click to download, please check whether they are safe software. When doing research, we found that most of these websites ask you to complete questionnaire before downloading freeware, which may lead to information disclosure or even cause data lost. And we also found that some users reported that their phones would be locked again after being unlocked with these free software. Therefore,based on security, practicality and other related factors, you should choose the appropriate unlocking method.
Extra Tip: How to Remove Google Account from Samsung J6?
Removing a Google account from Samsung J6 is a simple task. However, your phone won't have the FRP lock feature anymore, which might result in certain security failures.
But if you are selling your phone or are willing to add a new Gmail account to the phone, removing the already existing Google account is the only option available. Here is how to remove the Google Account from Samsung J6.
Step 1: Go to your phone's Settings. 
Step 2: Search for the Apps option and Enter it. 
Step 3: Look for the Google Account option and tap it. 
Step 4: Click the Remove Account option, and confirm your decision.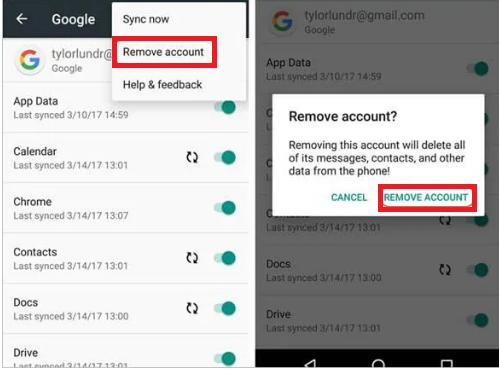 Once you follow the steps correctly, you will be able to remove the associated Google Account from your device without any issues. The method works the same way for most of the other android devices as well. 
Final Words 
We have discussed two methods to bypass PFR lock on Samsung J6 with or without a computer. Getting rid of FRP lock on Samsung device could be challenging. If you want to quickly remove FRP lock and don't want to fix FRP lock issue again, PassFab Android Unlocker is the best choice for you. If your device is running Android 10 and you have enough patience to challenge this issue, you can try the second method. Hope this article can help you.