Snapchat has gained popularity recently, and people love this fun-filled exciting app all around the world. From America to Asia everyone has used Snapchat, and it has become one of the most used social media apps in every country. However, a problem is reported by most of the Snapchat users which is Snapchat getting locked by itself. Most of the people don't even know about the why it is locked and how to Snapchat unlock an account. There are a few reasons of Snapchat lock because it is locked by the Snapchat and it gives the following reasons to unlock Snapchat account.
Part 1. Why Snapchat Account Gets Locked?
1. Spam
If you have been violating Snapchat rules by sending spam in chat or you have abusive behavior towards any other user, then your account will be locked by Snapchat team.
2. Not Verifying Phone
You might also be locked out of your Snapchat for adding too many friends if you haven't verified your email or phone number.
3. Third-Party App
If you are accessing Snapchat by using a third-party app, tweaks or plugin then it can also be a reason of you locking out of your Snapchat account.
4. Security Reasons
If Snapchat has noticed any unusual activity on your account, then it can also be locked to protect you from any more harm.
Part 2. How Long will Your Snapchat Account Be Locked?
Snapchat account can be locked for different periods of time. There are two types of unlocking procedure on Snapchat, one of them is temporary, and the other one is permanent. You don't have to go through much trouble if your account is temporarily blocked. On the other hand, you will need to look for a few meticulous procedures to unlock your Snapchat account if it has been locked permanently. Some of those procedures are given below:
Part 3. Solutions to Unlock Snapchat Account
If you are facing problem to open Snapchat account, then you should try one of the following solutions and not worry at all. You will find solutions for both temporary and permanent lock of Snapchat.
1. Unlock Temporarily Locked Snapchat Account
If your account is locked, you will receive a message which says that your account has been temporarily blocked. If you receive the message for temporarily blockage, you are going to have to wait for at least 24 hours to log back in. There is a high chance that your account will be recovered in a few hours. If it is still not unlocked, then you can follow these steps to Snapchat unlock.
Step 1. Visit snapchat.com and sign in and prove you are not a robot by entering the captcha.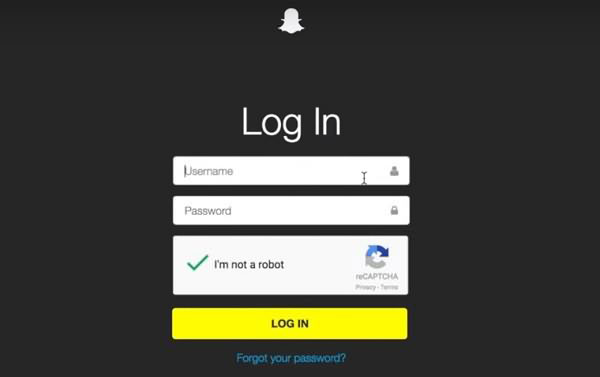 Step 2. Then select "unlock my account" from the screen.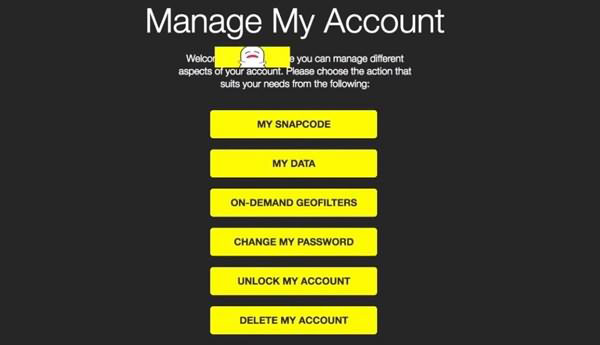 Step 3. You will find the interface which will ask you to unlock your account, and you can simply unlock your Snapchat account.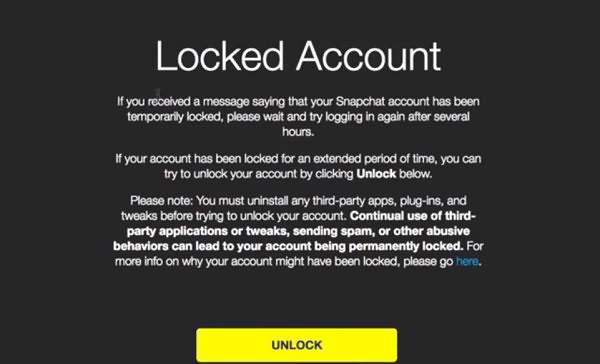 This is the simplest and easiest way to unlock Snapchat, but it is only for a temporarily locked account.
2. Unlock Permanently Locked Snapchat Account
If your Snapchat account is permanently locked and it is not unlocked after one day, then you should consider applying other methods to unlock it. You can follow these steps to unlock permanently locked Snapchat account.
Step 1. First of all, visit Snapchat support and then select "contact us" option.
Step 2. Once you have chosen "contact us" option then choose "I have a login issue" and then "I can't log in to Snapchat".
Step 3. You should choose one option between "I forgot my password" or "I think my account was hacked" instead of choosing I am locked out of my account.
Step 4. Then you will be asked if you "still need help" and you are going to answer yes for that.
Step 5. You will then have to fill a form, and you will let Snapchat know about your mistake, and you will say "Snapchat unlock my account" and that you will not repeat the same mistake.
Step 6. You will then submit the form and wait around for Snapchat to process your request.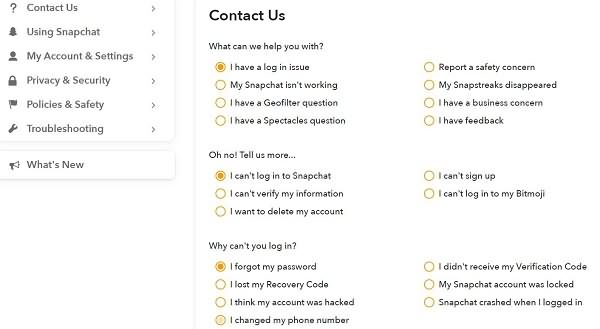 3. Create A New Account if Suggestion 1 and 2 Doesn't Work
If you don't find any of the above suggestions useful, then you should go for the third option. You should wait for a few time to let Snapchat work on your request and if it doesn't work out then make a new Snapchat account. The reason is the fact that Snapchat might not give you your account back and it has been locked permanently. The procedure to make a new account is the same as you have made before.
Part 4. How to Find Snapchat Login Password
If you have tried every method and none of it works, and you have saved the login password in your iPhone or iPad, and you still want to find Snapchat password back, then you should use this PassFab iOS Password Manager for any kind of saved password in iOS device.
Step 1. First of all, go to PassFab official website and download the tool and launch it after installation. Once you have installed it you can use it easily.
Step 2. Connect your iPhone or iPad to the computer that installed this iOS password finder, click on Stat Scan button.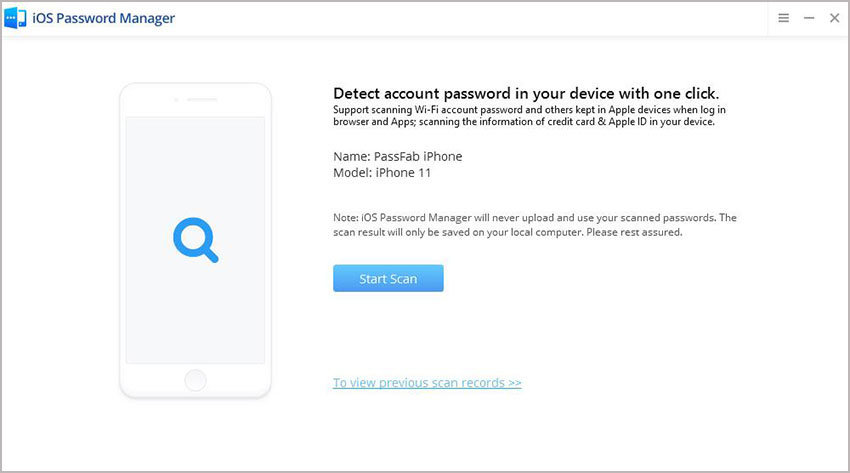 Step 3. After a while, your password will be found and shown in the interface. You can copy the password to login Snapchat. You can aslo click on "Export" button to export password to other password manager such as 1Password, LastPass, Dashlane, Keeper and Chromer browser.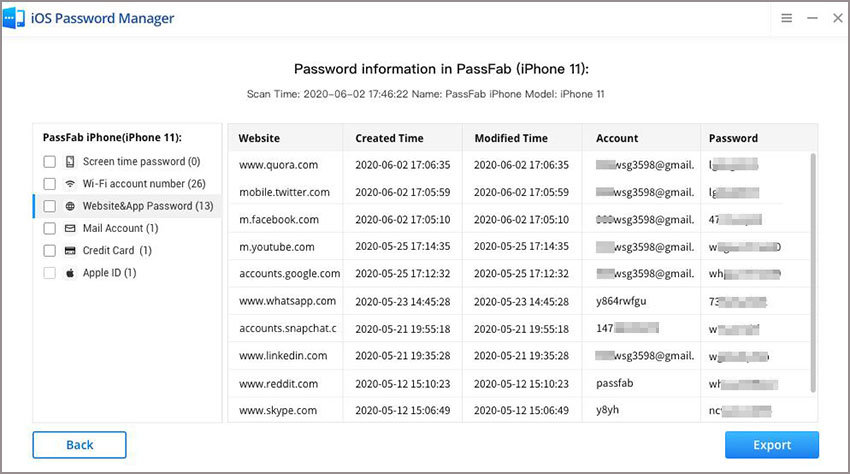 Conclusion
Snapchat has become a part of our lives and we use it on daily basis. The day is not completed till you upload your favorite food from today or your OOTD (outfit of the day) on Snapchat. However, sometimes you face problems while logging in. If you face such problem you don't have to worry and you can simply use PassFab's products to tackle any kind of inconvenience regarding passwords on any of your apps or even your password. Enjoy your Snapchat without worrying about password problems. By the way, if you need to unlock iPhone backup or unlock iPad backup, PassFab iPhone Backup Unlocker is another better option.