"Everytime I try setting up a pin on my laptop a dialogue box pops up saying 'Can't sign in with a Microsoft account. This program is blocked by group policy. For more information, contact your system administrator. 0x800704ec', please help me!!"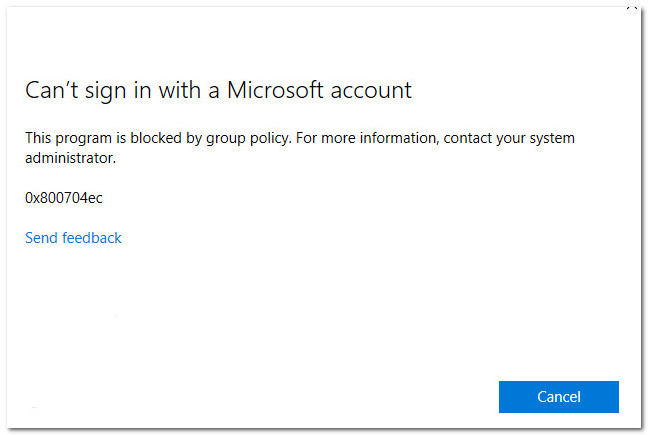 Recently, many Windows 10 users keep asking me how to solve can t sign into Microsoft Account after upgrading to Windows 10. With a Microsoft account, you can log into Skype, OneDrive, Outlook.com, etc. Syncing devices to manage your photos, contacts, files, and settings with a single account is possible. So, it will be a big trouble if you can't sign into Microsoft account. In this article, we will teach you how to solve this problem step by step. Keep reading to check it out.
Part 1. How to Solve Can't Sign into Microsoft
Here are 3 ways for you to process which are totally free, you can select the way that works best for you. We also provide a solution for the user that forgot Microsoft password in part 2.
Free Way 1: Uninstall the Antivirus
If you have an antivirus installed on your Windows 10 computer and after that you are unable to sign into your Microsoft account. Then the antivirus program is the main culprit here. It might be blocking some components of your operating system files to work properly. As a result, you can't sign into Microsoft account on Windows 10. Number of users have faced this issue with antiviruses, Avast is one of the antivirus software that concerned people. You can uninstall the software and then try logging in again. Sometimes the uninstalling exercise is not enough, and you might need to use an uninstaller to get everything wiped out and let Windows work properly.
Step 1. Go to 'Start Menu' > 'Settings' > 'System'.
Step 2. Now, tap 'Apps & features' > choose antivirus here, let's say'Avast'.
Step 3. Hit the 'Uninstall' button near it.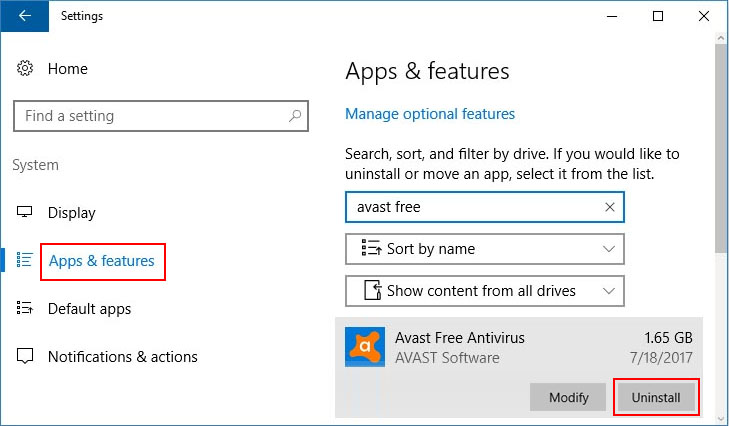 If the issue still persists, get 'avastclear' on your system and follow the guide:
Step 1. Get 'avastclear.exe' downloaded on your Windows 10 > Start Windows using 'Safe mode' run the uninstall utility.
Step 2. Search 'Avast' and press 'Remove' >'Restart' your Windows 10 system.
Free Way 2: Alter Group Policy Settings
In spite of having the right credentials for your Windows 10 Microsoft account. If you still can't sign into Microsoft account on Windows 10. You can also try changing the 'Group Policy Settings'.
Here is the guide:
Step 1. Click 'Search' on Windows 10 and key in 'group policy'. Select 'Edit group policies' from results followed by hitting'Enter'.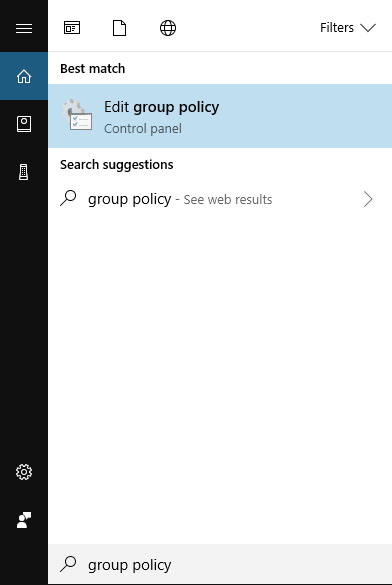 Step 2. Go to 'Computer Configuration\Windows Settings\Security Settings\Local Policies\Security Options\Accounts: Block Microsoft accounts'.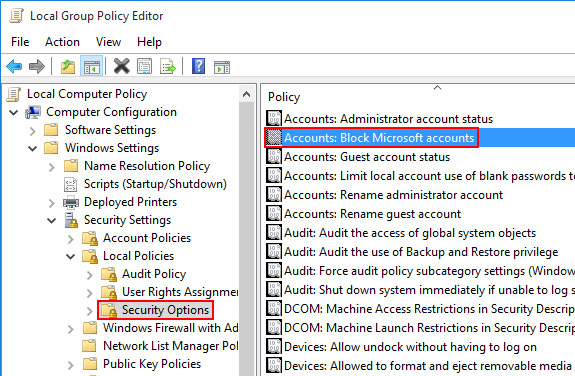 Step 3. Right click on 'Accounts: Block Microsoft' accounts >'Properties' > 'This policy is disabled'.
Step 4. Hit 'Apply' > 'OK'.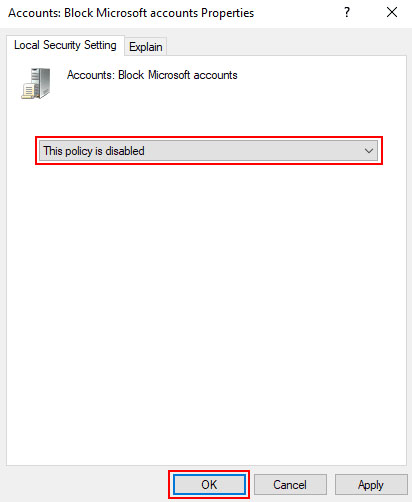 Note: It is effective, when a group policy has blocked your Microsoft Account. When you undergo this guide, the restrictions will be undone. As a result, your Microsoft Account can be easily accessible for login, management of files and purchases over Microsoft Store.
Free Way 3: Edit Registry
In case, there was no group policy blocking. But, your Windows 10 Microsoft account still doesn't allow you to sign in. you can fix the issue using registry.
Step 1. Open 'Search' and punch in 'regedit' followed by 'Enter' button. This will launch 'Registry Editor' on your screen.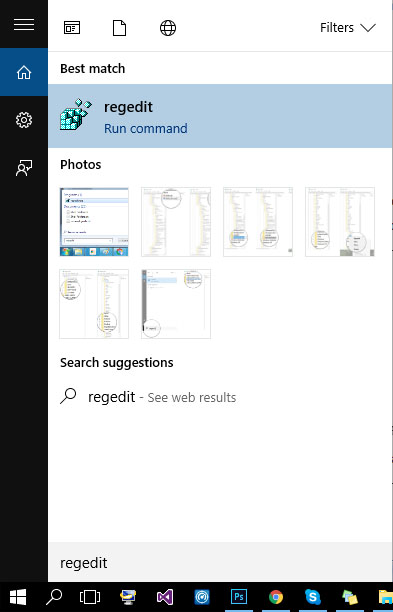 Step 2. Go to 'HKEY_USERS\.DEFAULT\Software\Microsoft\IdentityCRL\StoredIdentities' > look for your Microsoft account and right-click on it. Hit 'Delete' from the appearing options.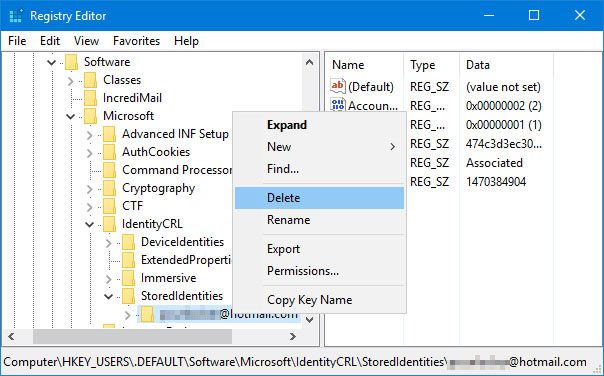 Step 3. Exit 'Registry Editor' now. Then, go to 'Settings', select 'Accounts' and add the same Microsoft account again.
Part 2. Best Way to Fix "Can t Sign into Microsoft Account Windows 10/11"
As the free ways involve playing with the system files, OS installation and system data. We found them a bit risky to proceed with. If you share the same fear, then we have a better solution at hand. PassFab 4WinKey stands out as the best tool to solve all kinds of Windows password problems, incuding forgot Microsoft password.
You can even create a new user account while being locked away from the computer. It effortlessly bypasses system passwords for Windows computers. So, if you "can t sign into Microsoft Account Windows 10/11", try to reset Microsoft password using this software.
Step 1: Get PassFab 4WinKey installed on your computer. Run it and plug in your free USB drive. Click on 'USB Flash Drive' option afterwards.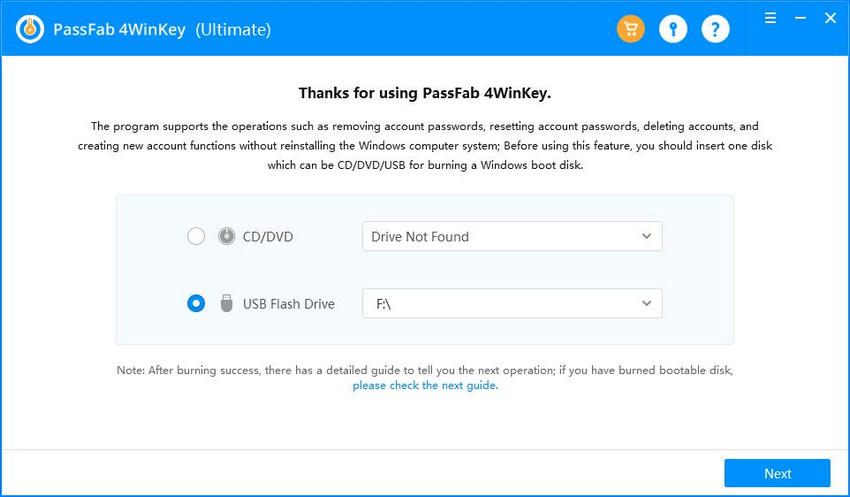 Step 2: For burning the software onto your USB, press 'Burn'. Once done, eject your Flash drive and tap 'OK'.
Step 3: Connect the USB drive with your Microsoft account password forgotten system. Click 'F12' for accessing 'Boot Menu' and pick the USB drive. Hit 'Enter' later.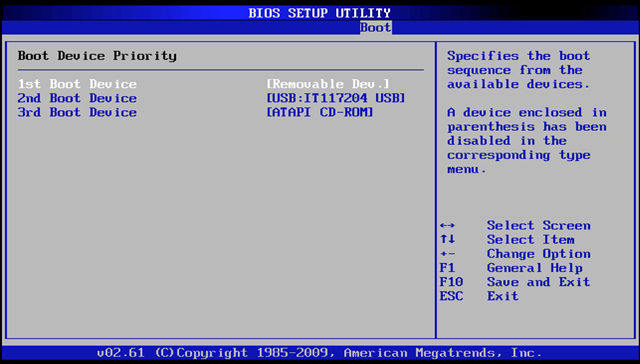 Step 4: Select the preferred OS to which your Microsoft account belong, then select the task you wish to perform i.e. "Reset your password" from the options below followed by tapping on 'Next'. Pick Microsoft account and hit 'Next'.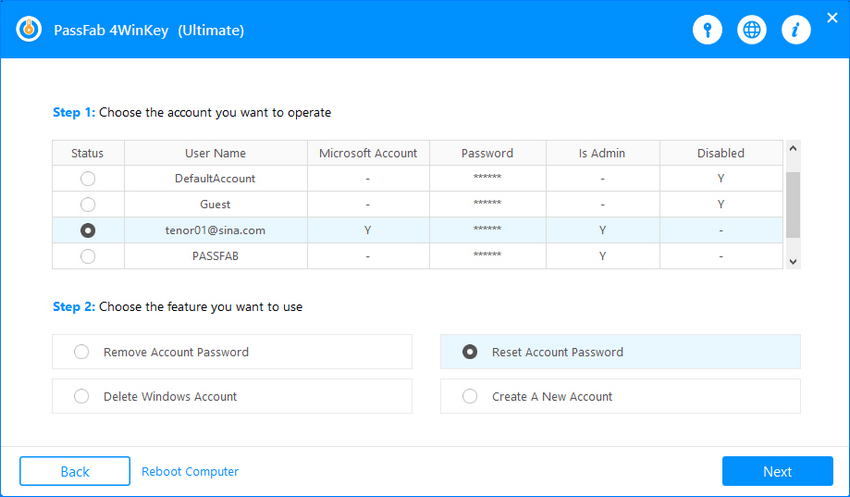 Step 5: Once the account's password has been reset. Hit the 'Reboot' button.
Here is a related video tutorial about how to reset Microsoft account password:
Part 3. Other Windows Password Problems You May Encounter
Apart from can't sign into Microsoft account on Windows 10, here are some other common password issue.
Users experienced Windows 10 can't sign in with Microsoft account something went wrong. Remove or fix the corrupt file and resolve the issue.
Can't sign in with Microsoft account Windows 10 might have cropped due to a wrong password or your account has been hacked. Verify and change account or check password to fix the issue.
"Windows 10 can't sign into your account" can also be treated the same way.
Conclusion
From the above article, we've learnt many ways to solve can't sign in Microsoft account on Windows 10/11. Besides, you can use PassFab 4WinKey to reset your Microsoft password. To be honest, almost each Windows user may forget the password. But with PassFab 4WinKey, no matter you want to reset Windows 7 password or bypass Windows 8 password, it can help you achieve it. At last, if you have any further question, let us know by leaving comments below.