If you have a good number of people working on your PC or having access to it, you may want to create an Administrator account. Also, if you have kids using the laptop or PC, you will want to create one Administrator account too. It helps you keep the data and programs safe. For instance, if someone is not the administrator, they cannot delete certain programs from your PC pr laptop.
Option 1. How to Create A New Administrator on Windows 10 without Logging in via Command Prompt
Windows 10 is full of possibilities. There are at least 4 different ways you can log into the computer. If you forgot Windows password of one account, you can try the other ones. These include user account, Microsoft account, guest account, and Administrator account. By default, Windows keeps the Administrator account disabled because gives superior access over different functions of the operating system.
Let's get directly to the process. You will need to access the account through Command Prompt.
Step 1. Press Shift + F10 together. It will open the Command Prompt window on your locked Windows 10 computer.
Step 2. Use the following command line to change the location of cmd.exe and utilman.exe.
You will need to insert this command first –
move d:\windows\system32\utilman.exe d:\
Then, you will need to paste the following command.
copy d:\windows\system32\cmd.exe d:\windows\system32\utilman.exe
Step 3. Take out the installation disc and type wpeutil reboot in the window. It will reboot your computer directly from the hard drive. Now whenever you click on the Utility Manager icon on the lockscreen, the Command Prompt window will open.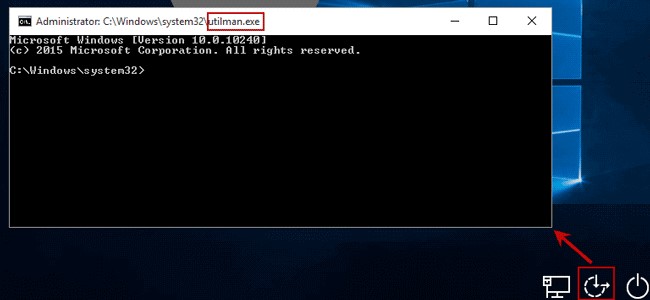 Step 4. Create the Administrator account user ID and password using command line. For example, if you want to create Administrator account Allison and password xyz123, type:
net user Allison xyz123/add
net localgroup administrators Allison/add
Hit "Enter". The account will appear on the lock screen.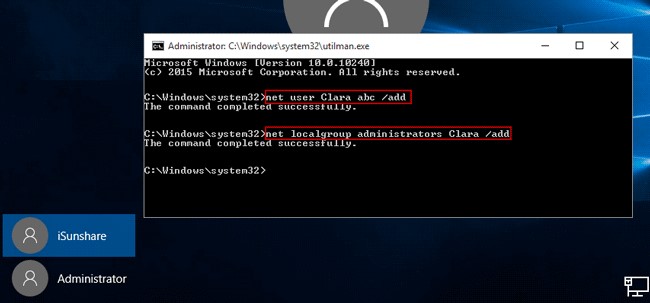 Step 5. Restart the computer to change the Utility Manager icon's function back. Press "Shift + F10" together. Type the command line.
move d:\utilman.exe d:\windows\system32\utilman.exe
Now, all you need to do is to hit Enter, and wait.


Step 6. Restart the computer and login using the password you used to get access to your user account.
This method is a bit technical and if you change even one character by mistake, you will have to do all over again. There is a simpler method in which you use a third-party Windows password recovery tool, which is easy to use and doesn't require you to have any technical knowledge.
Option 2. Create A New Administrator on Windows 10/11 without Logging in via PassFab 4WinKey
Whether you want to create a new Administrator password or recover password of an old one, PassFab 4WinKey is the best Windows password recovery tool you can find. It support all Windows versions. It allows you create bootable disk omn Mac now!
Step 1. Download PassFab 4WinKey on an available computer. Insert a CD/DVD or a USB drive to create a bootable drive.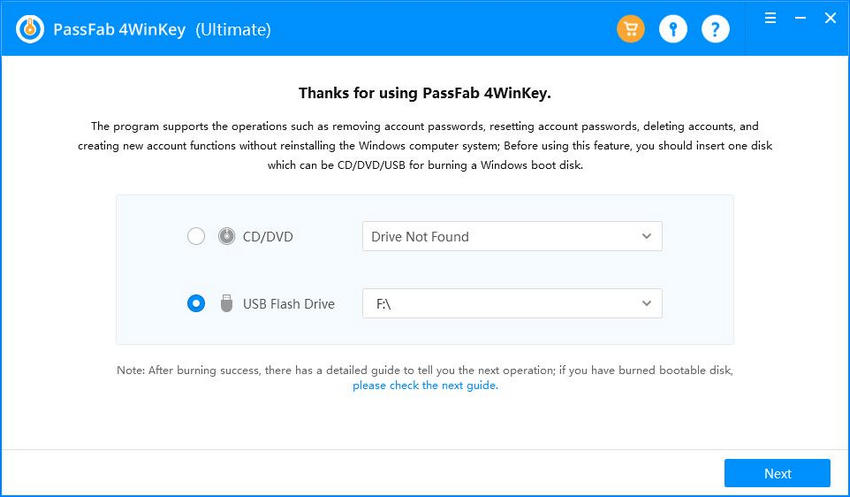 Step 2. Hit "Next" to start the burning process. Make sure you transfer data from the USB drive because it will be during the process.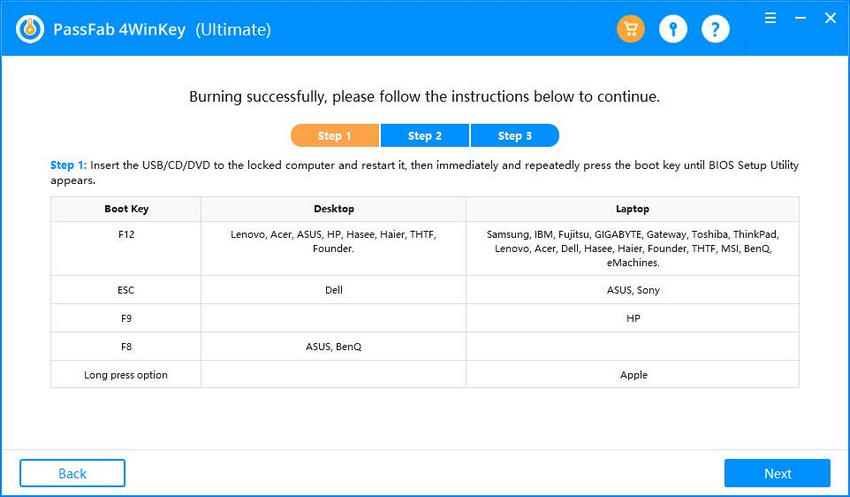 Step 3. Eject the removable disk and insert it into your locked computer. Press F12 or other button to enter BIOS, enable your USB to be the first boot option. Then exit BIOS and restart it again.
Step 4. A window will pop up on your Windows 10 screen. Select the operating system and hit Next.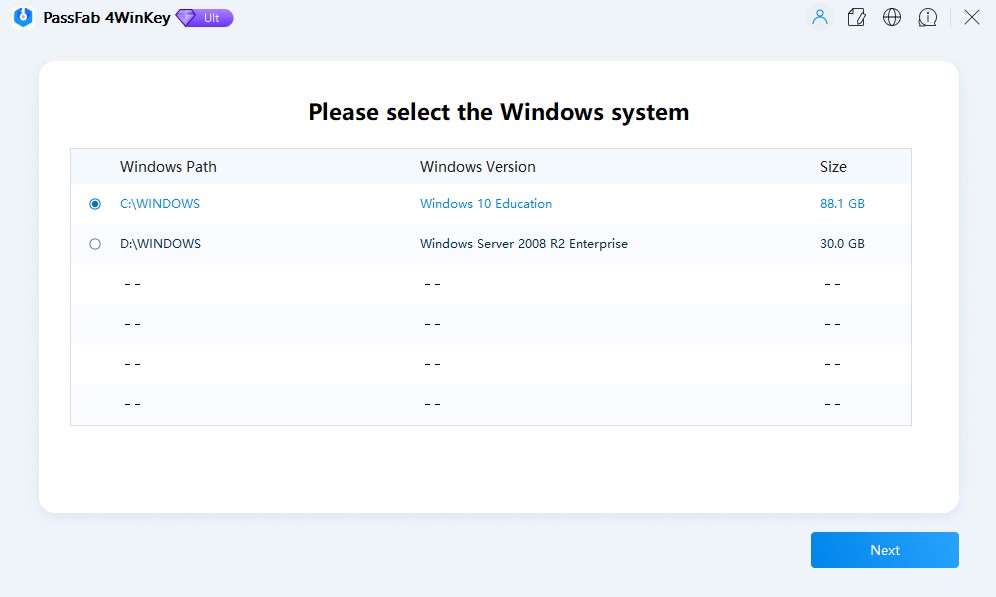 Step 5. Select "Create A New Account" in the interface, press "Next".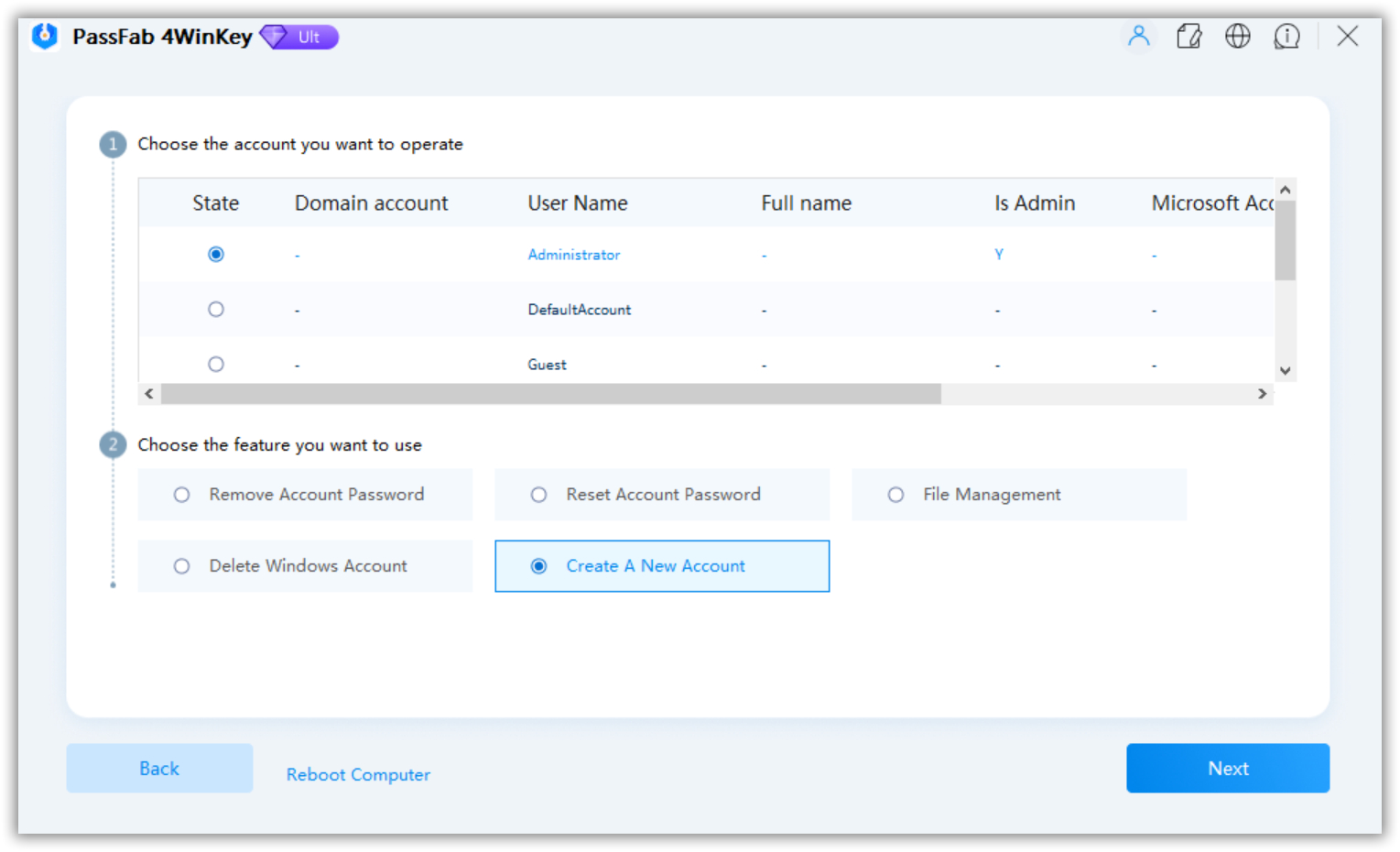 Step 6. Enter the new administrator account user name and password and then click "Create".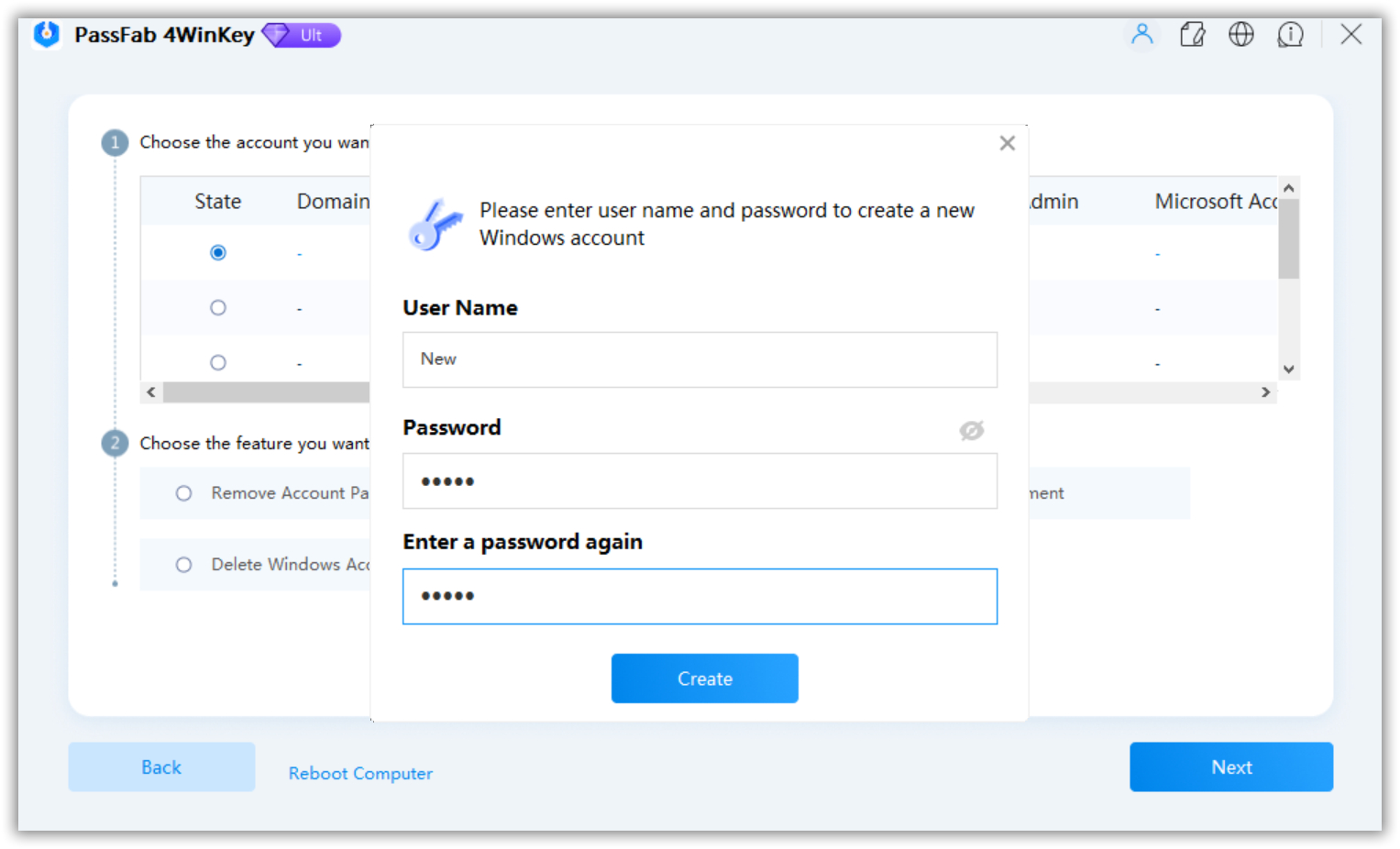 Once it is over, the tool will ask you to restart your computer. Click the "Reboot" button. Your computer will restart again. Then you can login Windows 10 with the new administrator account.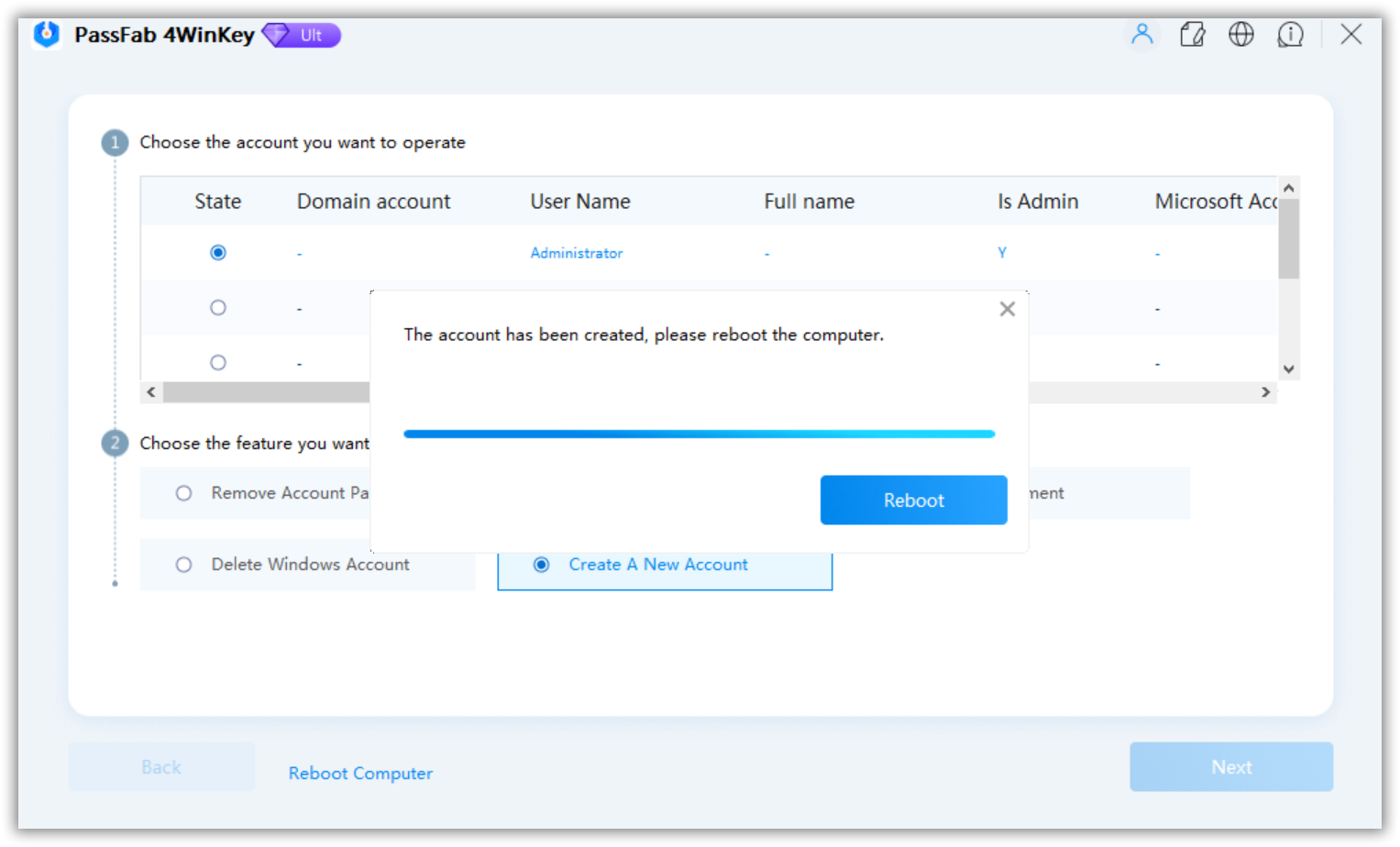 Here is the all steps to process PassFab 4WinKey. Except create a new account, it can also allows you to reset or remove Windows 10/11 Administrator password, reset Microsoft password on Windows 10/11, remove user account. As a professional Windows password recovery tool, it will never let every Windows users down.
Conclusion
In this article, we learned about two ways you can create a new Administrator account without logging in. Compare the two ways, we recommend PassFab 4WinKey. Since there are many users unfamiler with Windows system, so the first way might be complicated to process. In the end, if you still have question, please leave the comment below.