When you have a Windows 10 system that has run into trouble, as the computer password has been forgotten or lost. If you ever face such problem what would you do to fix it? Well, if you are thinking that it's going to cost you big bucks to get your computer back in action, then we have good news for you. Though, there are options that would cost you a lot for removing login password from Windows 10, you can also have free ways to do so.
In this article we are going to introduce a number of free ways to remove login password from Windows 10 system. Stay tuned for more information!
Part 1. Free Ways to Remove Login Password in Windows 10
In this part of the article, we are going to explain you how to remove login password on Windows 10 in different ways. But Windows password recovery will never be an easy thing for most of us, please follow the instructions step by step to remove the password successfully.
Using "Netplwiz"
Though, this process is bit unsecure to follow and can let anyone access your computer, it is perfectly suitable for home PCs. It might not work on a Lenovo PC, but for others it's perfectly fine.
Tap on the Windows 10 "Start" menu first and then key in "Netplwiz" and tap it when it shows in the results.
The following window will allow you access to Windows user accounts along with other password controls. On the top-right corner, you will find an option "Users must enter a username and password to use this computer". You got to uncheck that option.
Now, hit the "Apply" button and a prompt will ask for your current Windows 10 password. Key it in twice and you are good to go. Upon your next login, there won't be any password options to stop you.
Using Local Group Policy Editor
Another way is removing password via the local group policy editor. In this case, we're going to disable the login screen so that even when your Windows PC wakes up from sleep mode, this method prevents login screen to appear, leaving your PC vulnerable as it can be accessed directly.
Step 1: Hit the "Windows + R" button simultaneously to launch "Run" box over your Windows PC. Now, punch in "gpedit.msc" and then hit the "Enter" button on your keyboard.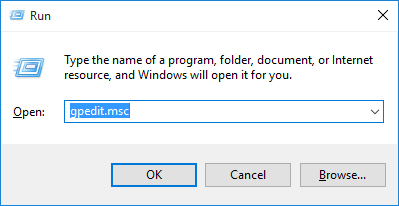 Step 2: This will now launch the "Windows Group Policy Editor" on your screen. Now, double tap on the "Computer Configuration", then locate and double tap on "Administrative Templates" followed by "Control Panel" and then hit "Personalization".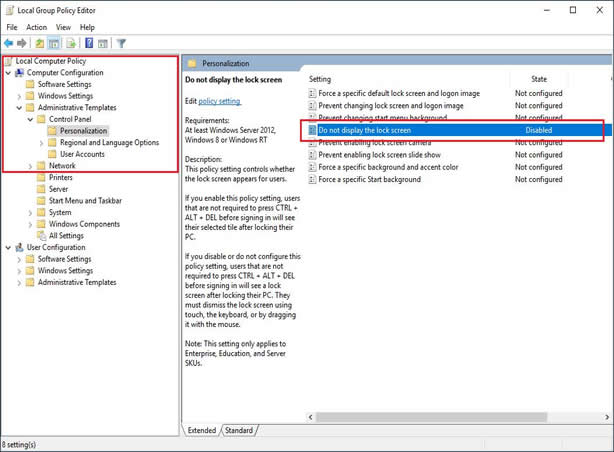 Step 3: Next, you need to locate the "Do not display the lock screen" policy over the list on the right side and then double tap on it. From the upcoming windows, opt for the "Enabled" option and then hit the "OK" followed by restarting your Windows PC.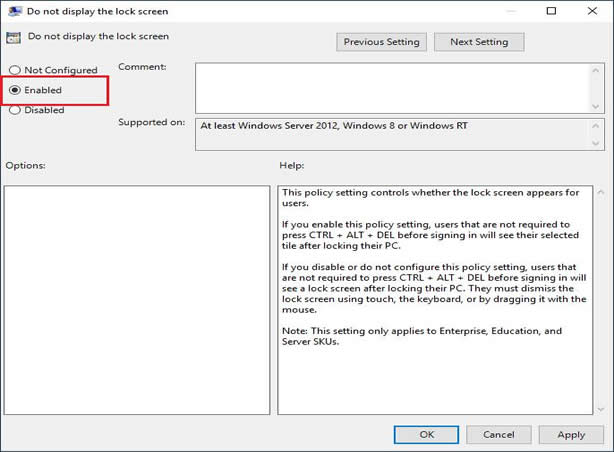 Using Command Prompt
Command Prompt being the most forward administration tool for Windows PCs has immense power for fixing system issues. This method not only allows remove login password, it can also help you remove Administrator password on Windows 10. But, a person has to have enough system know how for working around the Command Prompt. You can give youself a try.
Step 1: Use the guest account and log in to the computer. /powse to "My Computer" and find "C:\Windows\System32".
Step 2: Now, you need to copy and paste the "cmd.exe" file on the desktop.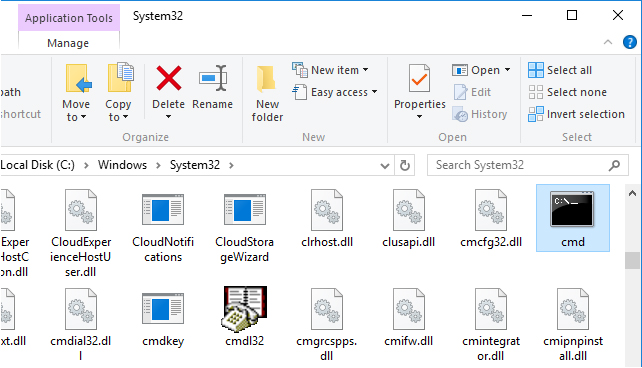 Step 3: You need to rename "cmd.exe" to "sethc.exe". Copy the file into "C\Windows\System32". You will be prompted to give permission for over-writing the file.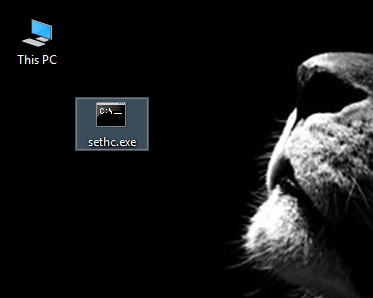 Step 4: Restart your system and then hit the "Shift" key 5 times for launching the command prompt.
Step 5: You need to enter "net user myusername mypassword". Myusername is the user account and "mypassword" stands for the new password of the admin account. Click "Enter" afterwards.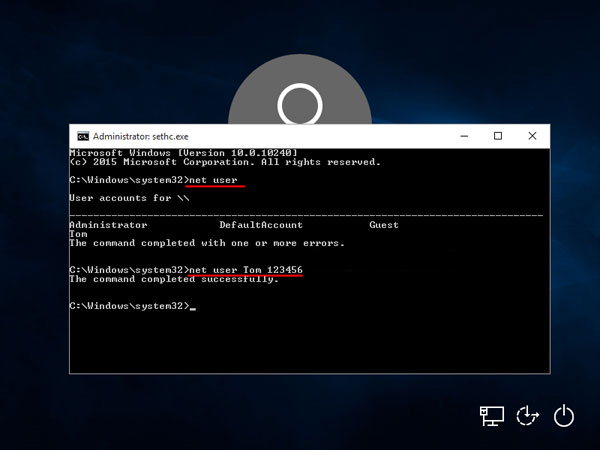 Step 6: Upon successful execution of the command, you got to restart your computer. This is how to remove password login Windows 10
Step 7: Now, ensure to undo the changes made in steps 1, 2 and 3 to restore normal functioning of our Windows PC. Visit "C:\Windows\System32" in your "My Computer"/"This PC". Then locate "sethc.exe" and rename it back to "cmd.exe". That's it and you're all sorted to use your Windows 10 again.
Part 2. How to Avoid Forget Windows Password
Now that you've learnt how to remove login password on Windows 10,you must ensure that the same situation of forgetting your password must not be encountered again. For this we're going to offer you some important tips to help you avoid forgetting your Windows password.
First, make sure that the password you're going to set is not too complex to remember. If it so, ensure to note it down somewhere safe. So that in case you forget it, you can make use of this written one to remember it again.
Another pro tip to avoid forgetting your Windows password is to either set the password as that of your email that you use regularly or simply save the new Windows password over you email that you access regularly, both are viable options.
This one is silly, but it works. Type it several times over the notepad on your PC, probably 10-15 times will do the trick. This way you mind automatically gets configured to remember the password that has been typed multiple times.
Conclusion
If you are wondering how to remove login password in Windows 10 if you have forgot the password, then you can use 3rd party tools as well. PassFab 4WinKey is an ultimate tool for resetting, removing, changing Windows 10 system passwords securely. When most software applications remove the local password, PassFab 4WinKey is capable of handling local, domain, Windows account. You can bypass Windows 7 password or other verison's password with this tool too.