Top 6 Ways to Reset User Password on Windows 10
If you ever been locked out of your computer, believe me, we totally understand what dilemma you must be in. A large chunk of data, numerous information, everything is piled up and you can't retrieve that without resetting user password on your Windows 10 system. So, in case you are in a similar situation, we would recommend you to read along. In this article, we are going to explain 6 different ways about how to reset user password on Windows 10. Keep reading to explore more!
Part 1. Top 6 Ways to Reset User Password on Windows 10
While planning for Win 10 user password reset, you need to remember that the market has numerous options out there. But, you need to pick the most effective ones out of the list. We have collated 6 free ways for resetting Windows passwords. Let's know them in detail.
Using a Password Reset Disk
In this case you need to have a password reset disk for resetting a forgotten or lost Windows 10 password. The major drawback of this free method is, the reset password disk should be created before losing the password. Here's what you need to do:
Step 1: Launch "Control Panel" and select the "User Accounts" category. Hit on User Accounts again and then choose "Create a password reset disk" option from the left panel.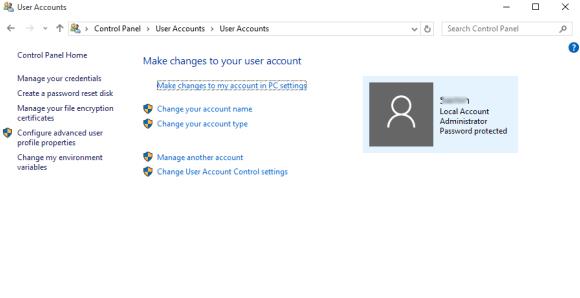 Step 2: Forgot Password Wizard will come up on your screen. Hit "Next" and select the Flash drive in which you wish to create the password reset disk. Confirm your actions by tapping "Next", key in your current password and then hit "Next" followed by "Finish".
Step 3: Now, when you make several incorrect attempts, the "Reset your Password" option will show up. Plug the password recovery flash drive into the computer and then hit on Reset your Password option.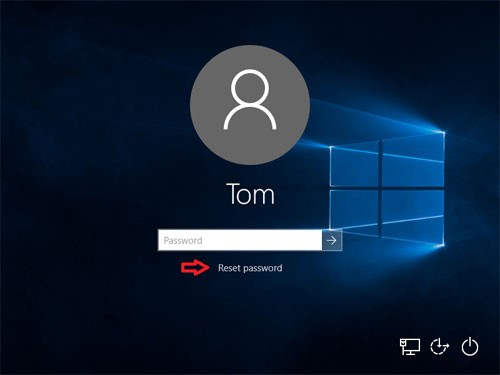 Step 4: Password Reset Wizard will boot up on your PC. Follow the on screen instructions to reset user password on Windows 10.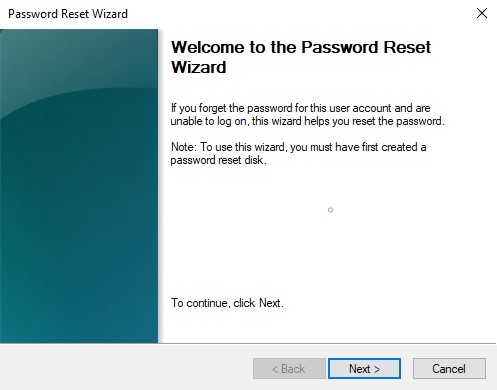 Resetting the Microsoft Password online
Forgetting your Windows 10 password may cause you lot of inconvenience. In such occasions you need to visit the Windows Live password reset page within the Microsoft website on a different computer for resetting the password online. It is simple and hassle free when compared to Windows 10 local password reset.
Step 1: Visit the login page of your Microsoft account and key in your Microsoft email in the respective field. You'll now notice an option of "Forgot my password", hit on it and key in the captcha code to confirm your actions.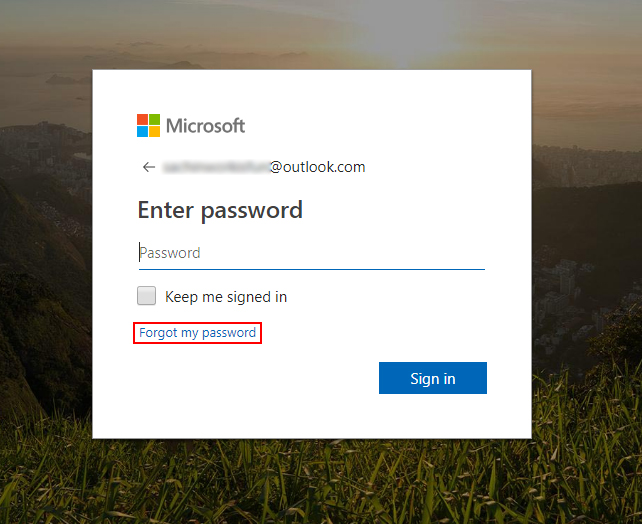 Step 2: You'll now need to select a way to which you wish to receive the security code to reset password. As soon as you make a choice, for instance via email, login to your recovery email to look for the security code.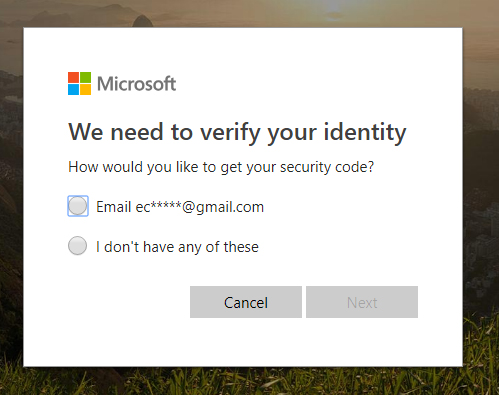 Step 3: Key in the security code in the upcoming screen and you'll be able to reset the user password of Windows 10 that has been locked out. Once done, you can try signing in to your Windows 10 account with the new password.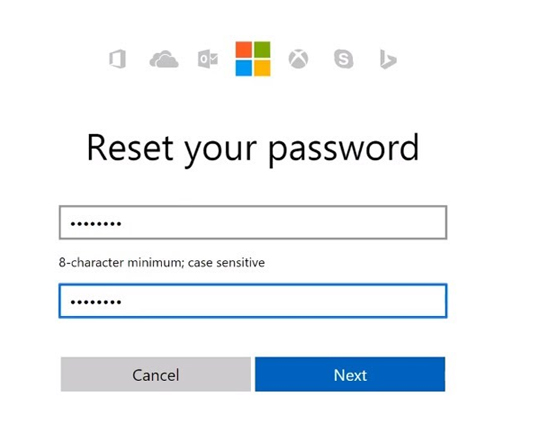 Logging in with other sign-in options
You can still reset your Windows 10 password if you have access to any administrator account. Here's what you need to do.
Step 1: Sign in to Admin account, then you need to quickly open the Admin Command Prompt. Hit "Windows" logo + "X" key from your keyboard and view the Quick Access menu.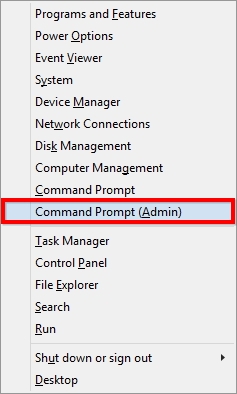 Step 2: Next, you got to tap the "Command Prompt (Admin)" and key in "net user account_name new_password" followed by the "Enter" key. Here, account_name and new_password need to be replaced with your username and preferred password respectively.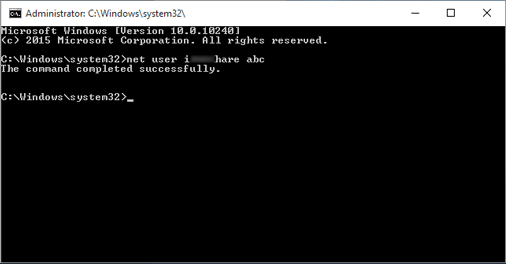 Restoring Windows 10 to its previous state
In this case you can restore your Windows 10 to the last saved restore point which was made using an old password that you still remember. Once you restore the Windows 10 computer to reset Windows 10 user password, software installed after the past restore point would be lost.
Step 1: Shut your computer off entirely, then hold the Shift key down and hit the Power button. While keeping the Shift button down, you'll reach the Recovery screen.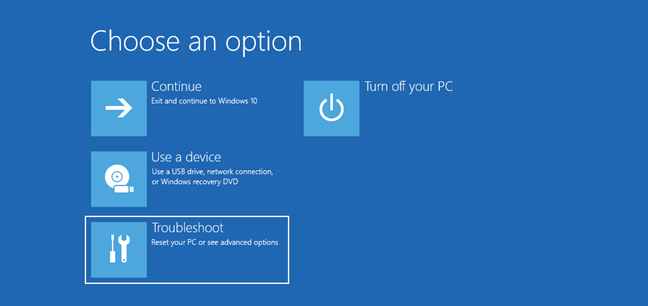 Step 2: Select the "Troubleshoot" option followed by "Advanced options". Now, choose "System Restore" tab and follow the onscreen instructions to select the desired restore point and get your Windows 10 user password resetted.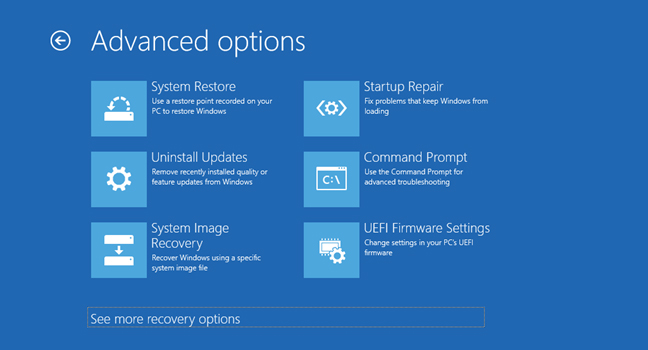 Use MSDaRT to reset the Windows 10 password
MSDaRT stands for Microsoft Diagnostics and Recovery Toolset helps IT people recover unusable computers. Get the DaRT Recovery CD and boot your computer. Run the inbuilt Locksmith Wizard tool for resetting password for any Windows 10 local account. Though, the downside is DaRT is a paid application available exclusively for Microsoft volume customers, MSDN subscribers, and TechNet Plus subscribers.
Reset User Password using netplwiz
Here's the step by step tutorial on how to reset user password or Windows 10 using the netplwiz command.
Step 1: Boot up the "Command Prompt" and punch in "netplwiz", hit "Enter" afterwards.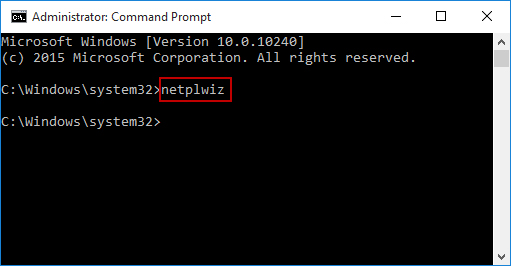 Step 2: Now, select the user account you intend to reset password for. Then, deselect the checkbox besides the "Users must enter a user name and password to use this computer". Hit "OK".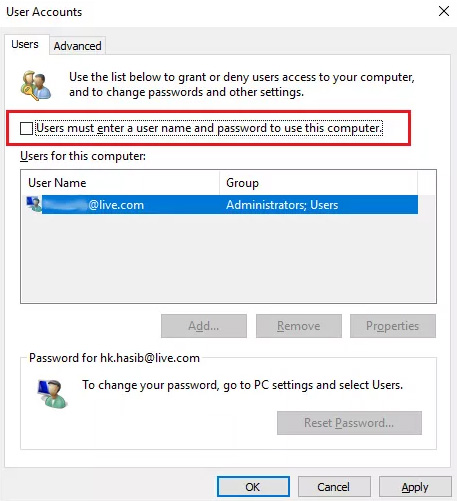 Step 3: Lastly, key in the appropriate user name and password. Hit "OK" and you're all sorted.

Part 2. More Details About Windows 10 Password
With Windows 10 Administrator password you get administrator level access to your Windows account. It is prevalent in situations like running specific programs, access certain recovery tools of Windows or editing files in the operating system protected areas. Latest versions of Windows such as Windows 7/8/10 the primary account is configured as administrator account. So, here the administrator password is the account password.
Another inbuilt Administrator account in most Windows computers works as a pre-configured admin user account. It usually doesn't appear on the log on screen, so people are unaware of it. The Microsoft password refers to Microsoft Active Directory password. This is a domain level password for Windows accounts.
In case your administrator (local) or Microsoft password is lost or forgotten and you want the Windows 10 user account password to get reset, a trusted third-party tool like PassFab 4WinKey proves to be a good match. This tool comes in handy to create, reset, remove or change local and domain (Windows Active Directory) password for your Windows 10 computer with ease. Moreover, you can also create a fresh administrator account for directly accessing a locked computer as well.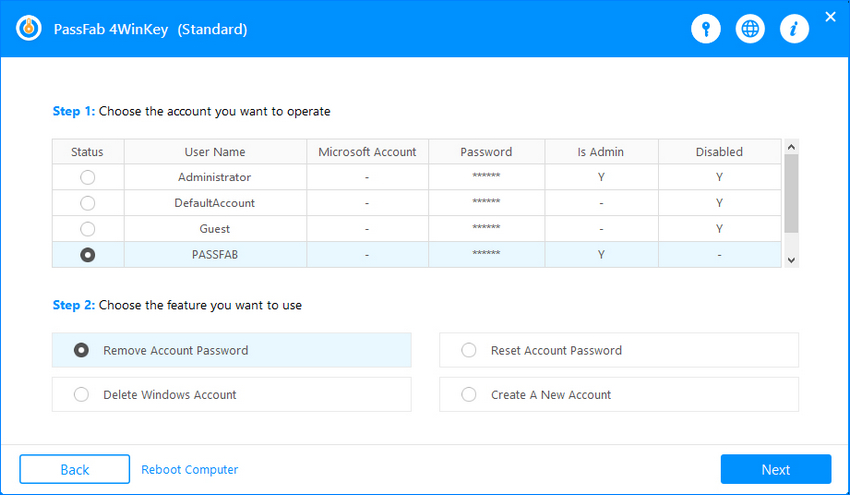 Conclusion
From the above article, we have concluded that PassFab 4WinKey is an ultimate tool for resetting user password on Windows 10 computer. This user-friendly application does much more than the alternative ways we have mentioned above could ever offer you. The traditional reset processes tend to result in data loss from your computer hard drive, but with this tool there is no such risk involved.