All Possible Solutions for Windows 7 Forgot Password
Now a days widely asked question on internet is How to reset windows forgotten password. Stats also show that daily thousands of people forget their password. This is because almost everyone got more than two accounts on every social media with complex password. But our /pain can limited number of things for one day and on other day we forget what we learnt. But if you forgot windows 7 password, don't worry there are number of solutions to get access back to your account. We have developed a list of solutions.
Solution 1: Recover Forgotten Windows 7 Password with Password Hint
Before going towards any solutions, you should try hard to remember the password. Most of the time, for their windows login, people use common words. For example, most of the people uses their real name with some variation. If your name is "Mike Huges" you might have used:
mikemh
m1ke
mik3
hugesmh
hugesmike
If you are not that kind of person then try another way. Enter anything in password box press enter. After Error message you will be shown hint that you used at the time of setting password. From that hint you can easily guess if you remember all your passwords. For example if your hint is "mh95" this could indicate towards mikehuges95 or hint could be "My car name" this could remind you which car name you used to set password. But if this doesn't works good luck with the proper solutions. But still try to remember harder one last time.
Solution 2: Reset Forgotten Windows 7 Password with Available Admin Privilege
If you have lost password to your local account and at the same time you have another account with admin privileges, trust me half of your account has been recovered already. Now just log into you admin account and follow the procedure.
Click "Start Menu" and open control panel.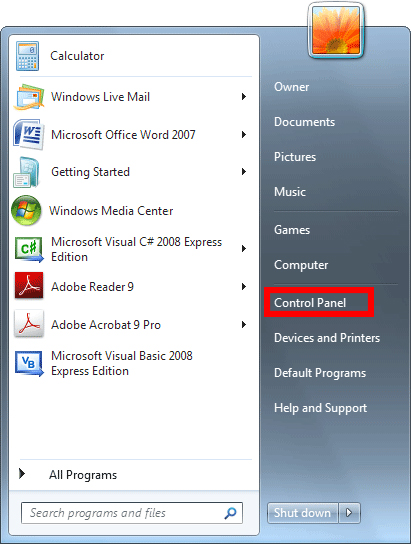 Find "User Accounts and Family Safety" and select that. Under that you will see "Add or Remove User Accounts" click that link.


New window will appear with all your user accounts. Select your user account for which you want to change password.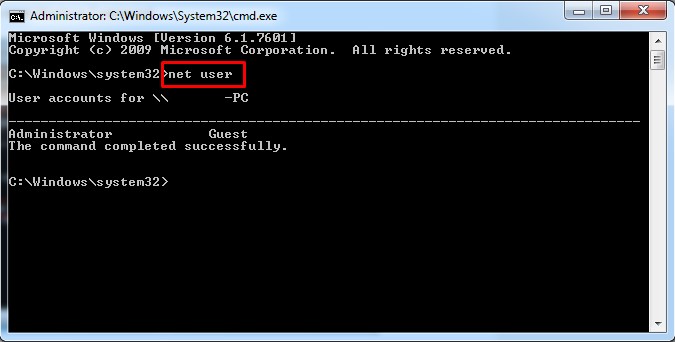 After selecting that you will see "Change Password" and "Remove Password" link on your left side. You can choose either of the options. "Remove Password" will remove your login password and if you want to set again you can but by logging in the account first.


If you haven't got any admin privileged account don't worry we are not finished yet. Go to next solution.
Solution 3: Change Forgotten Windows 7 Password with Windows Password Reset Wizard
Windows 7 provides its user the facility of changing password using Password Reset Wizard. But before using that wizard you will be needing password reset disk. Yes, that disk that you made at the time of setting your computer. Grab the disk and let's get started.
Turn you PC on, as it shows you login screen type anything in it and press enter.
You will be shown error message "Incorrect Password". Press enter again.
Now you will notice a new link will appear under Password Box as "Reset Password". Now plug-in you password reset disk and click "Reset Password".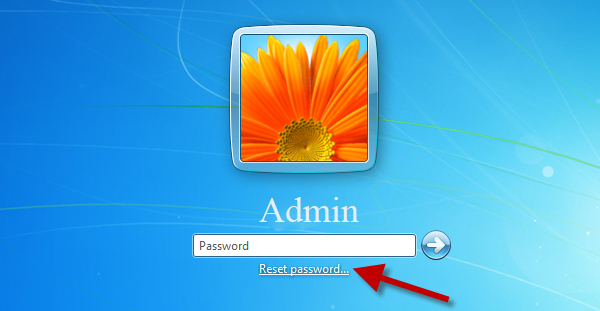 A Windows password Reset wizard will appear in front of you. Click "Next".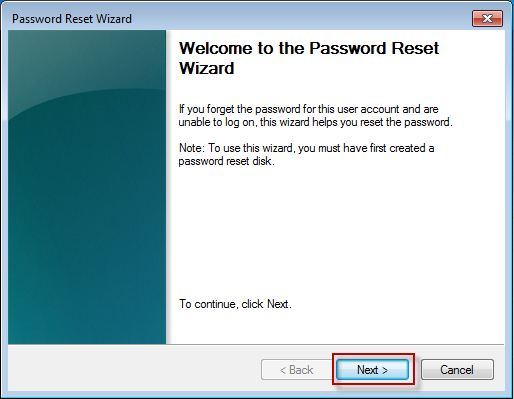 Now from the list, find and select your disk and click "Next".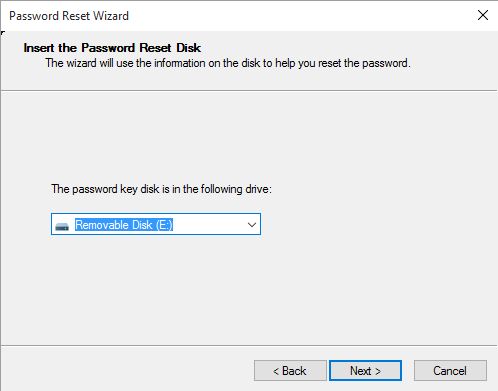 Now it will ask you about your new password. Enter and then re-enter the password to confirm. And click "Next".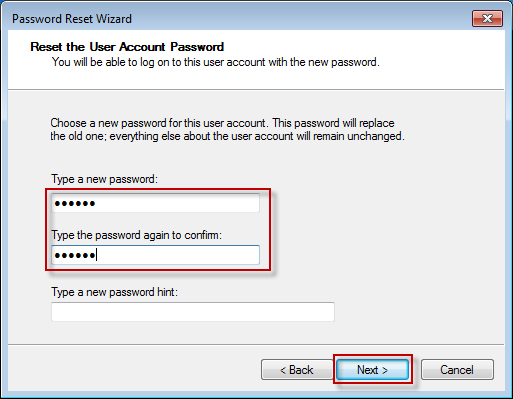 Now your password has been successfully change. Go on reboot your system and login with new password.
Oh you didn't set-uppassword reset disk? Don't worry we still got some more techniques to get your access back to you.
Solution 4: Unlock Forgotten Windows 7 Password from Safe Mode
Safe Mode should be your first priority whenever you get into any windows problem. Yes, we can also change password in safe mode as windows 7 has secret admin account which has no password. But if you have set-uppassword for that account also you will be needing that. Now move with the flow.
Boot your PC and press f8. This should take you into "Advance Boot Options".
Now select "Safe Mode" from that.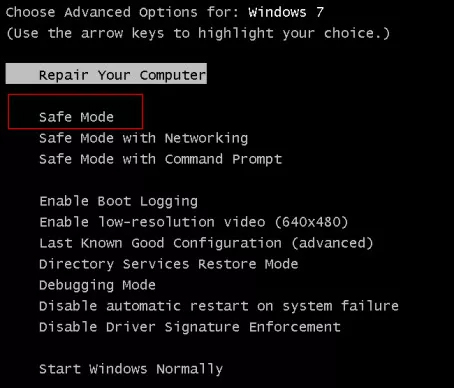 Your windows will be booted with admin account otherwise it will ask for admin password. Enter password and log in.
Now go to Start Menu and select Control Panel.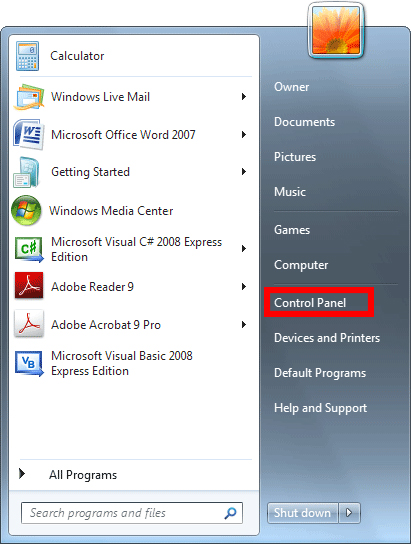 From control panel select "User Accounts and Family Safety". Under that option you will see "Add or remove User Account" select that option.


You will be displayed all use accounts. Select account for which you want to Chang or remove password.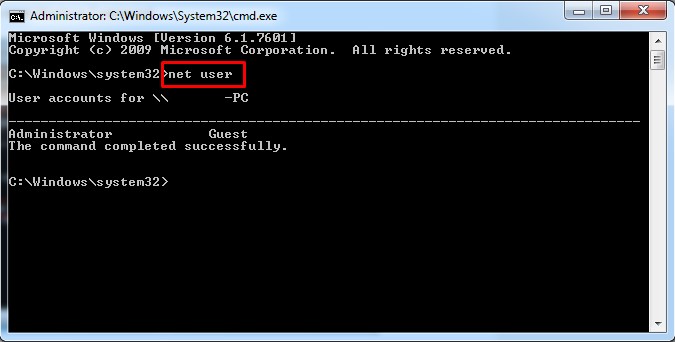 On left side you will see "Change Password" or "Remove Password". Select either one of the options and gain your access back.


This solution should have worked for you. If not don't you worry switch on to next one.
Solution 5: Bypass Forgotten Windows 7 Password with Windows Installation CD
For this procedure you will be needing windows 7 CD bootable. Boot your system from CD and Start the procedure.
Now go to "repair Your Computer" option and after that select Command Prompt from available options.
Now type in the following commands one by one: copy c:\windows\system32\sethc.exe c:\f
Press Enter and type:copy /y c:\windows\system32\cmd.exe c:\windows\system32\sethc.exe
Reboot your system.
On Login Screen press shift 5 times and command prompt will appear. Now type in: net user <your account name> <New password>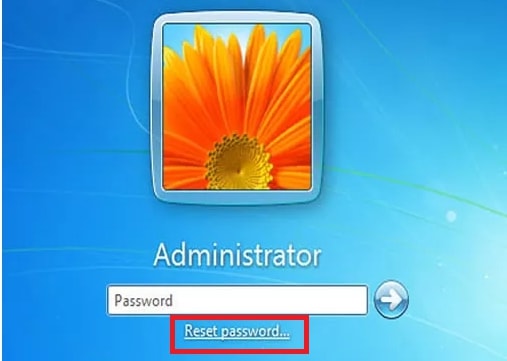 Note: Enter username of account in place of <your account name>.
Password has been changed but to revert back changes you made from commands except password rest type: c:\sethc.exe file back to c:\windows\system32\sethc.exe
Reboot your system and login with new password. If this didn't worked for you hold on we are left with some more options.
Solution 6: Crack Forgotten Windows 7 Password with Ophcrack Freeware
There are many freeware password recovery software available in the market. Ophcrack freeware is also one of them. This software runs its own and gets you your forgotten password in little time. Just follow the steps:
Download Ophcrack Freeware software and burn it on any media.
Now plug that media into your system and boot your system with that media.
After booting from media you will be shown four options. Select "Ophcrack Graphic Mode - Automatic" and press enter.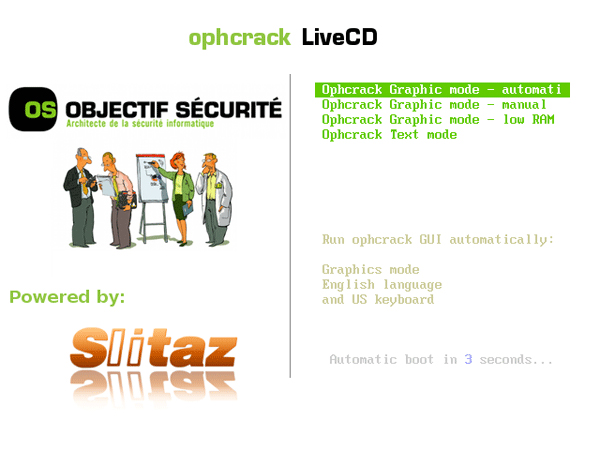 Now sit back and let the software do rest. You will be shown accounts passwords as it finished recovering them. Note them down and reboot your system. Enter the password you got from Ophcrack and regain access.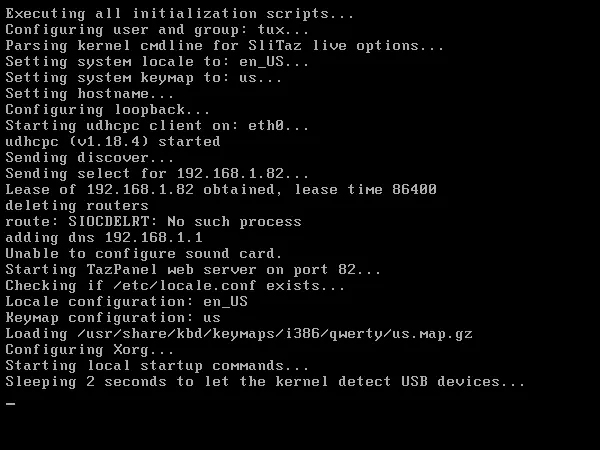 Solution 7: Reset Windows 8 admin password with PassFab 4WinKey
If none of the above solutions worked for you don't lose hope. This 3rd party software "PassFab 4WinKey" will definitely resolve you problem. PassFab 4WinKey provide 100% efficiency with 100% recovery result. PassFab 4WinKey has been widely recommended and used for windows 7 forgot password recovery. Here is a guide to use PassFab 4WinKey software. It's simple no need to be computer expert for that. Just go stepby step.
Insert media on which you want to burn PassFab 4WinKey software. Open PassFab 4Winkey software and select you media CD/DVD/USB. Here we used USB.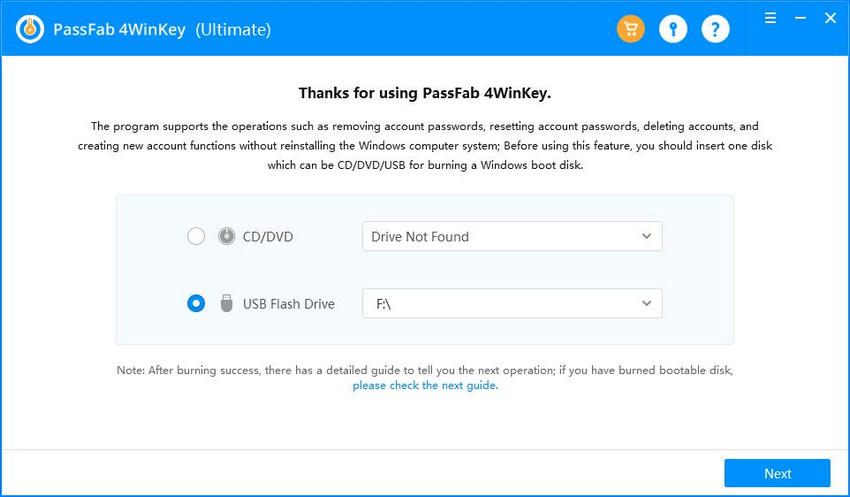 After Clicking "Burn" if you have selected USB it will ask you to format USB. Click "Yes" And continue.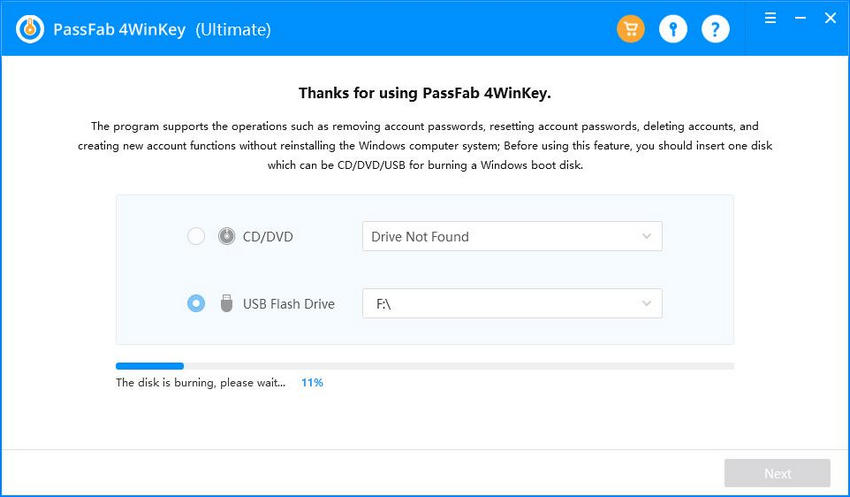 After burning completes following success message will be shown.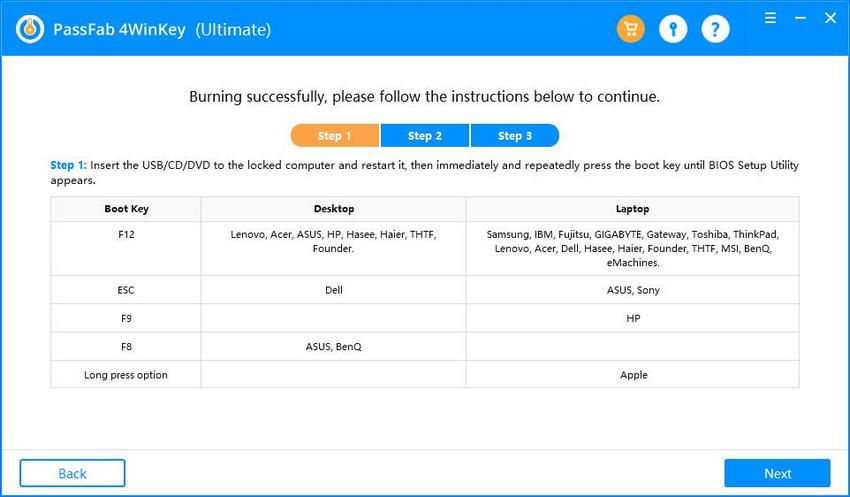 Now reboot your system with PassFab 4WinKey.
After successful boot from PassFab 4WinKey, you will be shown list of media. Select your media and Click "Next".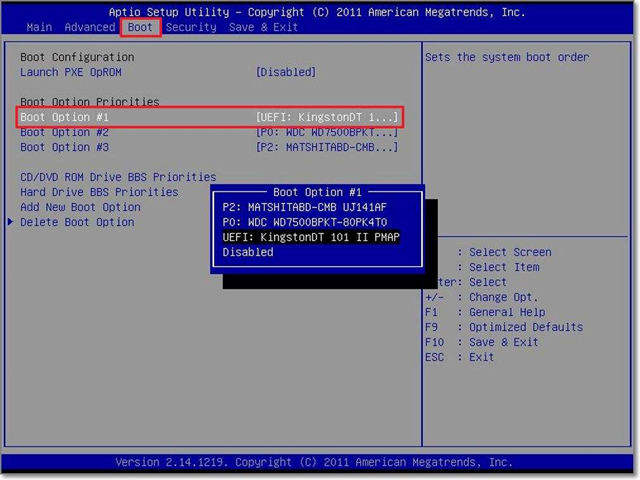 Once you've entered the locked Windows from boot disk successfully you can change password as well.
Among different OS, select yours and click Reset Password.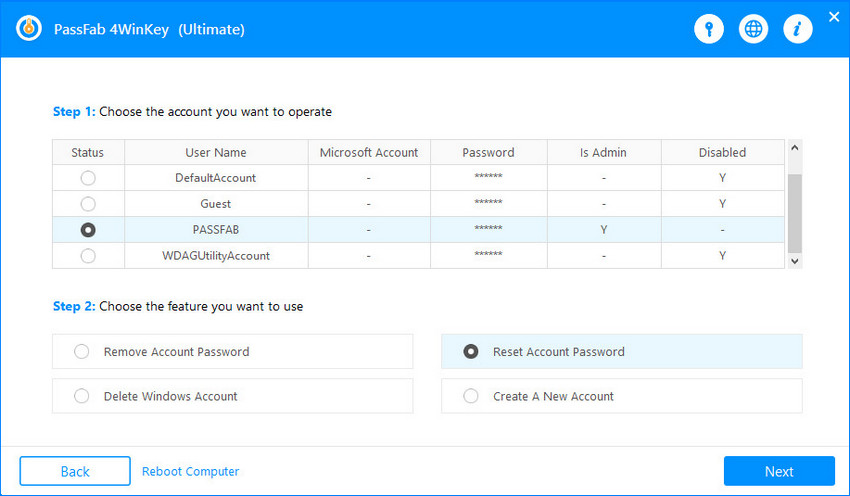 Now you will be seeing accounts usernaemes. Select your one and add new password to it.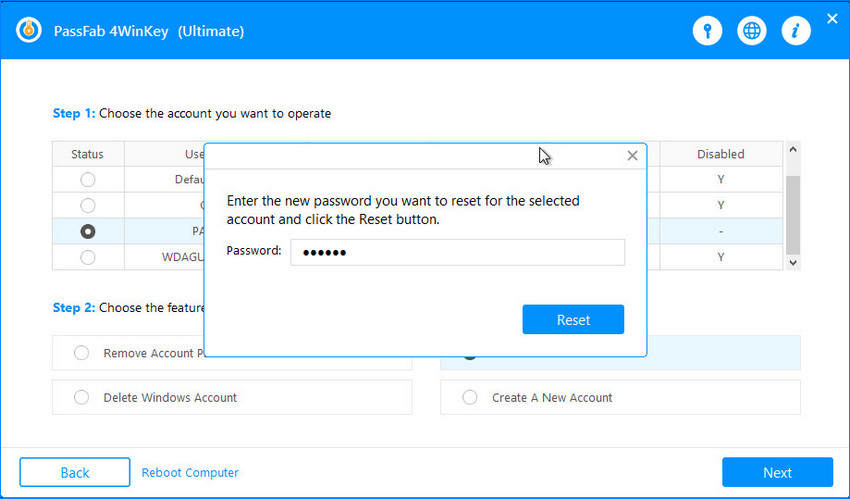 After resetting successfully reboot your system and remove your media from the system.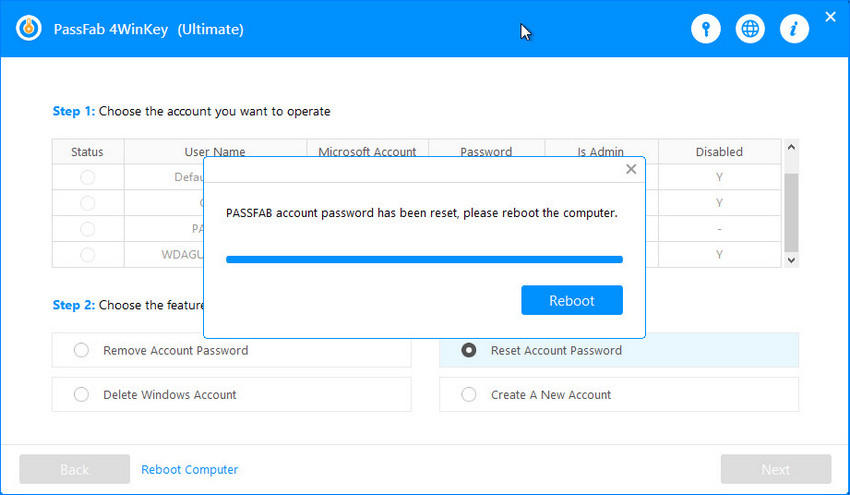 PassFab 4WinKey is the only solution on which you can count on for 100% successful result. How much ever the complex password be just use PassFab 4WinKey and it will not let you down.
Summary
Now we have listed almost all possible solutions for reset forgot windows 7 password. All these methods are fully functional. You just need to follow the steps. Don't just jumpto last solution, go through each of them because there might be easy one. Now make your passwords complex as you now about resetting windows 7 forgot login password.