How to Bypass Administrator Password Windows 8/8.1
While you want to bypass Windows 8 admin password, you must understand the significance of it. Moreover, you also need to know how does a Windows 8 administrator password affects your system. With a Windows Administrator password, you gain access to your Windows system. Forgetting the password means, you won't be able to run or access specific recovery tools in Windows, and install or uninstall softwares.
As most primary versions of Windows 8 account are configured with an administrator account, forgetting the password would prevent you from accessing that account.
Part 1: Bypass Administrator Password Using PassFab 4WinKey
If you are wondering how to bypass administrator password for Windows 8, then PassFab 4WinKey comes as a welcome respite for you. It can not only remove the password restrictions from your Windows PC, but also reset, create, remove and change the password from your Windows 8 computer. Apart from this, PassFab 4WinKey supports major Windows versions from Windows 7/8.1/10/Vista/XP. It runs on most Windows PC models across leading manufacturers.
Let's see the step-by-step guide to bypass admin password for Windows 8 with PassFab 4WinKey:
Step 1: Download PassFab 4WinKey on your PC. Install it and then select the Quick Recovery Wizard for bypass administrator password for Windows 8.
Step 2: Open the software and then choose the boot media CD/DVD/USB flash drive. Consider "USB drive" here, and then tap "Burn". It will make the USB boot disk burn. A prompt will ask you to format the USB.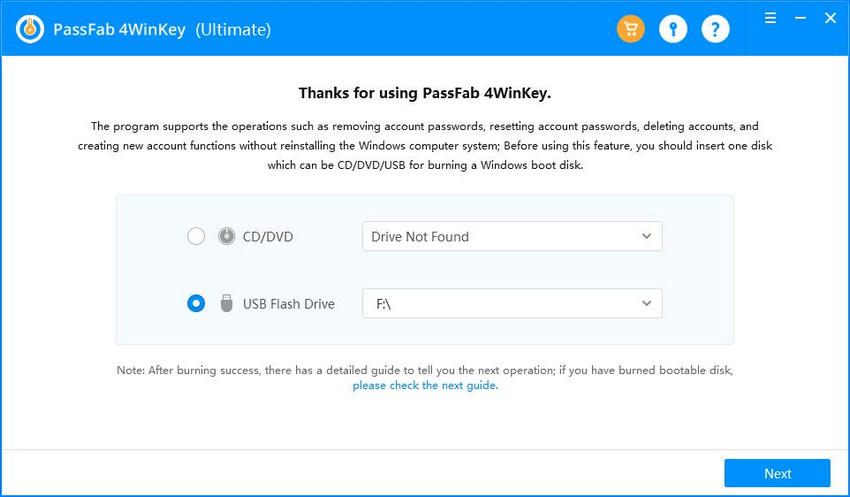 Step 3: Tap "Yes"and let the USB drive burn. Connect the USB with your Windows 8 computer whose password you have forgotten. Restart the PC thereafter and press the "F12"/"ESC" key to enter Boot Menu.
Step 4: Find your USB drive in the Boot Menu, from the list of devices. Hit "Enter" when you highlight it and then the Windows 8 password can be removed or reset.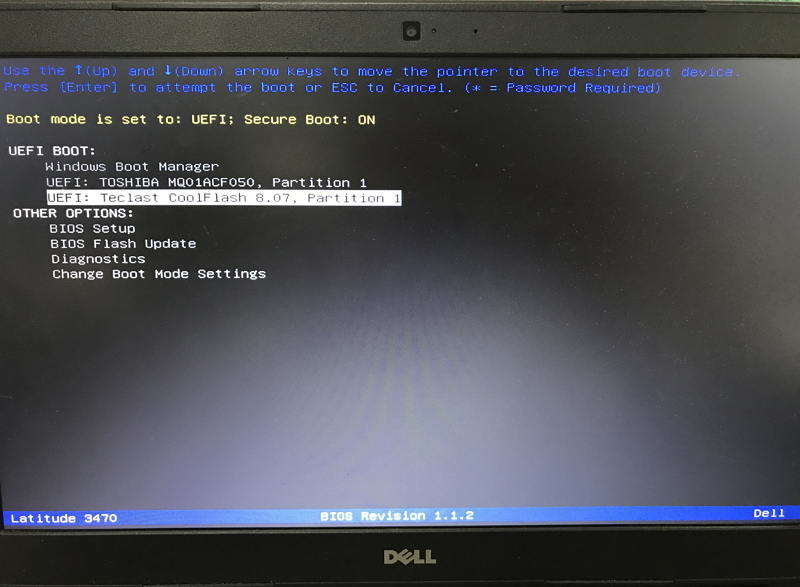 Step 5: Select the OS in your Windows 8 system, hit the "Reset your password" button. Select the "Admin" user account from the displayed list. You will find a default password displayed on the PC screen.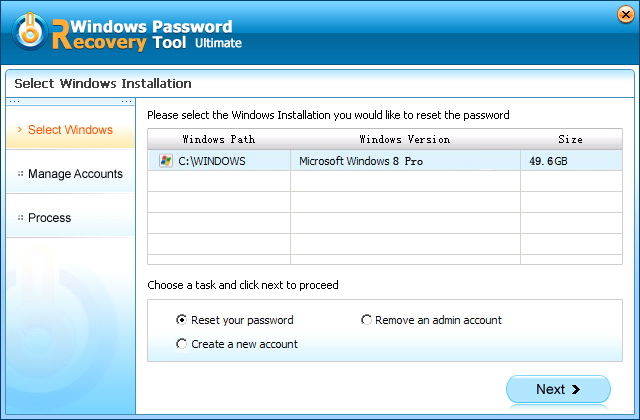 Step 6: Enter a fresh password in the "New Password" box then press "Next" afterwards. You can either reboot your computer with the new password or can skip it completely. Eject the USB driver, after tapping "Reboot".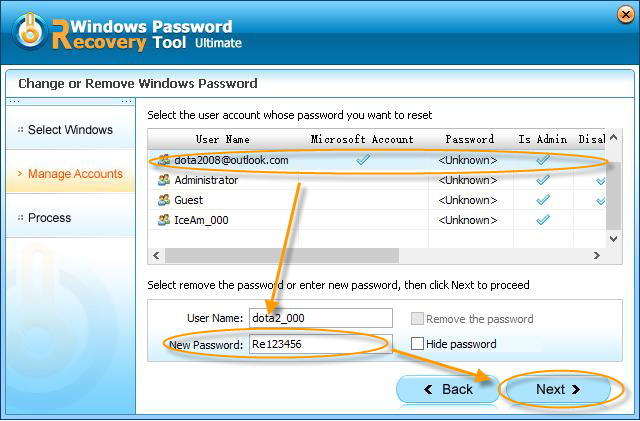 Part 2: Bypass Administrator Password for Free
Here we introduce some bonus methods for Windows 8 bypass admin password.
Using Command Prompt
For bypassing administrator password in your Windows 8 PC, you can also use command prompt. The user account password for your Windows 8 system can be removed using this method. But, this method makes your computer vulnerable to unauthorized remote access. You can either reset or remove the password.
Steps for Windows 8, bypass admin password:
Access your desktop after logging into it. Either right click the "Start" button or hit the "Windows Key + X" and open the power user menu.
Hit the "Command Prompt (Admin)" to launch the "Command Prompt" window with administrator authorization. Enable the "User Account Control" prompt thereafter. Key in "control userpasswords2" in the command prompt field followed by "Enter" button.
Uncheck "Users must enter a user name and password to use this computer' for bypassing the Windows 8 admin password screen during login/rebooting. All the user login passwords for this Windows 8 PC get disabled now.
Enter administrator password twice after clicking "Apply". Close the windows by tapping "OK".
When you reboot the Windows 8 system afterwards, the password screen gets bypassed.
Offline NT Password & Registry Editor
Using Offline NT Password & Registry Editor you can bypass administrator password for Windows 8/7/10/Vista/XP systems. No need to remember the old password to reset it. Burning the ISO image to a CD or USB flash drive will help you reset the password. Here's the detailed guide:
Download the "cd140201.zip" file from the official website of Offline NT Password & Registry Editor. This "Bootable CD image" takes 18 MB of space.
Ensure to download the "CD" version, no matter if you want a USB driveor CD to burn.
Use the built-in Windows extraction tool or a free file extraction program to extract the "cd140201.iso" file from the above ZIP file. Then burn the ISO file to a USB flash drive.
Now, get the USB and computer connected. You can see the software running over your computer automatically, you just need to select the option "1" to fix the issue.
Final Verdict
This article summarizes that Windows 8 bypassing of admin password is possible in multiple ways, but the best one among them is PassFab 4WinKey. Unlike other tools it removes passwords from MS Office and IE or SQL server as well. Moreover, you can reset/bypass admin password on local as well as domain PCs.