How to Change Computer Password on Windows 7
Password plays an essential role when it comes to secure the digital data. One needs to enter the correct set of strings in order to access the protected file. Companies such as Microsoft, Google, and Apple are working hard on their operating systems to make it more secure. Security of the user is necessary for this age of digitalization. If you are a computer user then, you will find different types of security passwords. The user can use such protection function to their system from digital attackers or unauthorized users.
Not able to login to the Windows computer as you forget the Windows password? Well, it is a daunting task to change computer password Windows 7 especially when you forget it. In order to help, we are going to talk about how to change computer password in Windows 7.
Part 1. Change Windows 7 Password by Using PassFab 4WinKey
PassFab 4WinKey is a sophisticated tool designed for Windows computer. The main purpose of this amazing tool is to remove or reset the password on Windows computer. It is a blazing fast tool that is powered by amazing features which makes password resetting easier like never before. Using PassFab 4Winkey, you can easily reset any type of password on Windows computer. There is no need for any special skill in order to use this tool. The process of resetting or bypassing the password is very simple. Simply, create a password reset disk and boot your computer using the disk to reset or bypass the password.
How to change Windows 7 password by using PassFab 4WinKey? You need to create Windows 7 password reest disk and then use the disk to change it. PassFab 4WinKey offer two methods to create a password reset disk, Quick Recovery Wizard, and Advanced Recovery Wizard.
1. Create Windows 7 Password Reset Disk
Option 1: Use Quick Recovery Wizard to create a Windows password reset disk:
Step 1: First, you have to download and install the PassFab 4WinKey on another computer.
Step 2: Now, choose the boot media device such as a CD/DVD or USB by clicking on the radio button.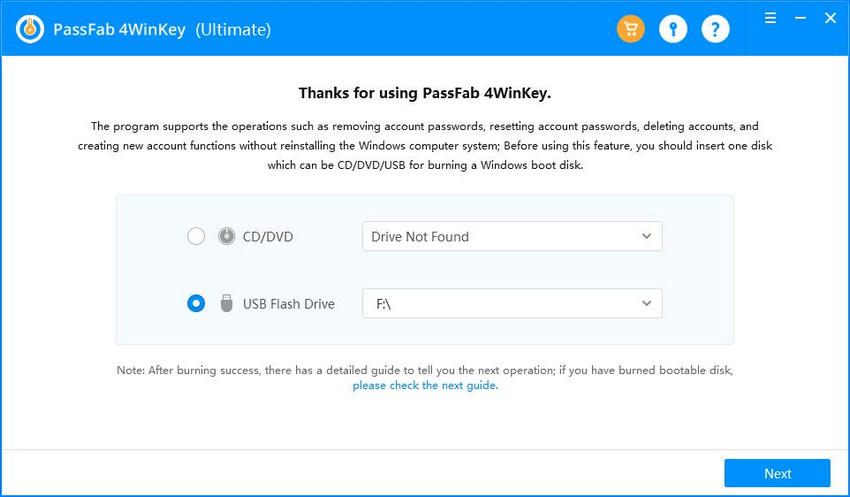 Step 3: Hit on the "burn" button to start burning.
Step 4: Click on the "Yes" button to erase everything from the selected disk.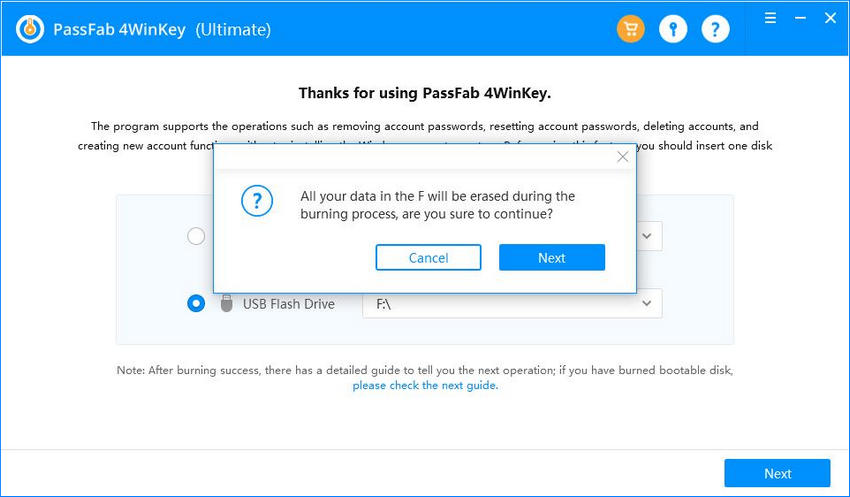 Option 2: Use Advanced recovery Wizard to create a Windows password reset disk:
Step 1: Click on the "Advanced Recovery Wizard" by clicking at the bottom of the PassFab 4Winkey.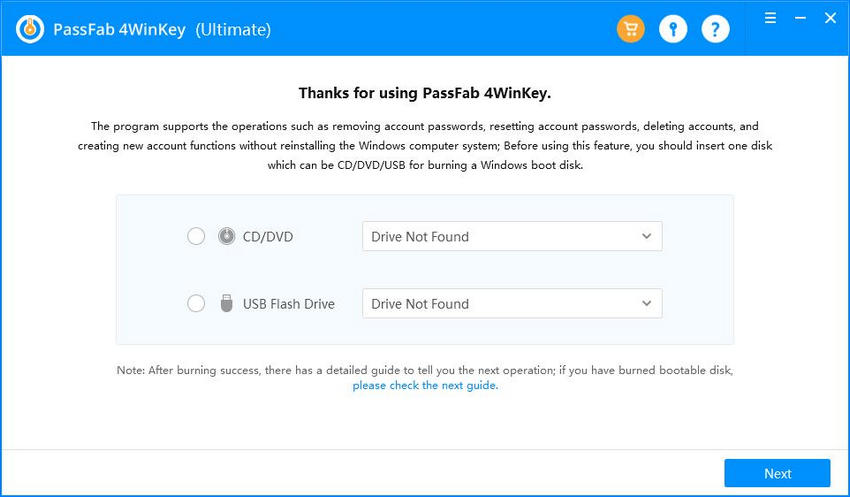 Step 2: You have to select the Windows version of the target computer. if you don't know which operating system your computer has then, simply choose Do not specify the Windows version of target computer".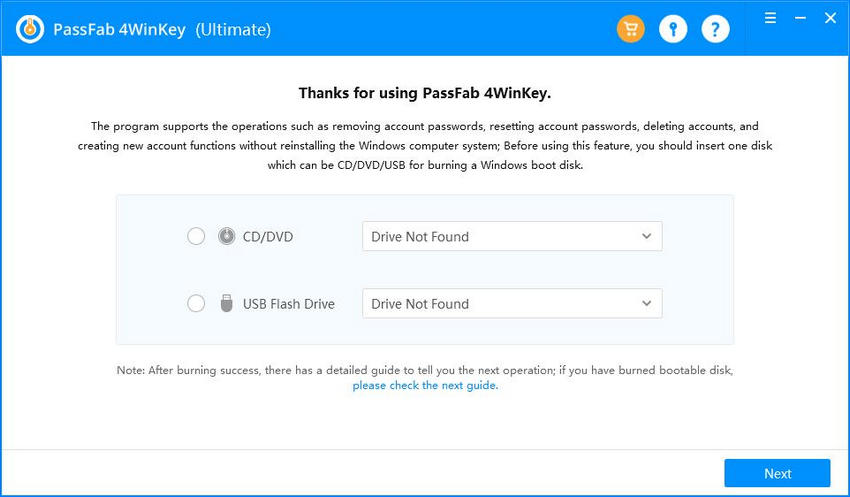 Step 3: Click on the Options button and go to the "Add WinPE Drivers". Choose "Specify WinPE version" under the Add WinPE Drivers tab.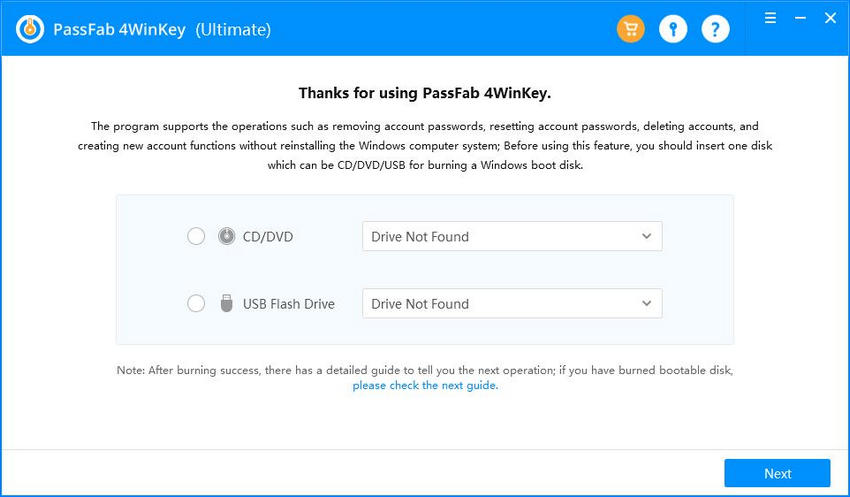 Step 4: Now,choose the boot media selection and hit on the "Burn" button to start the burning process.
Step 5: Click on Yes if promoted to continue the burning process.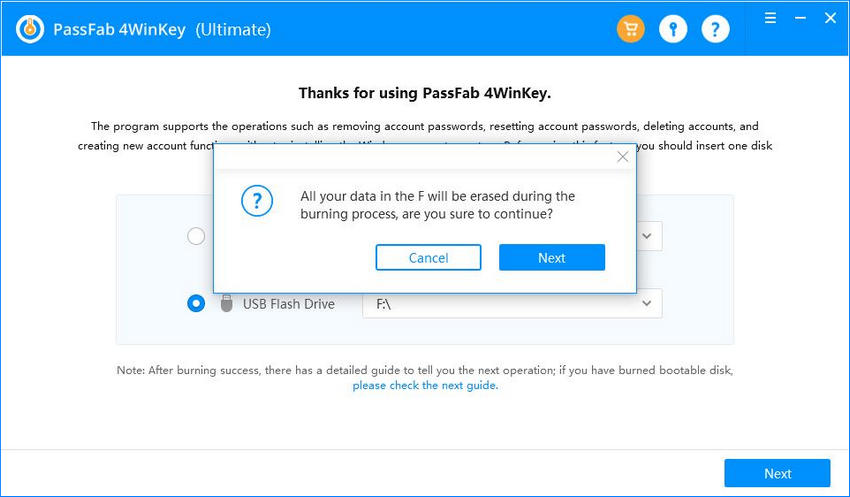 2. Boot Windows 7 from CD/DVD/USB
Step 1: Insert the password recovery disk to your computer.
Step 2: One has to boot or restart the computer and press F12 or ESC to open the boot menu.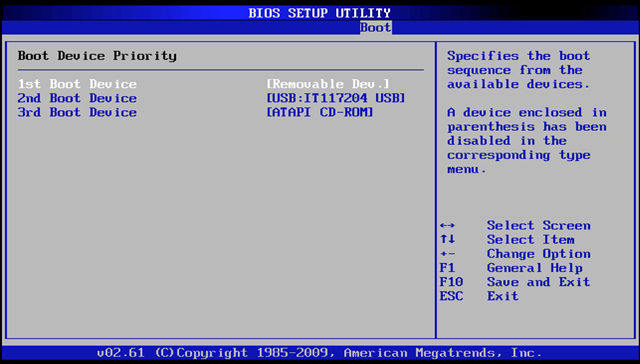 Step 3: On the boot menu, choose your password recovery disk. Select the UEFI: [USB/CD/DVD Name].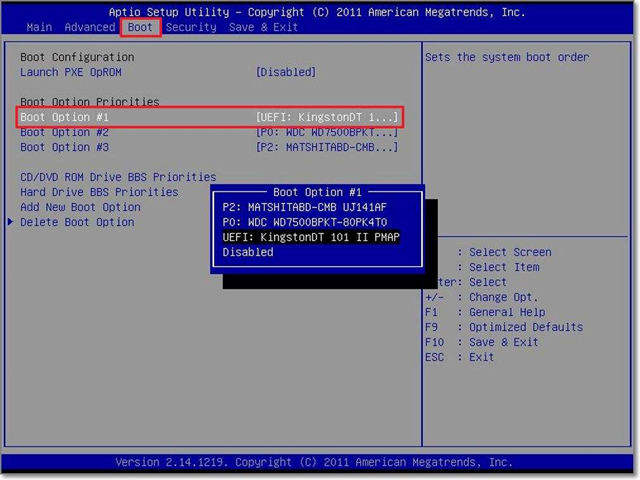 Step 4: Windows password recovery tool window will appear, choose the operating system version and click on the "Reset your password". After choosing the reset your password radio button, click on the "Next" button.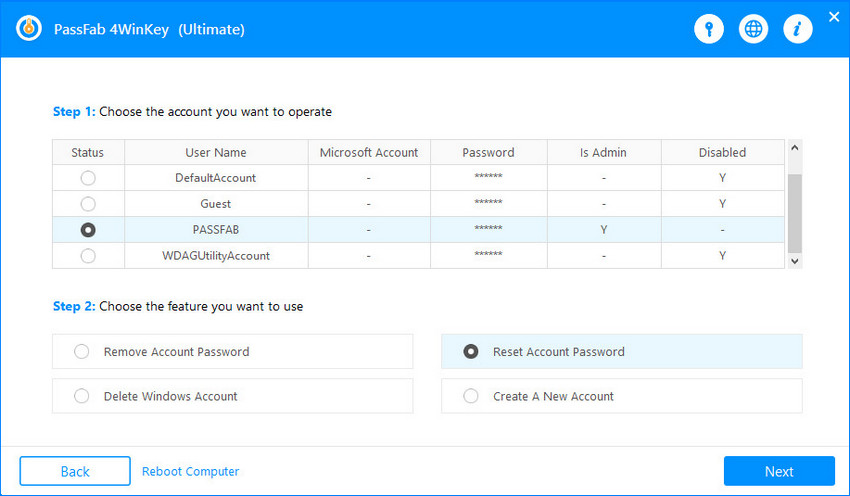 Step 5: On the next window interface, choose the username and enter the new password. Hit on the "Next" button to change computer password windows 7.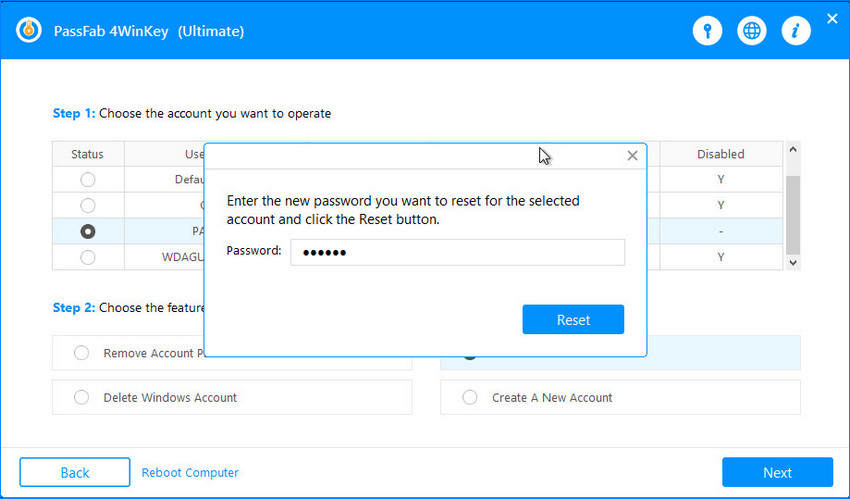 Step 6: Once the above process successfully completed, click on the "Reboot" button.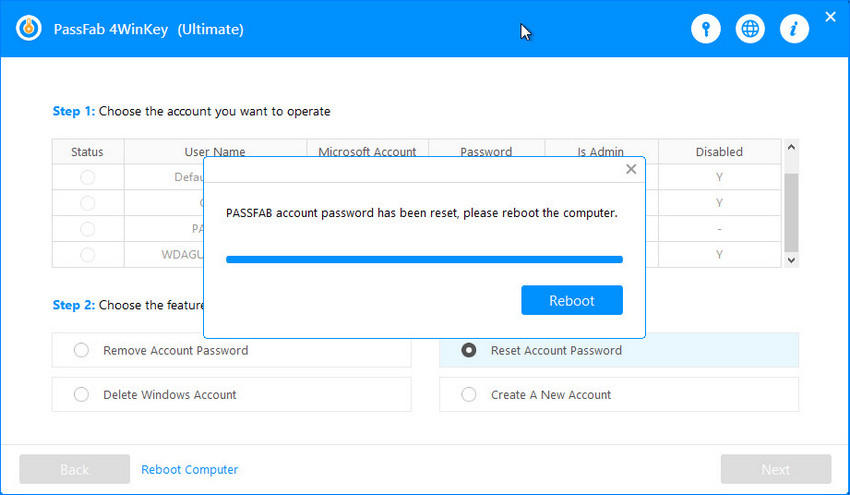 Part 2. Change Windows 7 Password with Control Panel
Changing password on Windows 7 is very easy when you know the current password. You will want to change password of Windows 7 when somebody has seen the password and you don't think your computer is safe anymore. If you know the password, you can change the password from the User accounts in the Control Panel. The process is similar to Windows 7, Vista and XP, without minor changes in the options names. Follow the below steps to know how to change Windows password Windows 7/Vista and XP for free -
Step 1: First, click on Start and go to Control Panel.
Step 2: In the control panel, go to "User Accounts and Family Safety" (User Accounts in Windows XP and Vista).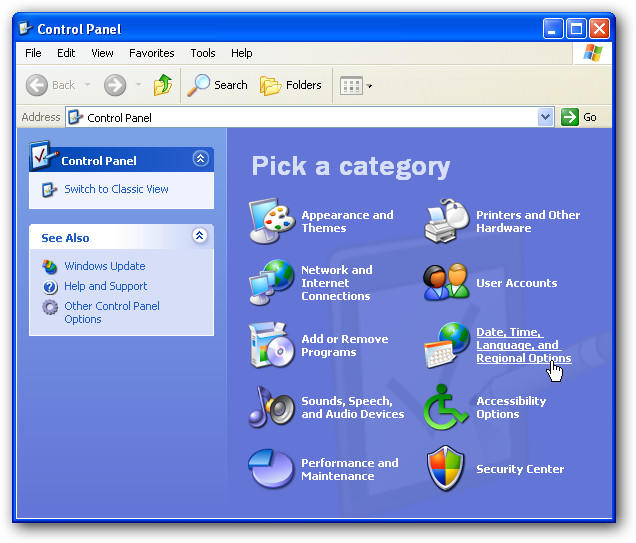 Step 3: Then, click on "User Accounts" option and then go to "Make changes to your user account" section. Windows XP users need to go to "or pick an account to change" section and select your user account.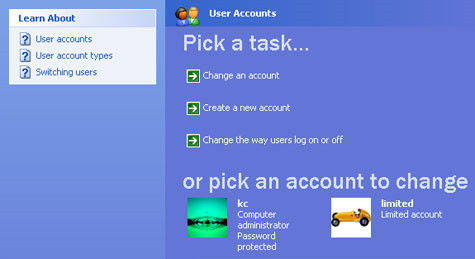 Step 4: Then click on "Change your password" or "change my password"( in Windows XP).


Step 5: Next, first you need to enter your current password and then the new password twice. Give a password hint in the last section.
Step 6: Finally, click on "Change password" button to save the changes.
Part 3: Change Password on Windows 7 with Free Command Prompt
You can also change Windows password Windows 7 with the help of Command prompt. Follow the steps below to know how to change computer password windows 7 using cmd -

Step 1: Open Start and search for "cmd". When found, right-click on it option and select "Run as administrator".
Step 2: Select "Yes" at the prompt and command prompt with admin privileges will start.
Step 3: Now, enter the following command in the command prompt - "net user username password", where "username" is the user account whose password you want to change and "password" be the new password.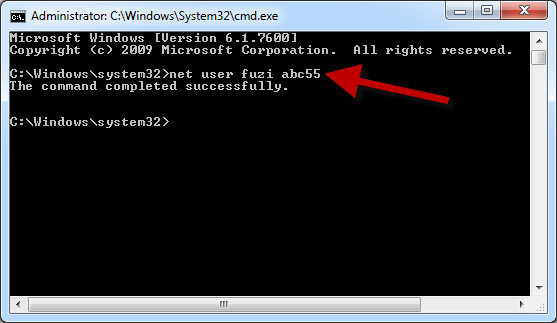 Step 4: Press enter and the password will be changed.
Summary
If you forgot your password, then a Windows password recovery tool like PassFab 4WinKey is the best ways to recover it, without risking data loss. It not only allows you to change not only Windows 7 password, but you can also change the Windows password of Windows 10, 8.1, 8, Vista as well as XP. So, if you forgot Windows password and don't want to lose your data, try PassFab 4WinKey.